A frenched venison loin is a fancy cut of bone-in meat worthy of a celebratory dinner.
Think of those bone-in lamb loins at the custom butcher shop—the ones with a row of rib bones protruding from the loin, each one scraped clear to the bone. Fancy. And delicious. Frenching is a fun treatment for a bone-in loin and it looks impressive when carved at the table.
Many hunters butcher their own deer. Others leave this detailed work to the butcher. Either way, you will need to provide cutting instructions to get more of what you want. Knowing what you want to do with various cuts and how you intend to cook and serve them will guide you.
Normally, I bone venison. It saves freezer space. I like how a selection of boneless cuts fits into my menu planning. But there are two cuts that are worth leaving the bones in: cross-cut shanks destined for Osso Buco and a bone-in-frenched loin. Added value continues to be a driver for me when I'm processing game. Check the price of a frenched lamb loin the next time you are in the butcher shop, then quietly smile to yourself about the game meat you carefully stacked in the freezer from last season.
The first thing you need to do to cut your own frenched venison loin is to make a cutting plan. This venison loin was trimmed up the day after we harvested the deer. Now it's time we made dinner plans. Here's how:
To cut a frenched loin, separate the full rack of ribs where the ribs join the backbone.
Use a knife to cut between the loin and the backbone just enough to get a hand meat saw between the backbone and the loin.
Leave as much rib as possible by cutting so a knife just slides between the ribs after cooking.
Once the rack is removed, trim 1-2 inches of meat from the rib bones opposite the loin.
Scrape each rib tip with a stiff boning knife until all the meat, fat, and membrane are removed from the bone.
I shortened the rib bones with a stiff boning knife. To do this, place the loin on a solid cutting surface with the scraped bone end against the surface. Place the tip of the blade across the rib bone and smack the back of the blade with a wooden (or rubber) mallet.
Trim up the loin to remove the layer of fat and silver skin. In preparation for cooking. It should be obvious but use caution. This is not a job for your prize boning knife on your best custom cutting board. I keep an ancient stiff boning knife and a sturdy and well-used maple butcher block for just this occasion.
After the loin was thawed in the refrigerator, I rinsed it in cold water, dried it with paper towels, rubbed it with fresh herb, garlic and lemon gremolata, and roasted it in a 450˚ F oven for 25 minutes.
It was delicious!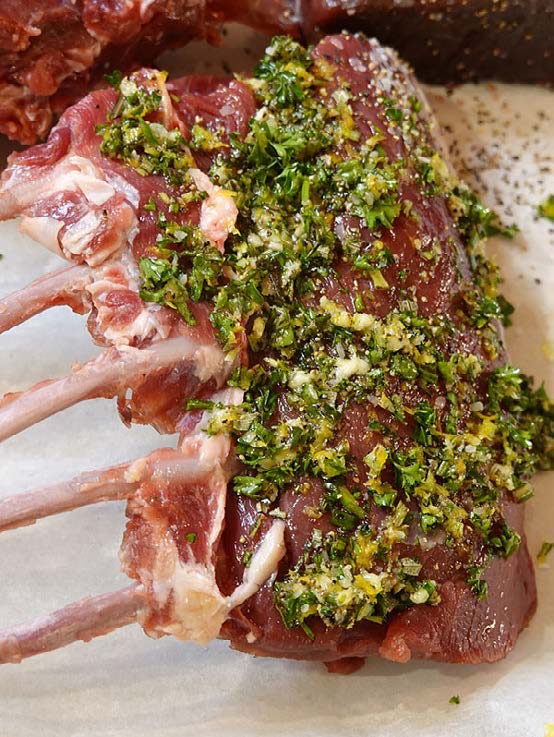 Equipment
In the butcher shop:
Boning knife
Mallet
Bone saw
Cutting board
Meat wrapping paper
Tape
Vacuum packer (optional)
Felt marker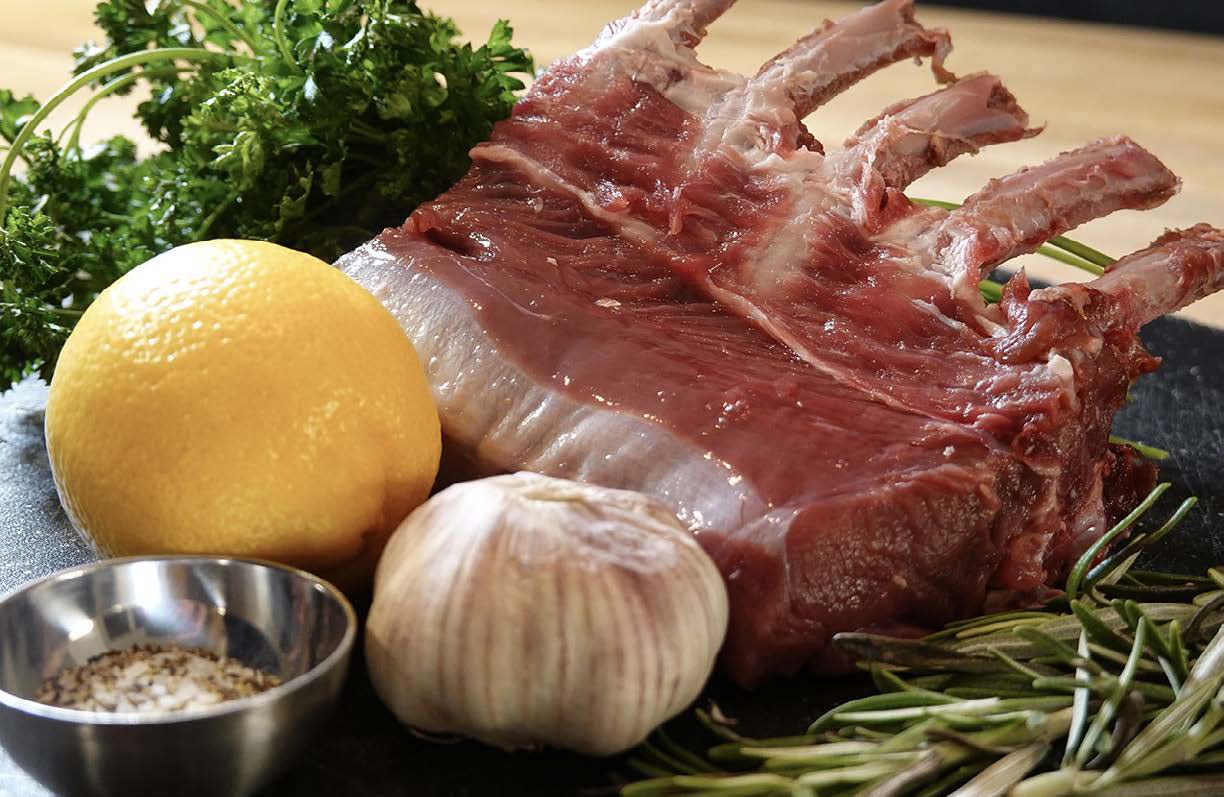 In the kitchen
Oven (this meat could have been barbecued, but it was -37˚ F outside.)
Roasting pan
French/chef's knife
Carving knife
Meat fork
Instant-read thermometer
Paring knife
Micro plane
Small mixing bowl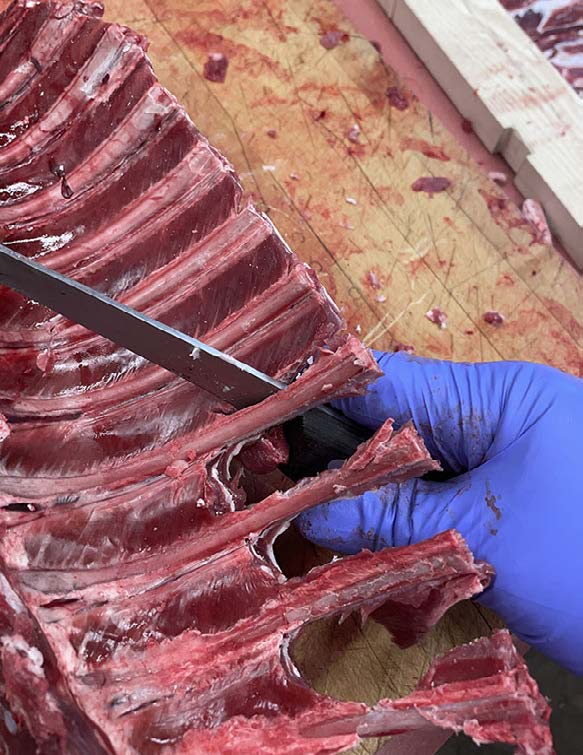 Ingredients
Two 4-bone-in frenched venison loins
1 whole lemon
1 bunch of parsley (finely chop 2-3 tablespoons)
4 sprigs of rosemary (leaves removed and chopped finely)
2 fresh garlic cloves, peeled
1 teaspoon coarse salt
2 teaspoons coarse pepper
3 Tablespoons virgin olive oil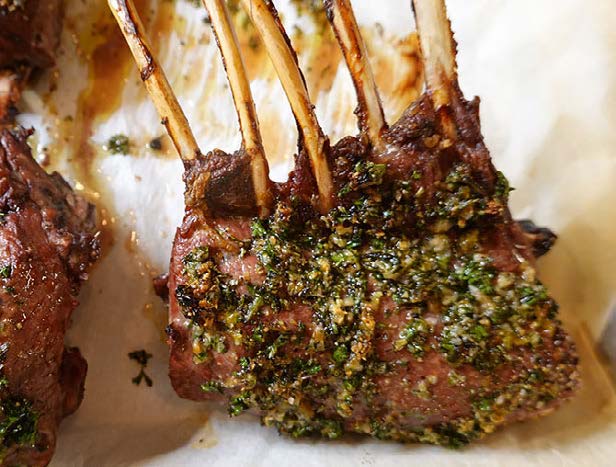 Method
Rinse the frenched loin with cold water and dry with paper towels.
Set the loin on a plate and let it come to room temperature while you complete preparations.
Turn the oven on set to 450˚ F.
Peel and micro plane (finely grate) two peeled garlic cloves.
Plane/finely grate the peel from a whole fresh lemon.
Finely chop the parsley and rosemary.
Mix garlic, lemon zest and herbs with salt, pepper and olive oil.
Rub a generous amount of the herb blend all over the meaty part of the loin.
Place the loin in the roasting pan and roast at 450˚F until the internal temperature is 10 degrees below your target temperature, (about 20-25 minutes). I pulled this one from the oven at 130˚F and it went a bit past medium rare.
Remove the roast and let it rest for 15 minutes.
Slice and serve with whatever else is for dinner. (Mashed potatoes made with duck fat, condensed chicken stock and heavy cream alongside roasted brussels sprouts worked well for our guests.)
Even though I expected this loin to be delicious, the flavor surprised me. It was super-delicious! The combination of tart lemon rind, salt and pepper, fresh herbs and oil was the ideal flavor enhancer for this cut of venison.