Here's How Elk Bones and Sweet Spices Enhance Rich Pho Broth
What can you do with all those elk bones from the butchering process? Because it pains me to toss elk, moose, deer, antelope and/or bear bones into the garbage, I make soup stock. My freezer contains an inventory of stock made from the bear, elk and moose I have hunted. Occasionally, I get to fillet a few lake trout and add fish stock to the selection. It seems like every week I am making soup or sauce. When these are made with a properly constructed stock, the results are unmistakably delicious.
Pho is a popular Vietnamese soup normally made with bone broth, rice noodles and a variety of fresh garnishes and sliced meats or meatballs. Pho stock, like any other soup, is made by simmering bones, but the addition of sweet spices (such as ginger, cloves and cinnamon) set it apart. My preference is to roast bones with the spices prior to simmering the stock. That extracts a deeper flavor from the process, while at the same time toasting the spices.
The delicious payoff is worth the effort. Pho is another innovative way to share your harvest with friends and family. Using game for a soup garnish is a gentler introduction to wild harvest than serving a whole muscle roast or a full slab of steak. It is a great, thin wedge for introducing newbies to wild protein. My guests rave about the flavor profile created from this recipe and the special place that sliced elk steak takes in the soup. Guests enjoyed choosing their own garnishes from the selection I laid out when we served it.
This recipe serves four and provides enough stock to freeze for future uses.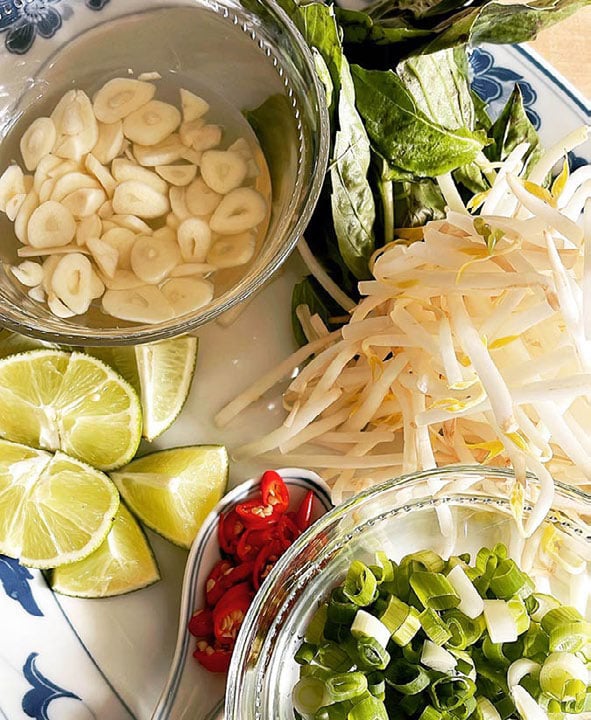 Tools and Equipment
Roasting pan
Stockpot
Measuring cups
Stainless or glass bowls
Cutting board
Chef's knife
Paring knife
BBQ tongs
Gram scale
Serving bowls and plate for garnish
Colander
Paper towel
Saucepan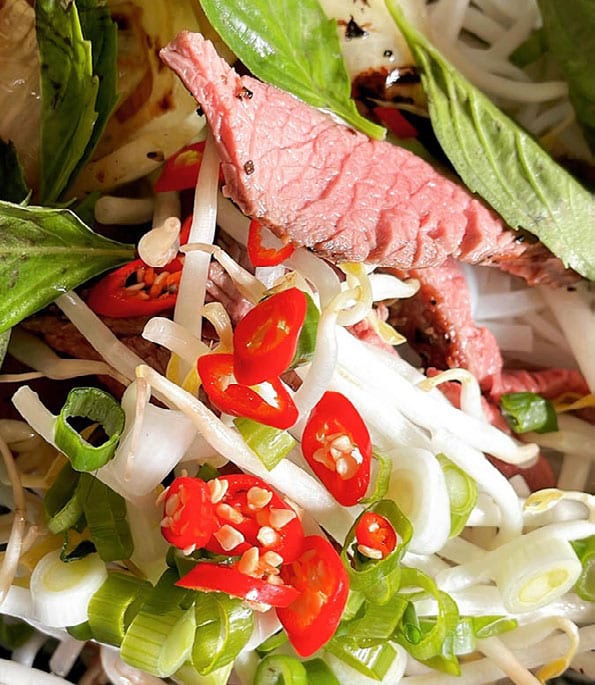 Ingredients
For Stock:
3 to 5 pounds of elk bones (moose, deer, bear or beef bones are all suitable substitutes)
2 tablespoons toasted sesame oil
4- to 6-inch chunks of fresh ginger root, smashed with the flat side of a cleaver
10 cardamom pods
5 star anise pods
8 whole cloves
1 tablespoon of whole coriander seed
1 tablespoon whole fennel seed
1/4 cup fish sauce
1/4 cup Tamari sauce
4 stalks of lemon grass, smashed with the side of a cleaver and chopped into 3- to 4-inch pieces
Hot sauce (Like Sriracha)
The Garnish
(prepare each of these in separate small bowls)
1 to 2 Bird's Eye chilis (These are optional; be sure to handle these with caution and only use them if you want some serious heat.)
2 limes cut into wedges
4 cups of bean sprouts
3 green onions, with both green and white parts chopped
A handful of Asian basil, well rinsed and with stems picked
Rice noodles
Quick Pickled Garlic
3 cloves of garlic slices
1/4 cup of rice vinegar
2 tablespoons sugar
2 tablespoons boiling water
Elk steak and onions
1 to 2 pounds of elk round steak or loin
Coarse salt and pepper
1 onion peeled and quartered
1 tablespoon of canola oil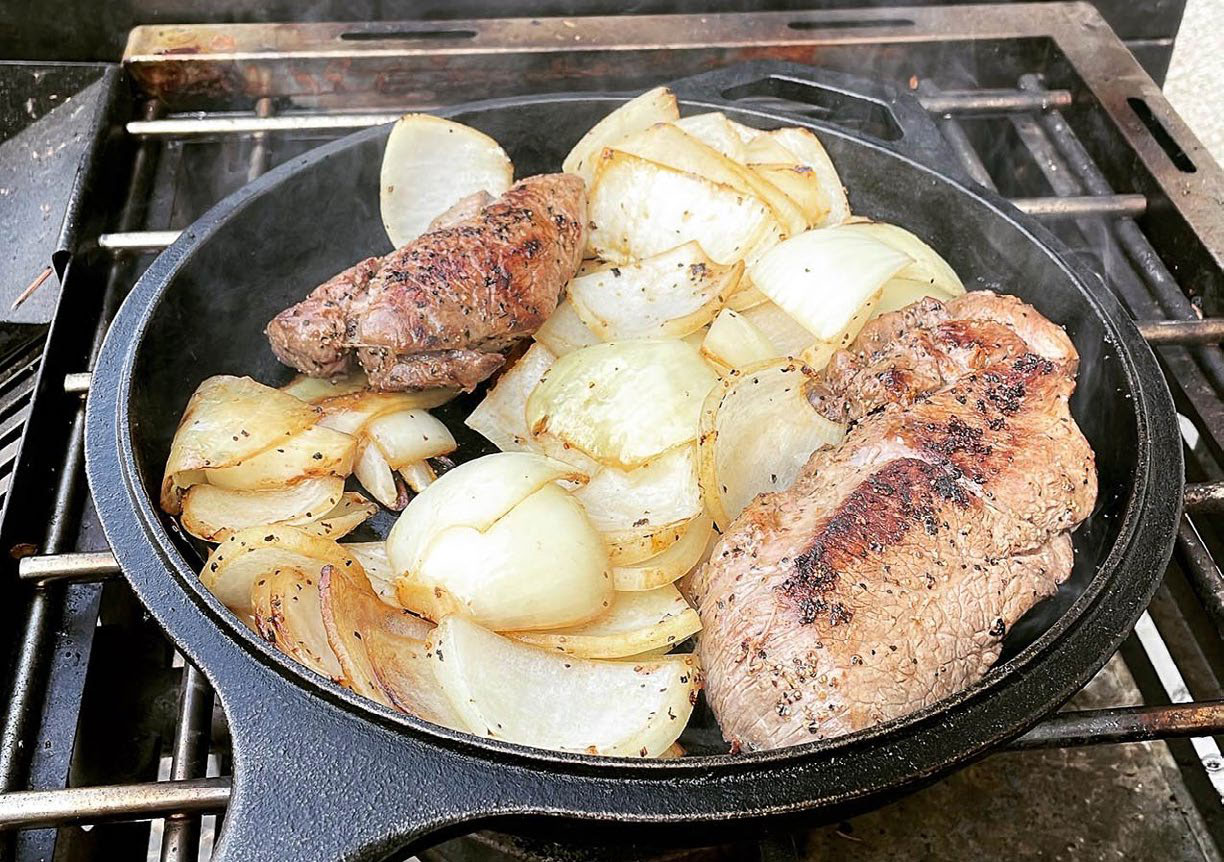 Method
Make the stock.
Place bones in a roasting pan, drizzle with sesame oil and roast the bones at 400 ̊ F for 90 minutes, adding the spices halfway through the roasting.
Drain and discard the fat from the roasting pan, remove bones to a stock pot, cover with cold water and bring to a simmer. Add lemongrass, fish sauce and tamari to stock.
Meanwhile, deglaze the roasting pan by adding hot water and scraping the roasted bits from the bottom of the pan. Add these to the stock pot. Simmer stock for three hours.
Turn off the heat and remove the bones and solids. Strain the Pho broth through a paper towel placed on a colander over a bowl.
At this point, the process can be interrupted and the stock can be cooled, packaged and frozen for later use. Or, you can proceed as follows:
Make A Quick Garlic Pickle
Peel and thinly slice 3 garlic cloves.
Add sugar and boiling water and stir to dissolve sugar.
Add vinegar and let sit until ready to serve.
Prepare Elk Steak and Onion.
Season an elk steak well with coarse salt and pepper, rub it with oil and let it sit for an hour to come to room temperature.
Peel and cut a white or yellow onion in quarters.
Prepare and arrange garnishes.
Prepare Noodles
Pour boiling water over the rice noodles and set aside.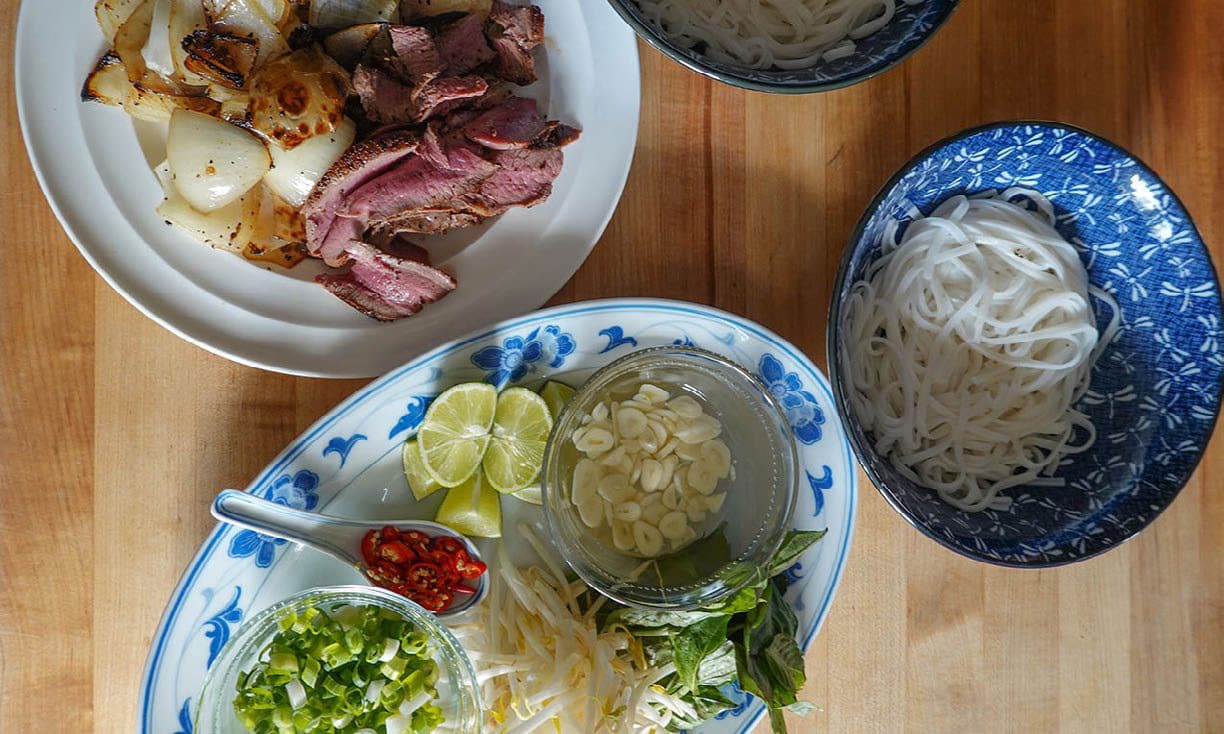 Bring it All Together
Preheat the skillet until it is blistering hot, then add a drizzle of canola oil and immediately add elk steak and onions.
Turn the elk steak every minute and sear for 4 to 6 minutes. Separate the layers of onions with the tongs and move them around a bit to caramelize. (A bit of char on the onions is just fine.)
When the internal temperature of the steak hits 135 to 140 ̊ F, remove it and the onions to a carving board to rest for 15 minutes.
Heat the Pho stock to nearly a boil.
Prepare and set out garnishes, drain the noodles and carve the steak as thinly as possible.
Call your guests to help themselves to noodles, steak, onions and garnishes.
Ladle near-boiling Pho stock over the noodles and steak to finish "cooking" the steak.
Let guests add Tamari and hot sauce to suit their taste.