Make Your Own Pasta Topped with Delicious Ragu
Winter is ragu time. Winter here in the north has rolled in with a vengeance, so it is time to share hearty heartwarming food with family. While deciding what to do with my
canned venison, the idea of rich tomato ragu on fresh pappardelle captured my attention. Last year, there were more four-legged animals harvested than could fit in my freezers. This meant two things: we could eat well, and because there wasn't enough room for all the venison cuts in the freezer, we pressure-canned some tougher cuts of venison and bear.
Canned venison. As a result of redirecting some of the venison shoulder trim we preserved by pressure canning, there are several quart sealers of canned venison on my pantry shelf. The canning process I used was a cold pack, with no added liquid, and the addition of 1.0% salt by weight. It seems that amount of salt is perfect for our needs. I see these jars of Whitetail deer (and bear) as gifts to my future self. So, I cracked open a couple of jars of canned venison to make this delicious ragu. The texture of the canned meat in ragu is lovely, more like pulled pork than the normal scramble-fried ground.
Recently we have started saying, "shop at home first." We have a well-stocked pantry and a collection of freezers, and this shop-at-home idea has become a theme to use what we have on the shelf first. There are bits and bobs of this and that and sometimes it takes a bit of ingenuity to use these part-packs in the recipe.
This is one of the reasons I want to make a big batch of fresh pasta. There are several part bags of semolina, pizza flour and pasta flour on my pantry shelf. All of these can be combined to make luxurious pasta that will be the perfect base for rich ragu. I use a proper pasta roller, but you can use your rolling pin and a kitchen knife just as well.
This recipe makes enough pasta and ragu to serve eight. The ragu freezes well for several months.
Uncooked pasta sheets can be frozen for several weeks, too. You just need to wrap them well and let them thaw overnight in the fridge when you decide to use them. Think of those things as gifts to your future self.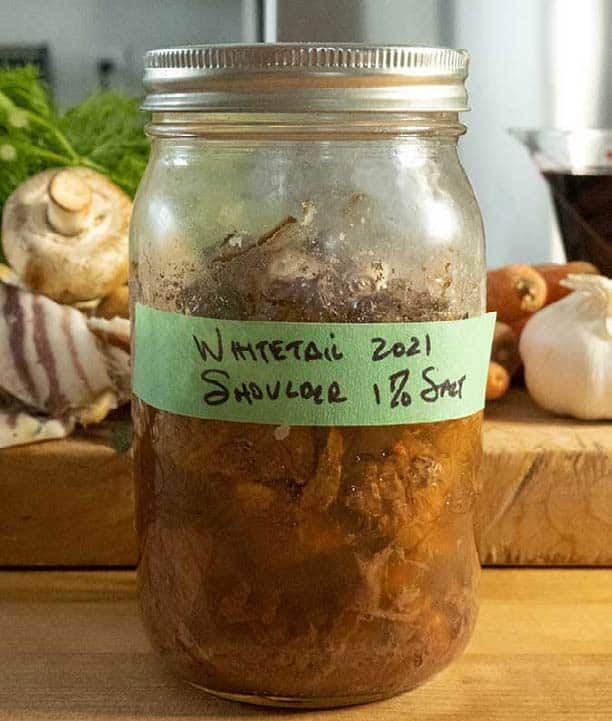 RAGU SAUCE
Serves 6-8 (Or Two People With Lots Of Leftovers)
Equipment
Cutting board
Chef's knife
Paring knife
6-quart Dutch oven or casserole
Wooden spoon
Stove top and oven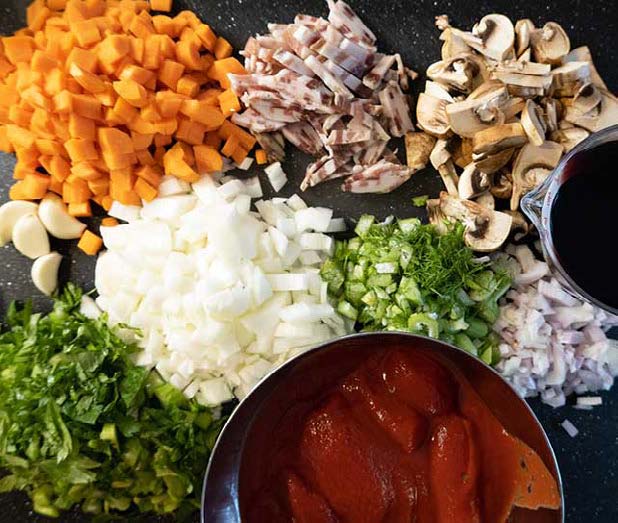 Ingredients
2 Tablespoons olive oil
2-3 pounds of canned venison
(Feel free to substitute fresh or frozen ground venison just add salt and pepper and scramble fry until well done. Also, preserve the canning liquid to add to the ragu once the vegetables have started to color.)
4 thick slices of bacon (or about 4 ounces), diced
1 cup diced celery stalks and leaves
4 – 6 carrots, peeled and diced
1 large white onion diced
2 cups of mushrooms sliced
1 cup fennel, tops, and greens chopped for the ragu
(Reserve the main stalks for a side dish. This is optional, but it adds a nice fresh pop of flavor)
3 garlic cloves peeled and
1 shallot peeled and finely
1 sprig of coarsely chopped rosemary (with leaves removed s from the woody stem)
1 sprig of sage, chopped (leaves removed)
1 4-ounce can of tomato paste
2 28-ounce cans of whole Italian tomatoes, crushed by hand
2 cups of red wine (substitute beef stock if you like).
Salt and pepper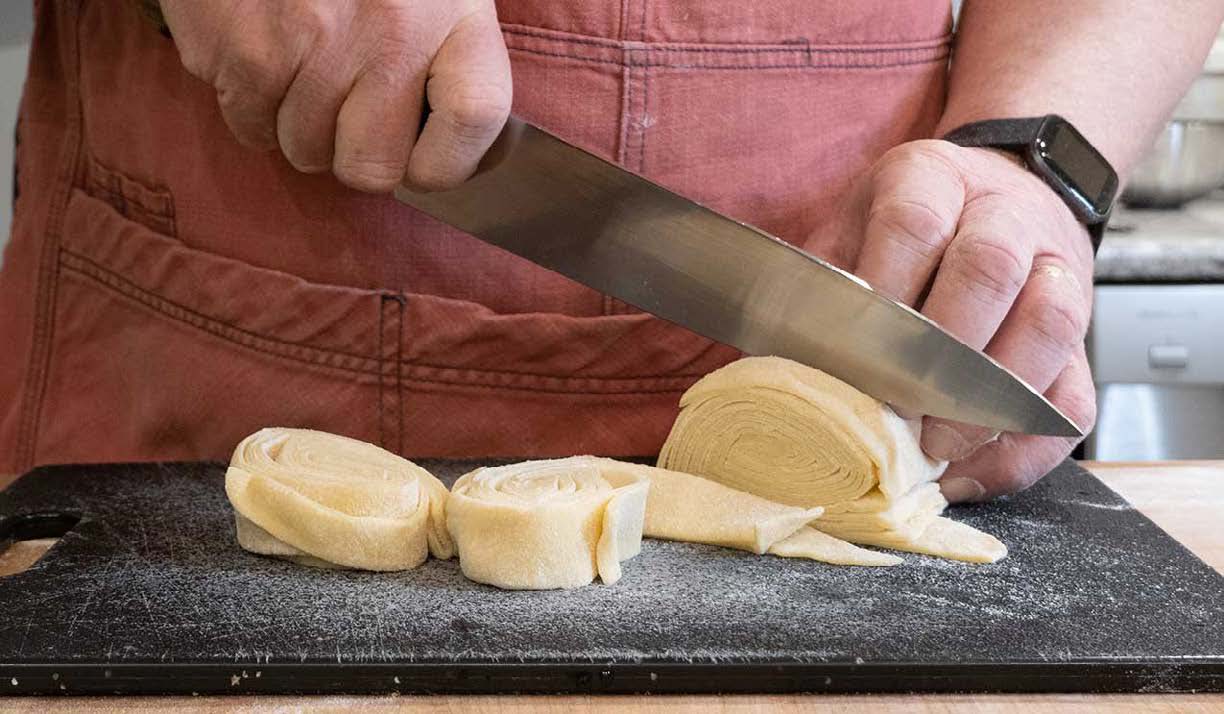 Method
Start the oven at 350˚F
Dice the bacon and fry in the Dutch oven over medium heat in a bit of olive oil.
Peel and dice the onion, shallots, and Add to the Dutch oven once the fat starts to release from the bacon.
Dice the fennel tops, chop the celery, and slice the mushrooms. Add to the Dutch oven.
Stir well and let the vegetables cook until they start to turn golden.
Add the tomatoes, venison and juice, and tomato paste.
Add the herbs and wine.
Bring the works to a rolling boil and place them in the oven at 350˚F.
Taste and adjust the seasoning with a bit of salt and pepper. Know that the sauce will cook down by about 30%, so be cautious with the seasonings.
Cook for three hours in the 350˚ F Keep the lid on for the first two hours and take the lid off for the last hour. Check and stir every 30 minutes.
Taste one last time before serving and adjust the seasoning with salt and pepper to suit yourself.
PASTA
Equipment
Wooden spoon
Large stainless steel or ceramic bowl
Pasta roller, or rolling pin
Cutting board
Chef's knife
5-quart saucepan to cook pasta in
Colander for draining
Tongs for dishing up pasta
Ingredients
2 whole eggs
8 egg yolks
150 grams (or 1 cup) of semolina flour, plus extra for rolling
450 grams (or 3 cups) of pasta flour, plus extra for rolling (All-purpose will work in a pinch)
2-3 Tablespoons virgin olive oil
¼ to ½ cup water
Salt for water
Parmesan cheese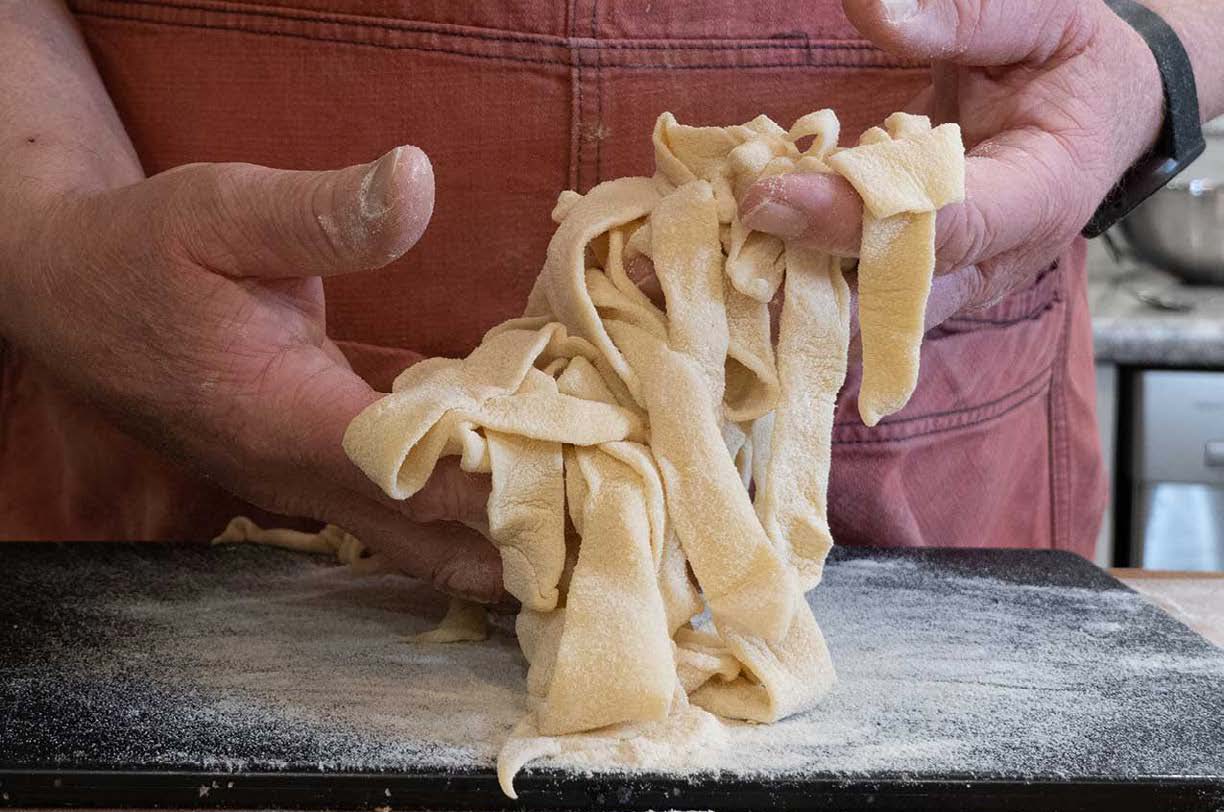 Method
Measure semolina and pasta flours into a mixing
Break 10 eggs (2 whole and 8 yolks only) into the mixing (Reserve those egg whites for angel food cake or a low-fat omelet.)
Add 1-2 Tablespoons of olive oil and mix with a spoon until it comes together. (Add a bit of water if the mix is too dry to knead.)
Turn the dough out onto a floured work surface and knead for 1 to 2 minutes until a smooth ball forms. Wrap in plastic wrap and rest in the fridge for an hour.
Remove the ball of pasta dough and cut off a 4-ounce (or 100-gram) piece to work through the pasta Starting on the widest setting, liberally flour the dough and work it through the roller several times, from the widest setting to the thinnest setting.
Sprinkle each sheet of rolled pasta with a 50/50 semolina and flour Stack the well- floured pasta sheets on top of one another.
When all the dough has been completed, roll 5-6 sheets of pasta into a gentle roll and cut with a knife to about ½ to 3⁄4 ths of an inch wide.
Toss the cut pappardelle with a sprinkling of flour and let rest.
Once the ragu is fully cooked and ready to serve, start 4 quarts of well-salted water to boil.
Cook the pasta for 5 to 7 minutes to al dente (or to your liking).
When the pasta is cooked, remove a cup of pasta water and reserve it before draining the pasta. Return the pasta to the pot with ½ cup of water and dish up dinner.
To dish up this meal I use a small mixing bowl to combine pasta and sauce before the final plating in pasta bowls. This gives the pasta and ragu a chance to get to know each other before hitting the bowl that goes on the table. Top the pasta with a bit more ragu and a good grating of parmesan cheese.