At this point, nearly all states that hunt whitetails are open.  With the turn of the October calendar comes the unofficial "beginning" to deer season for the country.  The cameras have been running overtime across much of the country, and confirming what we already suspected…Bucks are still on their food-to-bed-to-food patterns.
If you think the rut is the only time to tag a mature buck, think again. October hunting can be just as good. Whitetails are slaves to their stomach, especially in the early parts of October. They will generally be on their feet to feed every six to eight hours this time of year. Early fall is a very critical time of year for whitetails as they are packing on as much weight as possible to make it through the rut and upcoming winter.
Identifying high traffic and heavily used trails, routes and pinch points to food sources is a great way to pin down an early season whitetail. Deer trails are generally created from bedding areas to feeding areas and are easily identified as very narrow paths littered with deer tracks and droppings.
Hunters should concentrate on lightly used trails along geographical features, as these pinch points push deer into bottlenecks of which hunters can take advantage. In some areas, these bottlenecks can be difficult to find, but they're easier than most realize.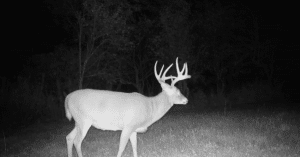 Even though the October 1 opener has passed earlier this week, the better hunting of the week can be found as cold fronts sweep across much of the US and Canada Thursday and Friday.  With some areas seeing over 20 degree drops in high temperatures, rising barometric pressure and a moon phase that puts peak feeding times in both morning and evening hunting hours, this weekend is shaping up to provide some strong deer movement and opportunities. Apps like Deer Cast and Hunt Stand have deer activity predicted to spike and with it being the weekend, you should take that opportunity to be in the stand.
Anytime there is a prominent weather change in October, whether it be October 1st or 20th, you can expect mature buck movement to spike. This is a great time to hunt core bucks that we've been getting pictures of just before or right after dark. There seems to be a time frame in October where some mature bucks will become very pattern-able going to and from their prominent evening food source- this typically only last for a very short period of time. Although the temperatures are often uncomfortable, many have waited all summer to get in the stand or ground blind in hopes of tagging a whitetail.
---
The 2023 Rut Report is proudly brought to you by these fine partners: Mossberg  |  Taurus Pistols & Revolvers  |  Pyramid Air | Habit Outdoors | Reveal Cellular Cameras |  Spypoint Cameras  |  StealthCam & Muddy Outdoors | Raw Frozen Scents | Forget Genetics