After a long time coming, an Alberta elk tag puts the bull of a lifetime on the ground
Eleven years is a long time to wait for anything. If you're an elk hunter applying for a special-draw permit, it can seem like a lifetime. For my wife, Heather, it was an exercise in self-control. She knew full well that if she was patient and held out for a quality management unit, there could be a big payoff.
With 11 priority points in Alberta, there would be a nearly 100% chance of pulling a coveted bull tag along the Milk River in Alberta's WMU 102. In June, as we logged on to the RELM website to check draw results, there it was. Indeed—Heather was awarded her long-anticipated bull tag!
Pre-Hunt Preparation 
This hunt is unique. The Milk River basin, located along the border between Alberta and Montana, is surrounded by prairie grasslands. With Montana's Sweetgrass Hills a short distance to the south, this area is well known for sustaining diverse and abundant wildlife populations. From cougars to deer, moose, and elk, this region has it all. As a zone that bumps up against the Canada/U.S. border, it's an area where landowners typically own or lease townships and roads are limited, so access is one of the bigger considerations. With this in mind, we did our research. All information pointed to a select few ranches.
Our first call was to Lost River Ranches Ltd. This owner controls a sizable chunk of ground along the Milk River. I know that over the years, the ranch has been dealt some bad cards by a growing number of unsavory hunters—folks who have cut locks on gates, destroyed fences, driven where they aren't supposed to and who have even poached multiple animals. The ranch has been criticized for shutting down access in reaction to this unethical and illegal activity. Well, I'm here to tell you that Tim, the owner, is one of the hardest-working, solid human beings you'd ever want to meet. He is a hunter and he understands everyone's desire for access. We treated him and his land with absolute respect and in return, he was more than helpful in pointing us in the right direction. During our early phone calls, he told us that our chances of finding a decent bull were better than average. The hunting on the other hand…well, that would be up to us.
Over the summer and into the fall, Heather and I gathered maps, called Tim several times, and made sure her HS Precision in 7mm Rem Mag was sighted in for pinpoint accuracy. October couldn't come quickly enough! Even though we wouldn't be hunting the primary rut, our timing would be perfect for the second estrus.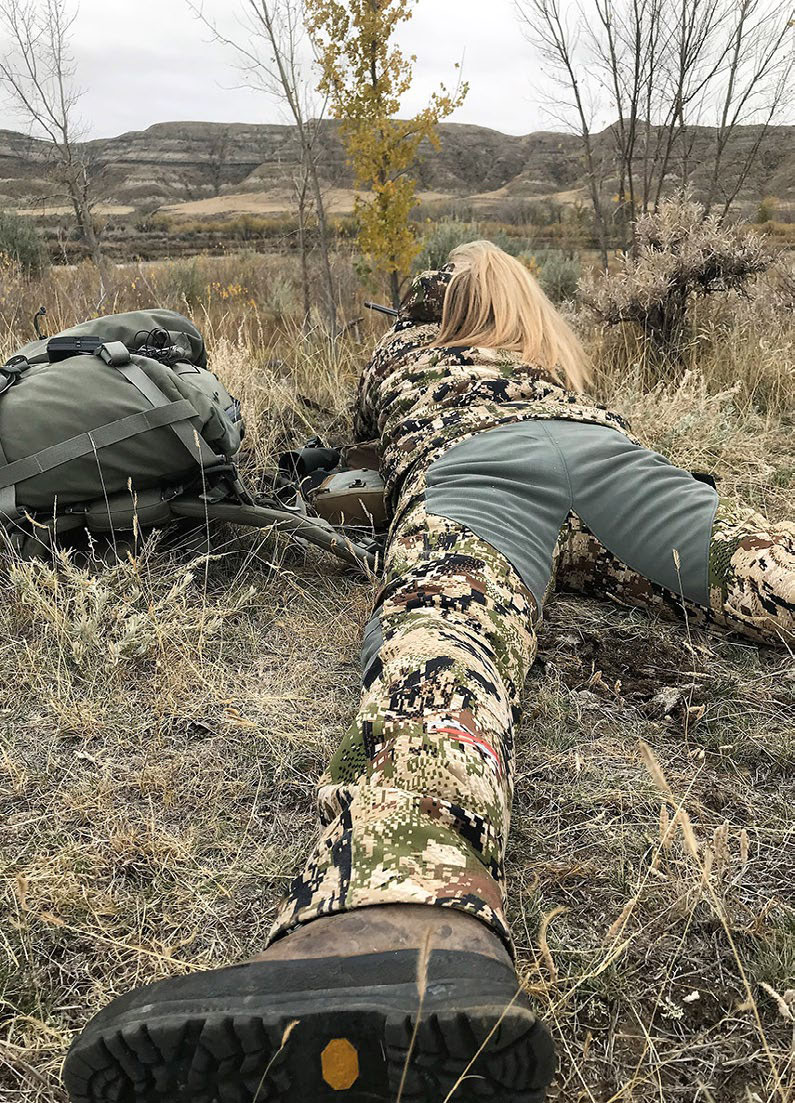 Packed and on the Road
Packing our trailer and heading south on October 8, the drive would take almost seven hours from our home in Edmonton. We would have just enough time to hop in Tim's truck and go for a quick evening scouting trip to sort out where we could go and then get a little advice on where Tim had seen bulls in the past. Tim was accommodating and more than hospitable. He said he hadn't seen a lot of big bulls, but suggested that one in particular was worth taking a closer look.
With less than an hour of daylight remaining, the three of us peered over the banks of the steep coulee, taking care to methodically glass each portion of the river bottom with a spotting scope and binoculars. Before long, Heather spotted a few cows and calves on the far side of the river. Tim said the bull he'd seen was heavy and looked to have at least seven points on one side. This piqued our interest for sure, but if you've hunted this area, you know that home ranges are vast and animals often travel great distances from day to day.
To add another challenge, Tim carefully pointed out where the U.S. border line was. To our surprise, it was close! We would have to know exactly where we were hunting at all times. Sometimes, that border line actually came down into the valley. Other times, it would be closer to the height of land on the far side. As darkness fell, and confident that there were elk in the area, we headed back to Tim's place, where he graciously allowed us to park our tent trailer.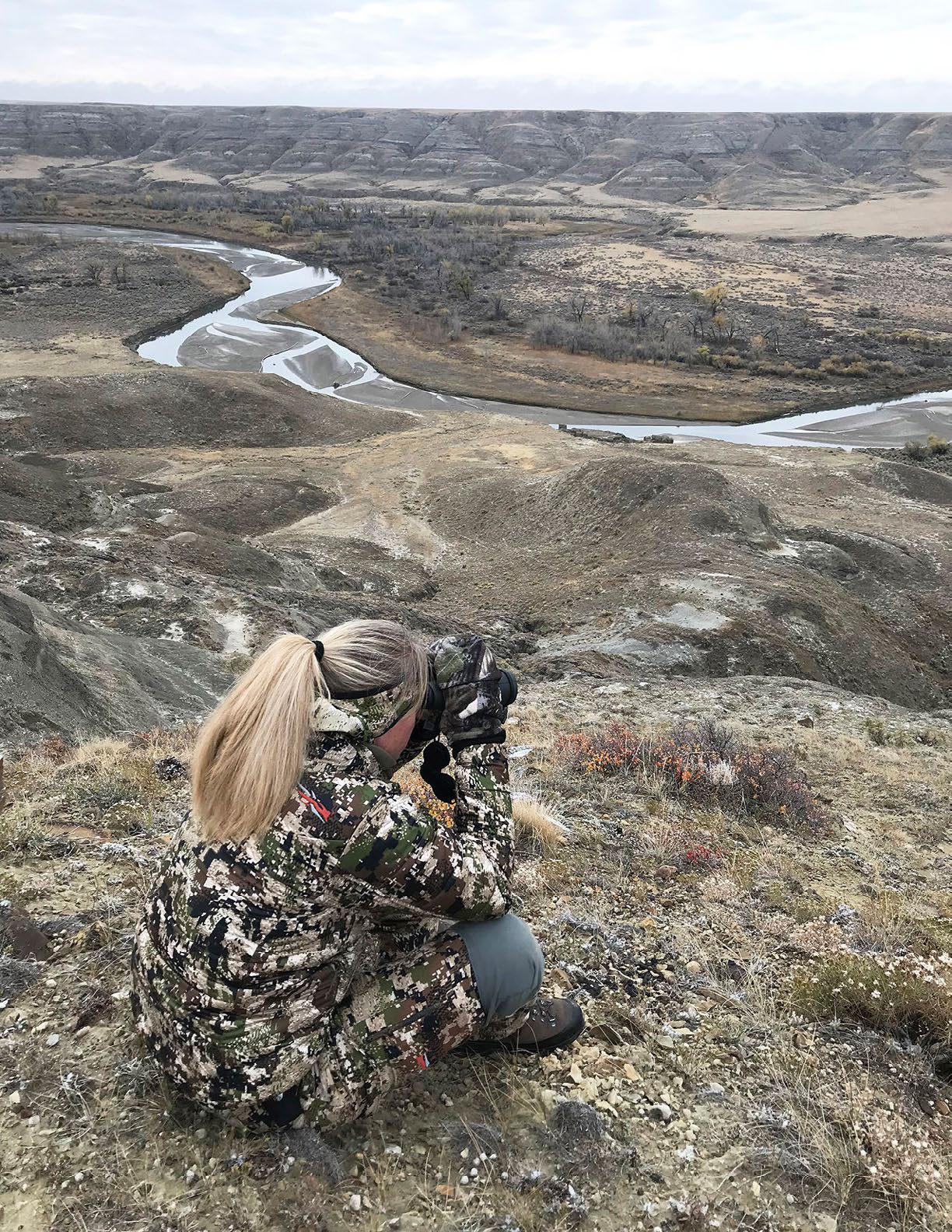 Opening Day Anticipation
Opening day of Heather's long-awaited elk hunt found us scanning the vast river basin. Patchworks of aspen and willow clumps lined the river. From our elevated perch, this view was deceiving. Visibility was immense but our perception of the distance was definitively skewed. It didn't take long to find a couple of small bulls and a cow, but it was incredible how easily they vanished in the sparse cover.
Any time we hunt wide open spaces, glassing is in order. On the Milk River, we learned the true value of our optics. Just when we thought we had dissected every possible inch, we had to do it all over again. It was truly surprising just how many times we located animals that had been missed the first couple times we looked.
Midday was predictably uneventful, but an hour before dark, a couple of miles to the east, we were afforded a glimpse of what we believed was the bull Tim had seen. It was impressive in every sense, with eight points on the right main beam and six on the left. Spotting a willow bluff surrounded by aspens and lush green grass, this habitat looked too ideal not to hold wildlife. Our efforts were rewarded when a cow and young bull emerged from the willows. They were followed shortly after that by the impressive bull! He was clearly the dominant bull, and two more cows and a calf joined him. We were excited and watched with anticipation, knowing that we now had a place to begin our hunt the next morning.
Down in that country, just because you can see them doesn't necessarily mean you can get them. First, this bull was on the far side of the river. Second, it was already on the move heading straight for the U.S. border. It would have taken at least an hour to snake our way down through the coulee to get into position; that's if the wind was in our favor. Our best bet was to bide our time and do it right. A well-deserved night's rest would put us in the right frame of mind. As long as we returned before daybreak, we expected there would be a reasonable chance of relocating this bull.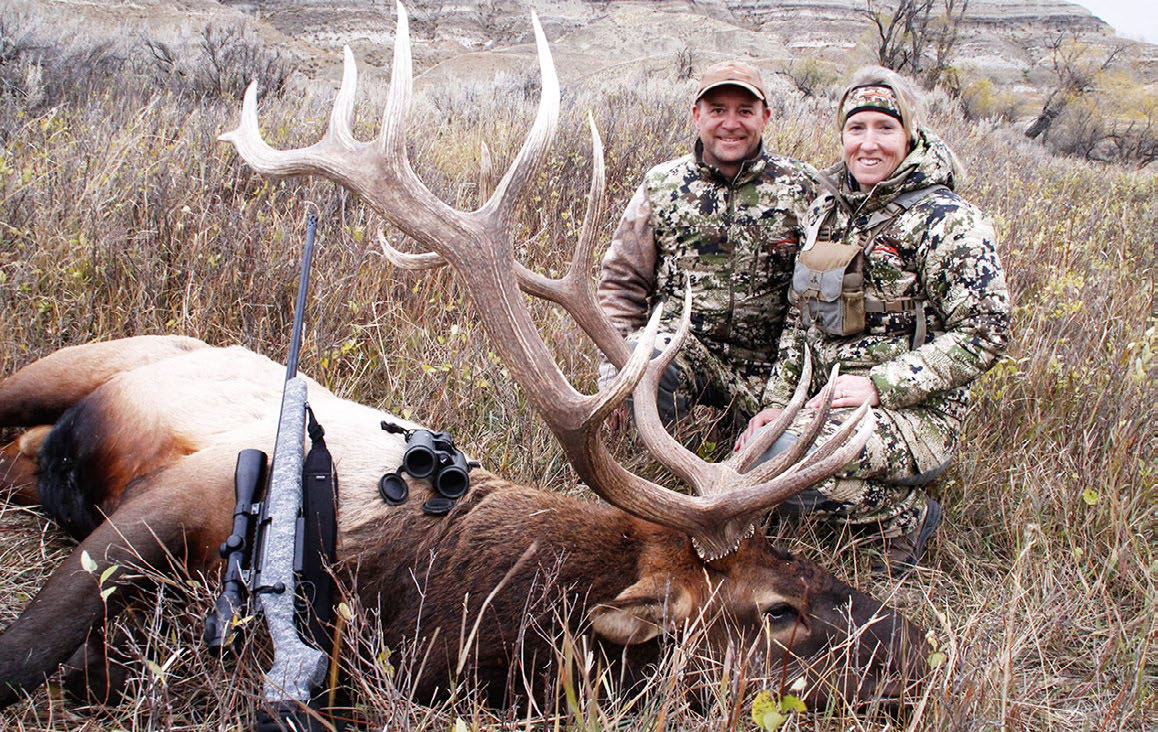 Fleeting Opportunity: Day Two
At sunrise, we found that bull again as he headed for cover. We entered the willow bluff at precisely the same place, so we knew generally where he was. It was textbook in every sense of the word, and I honestly thought this would be a slam dunk hunt.
Unfortunately, time would prove it to be anything but that experience. With no other option but to wait for the afternoon, Heather and I donned our backpacks at 3 p.m. and began navigating down the steep, sparse game trails. Fortunately for us, there was a slight rise on the near side of the river that afforded some visibility where we thought the bull might exit. Thermals were swirling, so we didn't dare cross the river to try for a closer shot. Opting for a 280-yard opportunity, we settled in to wait. At 3:45 p.m., we spotted the first cow. This seemed early, but as soon as she came out, several others followed, including two young bulls and the big guy. It all happened so quickly that Heather managed to get the crosshairs locked on him. Then just as quickly, he vanished behind cover. A fleeting chance lasting only a few seconds meant the shot opportunity had come and gone. Every now and then, we caught the odd glimpse of him moving further away in the distance but no more shooting opportunities were presented.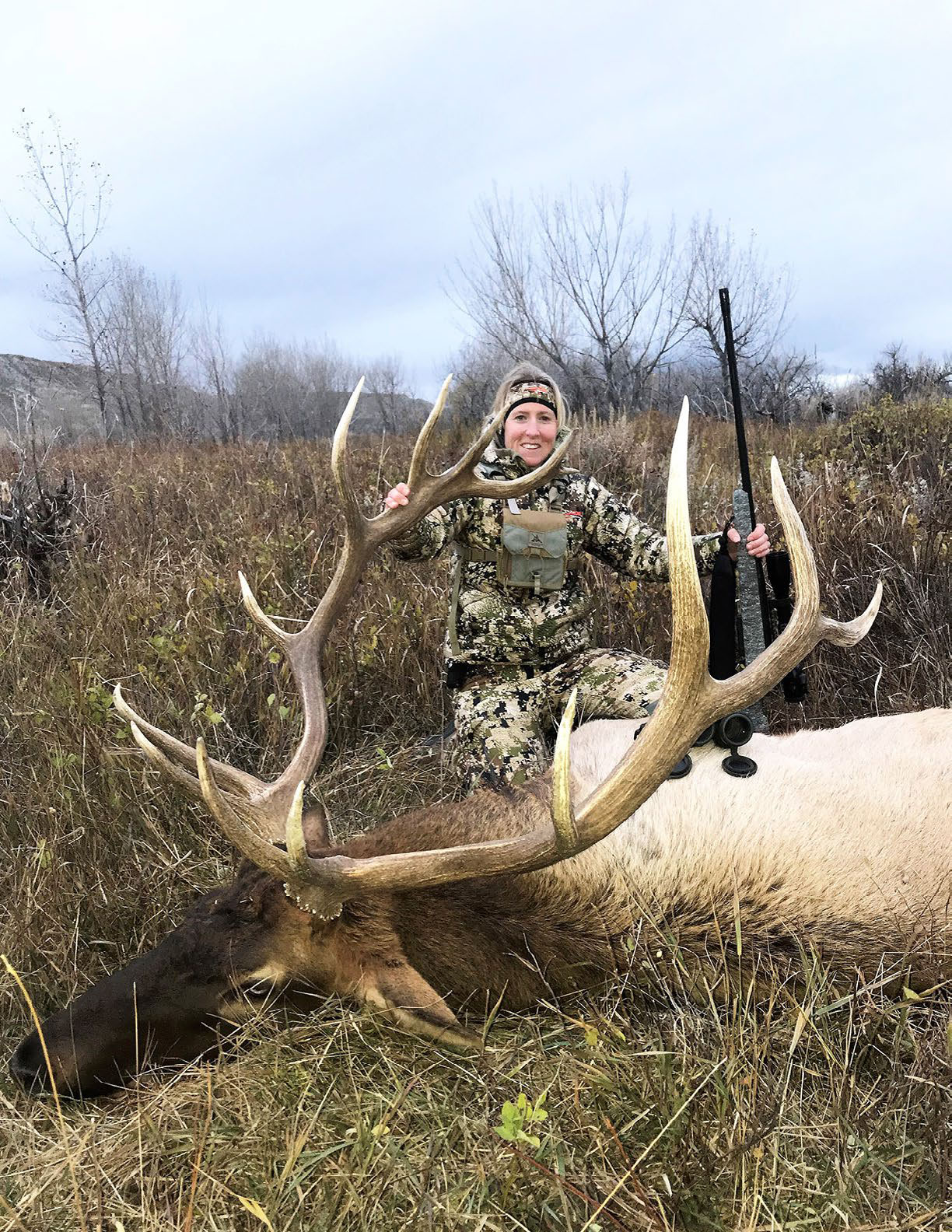 Another Day, Another Sighting
Round three would mean doing it all over again on our third day. We debated heading down to the river under the cover of darkness but instead wisely opted to glass again from up high. The giant bull was nowhere to be seen and his small harem wasn't there either. We did spot another bull that we estimated to be in the 290-inch class. While that was certainly tempting, after an 11-year wait, Heather opted to pass. She knew what she wanted, and she wasn't prepared to settle.
Continuing to glass throughout the day, we saw a few other young bulls moving their way through the flats mid-morning, but it was evening before we found Heather's big bull again. This time, he was a mile to the west. With clear skies and bright sunshine, his unmistakable antlers stood out vividly as he and his cows again crested the riverbank on the far side. With an hour of light remaining, we mobilized. We watched him and his cows cross to our side and figured we might have a chance if we were fast. Scrambling down the coulee, we arrived at the river's edge. We tried cow-calling but didn't get a response.
Twenty minutes passed as we waited. A small bull moose sauntered past us at 30 yards, but the elk were nowhere to be seen. We knew they must be in the trees or along the river, but again, thermals were an issue, and we took extreme precautions to avoid sending our scent in their direction. Getting winded could push these elk out of the area for several days, if not for good. Montana's Sweetgrass Hills were visible  to the southwest, and all I could think of was that if we messed up, these elk could vacate the open ground and never look back.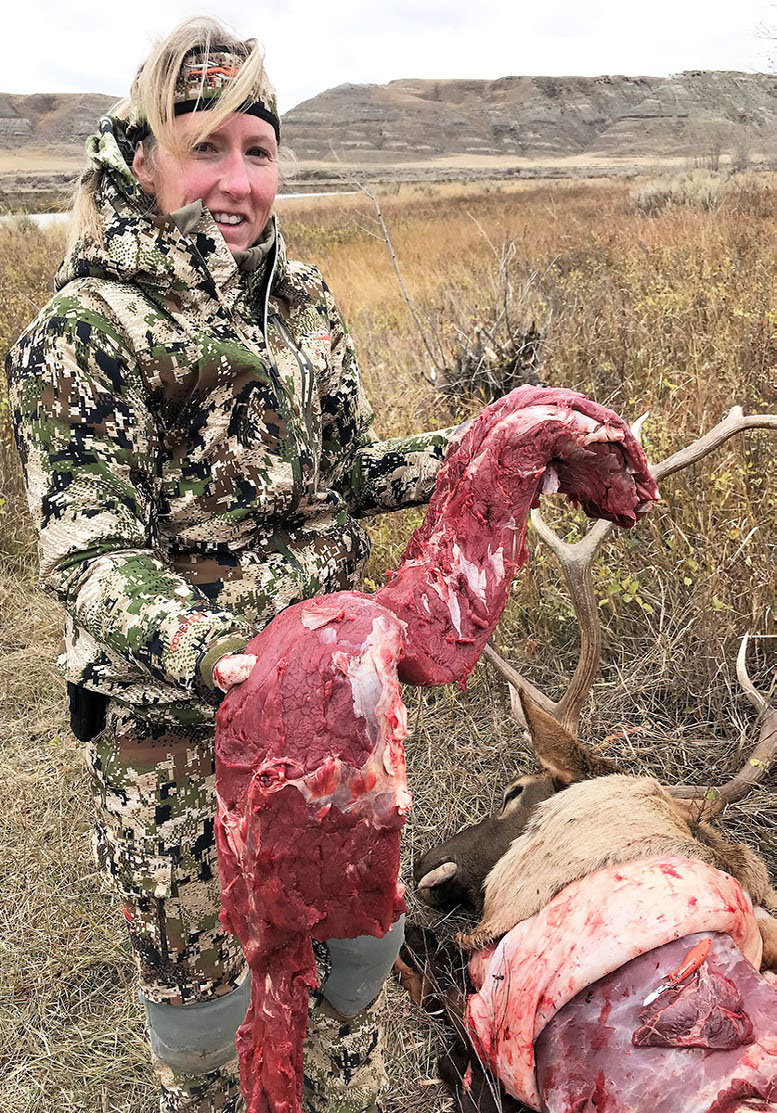 Then, A Bugle!
Then, with only 10 minutes of legal light remaining, he bugled. Dominant, guttural and loud, there was no mistaking the bull. He couldn't have been more than 200 yards away, but with thick scrub brush and old withered trees for cover, we couldn't see him. Darkness ascended, and we headed back to our camp to eat and rest for the night.
With two days left to hunt, we were beginning to feel the pressure. I will admit I thought this would be easier than it was. These Milk River basin bulls were proving more difficult to hunt than I had expected. After dinner, we spoke with Tim again. He mentioned the forecast and that made us cringe. With a prediction of 60 mph winds, we figured every animal would be tucked in tight to wait out the gale.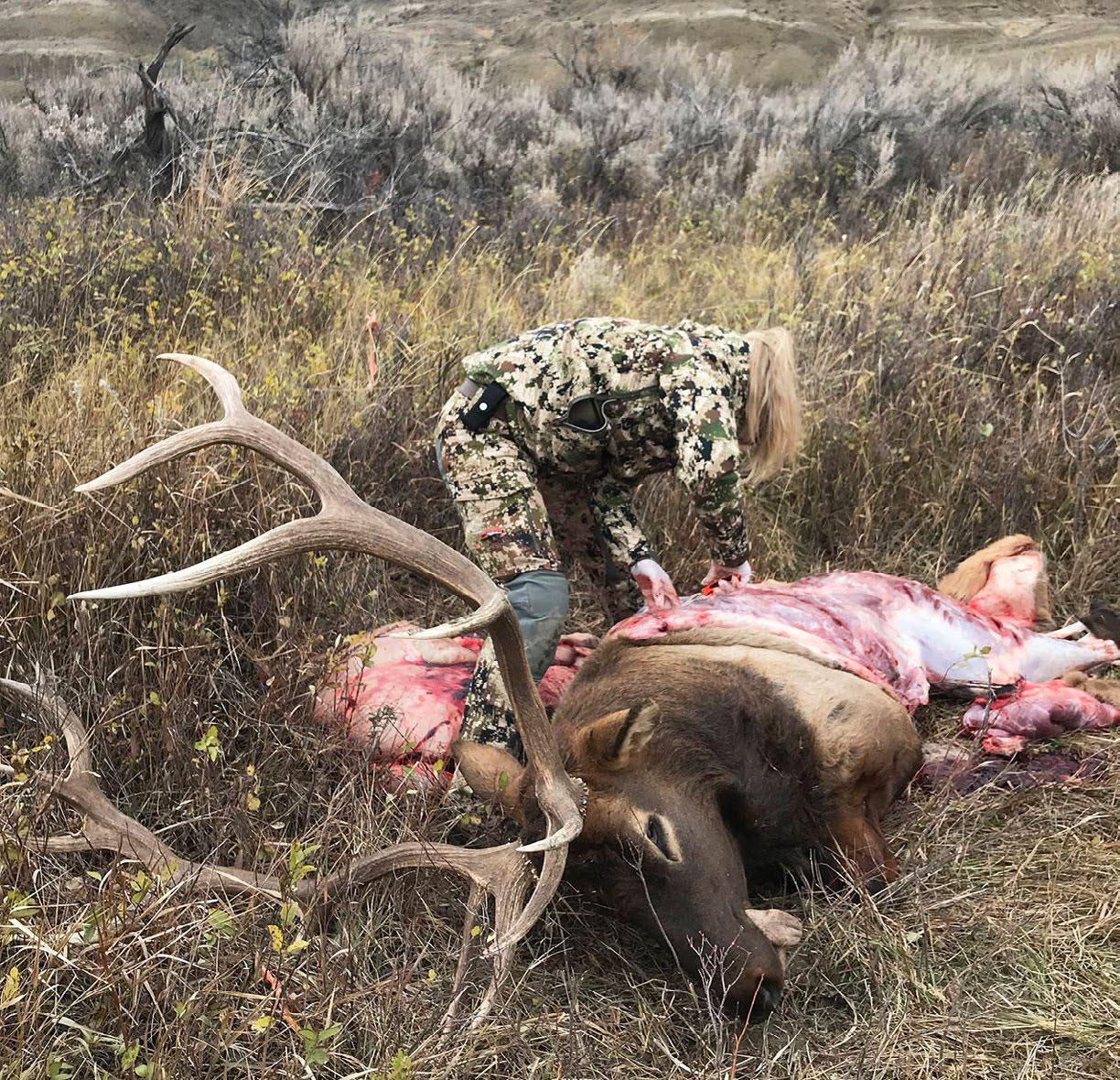 Persistence Pays
First light was relatively uneventful. We relocated a few smaller bulls we had been seeing, but there was no hint of the one we were after—at least until just after 3 p.m. That's when he braved the extreme wind, and Heather spotted him, excitedly whispering, "There he is, and he's on our side of the river!"
The entire scenario seemed unreal. As she scrambled to ready her rifle, the bull and his harem suddenly emerged from a small clump of willows on the far side of the river. They walked across a shallow-water crossing then made their way up to a grassy flat area. The wind howled as Heather laid out her bipod and cycled a 165-grain Winchester Accubond into her rifle.
Using my Swarovski EL Range binocular, I carefully confirmed the distance. It was 492 yards. I queried,
"You sure you want to take that shot in this wind, Heather? This is a serious crosswind!" She replied,
"I'm good. I've got a solid rest in this position."
A few years ago, Heather and I attended the FTW shooting school in Texas. We learned about long-range shooting, and she felt confident in her ability. As if the wind didn't present enough of a challenge, Heather didn't have a dial-up scope. With a Swarovski Z6i 2.5-15×44 P HD mounted on her rifle, it would be a holdover for her. As a testimony to understanding your equipment and ballistics, she held for the right windage and elevation, placing the first shot squarely into the massive bull's chest. If you learn one thing about elk hunting, it is to keep shooting until they hit the ground, and she did just that. After the first shot, the bull hunched up and moved only a few yards. Heather promptly delivered three more into his chest until he collapsed.
She was almost speechless, both with the way she had shot and the fact that she had just taken an absolutely spectacular bull. I tackled her in celebration! We had spent four days of hard hunting in one of the most beautiful places on earth, and it had finally paid off. Knowing we had only about an hour and a half of daylight left, we grabbed our gear and raced down to the bottom of the valley. There was barely enough time to take photos before darkness fell. Given that the temperatures would be well below freezing that night, we opted to gut the bull and return in the morning to quarter it and pack it out.
Our fifth and final day in southern Alberta was spent skinning, quartering and hauling Heather's elk up and out of the valley. It was simply one of the finest hunting experiences we've ever shared. Now, we can't wait to rebuild priority points and draw another tag so we can return to the Milk River basin for another bull.