Great Tips for Selecting a Guide for your Dream Hunt
Few hunters haven't dreamed of doing a guided hunt one day. Whether it be for Whitetails in Canada or plains game in South Africa, most hunters have a bit of a wanderlust.
The prices for hunts—especially those in North America—have skyrocketed recently, so it's more important than ever to ask all the right questions and do the appropriate research before parting with your hard-earned dollars. I've had the good fortune to hunt on six continents and I have hunted with dozens of outfitters. Most have been amazing experiences. As for the couple that were disasters, that was my fault for not doing the needed research in advance. It's easy to get caught up in the hype of killing monster deer or exotic species, but the sales pitch does not always match the experience.
Cost First?
While many hunters put cost as their number-one criterion when booking a hunt, I truthfully believe that factor should be fairly low on the list. Don't get me wrong—you should shop around for the best price, but only once you've created a short list of outfitters that meet your other criteria. You need to decide what experiences and expectations you have about a hunt, and then seek out the outfitters that can provide those. Only then should you begin to price shop.
When we booked our first trip to Africa, we had a pretty long list of what we wanted. After talking to 44 different outfitters at the Safari Club International convention, we made a short list of about six that could provide the exact experience we wanted.  Then, it came down to two factors regarding who we chose to book. The first was whether we felt we were compatible with the professional hunter we'd be spending two weeks with. The second was price. Our trip ended up being everything we had dreamed of, and more.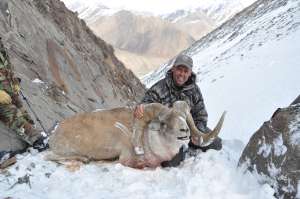 So, what are some considerations when looking for a guided hunt?
Decide what species you want to hunt and make a list of potential destinations.
Decide if you want to hunt free range or if high fence is okay.
Determine what trophy size expectations you have, if any.
Think about the type of accommodations you want. Do you want a lodge, tent camp, or motel?
Assess what style of hunt you want. Are you looking for spot-and-stalk, or is baiting or the use of hounds okay (depending on the species, of course)?
Know what mode of transportation you want on the hunt. Do you prefer riding around in a truck, or would you rather use an ATV, boat, or horses, or go by backpack.
Think about what factors comprise your expectations for success. Most hunts don't come with a guarantee of success, but some may offer guidelines of 50% success or lower.
Determine if you are willing and able to travel to a foreign country. Note that a criminal record, for example—even something as simple as a DUI (driving under the influence)— can prevent you from entering some countries.
Determine if you have physical limitations. Be honest here, because many hunts end in failure simply because a hunter misrepresented his or her physical abilities.
Think about your choice of weapon. If you are an archer, you should look for an outfitter that is experienced with bow hunters. If you are rifle hunting, find out the details about taking your own rifle versus borrowing or renting one from the outfitter.
Will you be taking a non-hunter along on the trip? Will there be activities for that person and any opportunities to tour after the hunt?
Convention Advantage
Going to a convention like Safari Club International is a great way to quickly shop your "must have" list and to find a number of outfitters that can meet your criteria. It's also nice because you get to meet outfitters and guides firsthand. Going to these types of conventions really opens your eyes to what's available, and you'll often find new opportunities that you didn't know existed.
While these conventions aren't cheap to attend, they are a great investment when looking to book a hunt. If you can't attend a convention, then the internet is your next best option. Start visiting the pages of outfitters that offer the species in the region where you want to go. Get a sense from the outfitter's website whether that person can offer what you want. Make a list of those that appear to make that cut, then start emailing or calling them to talk through your "must have" list with each one.
Consider an Agent
Another option is using a booking agent. There are some great booking agents, and then there are others with less-than-stellar reputations. If I'm looking for a specific hunt with a specific list of wants, I probably wouldn't use an agent. They typically only represent one or two outfitters for a specific hunt, so you may not get a true picture of every option available.
Where I do like to use an agent is when my schedule is open and I'm looking for something unique to do. If you have a good rapport with an agent, they will often call you with last-minute deals on various species they know you are interested in. But for a hunt where you have a lot of criteria in mind, they typically just don't have a large enough stable of clients to offer maximum choices. The one exception for me is when I'm booking hunts in Asian or Middle Eastern countries. In those cases, an agent who is intimately familiar with hunting in those countries is worth their weight in gold.
The Realities
There are a few harsh realities regarding going on guided hunts. The biggest thing you must face is that you may not have a successful hunt. Factors beyond an outfitter's control can lead to failure, plus some hunts just have a low success rate. Even high-dollar hunts like Stone's sheep and bighorn sheep may have less than 50% chance of success.
Just because you are paying for a hunt doesn't mean guaranteed success. Some hunts definitely come with higher success rates, for instance, African plains game hunts. They are in the top level for success rates, but still are not guaranteed, especially if you hunt free range. I'm always suspicious if an outfitter tells you they have a record of 100% success. I'm not saying that some of these hunts aren't under true free-range conditions, but I definitely want a lot more details about the conditions. Obviously, hunting with more limited-range weapons, such as archery gear, will also impact your success rates.
Also Real: Trophy Size
The other harsh reality in this situation is about trophy size. We all want to believe that every Whitetail in Saskatchewan is 170 inches and every mule deer in Alberta is 190 inches, but the truth is, they just aren't.
Outfitters typically only post their best trophies on their websites. That makes it easy to believe that is all that they kill. So, you'll need to have a frank discussion about trophy quality with potential outfitters to find out what the average size really is. Certain areas definitely offer better trophy-quality animals, and that is typically reflected in the price. If you are going on a hunt with the hopes of harvesting a mature buck, you likely won't be disappointed. If your goal is to take a bigger-than-average trophy, then you really need to do your research and expect to pay a premium.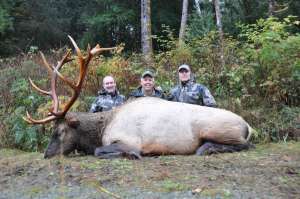 Keep in mind: I've seen a tape measure ruin many otherwise-amazing hunts. Keep your expectations realistic and accept that even though you will not likely kill the biggest buck in camp, you will still have a great trip. Base the trip on the score of an animal and be prepared to be let down.
Get a Client List
 Once you've short-listed some outfitters, it's time to talk to them and ensure they meet all your criteria and discuss success rates and trophy quality. If what they tell you sounds too good to be true, it likely is. Ask for a list of previous clients that you can talk to about their experiences. Be certain to ask for the names of a couple of hunts that were unsuccessful. The memory of a hunt that resulted in a big buck is often a lot different than one that was a failure. Typically, the truth lies somewhere in the middle of the two accounts. It's pretty easy to do a Google search of outfitter reviews, as well. You may be surprised about what you learn from past hunters who post about their experiences on message boards or other social media forums. Be aware that those with bad experiences are a lot more likely to post than are those who have enjoyed good experiences, but at least this survey gives you an idea of what some of the pitfalls could be.
It is typical for an outfitter to ask for a deposit at the time of booking and payment in full before commencing a hunt. Be certain to factor all the hunt costs into your budget, as well. These include travel costs to the destination, tipping for guides and camp staff, gun rental, and shipping trophies home. These areas can quickly add up to some 50% of the hunt cost or more, so be certain that you aren't faced with any financial surprises.
Anticipate Tips
 Ten percent of the hunt cost seems to be the going rate for tipping these days. I'd say that at minimum, I give $100 a day if the tip would add up to less than 10% the cost, though. I rarely tip an owner, even if they guide me. They are making their money off the hunt. I would always tip a guide who is just working for an outfit.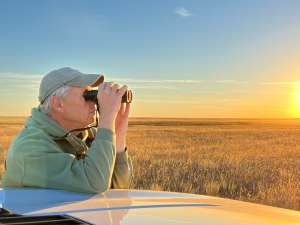 I also typically tip the cook (about $40 to $50 a day), and if there are other camp staff, I ensure they receive something as well. In North America, it's typical to tip each person individually. In Africa, it's typical to give all tips for the staff to the owner to distribute.
How to Save
If your schedule has some flexibility, there are ways to save money on hunts. Getting on a cancellation list is a great option. Often, outfitters may have hunters who cancel at the last minute and forfeit their deposit. In those cases, the outfitter will typically offer last-minute hunts with a fairly sizeable discount. In 2020, I had an interest in hunting Roosevelt elk on British Columbia's Vancouver Island. I emailed all of the elk outfitters I knew there, and was comfortable with, and asked to be put on their cancellation lists. In October 2021, I received a call from one of them with a great offer. The only catch was that I had to be there in two days. My schedule permitted it, and I ended up with a good discount on a hunt that I likely couldn't have afforded otherwise.
Auction Options
Buying hunts at auctions is another way to save money, but it's important to read the fine print before purchasing, and to ensure that the outfitter meets your criteria. Often, these auction hunts only include day rates, and you may end up paying considerably more for trophy fees than if you booked the hunt directly. Sometimes, the costs don't include taxes and other fees as well, so what seems like a bargain can quickly skyrocket in price. In Spain, for example, there is a 21% tax on hunts. This amount is charged regardless of how you buy the hunt, but it can come as quite a surprise when thinking you are buying a cheap auction hunt. There are some great deals to be had in auctions, too, and typically the money is going to support a worthy cause.  However, it is important to research all these auction hunts well in advance so you don't end up buying a headache that you don't really want or later realize you can't afford.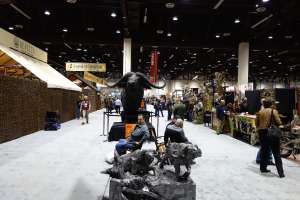 Be forewarned: Traveling to hunt is addicting, but with the proper research and planning, it can be the most amazing experience of your life.