ALPS OutdoorZ Introduces the Dash Panel Blind
NEW HAVEN, Mo – ALPS OutdoorZ, premiere manufacturer of extreme-duty hunting packs and gear for outdoor enthusiasts, announces an innovative solution for on-the-move ground hunters called the Dash Panel Blind.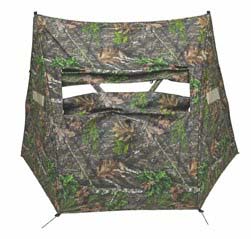 Developed primarily for turkey hunters but equally suitable for a wide variety of hunting applications, the Dash Panel Blind is a hybrid system that combines the key benefits of traditional pop-up blinds with the highmobility and lightweight of traditional panel blinds.
The Dash Panel Blind's three-panel construction offers a generous three-directions of ground-level concealment for one to two hunters. This free-standing blind utilizes a single-hub design for compact, on-the-move storage, quick deployment, and stability in challenging conditions, making it ideal for "run-and-gun" style hunting or for establishing morning, evening, or all-day ambush points to meet changing game patterns.
To better accommodate the needs of rifle, shotgun, or compound/crossbow shooters, the Dash Panel Blind features a SILENT-TRAC window system across the front panel. Top and bottom window panels allow hunters to independently and silently adjust the window panels to achieve the optimal balance of concealment and shooting function. Mesh windows on each side skirt can also be raised or lowered as needed.
The Dash Panel Blind weighs 5 lbs., 8 oz. with a 54-inch height and adjustable open dimension of 40 to 80 inches. It comes with attached ground stakes, an interior mesh pocket, and is offered in Mossy Oak® Obsession™ camo.
For more information about this and other innovative hunting solutions from ALPS OutdoorZ, visit alpsoutdoorz.com
New Speed Bag 500 – Ideal For Today's High-Performace Bows & Crossbows
DELTA MCKENZIE introduces the NEW Speed Bag 500 designed to stop high-velocity arrows and crossbow bolts. The 500 features a generous fill weight and stops arrows up to 500 FPS. Archers will get long-lasting use from the large 24-inch square target face. To make spot acquisition easy, the 500 uses high-contrast graphics printed on both sides and features up to 48lbs of shot-stopping fill for longer target life and extra stopping power. Bag targets are popular with archers because they offer one-handed arrow removal—the easiest arrow extraction of any target type. Rated for vertical bows and crossbows.
Fill weight: up to 48lbs.
Size: 24"H x 24"W x 10"D
MSRP: $64.99
To see the full Delta McKenzie target lineup, visit dmtargets.com
Montana Decoy Introduces New Whitetail Doe Decoy
Jan. 11, 2021 — The new for 2021 Trixie whitetail decoy is one deadly doe. Tested from Montana to South Carolina, it has proven to be one of the most effective whitetail decoys on the market. The secret ingredients are higherdetailed printing and a unique calming pose that works on both bucks and does.
"We have all been amazed with the performance of this decoy in the field," Montana Decoy Founder Jerry McPherson said. "I personally have had some of my best-ever whitetail hunts here in Montana using Trixie!"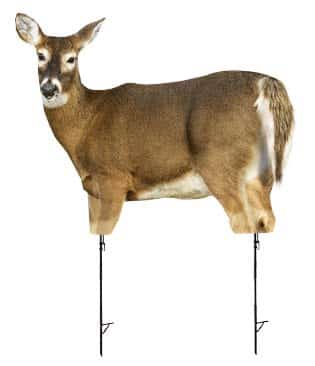 While the decoy features some new printing techniques, it also boasts the lightweight design, ease of portability and superb realism that Montana Decoys are known for. The twist-fold design and jointed leg poles mean even a life-size 2D decoy can fit in your daypack.
Trixie also features two of Montana Decoy's popular Teaser Tails for that just-right touch of motion and extra realism. The tails attach with magnets, so a hunter can apply scent and then replace with a fresh tail as the season changes or progresses.
Look for Trixie to debut on dealer shelves and montanadecoy.com in late Spring 2021.
About Montana Decoy: Created in 1996 by Jerry McPherson, Montana Decoy got its start from an average hunter trying to improve his bowhunting success. Tormented by an uncooperative bull elk, McPherson returned to his truck, thinking about how he could design a packable decoy without any unnecessary bulk and weight. McPherson found inspiration from folding band saw blades. He combined an actual photograph of a cow elk in the wild with a unique and now patented twist-and-fold concept to hold open the decoy. Montana Decoy currently offers turkey, elk, whitetail, mule deer, antelope and predator options along with Moo Cow confidence decoys. All are easy to use, lightweight and feature ultrarealistic HD photography.
The New Cl Pocket Binoculars From Swarovski Optik – Nature In Your Pocket
CRANSTON, RHODE ISLAND – SWAROVSKI OPTIK NORTH AMERICA, a subsidiary of the Austrian based company, announces the new CL Pocket binocular. The latest product in the CL family has been redesigned and sets new standards for fitting more comfortably in your hand. The binoculars are easy to use with its small size and outstanding optical quality. No matter where you are, you'll always be ready to marvel at the wonders of nature.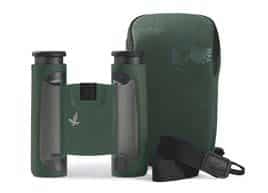 These high-precision optics allow you to observe wildlife in a relaxed manner without your eyes getting tired, while ensuring you can see every detail. It has a large field of vision and is 100% suitable for eyeglass wearers. With outstanding edge-to-edge sharpness and high transmission, you are guaranteed high-contrast, sharp, color-true images for unforgettable viewing experiences.
With its sharp, ergonomic design and easy-grip protective housing, these binoculars offer you a comfortable way of viewing. Weighing in at just 12.3 ounces and at 4.3 inches long, it slips easily into a small bag, making it the perfect companion. Its modern design in two colors, green and anthracite, can be combined with different accessory sets to suit your particular needs.
The CL Pocket is made for the outdoors with its improved double bridge and sturdy aluminum housing protecting this finely manufactured optic, while the inert gas filling prevents water and dust from entering the binoculars. The CL Pocket is available in 8×25 or 10×25 magnification and is supplied with a field bag, carrying strap, microfiber cloth, and eyepiece cover. swarovskioptik.com
Easton Rolls Out 4Mm Axis Long Range
SALT LAKE CITY, UTAH – When 5MM AXIS came on the scene it revolutionized hunting arrows. The small shaft innovation offered better accuracy and mitigated friction to retain velocity and add penetration. Now for 2021, Easton has taken the concept to the next level with the introduction of the NEW 4MM AXIS Long Range.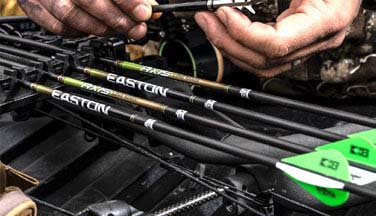 The 4MM AXIS will offer bowhunters even more of what they want in a micro diameter arrow. AXIS Long Range promises more speed to the target, driving broadheads deeper upon impact. "It also adds penetration as the shaft passes through with less friction behind the broadhead channel" said Gary Cornum, Easton Director of Marketing. "Millions of successful hunts testify to the awesome effectiveness of a simple concept that equates to more downed big game—it's like getting magnum ammunition for your bow."
Made in Easton's Utah factory, the AXIS Long Range is engineered with specialized carbon-fiber to increase arrow velocity. Easton 4mm nocks and front-of-center boosting 8-32 half-outs are included to help tighten arrow grouping. 4MM AXIS Long Range is available in four sizes, 250, 300, 340, and 400 in both standard straightness and in the ultra-precise ±.001 Match Grade.
High-strength, lighter weight carbon adds velocity for longer range
Includes 8-32-point half-outs
Pre-installed 4mm nocks
Four sizes: 250, 300, 340, & 400
Available in standard straightness and in the ±.001" Match Grade
Made in USA
MSRP: $10599 6-pack fletched (standard straightness)
For more information on Easton 4MM AXIS arrows, see your local archery pro shop or visit eastonarchery.com
Crush And Ani-Logics Outdoors Join Forces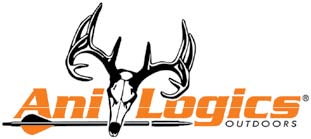 Ani-Logics Outdoors, together with Lee and Tiffany Lakosky of the CRUSH with Lee and Tiffany, are pleased to announce their new partnership to take whitetail deer herd management to the next level. Lee explains the reason for the new partnership, "We really like the fact that Ani-Logics has taken a scientific approach to feeding deer. We were looking for a deer feed company that not only offers amazing attraction, but has a complete, yearround approach to deer herd management, including supplements, minerals, and attractants for every season." Both Lee and Tiffany, and Ani-Logics, like most hunters, share the philosophy that, "There is No Off Season". The Lakosky's, along with Ani-Logics believe shooting mature trophy bucks isn't just a coincidence or good fortune; it takes years of strict deer herd management, perseverance, dedication, and hard work out in the field during the off season to prepare for that one perfect shot.
CEO Marc Freese, of Ani-Logics Outdoors, echoes the importance of the Lakosky's disciplined approach, "Growing a trophy class buck isn't just luck, it is a result of great genetics, plus superior nutrition. Nutrition is often the underestimated variable that we can control; by offering balanced nutrients at the right times of year, we can help deer reach their maximum potential, improve antler growth, promote immune system function, and increase the deer's chances of fighting off potentially deadly secondary diseases. Mother nature doesn't always provide deer with what they need; we studied deer livers to see what was missing in their diets and developed formulas and products specific to providing deer with these crucial missing nutrients."
Through this partnership, the Lakosky's will offer their line of CRUSH products made exclusively by Ani-Logics Outdoors. The upgraded lineup includes granular, liquid, block, and brick attractants, powered with Ani-Logics Outdoors' proprietary Ani-Shield TX4 Technology. Ani-Shield TX4 gives deer critical nutrients that nature doesn't always provide, filling the nutritional gap. Ani-shield TX4 includes vitamins for overall health, key bone-building minerals, laboratory-tested essential oils, and digestive and immune boosting next generation probiotics, not to mention incredible attraction!
Ani-Logics uses science, backed by research, with 70 plus years of experience in vet clinics, autogenous vaccine laboratories, and animal nutrition companies. Plans for an expanded lineup with exciting new products are also in the works. Freese says, "With Lee and Tiffany joining our team, we are now honored to partner with two of the most respected deer hunting legends in the industry, Lee and Tiffany Lakosky and the Drury Outdoors team. Together, their extensive knowledge of whitetails and deer herd management are valuable resources as we work together towards the development of future products."
To place an order or to discuss the science of the new and improved CRUSH products, please visitanilogics.com or call 844-372-3557.
Size, Speed, and Comfort Redefined with TenPoint's 26.5" Long, 440 Feet-Per-Second Havoc RS440
MOGADORE, OH – TenPoint Crossbow Technologies' recently launched the industry's fastest crossbow-perinch – the NEW Havoc RS440. Delivering 440 FPS with same-hole accuracy from a platform measuring only 26.5" long and 7.5" narrow, the Havoc RS440 redefines compact crossbow performance and comfort, while providing safe de-cocking with the revolutionary ACUslide cocking and de-cocking system.
"The Havoc is the most comfortable compact crossbow on the market. Period.," said TenPoint CEO Rick Bednar. "When we launched a compact bow project, we wanted to create a bow that felt good to shooters of all sizes, while implementing our reverse-draw technology that allows us to deliver unmatched speed, power, and accuracy. Shoulder it and shoot it – you'll understand why it redefines the compact crossbow in size, speed, comfort, and noise level."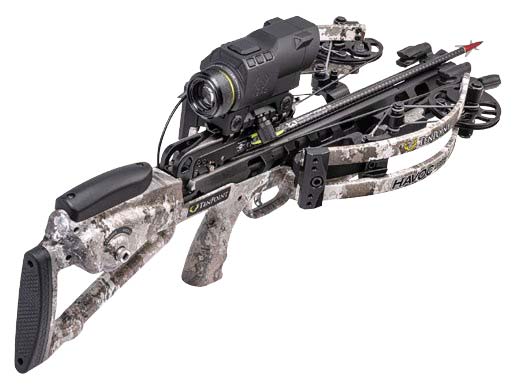 The Havoc's reduction in length to just 26.5" overall is accomplished with the development of TenPoint's NEW 16-inch -MICRO-TRAC barrel and NEW ultra-light, twopiece TEC-TACTICAL stock. The fluted aluminum barrel also reduces the flight deck surface by an incredible 50%, increasing accuracy and providing string life in excess of 1,000-shots, while the new stock features a tactical styled butt stock, as well as a hollow pocket that houses the ACUslide cocking and de-cocking system. In addition, the stock's butt plate adjusts up to 1" to provide all shooters the ideal fit, and combines with the NEW EVO-X Marksman Elite Scope to yield perfect eye-level alignment.
The NEW EVO-X Marksman Elite Scope, included in the bow package, features fully multi-coated 2-8X optics, capable of precision down-range accuracy out to 100-yards. A variable speed design compatible with crossbows shooting up to 500 FPS, the Marksman Elite scope features external Target Turrets for easy adjustment to windage and elevation (one click represents ½" MOA at 100-yards) for unmatched long-range accuracy.
The Havoc features a patented reverse-draw bow assembly that draws the string through the riser, creating a 13.5-inch power stroke. The increased power stroke generates more speed with less draw weight – creating a smoother, quieter shot. The elongated power stroke also keeps the arrow nock engaged with the string before release – this is a critical component in performance, as the longer the nock remains engaged with the string, the more accurate the crossbow will shoot. In addition, this center-mounted riser provides superior balance, eliminating the "nose-heavy" feel of traditional crossbows and making it easier to hold steady, increasing the shooters accuracy.
The RX7-Cam system rotates an incredible 360-degrees to produce speeds of 440 feet-per-second with a 400-grain arrow. The crossbow's revolutionary Vector-Quad cable technology utilizes four cables instead of the traditional two which eliminates cam lean and generates straightnock travel leading to same-hole down-range accuracy.
The ACUslide, the talk of the 2020 crossbow market, features the company's groundbreaking Auto-Brake Gear System, which allows for silent cocking and safe and controlled de-cocking of the crossbow. The Auto-Brake Gear System eliminates the potential of losing control which can lead to injury or costly bow damage during the cocking or de-cocking process. While cocking and de-cocking with the ACUslide, the user can remove their hand from the handle at any point, with no other action required – and the handle will stop in place. The 6-inch XTEND Adjustable Crank Handle reduces cocking effort to 5-pounds and stores securely into the butt-stock.
The Havoc RS440 features the company's S1 trigger. This 2-stage, zero-creep design features an advanced rollersear system that delivers a consistent crisp, 3.5-pound pull. The trigger is equipped with a DFI (Dry-Fire-Inhibitor) and is fitted with a nylon-filament arrow retention brush that improves arrow grip and alignment to reduce noise and vibration. An integrated string stop system is also included to further reduce noise and vibration.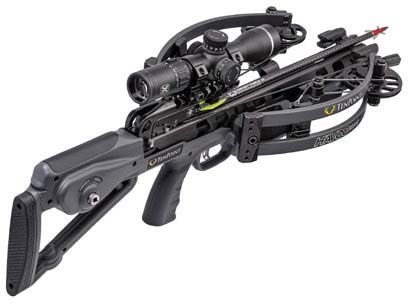 The crossbow weighs just 7.5-pounds (w/o accessories), measures only 26.5-inches (w/o stirrup) in length, and shoots a supercharged 440 feet-per-second with the included 400-grain arrow EVO-X CenterPunch 16 carbon crossbow arrow.
The Havoc RS440 comes with the new EVO-X CenterPunch 16 carbon crossbow arrows. The ultra-accurate 16" arrows weigh 400-grains and feature 17.5% FOC. Each arrow is inspected for straightness to within .001-inch and each package is weight-matched to within 1-grain per arrow.
Decorated in Veil Alpine camo or Graphite Gray, the Havoc RS440 ships completely assembled and includes a Ready-To-Hunt package. 
The package includes:
ACUslide cocking and de-cocking system
Matching Veil Alpine or black Evo-X Marksman Elite Scope
6-pack of EVO-X CenterPunch 16 Premium Carbon Crossbow Arrows (.001" straightness, 400-grains)
Integrated String Stop System
6-arrow Tech Quiver
Havoc RS440 MAP:
$2,599.99 – Veil Alpine™ Camo
$2,499.99 – Graphite Gray
TenPoint Crossbow Technologies is 100% American owned, operated, and all of its crossbow models are manufactured in Mogadore, OH.
The Most Versatile, Adjustable And Stable Lineup Ever Produced By Athens Archery!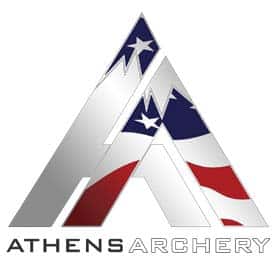 HENRIETTA, NY – Athens Archery announces a new lineup for 2021 including the new split limb models Vista 33, Vista 35 and Peak 38. The popular solid limb Summit 6 and Summit 7 continue to round out the 2021 offering. Expanding on versatility, the Athens Archery team has introduced new technologies to the Vista and Peak series of bows this year.
The new RT-X rotating cam delivers the smoothest and most forgiving system ever produced by Athens on the new Vista family of bows. This cam system provides new functionality by allowing draw length and let-off adjustments without the need for a bow press. Changes can be made in minutes to fit the bow to the archer, simplifying adjustment and tuning. This cam system provides a smooth transition from peak weight to full draw with a solid backwall.
The Vista Series and the Peak 38 feature our new patent pending Limb-LokTM pocket system which balances limb orientation and securely locks the new 1" limbs in place. This pocket system prevents any lateral movement while locking the pocket onto the riser. No longer does the pocket ride on the back of the riser or on the locking screws, but instead on a shoulder that goes through the riser for simple adjustment and consistent tensioning, creating the most stable platform ever produced by Athens Archery.
Athens Archery has been known for its impeccable decorating quality utilizing the latest in powder coating technologies as well as the patented KolorfusionTM process for our patterned (camo/design) bows. New for solid colors this year, Athens is proud to offer a toprequested Green Beret (flat OD green shade), Monarch (a vibrant orange), Dragonfly (an almost electric blue), and Mantis (a bright green). We are also excited to offer two new camouflage patterns from Treezyn; Early Seezyn and Late Seezyn.
All of our bows are offered in the following colors: Realtree Edge, Realtree Excape, Kuiu Verde 2.0, Kuiu Vias, (NEW) Treezyn Early Seezyn, (NEW) Treezyn Late Seezyn, Textured Black, (NEW) Green Beret, Flat Dark Earth, Musket Brown, Anthracite Gray, Pearl White, (NEW) Monarch, (NEW) Dragonfly, (NEW) Mantis, Majesty Purple, Old Glory.
Our 2021 Lineup
The Vista Series is driven by our brand-new RT-X rotating cam. The Vista 33 and 35 feature our patent pending Limb- LokTM pocket, 1" wide split limb design with a longer riser to provide the ultimate in stability and forgiveness. At 33" and 35" ATA respectively, the new Vista series will be at home from the tree stand to the mountain as well the 3D course. Past parallel limb design with the new Axion limb dampeners make the Vista series one of the quietest and shock free bows to come from Athens Archery. The Vista 33 comes in at 33" ATA, with IBO Speeds up to 335 fps, draw length adjustments of 25.5" – 30", and weighs just 4.2 lbs. The Vista 35 comes in at 35" ATA, with IBO Speeds up to 330 fps, draw length adjustments of 26" – 31", and weighs just 4.4 lbs. Both bows will feature draw weight options of 40lb, 50lb, 60lb, 65lb and 70lbs.
Vista 33 Specs
ATA: 33"
Brace Height: 6.5"
IBO: up to 335fps
Draw lengths from 25.5-30" in half-inch increments
Draw weights options of 30, 40, 50, 60, 65 or 70lbs
80-90% let off
Mass Weight: 4.2lbs
Vista 35 Specs
ATA: 35"
Brace Height: 6.5"
IBO: up to 330 fps
Draw lengths from 26-31" in half-inch increments
Draw weights options of 30, 40, 50, 60, 65 or 70lbs
80-90% let off
Mass Weight: 4.4lbs
Designed from the ground up for target archers, by target archers and meant to be the universal bow for any target archery format, the 2021 Peak 38 embodies top performance and accuracy. The new patent pending Limb-Lok™ limb pocket design balances limb loads and securely locks the limbs in place preventing any lateral movement while locking the pocket to the riser. This pocket system provides unequalled consistency and repeatability in a transition area that is critical to bow performance. New 1" wide limbs provide additional stability and balance by spreading forces over a larger surface area. The Peak 38 features a 38" axle to axle and 7" brace height offering unparalleled forgiveness while still pushing arrows at 335fps with Athens's popular MT modular cam system. A wide variety of draw lengths, from 27" to 32.5" accommodates most archers.
Peak 38
ATA: 38"
Brace Height: 7"
IBO: 335 fps
Draw lengths from 27-32.5"
Draw weights from 30, 40, 50, 55, 60, 65 or 70lbs
80%-90% let off
Mass Weight: 4.3lbs
Back by popular demand, the Summit Series is one of the most popular solid-limb hunting bows ever produced by Athens Archery! With two options to choose from, the Summit series comes in a 6" and 7" brace height in a compact 30.5" axle-to-axle frame with speeds of 345fps and 335fps respectively. The Summit series is fast, smooth, quiet and shock free, making it the ultimate choice for bowhunters everywhere. The versatile modular MT cam system allows the Summit series to be one of the most versatile bows on the market for all hunters with draw length adjustments ranging from 23.5" up to 30". The Summit series is also a great choice for ladies and youth with draw weights starting at 30 lbs.
Summit 6 Specs
ATA: 30.5"
Brace Height: 6"
IBO: 345fps
Draw lengths from 23.5-29" in half-inch increments
Draw weights options of 30, 40, 50, 60, 65 or 70lbs
80-90% let off
Mass Weight: 4.2lbs
Summit 7 Specs
ATA: 30.5"
Brace Height: 7"
IBO: 335fps
Draw lengths from 24.5-30" in half-inch increments
Draw weights options of 30, 40, 50, 60, 65 or 70lbs
80-90% let off
Mass Weight: 4.2lbs
Athens continues the popular Save Your Hunt program and as always, continues to provide a Lifetime Transferrable Warranty on all of their bows. To learn more about Athens Archery and the full line-up of Athens Archery Bows and our Save Your Hunt program, please visit athensarchery.com. To stay up-to-date with Athens Archery, please follow us on Facebook (https://www. facebook.com/athensarchery1/) and Instagram (https://www.instagram.com/athensarchery/).
New ENHANCED LOWDOWN VIEWER – with Advanced Features!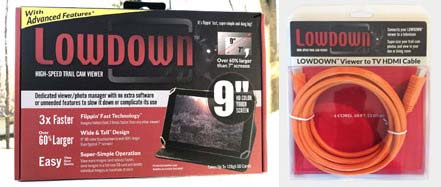 *All dealers agree to the same MAP pricing!*
The new LOWDOWN Viewer now accepts 128Gb SD Cards!
2 Full Size SD Card ports to view pictures and video with one SD Card and save on another!
All new Snap Shot System allows the user to pause a video, zoom in on a frame, and take a picture!
New Navigator Help System! Our new help system is built into the viewer to guide the user.
Oldies but goldies; 30-day money back guarantee, 1-year limited warranty, leather case, charger for your vehicle, and a charger for inside the home.
CONTACT US!
Email: [email protected] • Phone: 715-571-1694 • Website: www.lowdownviewer.com