September typically means velvet bucks are beginning to peel, and whitetail are still off limits to most hunters across whitetail country. However, some states like Kentucky, Montana, North and South Dakota, South Carolina and a few others, all have early start dates offering great early hunting opportunities coupled with the chance to score on a velvet trophy.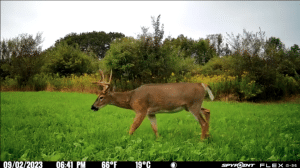 Most bucks, even mature ones, often follow a daily summer feeding pattern right into late September early October. Many of those patterns dissolve as summer comes to an end unless you have a fresh green food source to transition them from green-to-green food. The best way to use summer food sources is to hunt them while they remain pleasing to a deer's taste. The first week or two of September are probably the best for killing a buck on an early-season food source. Linking known fall to summer traits is useful for patterning home body bucks for an early season opportunity. You'll decode those patterns by taking notice of a few small clues from summer and putting them into an early season hunt-able pattern.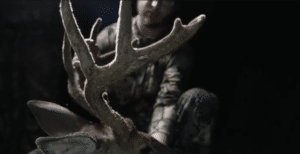 This year, the moon phase leads way to peak feeding times being in the morning and secondary moon activity being in the evening hours, during prime time.  Capitalizing on a giant could be a strong possibility, but the low-pressure systems and heat crossing much of the country will most likely keep the deer activity subdued until the last minutes daylight.  Hunt Stand is predicting moderate to average deer movement across much of the areas in season now, but come this weekend, a large high-pressure system followed by unseasonably cool temperatures is predicted to roll through, getting those big boys on their feet.  They may have lost their velvet, but they're still on a bed-to-feed pattern and are still susceptible to your arrow.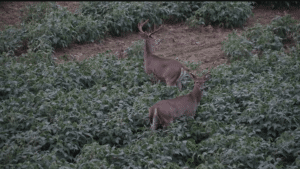 Just as in life, timing is everything in deer hunting. If you have limited time for deer hunting, then make sure you give priority to evening hunts rather than morning hunts when hunting the early season. During the early season, a hunter is more likely to encounter a whitetail buck during the afternoon/evening hunt. It's also easier to get into a stand without bumping deer, which is step one when trying to tag an early season buck.  Another huge factor in chasing early season bucks is being a profound weather watcher, watching for massive cold fronts is easy be understanding the subtle changes in weather that get bucks on their feet during early season is a huge piece to seeing and killing mature early season bucks. Staying undetected and as scent free as possible will keep you in the game on a patterned buck who is consistently visiting a early season food plot or ag field.

A buck's relatively low testosterone level coupled with warm temperatures make hunting them from mid-September to late September fun because you will consistently see them on need to feed patterns.  The best time of day to hunt this period will be the last hour of daylight on or near a destination feed field of whitetails in the area.
---
The 2023 Rut Report is proudly brought to you by these fine partners: Mossberg  |  Taurus Pistols & Revolvers  |  Pyramid Air | Habit Outdoors | Reveal Cellular Cameras |  Spypoint Cameras  |  StealthCam & Muddy Outdoors | Raw Frozen Scents