The hunting world is changing, and at the same time, women are increasingly taking over as providers for their families. They know that the world of hunting is a world of sustainability, conservation, filling the freezer and passing our heritage down to our children.
The number of women in this sport is visibly increasing by the year, in part due to the successes of programs and opportunities offered to them by other women and organizations in the industry. These programs include hands-on detailed "hunt camp" environments that cover everything from becoming comfortable with your firearm to scouting and harvesting your animals.
Women have realized it is okay to be a hunter. It is okay to shoot a gun or a bow. It is okay to go out and harvest your supper on your own, and to clean it, process it and cook it. It is okay to be a woman of the outdoors and to share the adventures with your family.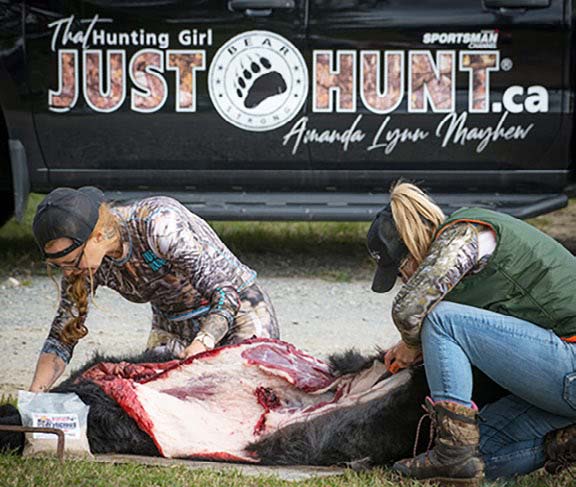 Cathy, a young lady who wanted so passionately to learn to hunt, had come to me a few years back asking if I would take her on a bear hunt. I said most certainly I would. In the fall of that year, the hunt came to life with Cathy as we ventured out on her first bear hunt. I had requested the assistance of one of my ambassadors, Candace, to join us as a camera operator and a hunter. Both women are moms and they both wanted to provide meat for their families. This was a great opportunity to complete those tasks, to learn everything they could about the hunt, and to pass their knowledge on to their friends and families. They thereby provided not only meat in their freezers but the chance to pass along their knowledge and encourage others, while keeping our hunting heritage alive.
Cathy struggles with a rare blood cancer limiting her mobility, but she powered through with perseverance as I have never seen before.  She put in the hours needed for the hunt, watching, listening and patiently waiting, as did Candace. I sat with Cathy and was able to answer questions as they came up, including topics such as wind, scent, what bears eat, when are they most active and their other habits.  Candace on the other hand, also a first-time bear hunter, took to her stand on her own, studying her environment and finding the answers herself as questions occurred to her until she could get back to camp and confirm her findings.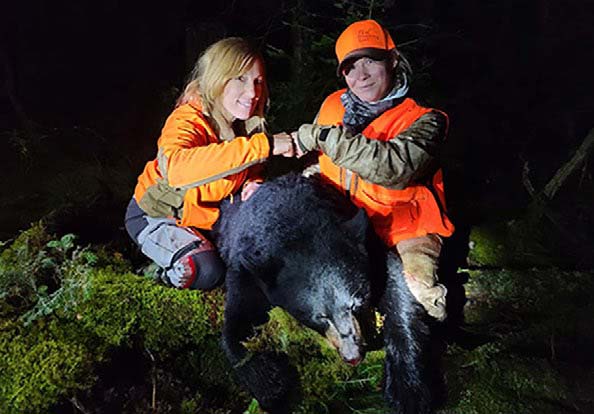 It didn't take long, and on day two of the hunt, Candace was determined to harvest her bear.  She was able to do this with just minutes left in the day of legal light. Candace watched the bear come in and waited for her chance.  She promptly sturdied her firearm up to her shoulder and waited while the bear gave her the perfect shot. Candace aimed, took the shot and was rewarded with the perfect expiration of the bear's life, giving her a cooler full of meat to bring home.
The next day Cathy was inspired and even more determined to experience the same. We set out early, and being a little confident of ourselves, told the staff we would be back in an hour. Lo and behold, within an hour we made the call that Cathy had harvested her bear. Cathy had tears of joy while she made a phone call to her husband to tell him about the day's events. We heard him on speakerphone say he was so proud of her and her accomplishments, and that he could not wait to have her arrive home to share in the bounty of her hunt.
The rest of the weekend was spent processing the animals.  Both of the girls dove right in to learn and assist in any way they could. Then it was up to them to butcher and prepare their meat for travel.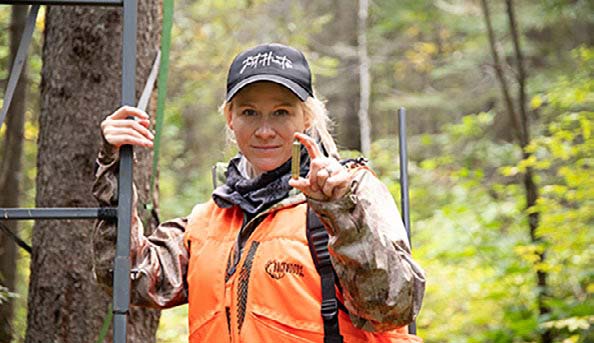 Programs that offer waterfowl, grouse and turkey hunting are some of the best ones to get started in as a group. The participants can converse together throughout the day's hunt and try different tactics, whereas big game hunts are a little bit more of a one-on-one hunt situation.
While these programs keep growing and evolving, so too are the women who attend them as well.  They are becoming more confident and inspiring in the world of the outdoors. Not only are they learning to hunt, but they are educating themselves on homesteading, fishing, conservation and the rules and regulations for firearms and hunting. Some of these women are making a big splash politically and locally sitting on different committees and executive boards.
The memories of spending time as a family in the outdoors are what our children and loved ones are going to remember as they share their adventures in stories and photos. The real trophy captured from these hunts is the inspiration to get others involved and the smile that accompanies their experiences.