BONE-DRI Moisture-Absorbing Gun Cases Unveils Dual Rifle Case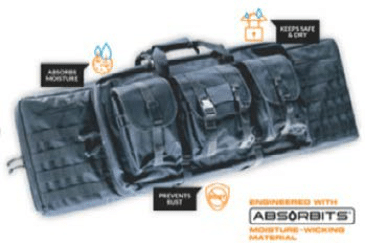 BONE-DRI™, inventor of award-winning moisture- absorbing gun cases, is proud to announce the introduction of the Dual Rifle Case. Engineered with advanced materials to wick moisture, the BONE-DRI Dual Rifle Case protects your rifles from rust.
Designed for sportsmen, hunters, and professional shooters who demand and deserve the very best, the BONE-DRI Dual Rifle Case has no competition. Humidity and moisture can affect the performance of your gun, cause rust, and make cleaning difficult. Unlike any other gun cases, BONE-DRI cases are engineered with Absorbits™ moisture-removal material, which automatically draws moisture from the firearm and can be used an unlimited number of times; simply recharge the material after use by placing it in the sun or drying with a hairdryer on low heat. Constructed with heavy-duty materials and backpack straps, the Dual Rifle Case easily withstands heavy wear and tear, is guaranteed for life, and equips you to safely transport your firearms and ammo on all your adventures.