TROPHYLINE SUMPTER FRAME PACK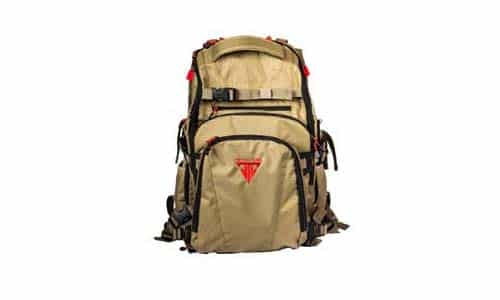 The frame pack of a whitetail hunt- er's dream…The Sumpter pack was designed for remote access mobile hunting. Designed from the popular base of our C.A.Y.S Pack, the Sumpter expands it's use beyond a saddle hunt- ing pack with a sturdy ultralight inter- nal aluminum frame. This provides a more sturdy platform to haul saddle hunting gear in, and meat out!
Trophyline has a long reputation as the maker of the first, Original Tree Saddle. Just as the company found- ers, the Green family, first pushed the limits of innovation in the hunting market with their launch in the 1960's, today's Trophyline continues to exceed in the mobile hunting niche with the addition of the Sumpter Pack. Besides offering a rifle/bow scabbard, the pack contains a Meat Sling that deploys up and over the pack offering a shelf to haul with. Comfort was a top priority in this pack's build, with an adjust- able torso length (16-19") and a solid one-piece breathable back panel. The pack is a solid choice for filming hunts or western day hunts, offering 19 total pockets, camera arm/tripod sleeves, and 2600 total cubic inches of space. If you have been waiting for a more rigid, more robust, and more capable saddle gear and meat hauling pack for whitetails, this is it.