Photos by Kelsie Berg
Chase Grubbs Got It Done After Knocking On a Door
Buck Score: 205 inches (gross)
Date of Harvest: October 19, 2021
Location of Harvest: Iowa
Weapon of Harvest: Compound bow
Chase Grubbs is like many deer hunters who came before him…with a dream to hunt monster Whitetails and the willingness to move to Iowa to follow it. During the 2021 season, that pursuit resulted in his tagging a 6½-year-old deer with a massive rack.
But before that, Grubbs moved there for an internship with Bill Winke and Midwest Whitetail. He learned a lot and even bagged a 170-inch deer on public land that season. Then, after the internship ended, he stayed in Iowa to work for a construction company.
Fast forward to the summer of 2021. Grubbs and his friends had the goal of gaining hunting permission on as many properties as possible. But his focus was on Conservation Reserve Program (CRP) and timber blocks. "I knew a trailer blind surrounded by cameras in a turnip patch may be visually appealing, but if you wanted a chance at the really big stuff, cover and zero human intrusion were the keys," he says. "I spent countless hours combing through the county entries for the largest deer taken in the state, talking to several local taxidermists, and scouring overlooked public lands. At this time, I also began working for Turkeys for Tomorrow, a brand-new conservation organization with the goal of funding research to find out why turkey populations are declining in the Southeast. The job will eventually require a move to the Southeast, so I had to make something happen while still in Iowa."
Fortunately, Grubbs gained permission on numerous properties, and one was especially promising.
"We obtained permission on the new property on September 13, 2021, and had no prior history with the buck," Grubbs recalls. "Several close friends shared there was a giant living in the area and encouraged me, with my flexible work schedule, to gain permission in the neighborhood. They deserve a lot of credit for helping me home in on great spots to hunt the 2021 bow season. Those guys were instrumental in narrowing down the area to focus my time."
With a couple of great bucks on camera, they started hunting. The season started off slowly but things picked up quickly. On October 19, Grubbs' dreams came true. The weather wasn't great — breezy and 70˚. Still, he expected decent movement. His hunting spot was a wooded draw with thick CRP. Of course, it's ag country, with a lot of soybeans and cornfields. "I kept my eyes glued to the binos to watch the high CRP for movement," Grubbs says. "The CRP was about 5 feet high, so I had to be very alert to ensure no deer made it past unnoticed. I was hunting two bucks—a mid-180s typical and a190s buck that were frequently seen on trail cameras."
About 5:40 p.m., a doe and fawn milled around. Then about 6:20 p.m., Grubbs caught movement beyond them. "This giant buck moved through the CRP toward my stand location," Grubbs remembers. "He raked every cedar tree in the CRP and checked a scrape." But it wasn't either of the two big bucks he was after; this was a completely different deer.
"I began frantically going through my mental checklist: cameras on, bow in hand, sight turned down to 20, record buttons pushed, camera arm out of the way of any shooting lanes," Grubbs says. "The deer was super close when I initially saw him. I'm assuming he bedded there because the CRP offered such good cover. With his proximity, it would have been hard for him to make his way to that location without being spotted first."
With the deer nearing his last shooting lane, Grubbs wondered if the buck would escape without him getting to release an arrow. Fortunately, he found a way to get a vantage point on the buck with a clear shot opportunity.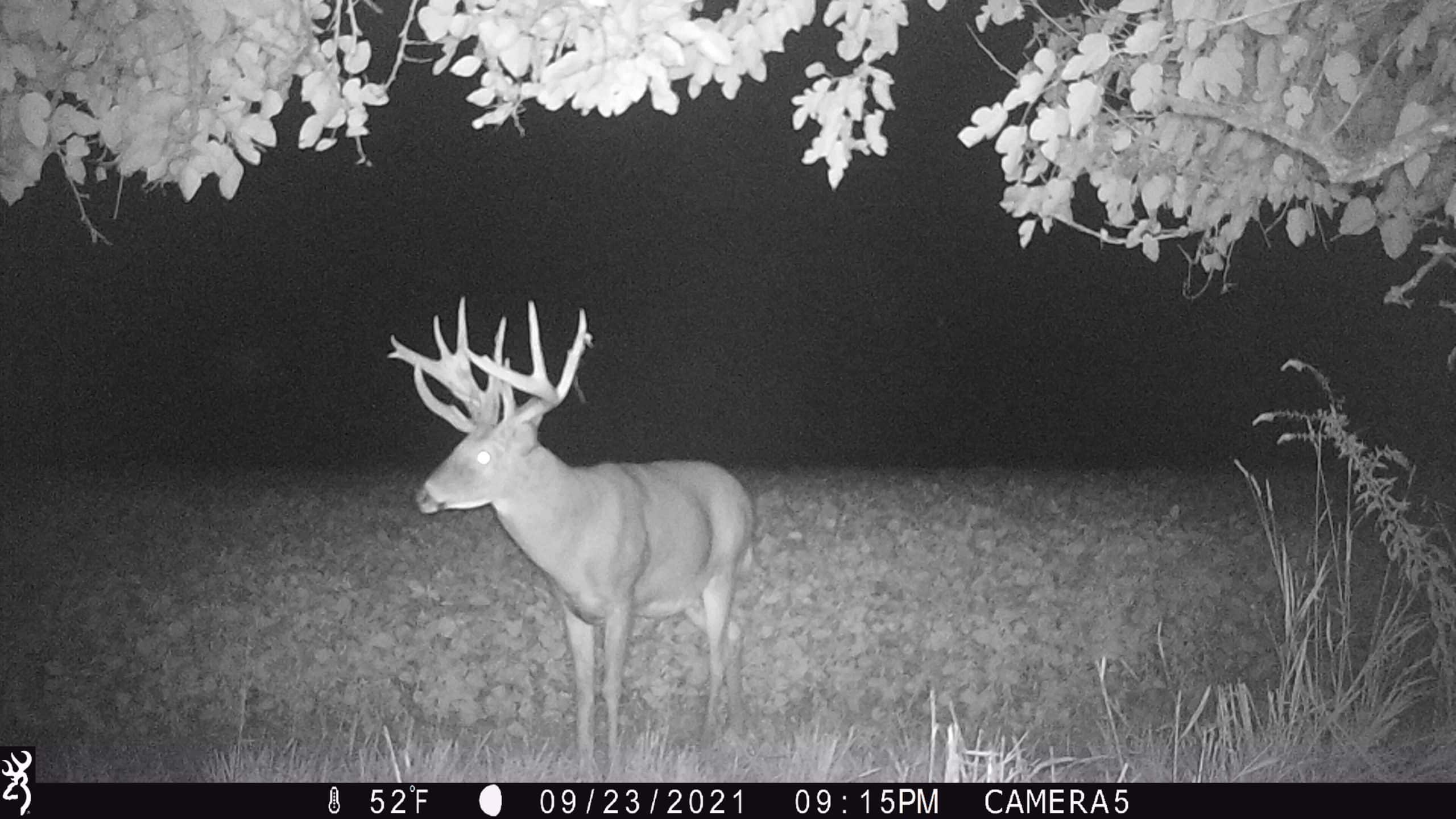 "As he approached the second to last lane, I drew, but I was unwilling to make a sound to stop him," Grubbs says. "He shuffled on through the lane, forcing me to let down. Quickly, I adjusted the camera with my bow cam and then drew again as he entered the last lane. As if it were scripted, he got into the lane, lifted his head and I released my arrow."
The 32-yard shot connected. The buck mule kicked and bolted for cover. The shot felt good, and Grubbs knew it was a lethal hit. He immediately called family and friends to share the news. One such friend had just sat down to dinner with his girlfriend, who jokingly threatened harm if he stood her up to help track a little buck. (However, it certainly wasn't "little.")
"I put my hands on the buck of a lifetime, and the first thoughts of 200 inches began to enter my head," Grubbs says. "I also asked if I still had harm coming, but only got a wry smile and a statement that there will always be other meals. "I never dreamed I would kill a 200-inch deer," Grubbs adds. "It was a once-in-a-lifetime buck, and one of the craziest hunts of my life, but if there was ever a state to top it, Iowa is the place."
Looking back, Grubbs attributes his success on this hunt to moving 17½ hours from home to a new state where bigger dreams are possible. He also notes the importance of scouting, hunting security cover and hunting intelligently. But he also credits this win to allowing the deer to write the script and not forcing any scenario.
"You have to respect the animal enough and have enough self-confidence in your abilities to let the game write the script," Grubbs concludes. "Iowa really is a field of opportunity with not only world-class deer but also world-class people."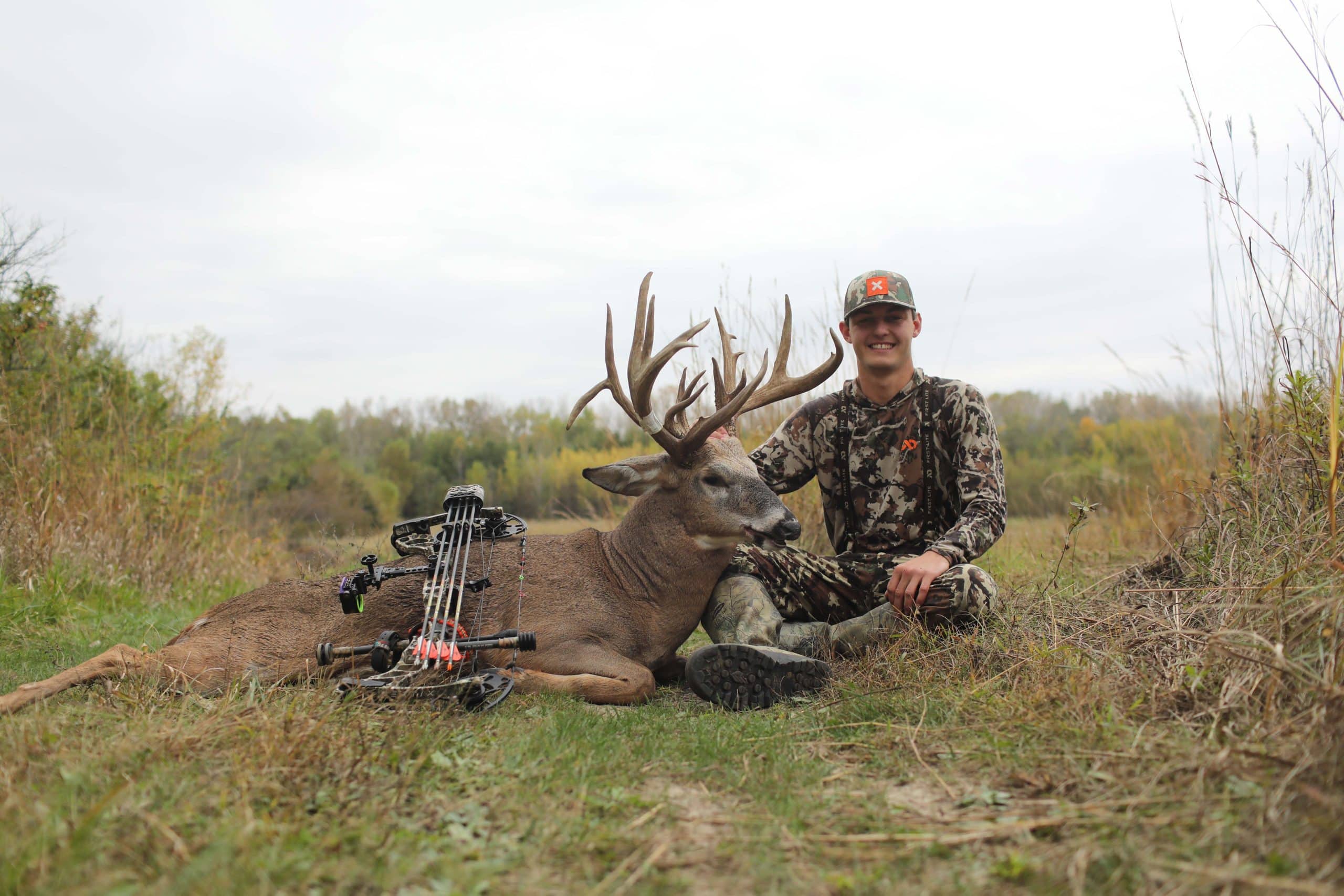 Those who want to accomplish things sometimes need to make big moves. In this story, Grubbs did that, q literally. He moved to Iowa, where he knew he had better odds of hunting top-end Whitetails.
Grubbs didn't own or lease this land where his hunt occurred. He knocked on doors and secured permission. It's still possible to accomplish this, and those who hope to find better access can still get it this way, just as Grubbs did.
While big-box blinds and lush food plots are common in Iowa and other big buck states, Grubbs went a different route. He wanted to be as low-key as possible and chose to use low-impact tactics. That meant not installing items (other than cameras and stands) on the property.
Lastly, he hunted the property in a way that didn't encourage deer to do what he wanted them to do. Rather, he observed what the deer were doing, and hunted spots that allowed him to intercept that movement. This kept him off the herd's radar.