Rusty Scott, of Aiken, South Carolina, was all set for opening weekend of deer season. Stands hung and safety harness on, he ascended his stand just before first light. As he stepped into the lock-on stand, his life changed drastically. The cable supports for his stand broke before he could secure his safety harness to the tree, and he fell 18 feet.
When he hit the ground, he felt pain immediately, he says, and he knew he was in trouble. While falling, he says was thinking, "roll to your back," but the fall happened fast. He landed on his buttocks, breaking his back in four places. He suffers from back pain today and will for the rest of his life.
We have all heard stories of "other people" falling, getting injured or dying from treestand accidents. Treestand accidents are the number one cause of injury in hunting. Information from Mayo Clinic shows "each year between 3,000 and 4,000 people in the U.S. are injured after falling out of their tree stand."
More alarming information is found in an article in the National Library of Medicine by Clifford A. Pierre et.al. "96% of patients were male with a mean age of 47.9 years (range 15-69)…The average height of fall was 18.2 feet. All patients fell to the ground with the exception of one who landed on rocks, and many hit the tree or branches on the way down. A reason for the fall was documented in only 13 patients, and included tree stand construction (3), loss of balance (3), falling asleep (3), structural failure (2), safety harness breakage (3) or light-headedness (1).
Fall-restraint harnesses have come a long way since their invention several decades ago. They are more comfortable and simpler to use.
The most common injuries were spinal fractures (54%), most commonly in the cervical spine (69%), followed by the thoracic (38%) and lumbar (21%) spine. Eight patients required operative repair. Head injuries occurred in 22%. Other systemic injuries include rib/clavicular fractures (47%), pelvic fractures (11%), solid organ injury (23%), and pneumothorax or hemothorax (19%). No patient deaths were reported.
A ten year study out of Ohio State University shows; "our experience led us to hypothesize that falls comprise a significant proportion of hunting related injuries. Trauma databases of two Level I trauma centers in central Ohio were queried for all hunting related injuries during a 10-year period. One hundred and thirty patients were identified (90% male, mean age 41.0 years, range 17-76). Fifty per cent of injuries resulted from falls, whereas gunshot wounds accounted for 29 per cent."
 The study goes on to show "Tree stand falls were highly morbid, with 59 per cent of fall victims suffering spinal fractures, 47 per cent lower extremity fractures, 18 per cent upper extremity fractures, and 18 per cent closed head injuries. Surgery was required for 81 per cent of fall-related injuries, and 8.2 per cent of fall victims had permanent neurological deficits."
James Poag of Silverstreet, South Carolina, was an avid deer hunter. He lived for the sport. When I met him, he was wheelchair-bound from a treestand accident. James reported to me back then,  "One minute I was sitting there hunting; the next I was falling. I don't remember much after that except waking up in the hospital paralyzed from the chest down." James broke eight vertebrae in his back and his life changed instantly.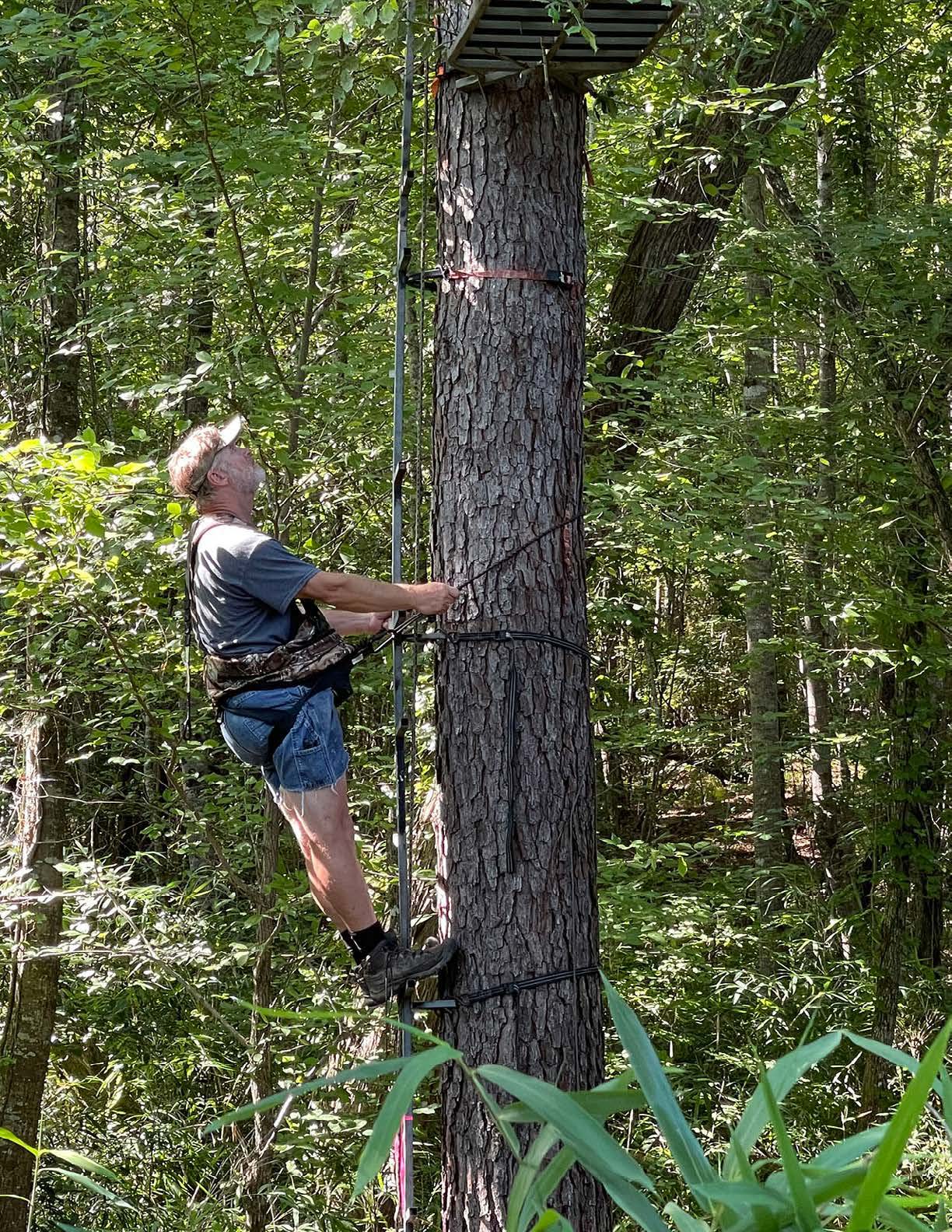 Prevention
How can we prevent treestand accidents? What can we do to make sure that we always come home safely from a hunt? Let's look at some things we can do as hunters to ensure our safety and the safety of others who hunt with us.
The Treestand Safety Association tells us that bow hunters and gun hunters are equally susceptible to falls. But there are things we can do to prevent these falls. This video shares the ABC's of treestand safety.
First and foremost: always wear a full-body, fall-restraint harness. Fall-restraint harnesses have come a long way since their invention several decades ago. They are more comfortable and simpler to use. I am of the age when I remember riding in an automobile without using a seatbelt. In fact, some of the cars we had growing up only had lap belts, and those were usually tucked between the seats. As the law changed and seatbelts became mandatory, I rebelled for a while. Now, I never leave my driveway without buckling up. The same is true for my safety harness. I never sit elevated in a treestand without a full-body harness.
Annual inspection of your stands to replace rusty bolts, old cables and straps will help prevent any issues in the future.
In our story about Rusty Scott, we note that he had his full-body harness, but his mistake was not inspecting his stand during the off-season. He didn't have a lifeline that connected him from the ground all the way to the stand. . While he did some of this process correctly, he left off other important elements. When you hang a tree stand that is a lock-on style, it's important to install a lifeline that connects you from the ground to the stand before you ever leave the ground. If Scott had done this, he would not have fallen when his stand broke.
The second thing we can do (and this is neglected more than fall restraint harnesses) is to inspect our stands before every season. Like many of you, I leave my stands in the woods year around. Hunting private property allows me that luxury. But it also creates complacency. Having the same stand in the woods year after year creates an opportunity for the stands to deteriorate and break down. As was the case in the opening story, years of being left unattended, the cables holding the platform rusted and the stand collapsed.
Annual inspection of your stands to replace rusty bolts, old cables and straps will help prevent any issues in the future. For our annual treestand inspection, we carry now includes a pocket full of stainless steel or galvanized bolts, washers and locking nuts. We also have heavy-duty straps and replaceable cables or chains. Every stand is inspected, every bolt is viewed, and every strap is tested and replaced when needed.
On many of the lock-on-style stands, we have replaced the older cables with chains. And the straps on the seat and the platform are upgraded to more heavy-duty ratchet-type ones and are doubled up.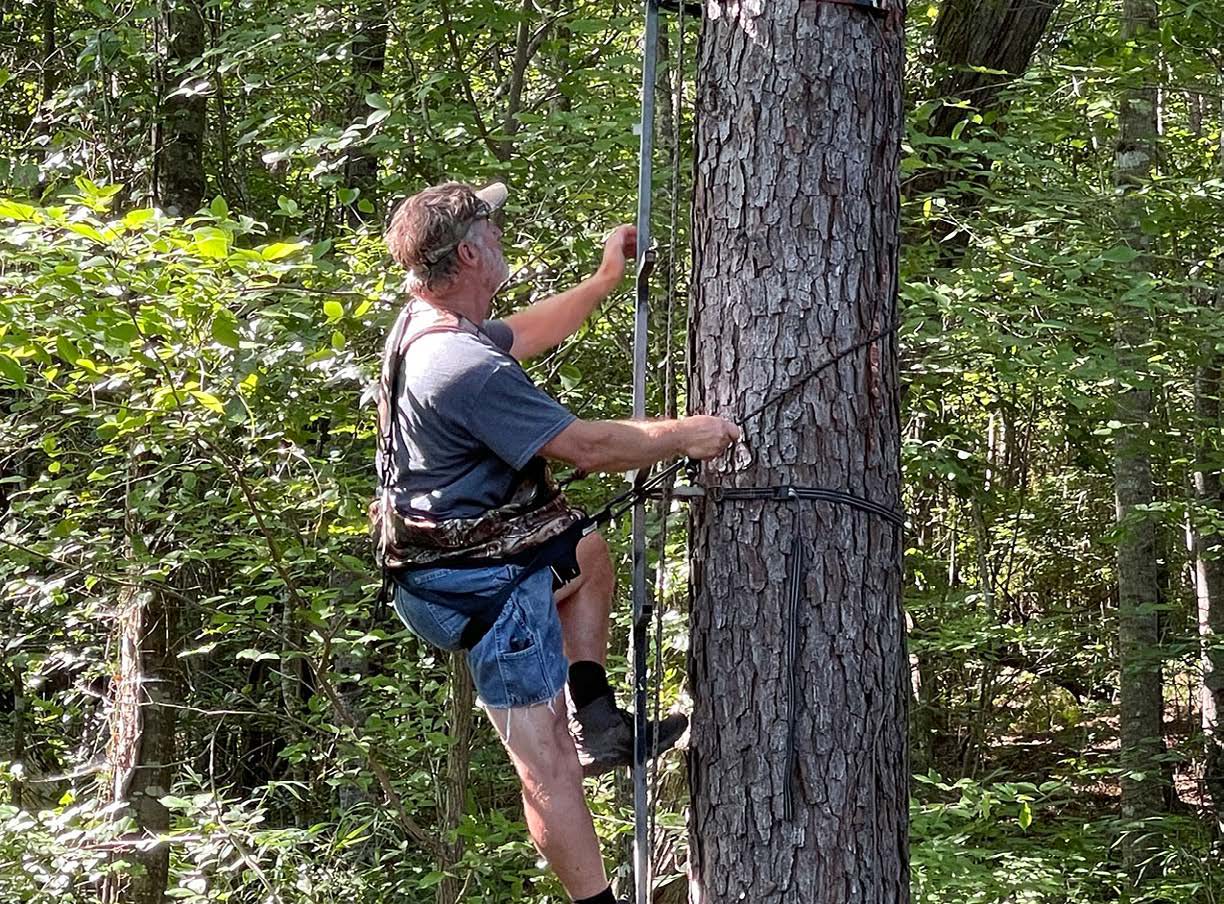 Ladder Stands
I hear many times hunters say, "I only hunt out of ladder stands so I don't need a harness." The  facts, though,  according to this video from Treestand Safety Awareness Foundation, are that:
20% of all treestand falls occur from ladder stands
31% of falls occur in lock-on style stands
25% of falls occur from climbing stands
20% of falls occur from homemade stands
Most folks using hang-on stands and even climbers understand the importance of safety. However, many ladder-stand hunters seem to have a false impression that because they aren't as high in the tree, or because their stand has a built-in ladder, it's somehow not as dangerous. The myth that ladder stands are safer and that there is no need for a safety harness because of a metal ladder is false. Even in ladder stands with side rails and front rails, falls still occur, usually while descending from the stand. Non-slip tape on the ladder rungs helps to prevent slippage.
Ladder stands should be inspected, with bolts replaced and tightened and straps replaced. By inspecting straps annually and replacing them semi-annually, we are ensuring a safe hunt year after year. For those who hunt from climbing stands, here are some things you can do to ensure safety:
Replace the tree cable or chain every two to three years
Inspect welds, bolts and foot grips.
Cover the bottom of the stand with non-slip tape for those cold, icy mornings.
Treestand safety is something to take seriously. Too many hunters refuse to wear a harness thinking, "That won't happen to me." I can assure you, not a single person who fell believed it would happen to them. We owe it to ourselves and our families to do everything we can to make sure we come home safely from our hunts.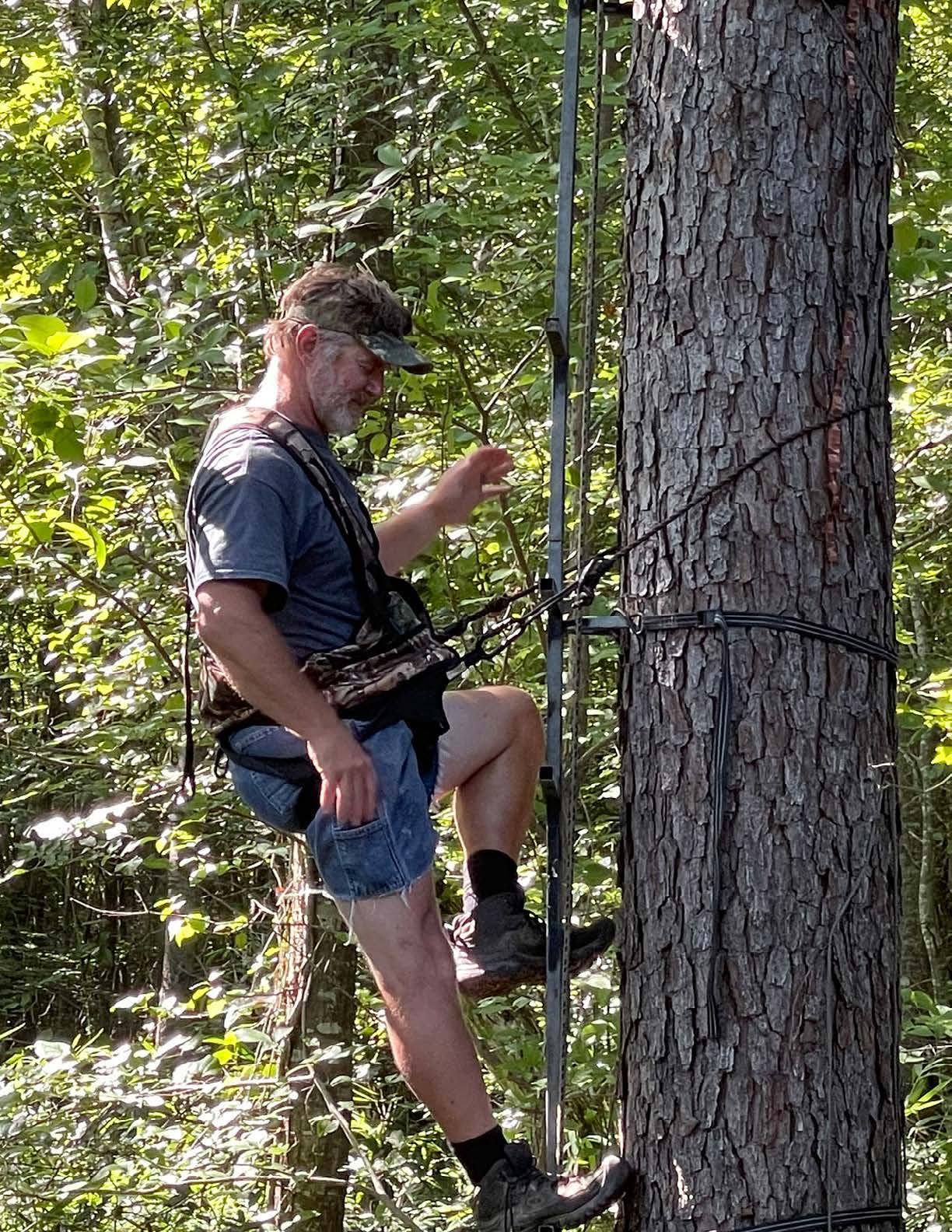 Read More: "Tips for Finding and Creating Great Treestand Locations"