Technology and hunting: who would have ever thought those two things would be used in the same article? One thing every hunter has on them most of the time these days is a cell phone. They are great for keeping us entertained in the stand when we get bored, or handy to call that buddy for help in recovery of an animal.
But did you know that cell phones can be a valuable scouting tool, a great tracking tool, or even an animal movement predictor? I use my phone for looking at satellite maps, discovering property owners, and even the best days and times of the rut to hunt. Below is a list of what you can get out of various apps to benefit you as a hunter. I mainly use HuntWise as my app of choice, but I'll reference others as well.
---
Wondering Where You Can Shoot?  Download the Where to Shoot App Today!
---
When it comes to hunting apps, the first thing I look for is one that can provide me with maps. This is a very important tool for me in scouting. I use an app like this to locate pinch points and funnels. I also use it to look for points, ridges, and shelves.
You can get a lot out of the mapping features of apps. Most have several different map views, and they can be easily used. I like to use the satellite and contours views most, because you can view contour lines over your area to locate hidden points of interest. For example, most areas have contour lines every 30 feet. Deer like to travel ridges and the contour lines will show you this. You can locate a deer's natural travel routes by following these lines.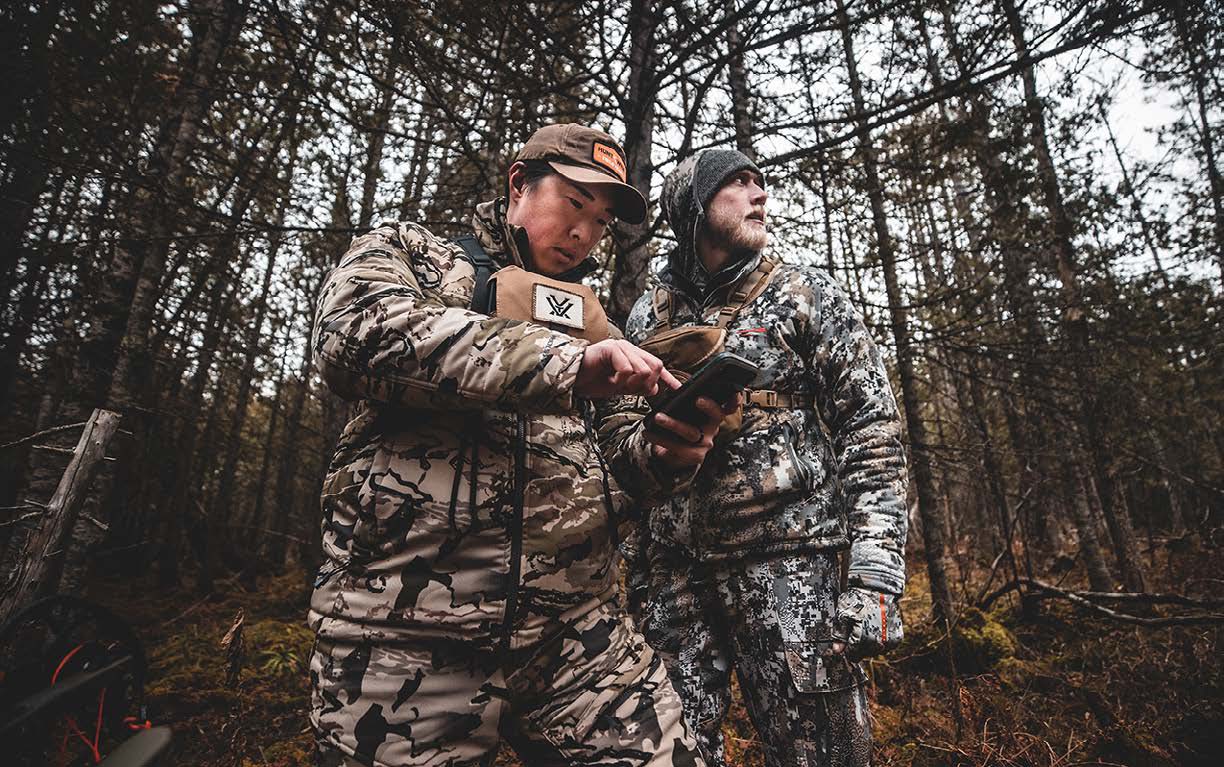 Ownership Layers
Another favorite is the land ownership layer. This is great for getting permission to both hunt and also aid in recovery of an animal. Most of these apps offer the name of the owner, so you don't have to carry around a plot book. Huntwise, ONx, and Huntstand offer both name and contact information at the tip of your fingers. You can easily call before crossing property lines and get permission.
Another great layer is the public land layer. It shows every area that is open to public hunting. There are many other great map layers, such as waterfowl zones, game management areas, and even a cell phone coverage layer. Most offer all these features in real-time and on an offline downloaded map. That can be great to use in places with no cell service. You can mark your entry point and then plan to follow back out in the dark.
The next feature I look for in an app is the ability to add marks or pins to a map. This feature is important for several reasons. I use it for scouting from year to year. It allows you to mark locations of rubs, scrapes, sheds, beds, scat, roosting trees, dusting spots and even tracks. All of this can be done in real time as you find it. This application is great for in-season scouting and also for looking back historically. I have noticed patterns change with crops in my area, so I look back to see preferred beds with each crop from year to year.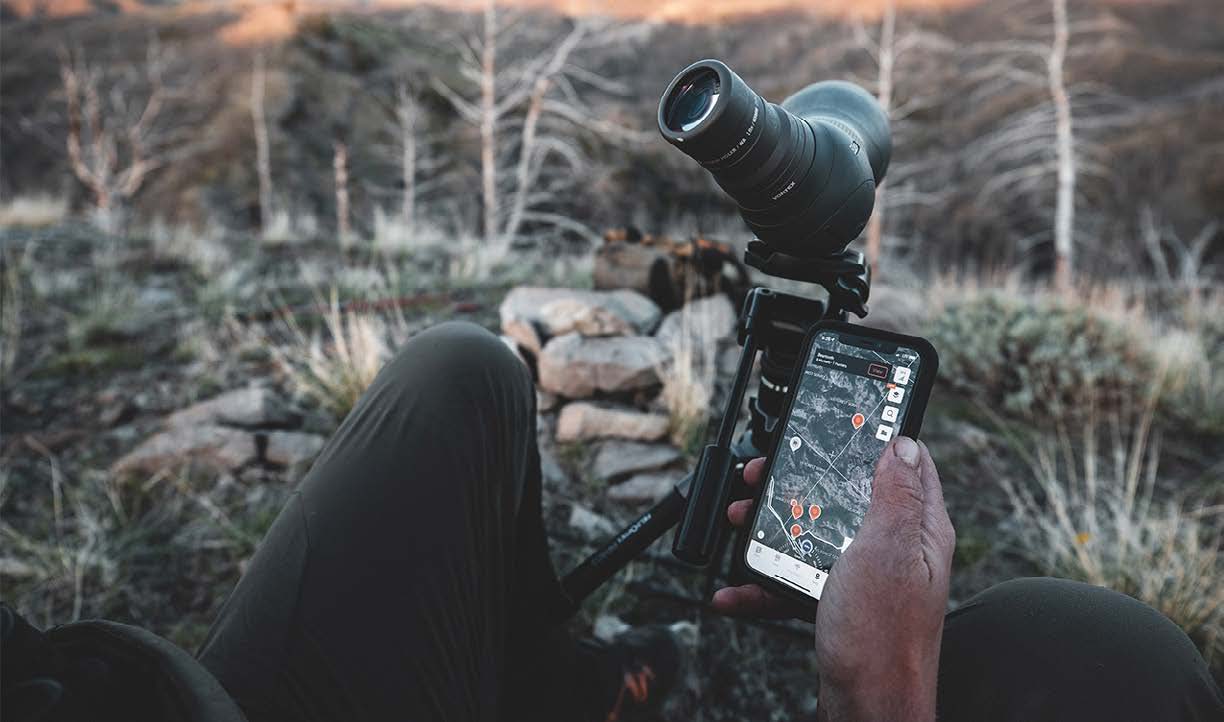 Crop Spotting Layer
ONx even offers a crop distribution layer. I mark all my mock scrapes and trail cameras. We all know how hard trail cams can be to find in the summer, so I also use it for marking tree stands, blinds, and traps. They allow you to even mark down the difference in ground blind or elevated blind with different pins.
When it comes to food plots and feeding destinations, the current apps have pins for that, too. You can mark mineral sites, fruit trees, food plots and sources, even acorns. Onx offers a layer for those. My favorite one in this section is the morel pin. I find that morels grow in the same locations year to year, and often at the same times. With this app, each pin is time-stamped, so you know when you put it there.
Another must-have in pins is for tracking. You can mark your arrow and back out until you get help. Then you can start tracking again marking blood, and you can even have it follow you in real-time showing your track.
This is where the property owner layer pays off, helping so you don't get caught trespassing. I have also dropped a pin to mark a buck while out driving with the family. I've then called the owner and gotten permission to hunt that area later. I use Huntstand a lot when glassing bean fields in the summer with my Vortex spotting scope. I have also used a pin to mark a boat launch for a fishing tournament. They are great for hunting camp to mark your base camp, along with parking on public land. There are several other pins you can utilize. This is just a brief overview of the ones I use.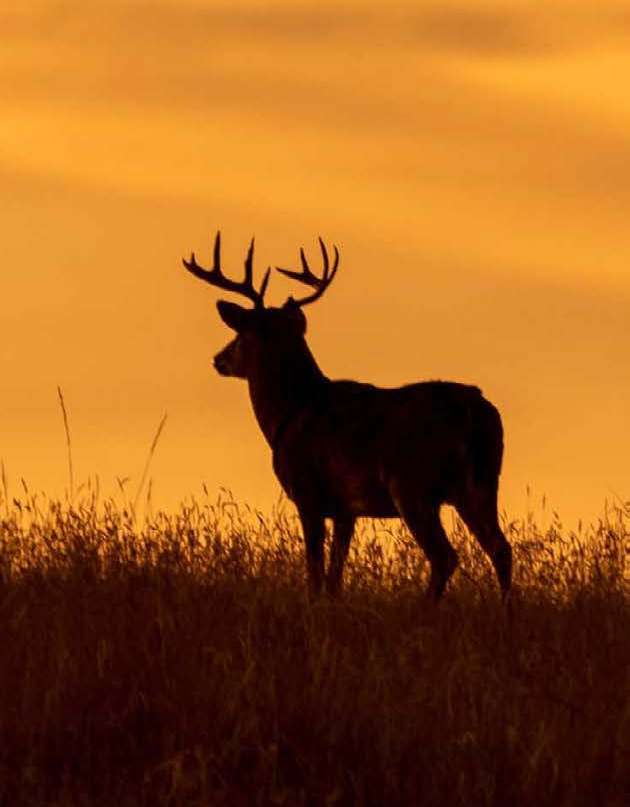 Weather Info
When it comes to weather, we all know how important that is to hunting. Most apps offer some sort of weather feature. Huntwise has the weather under the hunt cast tab. It shows you sunrise and sunset, hourly precipitation, wind direction and wind speed. It even allows you to mark a hunting location and place a wind cone to watch in real time what the wind is doing there.
This app also shows you the barometric pressure for 24 hours, allowing you to see changes. Why have just a weather app when you can have one that is tailored to hunting and built into the app you are already using?
Another great app for weather that I like is the Moonguide. This gives you all the red moon days, which are days the earth's gravitational pull has a greater impact on deer movement. It even gives you the best spot to hunt. I will take any little advantage I can. I will say that I have seen a considerable more amount of deer movement on the red moon days since paying attention to this app.
Some hunting apps also cater to other outdoor activities. too. Most offer a compass and GPS, which can be helpful on a hiking trip. I have seen a trail layer for ATVS, horses and snowmobiles. I have used them myself for fishing. You can use them to mark boat ramps, public docks for restrooms and even fish. This helps in preparing for a tour or tournament, because you can get a game plan for how you want to fish it.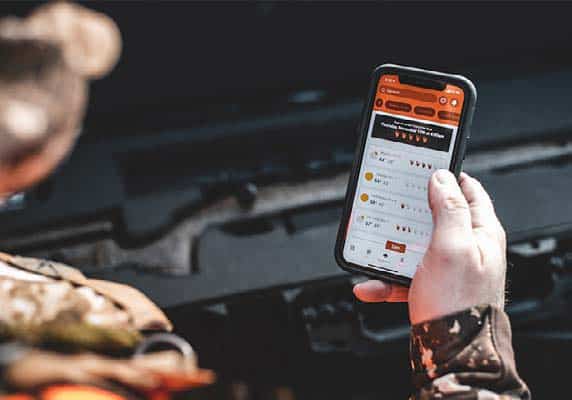 Marking Meetups
Most offer some way to mark parking, camps, and other meet up points. And most offer an online and offline version for mapping. Most offer basic features for free then more advanced for a paid subscription. I have seen them priced from $19.99 to $199.99. It's all in what you want to do with it. Most do offer a free trial of the premium version. I would suggest using it in season to get the most out of it. Some apps worth checking out are Huntwise, ONx, Basemap, DeerCast, Huntstand, quiver, and Moonguide. They all have their own take on things I have just found hunt wise to include it all.
What makes hunt wise stand out from the rest is that it has the hunt predictor. It has a built- in algorithm based off several know factors that influence animal movement. It will give you what they call a hunt cast. It's numbered 1 through 5 and they show it hourly. They base this off many things like weather, barometric pressure, time of day, time of year, and phase of moon. They even have a localized rut detection feature that will notify you of rut intensity in your area. They offer whitetail strategy 365 another great feature for the whitetail hunter. When it comes to the animal hunt predictions you can select what your hunting as each species is different. They have several options some of my favorites are whitetail, turkey, and waterfowl. They allow you to do this site specific as I can look at my lease 3 and a half hours away to capitalize on peak movement down there. Another great feature is the discounts. They offer several discounts from great company's like Stealthcam and Scott archery. Like I said before each app offers a few things but Huntstand has it all.
If you have never tried a hunting app hopefully this helps you understand why you should. Good luck and happy hunting this season.