As more does start coming into heat this week, most bucks throw caution to the wind and abandon their limited movement patterns to search for and breed does—24/7. As a rule, the second week of the month is typically the most frantic by far. Within a short period of time, mature breeding bucks can lose a quarter of their body weight searching out and guarding does in heat—one after another. A prime-aged breeding buck will spend approximately two days with a receptive doe, after which the doe will no longer be in estrus. The buck will then leave her to pursue another doe, repeating the cycle for the better part of two weeks.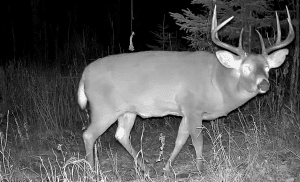 This is the window to find a good stand and stick with it, and hunt hard all day long, no matter if it's sunny, cloudy, rainy—anything but high winds. Set up on the edge of two habitats: where field meets forest, along a known runway or beside a natural funnel connecting feeding and bedding.  With bucks running and searching for does all day and night, one or more are very likely to pass by your stand at some point. But when they're not trying to catch up with a frisky doe, they can be very subtle as they move, Bucks will walk continues until they find the next available doe, chance of a buck walking by at any point during the day within range is a very high probability.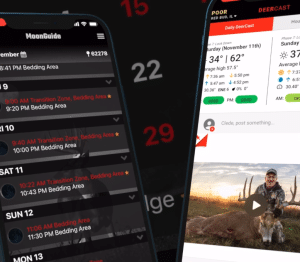 With the cold fronts of last week and another one rolling in this week, you can be assured the best place to be during this week is in a tree stand! Deer cast and hunstand activity predictions are good and great again through the later part of this week and will surely be something to keep an eye on.  The high-pressure system will keep deer on their feed longer during this wild week of November rut hunting.

Cue in on doe bedding areas and transition fingers and there's no better place to be during early to mid-November, as every doe will come into two days of heat at some point—guaranteed. And bucks only have one thing on their minds during the rut: Breed. They forget to eat and sleep, and they even forget their buddies. The only purpose behind every breath they take is to breed.
---
The 2023 Rut Report is proudly brought to you by these fine partners: Mossberg  |  Taurus Pistols & Revolvers  |  Pyramid Air | Habit Outdoors | Reveal Cellular Cameras |  Spypoint Cameras  |  StealthCam & Muddy Outdoors | Raw Frozen Scents | Forget Genetics