Some of the greatest things about hunting are the stories we can share with others and the knowledge we can pass along. Recently, a tale of a hunt gone wrong came to mind while I was packing for an upcoming voyage. It got me thinking about how good things can come from bad moments.
This incident occurred about 15 years ago. I was on my way to hunt in Northern Ontario. I packed as usual with my grandfather's reversible, red-plaid and blaze-orange jacket, my 30.06 Weatherby rifle, a pair of work gloves and a bag of sweaters and jeans. I was ready for a week of moose hunting with Dad. I brought along my trusty rubber boots, and although they were one size too big and with zero insulation, it was all I had for footwear.
Opening morning was brisk and frosty, the type of morning where you can smell the cold in the air. I focused on setting up in the ideal spot. I was stumbling over fallen brush, trudging through mud and partially iced-over creeks in my reconnaissance "mission." It wasn't long before my heels were aching, my feet were blistered and I had endured a twisted ankle due to a lack of proper foot support. I was frustrated and I struggled on my hike back to camp. That perfect spot I found was no longer an accessible option for the rest of the week. It left me feeling really disappointed.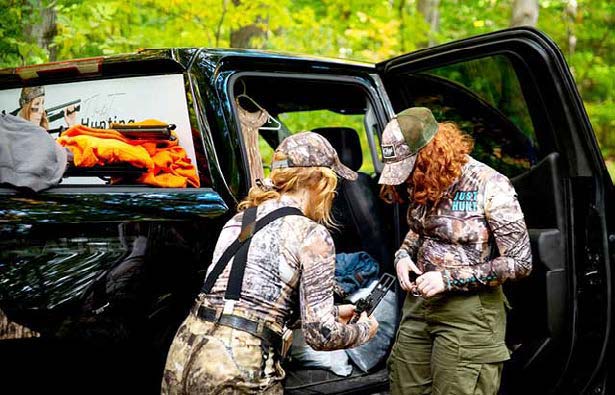 Silver Lining
I didn't see the silver lining at the time, but this was an important experience for me. I learned that by heading out for my hunt sporting Grandpa's oversized, old, red-plaid jacket and my husband's rubber boots, I may have been setting myself up for failure—whether that was in firing a gun, shooting a bow, or just walking in the outdoors.
Speaking from my experience, I can note that the excess material in the arms and chest area of that old jacket could prevent you from holding your equipment accurately, which will affect your success. I have been hunting almost my entire life. When I started, I was wearing borrowed hunting garb, since there weren't many other options in outdoor clothing for women at the time. The ill-fitting menswear I used made it difficult to regulate my body temperature. They were too baggy, leading to breezy chills; or too heavy, with extra material causing me to overheat (especially while carrying other gear).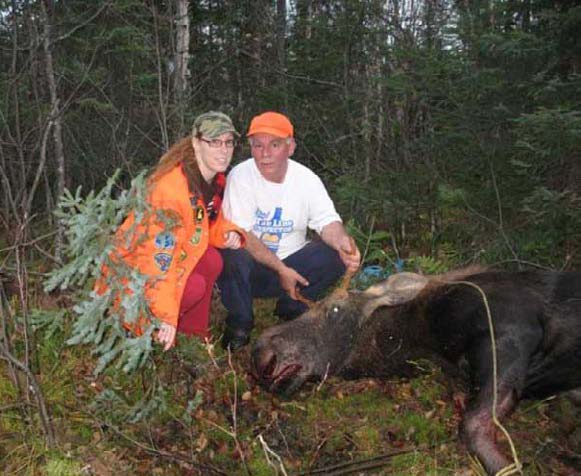 A Clear Need
As the years passed, the need for properly fitting outerwear for women became clear when the number of women engaging in outdoor recreation and hunting skyrocketed. I can recall so many of my own near misses or frustrating moments experienced while wearing my dad's large blaze-orange vest!  Moose hunting was always more of a struggle since the weather was so unpredictable. With only the option of the orange blaze jacket or the vest, I always had to decide between overheating in the jacket or having a lack of cargo space given the vest's limited pockets.
Ever the problem-solver, I soon began to make my own adjustments to these awkward and inconvenient garments. Before I knew it, I was creating my own outdoor apparel, alongside many other females in the industry who were doing the same. The demand for women's gear was at the top of the list for every female outdoorswoman in the industry, and everyone wanted to know where to get it.
Some of us just took the matter into our own hands. While developing my clothing line, I kept in mind that apparel must not only protect from the elements, but also from insects and the physical environment. Additionally, the clothing needs to be comfortable. I remember having to wear my husband's thermal underwear and long-sleeved shirts because there weren't any base layer items available specifically designed for women. Those items kept me warm, but since they were anatomically incorrect, they caused significant discomfort. Women are just made differently and our clothing often just needs a little adjustment here and there.
Don't Forget Feet
Also note that when shopping for your next adventure, be sure to think about your feet! Improperly fitting footwear can jeopardize your ability to stalk, walk and track your animals. Today, we are fortunate enough to have a wide selection of footwear and other gear that is suited for the needs of men or women, young or old.
I am mindful that education regarding the requisite hunting gear is just as important as education about the hunt itself. Knowing the proper reasons for fit are essential. Finding the gear that fits you while holding/aiming your firearm in the field is critical.
I often mention this topic during my education seminars. I have observed many girls coming into the gun shop wearing tank tops and visible embellishments on their undergarments while choosing a firearm. To have confidence that all your equipment will work in sync, it's important to keep in mind that the outfit you plan to pack for your hunt is the one you should wear when you shop for your firearms. While embellishments on garments can be eye-catching, they can be in the way while pulling the trigger. Some can be impractical and potentially unsafe for shooting sports.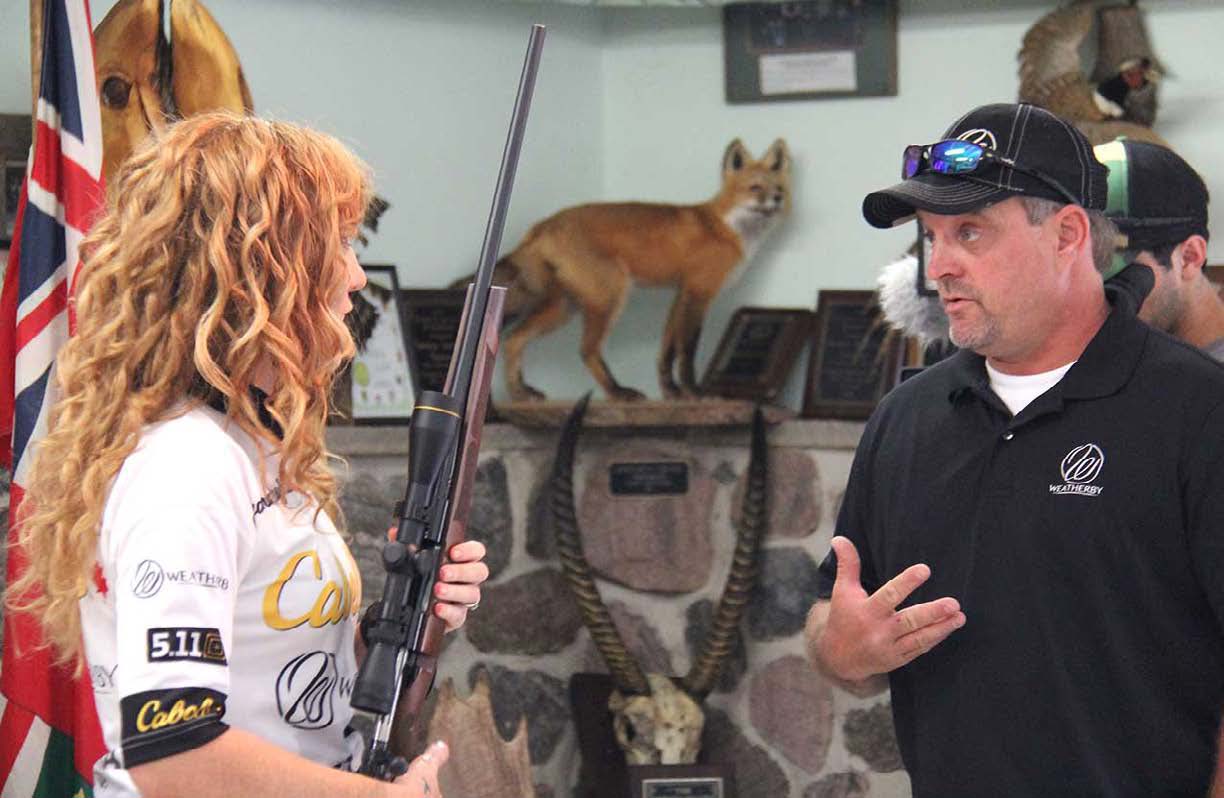 They Are Listening
Fortunately, the manufacturers of rifles, bows, shotguns and many other outdoor tools and equipment have been listening to our feedback and have developed products that suit the female form! We can now comfortably manage long hikes with backpacks that fit our curves. We can now equip ourselves with lighter, more compact gear to make our adventures more enjoyable.
I really noticed the impact of proper fit and "made for women" gear when facilitating sessions during Range Days. For example, I demonstrated a particular rifle at Range Day for several years: the Weatherby Vanguard Camilla. This rifle was designed by women and built by Weatherby. Watching women shoot this rifle with ease, as opposed to struggling with a regular, oversized rifle, has been beyond satisfying. The angle of the buttstock, its slimmer pistol grip, and the length of pull are all factors that make it easier for women to become confident in learning to shoot. If you are looking for a female-friendly firearm, add this one to your list. Then, head to a local gun shop and try it on for size.
"I remember having to wear my husband's thermal underwear and long-sleeved shirts because there weren't any base layer items available specifically designed for women."
Being in this industry for over 40 years has allowed me to experience and contribute to the transformation of outdoor gear. I've enjoyed helping attract women and girls to the outdoor sporting lifestyle and providing them with the equipment they need to perform at their best.
At the end of the day, we all know that women are simply built differently than men.  It's clear that when you are comfortable, and your equipment is on point with your task, you'll enjoy and appreciate so many experiences and memories. So, get your gear and start your adventure this upcoming season, and don't forget to share your stories!