We have gathered top-shelf options in the single and double-panel variations that will kick your season off on the right foot!
In my time as a whitetail hunting editor, I've been able to observe the evolution of this highly mobile and customizable approach to deer hunting. It has been one of the fastest-developing parts of the industry in the last decade.
Along with their popularity has also come a variety of hunting saddle designs that make it difficult to make a final purchase decision. Single-panel, double-panel, and hybrid saddle iterations are all available.
In this article, we will be looking strictly at the two standard saddle sling designs, single and double panels, that stand out amongst the crowd. All of these saddles have been utilized in real-time hunts, and their overall 0-5 rating will be based on price, weight, durability, noise, and while they might be relative, comfort and ease of use.
Remember, these ratings are for the slings only. Rigging, steps, and platforms are altogether different articles. Additionally, for fairness's sake, these comparisons do not include hybrid saddle designs.
The below list was written without bias or payment from any of the companies mentioned.  Affiliate links were placed in the article after submission from the author.  If you found the article helpful, and want to help support our work – please click the links in the article and purchase if you plan on purchasing a hunting saddle, thank you!
---
Best Hunting Saddle Starter Kit
HAWK has taken a lot of the struggles of new saddle hunters into consideration with their Helium Hammock. The Helium Hammock is available in a kit only, meaning you don't have the a-la-carte decision-making process of other brands. This makes it particularly appealing to first-time saddle users.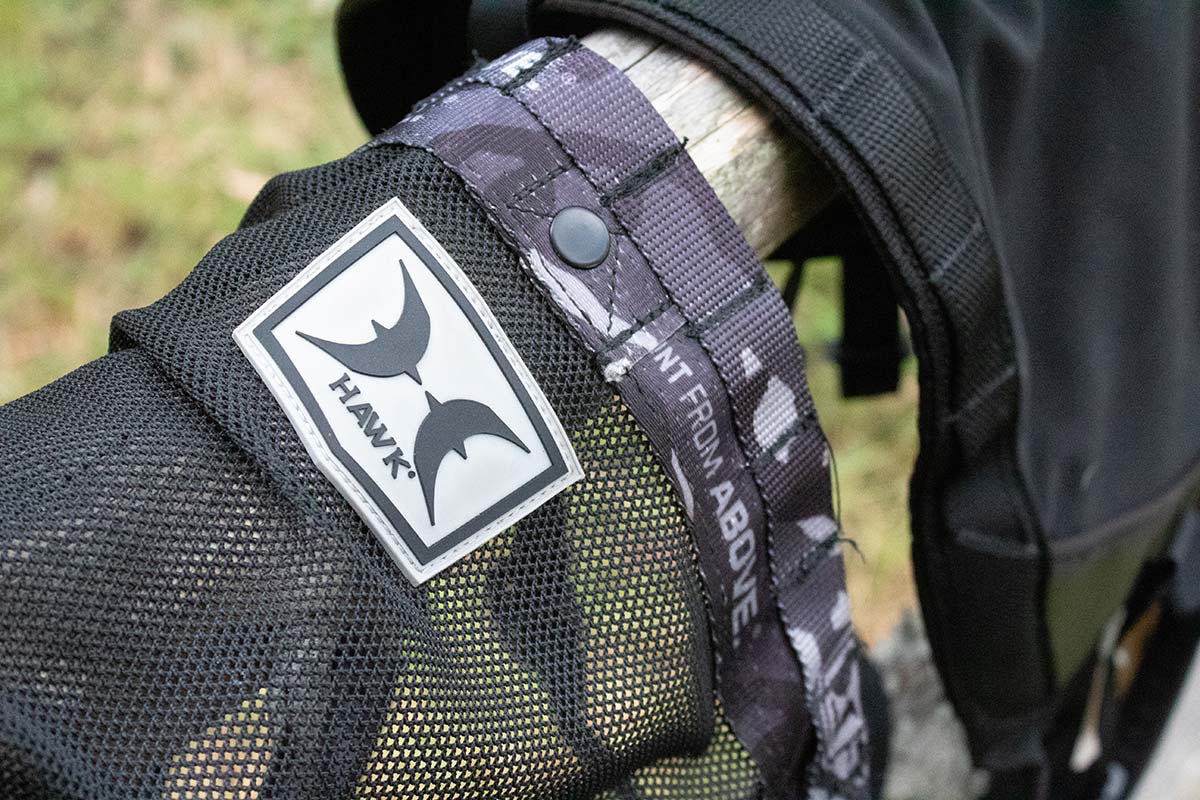 The kit includes the saddle, a removable padded seat, a reclining belt, climbing-grade aluminum carabiners, climbing-grade rope grabber (ascender), climbing-grade tether rope with prusik, climbing-grade climbing rope with prusik, and an ultra-durable carry bag. The weight rating of the saddle is 300 lbs and fits waist sizes 28"- 40".
Cons of the HAWK Helium system center around adjustability. The Helium saddle sling with pad attached comes in at 1lb 11 oz. Without the pad, the sling weighs 1lb 6oz. The metal clips can be a bit noisy on and off. The waist straps are not as simple to adjust as the other models tested, and the leg adjustment straps have no way to stow away the excess length after adjustment. The bridge of the Helium saddle is also not adjustable, meaning there is no way to relieve back and "top of the hip" pinch.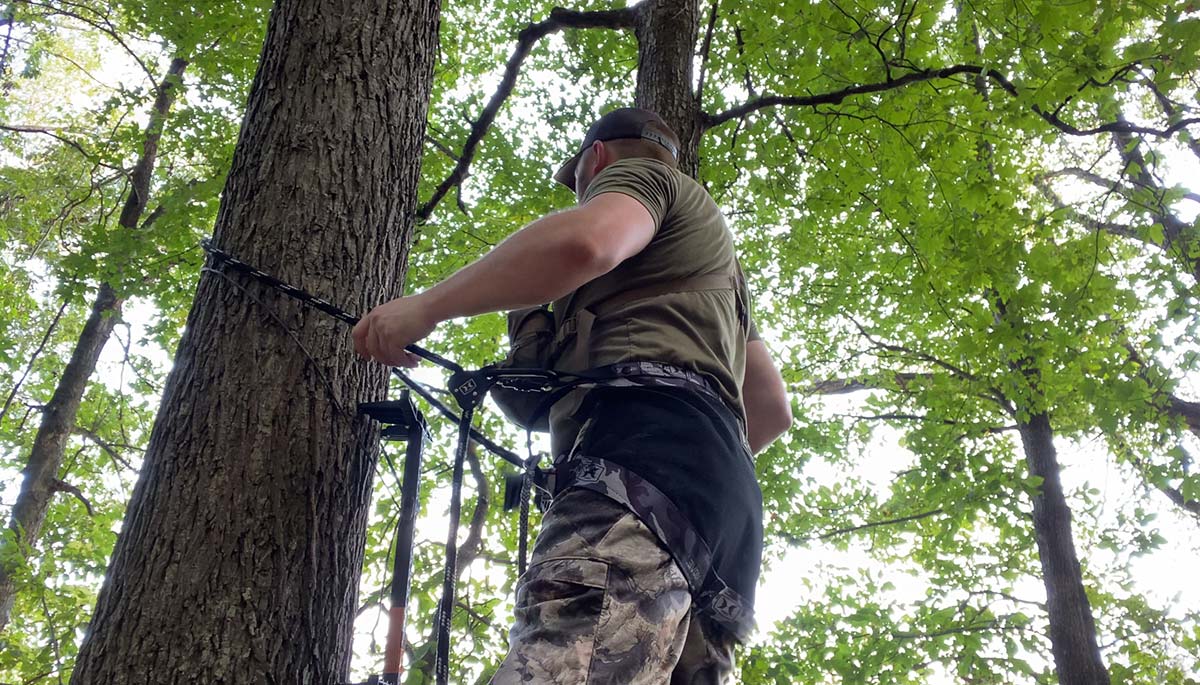 Pros
All-in-one kit with room for customization.
Removable seat pad for extra comfort or breathability.
Heavy-duty construction.
The accessory bag fits well onto Molle loops and provides convenience when climbing.
The price point for the sling and all the accessories is a great way to get into saddle hunting and build on it.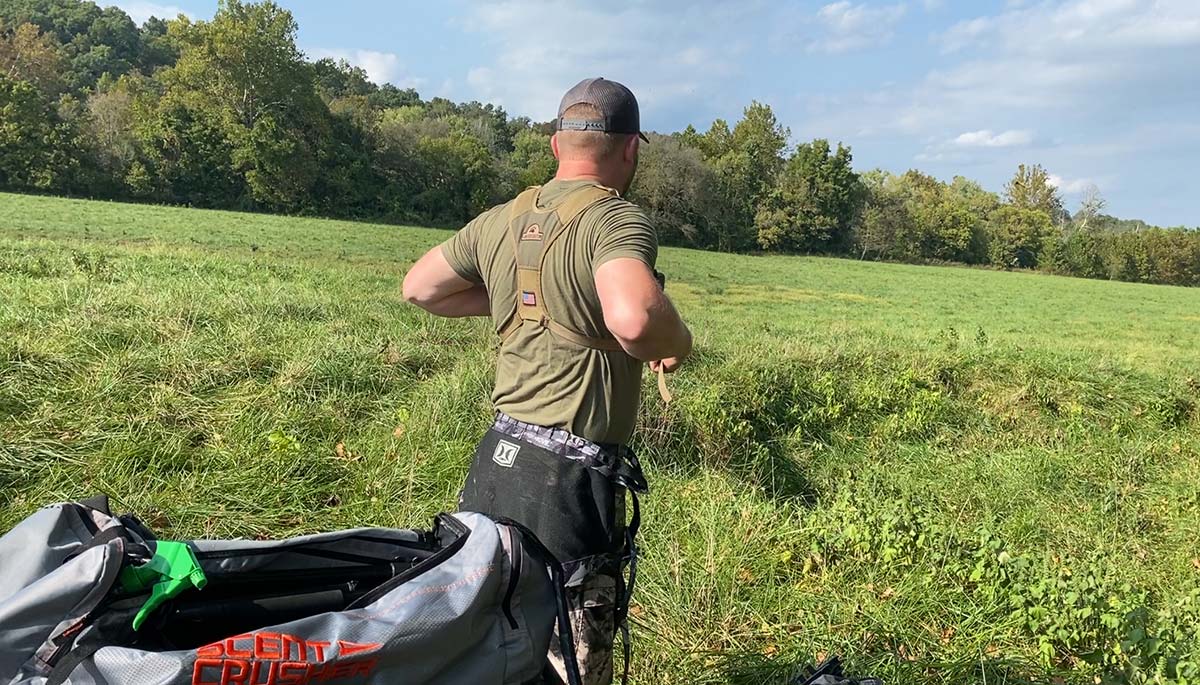 Cons
The same heavy-duty construction that brings longevity also brings significant bulk and rigidity and a less-than-sleek profile.
Nowhere to police extra tethering. This is especially troublesome in the adjustable leg straps. Dangling straps and loops cause extra noise and hang up on the brush while hiking.
Non-removable and non-adjustable bridge rope gets in the way while climbing and hiking.
Overall Rating: 3.5 out of 5
---
Top Double-Panel Hunting Saddle
Double-panel saddles are built with the long haul in mind.
A full extra support is built to support the lower back and provide stability for those extended rut hunts and for anyone who likes the added security.
The Latitude Method 2 boasts metal-free construction and a magnetic drop-down lower panel. That means no snaps and no loud buckles. It also means quick stowing away of the lower panel, making the saddle as ergonomic as a single panel on the hike in and out.
Both panels of the Method 2 are independently adjustable, providing all-season comfort. Breathable mesh provides added comfort on warmer hunts.
The Method 2 is surprisingly light for a two-panel with heavy-duty construction, coming in at 1lb 12oz.
Like the other manufacturers mentioned, Latitude offers the Method 2 in a customizable a-la-carte fashion, or a kit.
Pros
Heavy-Duty Construction. This saddle is a proverbial "tank" in the best ways you can think of. Reinforced seams and heavy-duty seat materials are going to hold up, no matter what hunting situations you punish it through.
Because of the magnet connections in the bands of the saddle, there are no noisy clips anywhere on the saddle. Simply drop down the bottom of the saddle when you are ready to ascend.
Leg strap storage.
Cons
While the buckle-free waist rope adjusted easily, the bridge knot did not adjust easily in our testing. It's a simple adaptation by simply lowering your tether prusik or ascender and carabiner. It made for a lot of fighting with the bridge and time lost getting into the tree.
Overall Rating 4 out of 5
---
Best Ultralight System Hunting Saddle
Timber Ninja Black Belt Nano (MSRP 329.99 sling, one-sided adjustable bridge, and two stick straps.)
The Timber Ninja Blackbelt Nano is widely recognized as one of the top ultralight offerings on the saddle market. With two size options, the Nano also fits a wide range of body types and sizes. The Balck Belt Nano comes in at 1lb 3oz.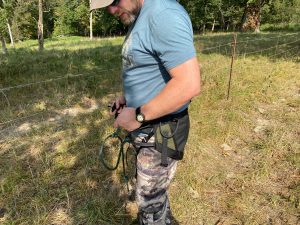 The Timber Ninja system allows you to build your saddle according to your preferences, with saddle bags, ascender, tether, lineman's rope, and carabiners available. Timber Ninja has also developed patent-pending magnetic climbing sticks and platform holders on the back and sides of the sling. These allow you to haul your entire system into the tree without the need for additional haul ropes.
In terms of use, the TN Balck Belt Nano is one of the lightest, most ergonomic, and quietest to carry into the field. The silent ripstop stretch fabric conforms to the hips and waist nicely. The adjustability of the Nano's bridge helps significantly with comfort. The magnetic waist clip and silent leg clips are especially appealing for anyone waiting to put their saddle on until they get to their hunting spot. The Nano is breathable and also provides heavy-duty webbing along the top belt for any accessories you might want to add.
Pros
This harness is one of the quietest we have tested. There are no qualms here with waiting to get to the right tree before putting it on. There are no clanging buckles and no noisy clips.
Magnetic clasps, step haulers, saddle bags, and breathable materials are all favorable points for the serious saddle hunter.
The stretch fabric, along with adjustability and nearly non-existent weight factor makes a saddle that is as out of your way as anyone could ask for.
Cons
Price point. Silence, innovation, and comfort all come at a price. The TN Blackbelt Nano leads the way in ultralight price amongst its competitors. Keep in mind that the competition doesn't offer the patent pending stick straps.
Overall Rating: 4.5 out of 5
---
Most Versatile
Trophyline Venatic (MSRP 299.99 Sling, carabiner, and adjustable bridge included.)
Adjustability that leads to overall comfort is king when it comes to Trophyline's Venatic saddle. Only slightly heavier than our top ultralight system at 1lb 8oz, the Venatic finds the sweet spot of durability and adjustability in an ultralight sling.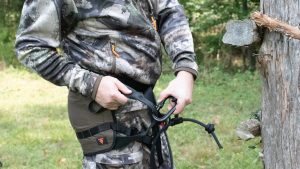 A major win for the Venatic is that it provides an adjustable and removable bridge rope, making a long walk-in significantly nicer without the bulk hanging in front of you. It also provides fast and easy waist and leg adjustment. The excess leg adjustment length can also be stowed away quickly and quietly with the elastic loops on the straps.
The three rows of Molle webbing also allow you to attach Molle-style straps to haul your sticks and platform on the back as you climb, making the task of getting in the tree quick and easy.
Because of the heavy-duty buckles and the nylon material, this saddle is a little noisy without making provision for it, but once it is on you, the noise disappears.
Pros
This ultralight saddle doesn't skimp on strength in the right places. Ripstop fabric and the "Raptor" waist and leg strap buckles leave nothing to chance in a saddle that's going to last.
This saddle offers three Molle-style strips that allow you to customize your haul line, saddle bag, and step-carrying systems.
High-quality accessories. It makes sense that saddle makers would look to rock climbing for R&D. The adjustable and removable bridge with Black Diamond carabiner reveals an understanding of the value of looking outside the hunting industry for product quality and reputation.
Extra forethought. It might seem small, but none of the other saddles tested had a storage feature for excess tethering. The small elastic rings that allowed leg straps to be folded and stored away made for a much cleaner profile and less to hang up on a hike in.
Cons
This isn't a saddle you're going to want to put on at your hunting tree. The buckles are highly dependable for adjustment and safety but aren't conducive to stealth until you put them on. The seat material is also noisy when rubbing together.
Overall Rating 4.5 out of 5
---
Summing Up
There's a lot to be said about the way saddle manufacturers work so hard to keep up with the demands of hunters. Serious hunters don't cut corners when it comes to their ability to hunt further in and for longer, and these companies have done their level best to keep up with those demands.
As someone who still relies heavily on static traditional stand sites, there's always the possibility that I miss the right trail by several yards…enter the saddle. All of these saddles are the ultimate hang-and-hunt tool. They all provide you the opportunity to not only choose the saddle that fits you best but also completely customize them.
The choice of a saddle comes down to personal satisfaction. This lineup is a collection of the top-shelf saddles in the hunting world, and several of them boast what so many of us are highly pleased to see, "Made in the USA". So, whether you are dialing in your current system, or you are just getting your feet wet, these are all great options.
The above article was written by Jim Richman, see more from Jim Richman.
__________________________________________________________________
More on Tree Saddle Hunting
Let's get started with the basics of the hunting saddle and all its parts. The heart of this method is the saddle itself—the part of the gear that you sit in. It is a large piece of fabric. Several companies make saddles, but they are all basically the same. Then, attached to the saddle is a rope that goes from one end to the other. This is the bridge. The bridge is the part that attaches to the tether to hold you to the tree. The bridge can either be permanent, like on the latitude saddle or removable, such as the one on the Trophyline saddle.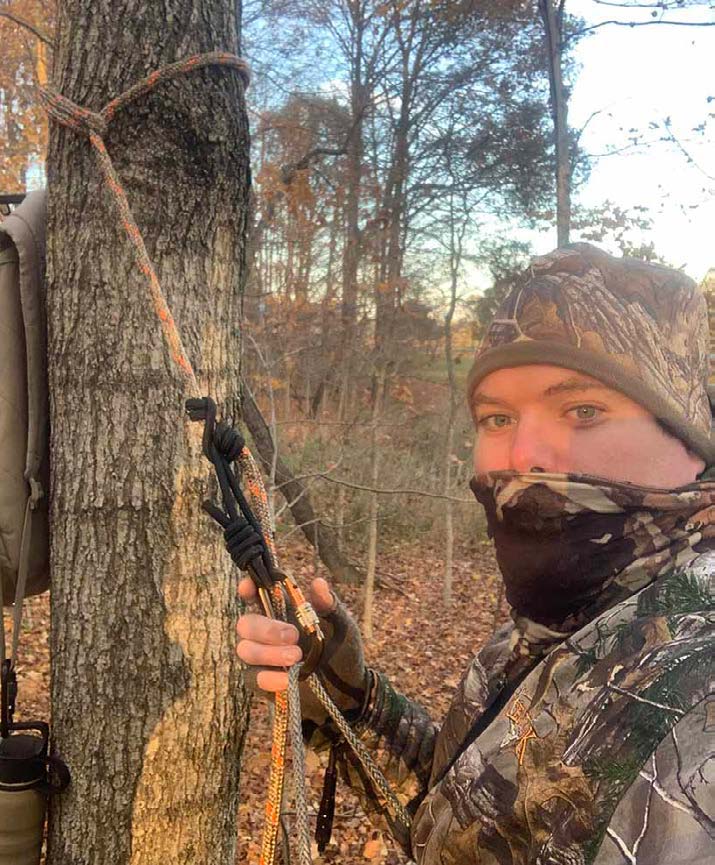 There are also two different ropes. There is a lineman's rope, which is the rope you use to help climb the tree. Then two large "D" rings are sewn into the saddle; this is where the lineman's rope attaches. You attach a lineman's rope with carabiners and a prusik knot. Prusik knots are knots that slide up and down the rope and pull tight once they have pressure on them.
Once you get to the right height, you wrap your tree tether around the tree. You attach this to your bridge with a carabiner attached to the prusik knot. You can adjust the tether height to where you feel it is most comfortable. (I like to keep mine about level with my eyes.)
The great thing about hunting saddles is that there are several ways to customize them to make them more comfortable. Speaking of custom, one thing I use in place of a prusik knot is a Tethrd Nation ropeman. This is a mechanical device that allows your rope to slide through easily until pressure is applied. You can use one on both your lineman's rope and tether. They are perfect for making fast adjustments with one hand while not making too much movement.
Customize a Saddle
When it comes to customizing your saddle hunting gear, there are several items on the market you can use. My best advice is to get the basic things you need to get started, then learn them inside and out. Once you find what works for you, then take a look at how you might improve them.
Now that you know the basic parts of a saddle, let's discuss how to get up in a tree. There are a few other things needed for saddle hunting. You will need a way to climb the tree, something to hang your bow and pack on, something to stand on, and a pack to carry all these things in. One thing you won't need is a lifeline, such as you do in treestand hunting. This is because you are attached to the tree the moment you leave the ground. This makes using a hunting saddle one of the safest methods of hunting out there.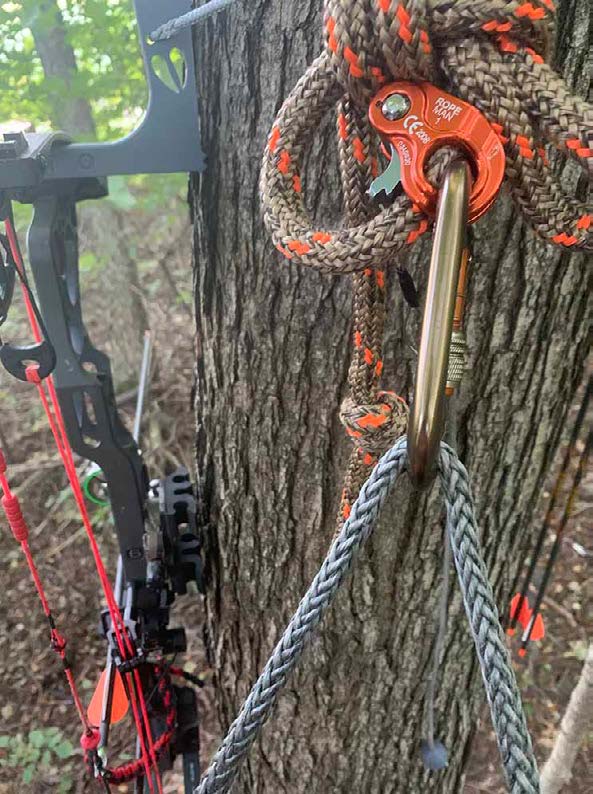 The Pack
Let's start with a pack. I have tried everything from a Walmart bookbag to a frame pack and everything in between. The best two packs I have found both came from Trophyline. (This makes sense because this is a saddle hunting company and the proprietors themselves saddle hunt.)
The packs I like are the C.A.Y.S pack and the Platow pack. Both have a specific purpose, depending on what you plan to do. The C.A.Y.S pack is a large pack. It has straps to secure your climbing sticks and platform. It also has several pockets and tons of room for all your gear. I like to use this pack for all-day sits when I want to pack in food, or extra layers, or camera gear. It is perfect for hunters who take in lots of gear.
The Platow pack is more of a minimalist pack. It wears like a backpack (see our best hunting backpacks) and has a small pouch on the bottom. The platform goes across your back and your sticks attach to the bottom of the pack. It has room for my bow hanger, light, my Ozonics, a grunt call, and a bottle of water. It is lightweight and very mobile. This is the main pack I run because it allows me to be mobile and fast.
The Climb
There are several ways to climb a tree. Some hunters use screw-in steps, some use climbing sticks, and others even climb with only one stick and a rope, then rappel down. I prefer to use climbing sticks. There are several different styles and different companies that make them. I like to use three full-length sticks. This system allows me to get to the right height without a lot of bulk. I also use Hawk Helium Steps, but there are several other varieties. Just find what works best for your style.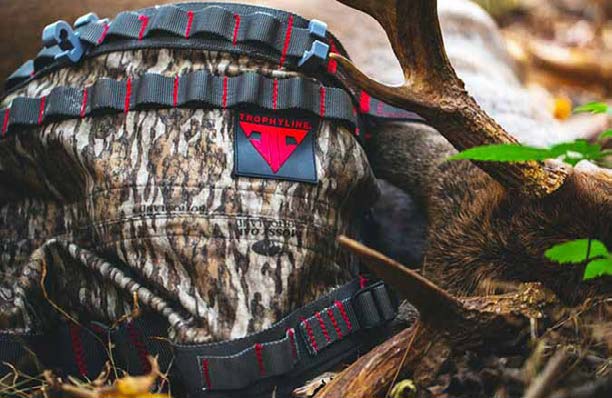 The Platform
Once you get to your hunting spot, you need something to stand on. There are several different styles of platforms and steps. My go-to is a platform made by Trophyline called the EDP platform. It is lightweight, affixes to the tree securely, and offers lots of room. This is important because you don't want to feel like your platform is going to kick out when you're reaching around a tree to shoot the buck of a lifetime.
The Hanger, Rope
Other things you'll need once in the saddle is a good bow hanger and pull-up rope. I use a paracord and a carabiner to pull up my bow. My Dewclaw Bow Hanger is from Innovating the Outdoors. The hanger consists of a seven-foot Amsteel rope, which wraps around a tree with a cinch-lock device, plus a bow hanger with three hooks. It can be used on both public and private land because it doesn't damage the tree. That is another benefit to saddle hunting—no tree damage.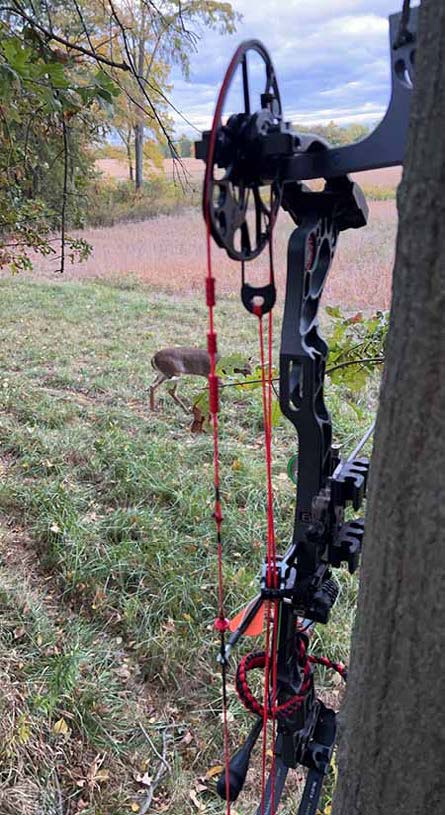 The Tactics
Now that you are ready to climb, let's talk about some benefits of saddle hunting and a few hunting tactics. One of the biggest benefits of using a saddle is that it allows you to move all the way around a tree. This is a perfect way to conceal yourself from a deer while still knowing what's going on. It also allows you to shoot 360 degrees around a tree and behind you.
Saddle hunting also lets you be extremely mobile without having to carry a bulky stand. This is great for the person who likes to scout and hunt the freshest sign. It allows you to go up and down a tree fast and easily. It's a perfect tactic for when you go in blind in the dark, then realize you need to be 100 yards over once the sun comes up.
When it comes to picking out a tree, I like to find one with lots of cover. I have climbed both large- and small-diameter trees. If your rope reaches around the tree, you can climb it. I carry three climbing sticks, even if I don't necessarily have to use all of them. In this case, it's all about the right tree with the right cover.
If I haven't convinced you to go out and buy a tree saddle yet, I recommend that you find a hunting buddy who has one and try it out first. If you can't locate one that way, most companies host teaching events at trade shows and independent events in the summer that allow you to try out the gear.
I believe that after your first time in a saddle, you will find it hard to hunt any other way. If you want the quietest, fastest, most mobile style of hunting out there, get a saddle. You won't regret it.