Create 8' Tall Cover Screen with Antler King Barricade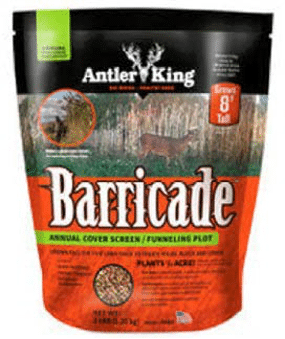 Antler King, creator of leading nutritional products for whitetails, offers hunters and land managers a simple solution for all-season cover with Barricade plot seed.
Featuring a blend of grain sorghum, forage sorghum, and sorghum sudangrass, Barricade grows thick, fast, and up to 8 feet tall. The annual sorghums are ideal for creating funnels and travel corridors, dividing food plots, growing bedding cover, blocking poachers, concealing ground blinds, and providing hunter cover for sneaking into the stand. Barricade growth also lasts well into the winter for a cold-weather wildlife food source.
Affordable and easy to use, Barricade should be planted in the summer for full growth by hunting season. A three-pound bag will cover ¼ acre or 10890 square feet. To learn more about Barricade and browse the full Antler King lineup, visit antlerking.com