Opening day of the rifle deer season is approaching and it's time to start getting ready for the big day. Maybe you put your gear away at the end of last deer season and haven't touched it since. Maybe you used some of your equipment in an archery or muzzleloader season just a few weeks ago or in an early-season hunt for moose or elk. Maybe you're getting ready for your first hunting season. Regardless of the situation, now is the time to start packing and gathering your essential deer-hunting gear for the upcoming rifle season.
Deer Tag
To legally hunt for deer, make sure you have the correct deer license and tags for the jurisdiction where you will be hunting. Take time now to read the rules to see if any new regulations will apply in the upcoming season. Just because there were certain rules last season doesn't mean there won't be new ones this season.
Along with getting your tags and license, make sure to completely fill out all the information and sign where required. Most jurisdictions require you to carry your tags and license while you hunt, so put them into a location where you always have them handy and know where they are when you're hunting.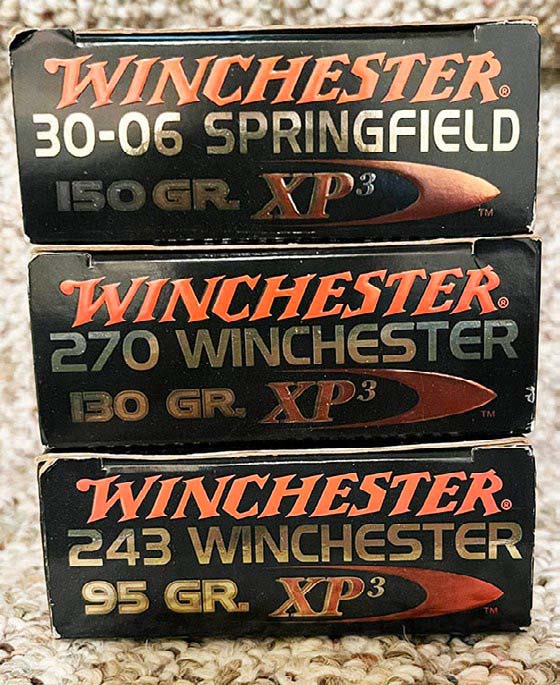 Ammunition
Everyone has a favorite caliber deer rifle. We can talk for hours about which one is better and why, so that's a discussion for another day. However, without ammunition, a rifle is useless.
Before heading on a hunt, I will head to the gun range using the same load and bullets I plan to hunt with to ensure my rifle punches holes on paper exactly where I want it to. If for some reason it isn't doing that, I make adjustments to get my gun bang-on again.
When heading out on a deer hunt, I typically take a full box of ammunition. It's definitely way more ammunition than I'll ever need to harvest a deer, but it gives me peace of mind knowing that I have ample ammunition along on my trip.
Where I hunt deer, we are also allowed to shoot coyotes. I never like to pass on shooting them when opportunity knocks. I can't imagine seeing one and thinking, "Mike, you gotta pass on that coyote because you left too many bullets at home and don't have enough on this trip to shoot any coyotes."
Often while hunting, I need to cross fences or deadfall and walk over some very rough terrain. Under these conditions, accidents can happen, and it's possible to fall and bang my scope. Knowing I have spare bullets along, I can check the zero on my gun in case I accidentally fall and if need be, re-zero my rifle again.
If you happen to own multiple caliber rifles or are hunting with partners who shoot different calibers, always make sure to carry the correct ammunition and keep the different sizes separate at all times.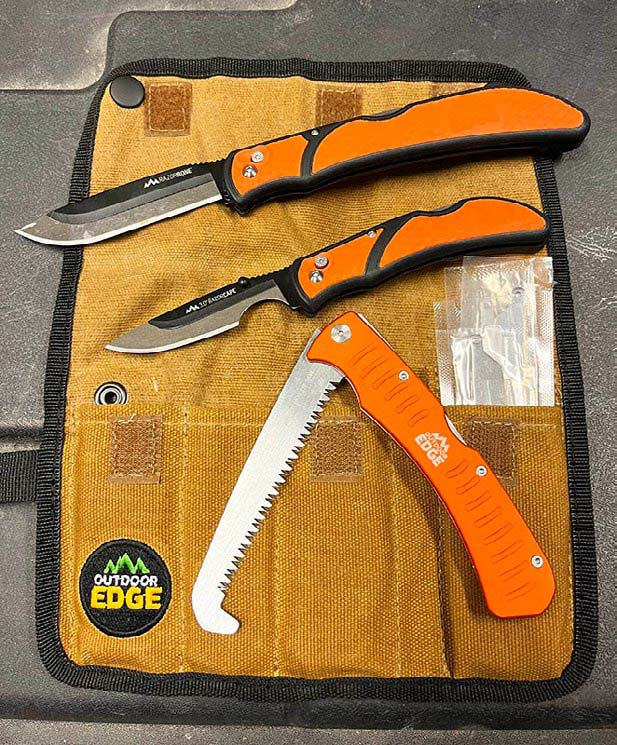 Knives
I never head out for deer hunting without a knife. I carry multiple knives while afield. I always have a small folding knife clipped inside the pocket of my hunting pants. This everyday knife has multiple uses, from cutting tags to opening buns for lunch and countless other tasks encountered throughout a day of hunting.
In my hunting pack, I will carry a gutting knife and a skinning knife for when I harvest my deer. The gutting knife is typically a drop-point blade knife with a gut hook for doing the rough tasks of opening a deer and removing the entrails. The skinning knife, with its curved blade, is ideal for skinning the hide of a deer without damaging either hide or meat.
For the past couple of seasons, I have started carrying an Outdoor Edge RazorGuide Pak Combo Kit. These kits come with a RazorBone knife that uses replaceable 3.5-inch drop-point blades or a gutting blade. The second knife in the kit is the RazorCape knife. It has 3-inch replaceable skinning blades that make skinning and caping a deer a simple task. As a bonus, this kit comes with a folding bone saw and a compact carrying case to keep all the knives and blades together.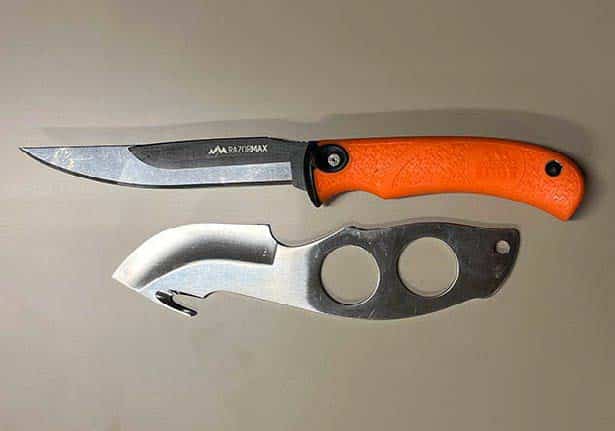 Clothing
The clothing you wear while hunting plays a vital role in keeping you warm and quiet, helping prevent noises that spook deer.
My rifle deer hunting takes place in western Canada, where the weather conditions are typically cold and miserable with the possibility of high winds, snow or sleet. There are days when the day's starting temperatures are well below freezing, then warm to above freezing by mid-day, and plummet again as the sun settles into the western horizon. Under these conditions, layering is the key to staying comfortable.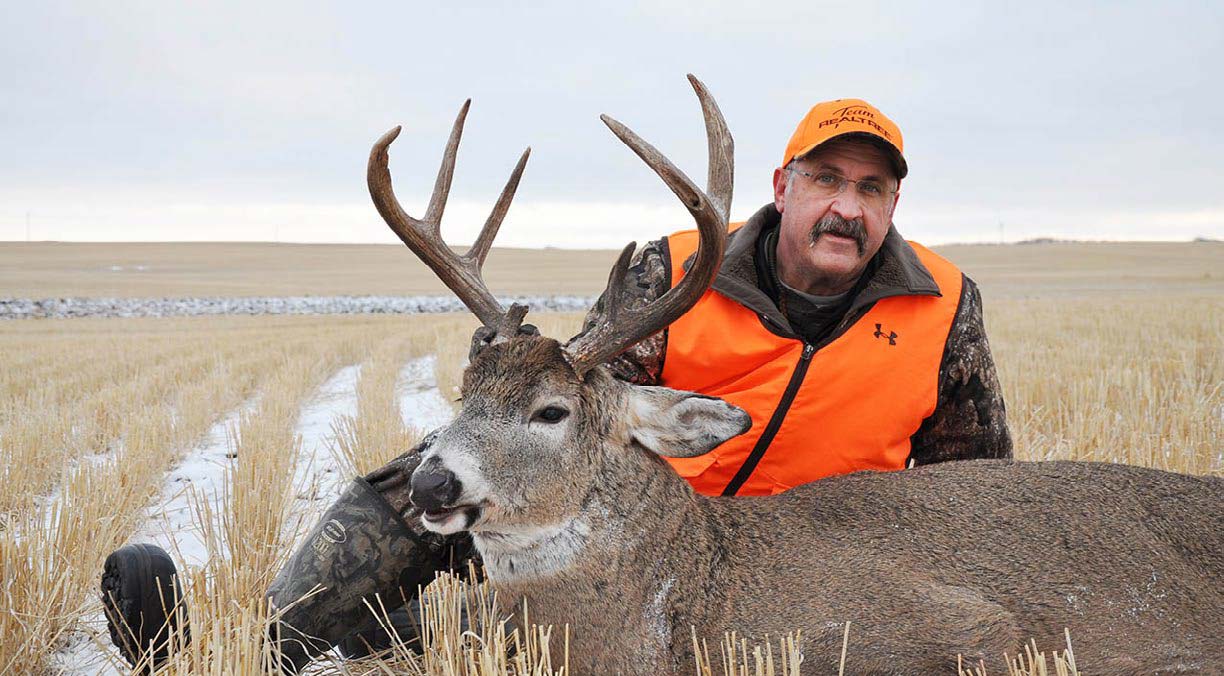 A non-absorbent moisture-wicking base layer is a must. When looking for long johns and undershirts, ensure they are made with absorbent synthetic fibers, such as polypropylene. These amazing synthetic fibers provide insulation while wicking perspiration away from the body. A good base layer will pull sweat away from your body and absorb it while you walk long distances in the cold to reach your tree stand or ground blind. Once you settle there, you will not feel the cold since there will be no moisture on your skin. At that point, the underwear will simply provide a thin insulating layer to help keep you warm. I recommend putting on a clean fresh base layer every day you hunt, so you'll need to have extra sets if traveling or hunting from a deer camp.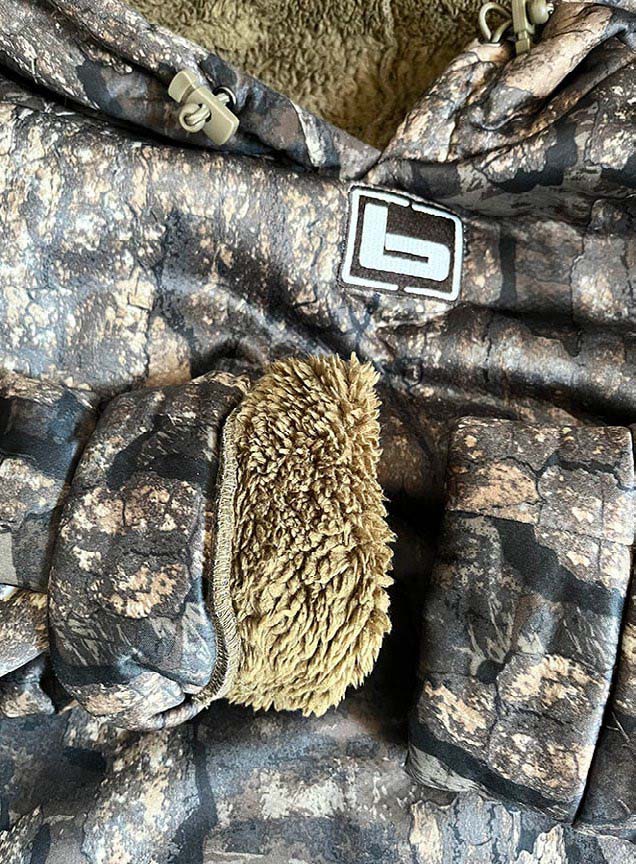 In terms of pants and shirts for layering, the sky is the limit when it comes to camouflage patterns and synthetic and natural materials. Synthetic materials are favored over natural materials because man-made fabrics retain much of their insulating abilities, even when wet. They also generally dry much faster than natural materials do. In addition, synthetic materials also seem better at wicking away moisture. Over the past few seasons, I have started to wear pants and jackets that are lined with sherpa material. I find it to be very warm and it also helps cut wind from getting to my body.
When buying clothes to wear in layers, don't buy them all in the same size. Your first couple of layers should be your regular size. Subsequent layers should be a size or two larger to allow you freedom of movement and comfort. When selecting deer-hunting clothes, choose garments that are soft and quiet, since they allow you to move quietly through the deer woods.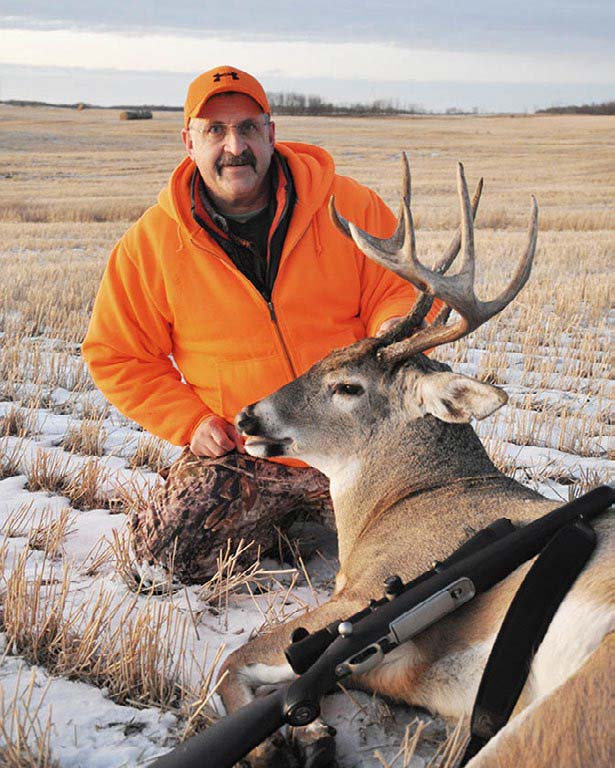 In my home province of Saskatchewan, we need to wear blaze orange, white or red on our upper body as part of the hunting regulations. As a result, I have a variety of colored garments. However, my favorites are a blaze orange hoodie for warmer days or use as a layer, and an oversized orange vest that I wear on cold days over warmer clothes.
When hunting in a cold or wet environment, it is also recommended that you pack a spare change of clothes and store them in a dry box in your vehicle. These will come in handy if you get soaked or stranded while out hunting.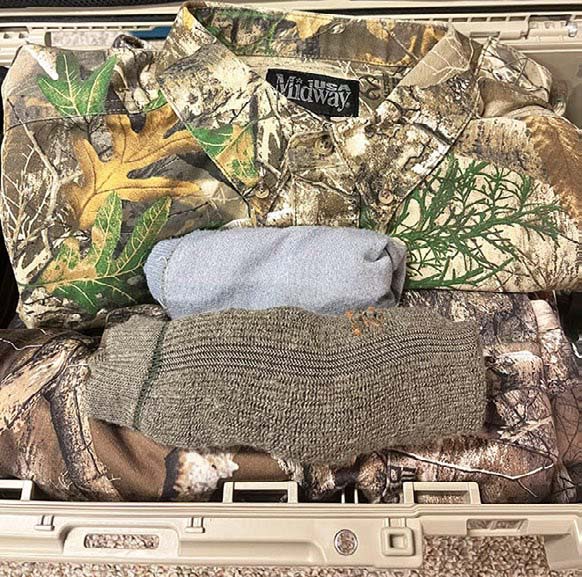 Socks and Boots
A polypropylene pair of liner socks will work to wick moisture away from your feet. Add a pair of wool or heavy synthetic socks over the top of that, and your feet are good to go. For days when you'll walk a lot, it's a good idea to carry an extra set of socks and change them out midway through the day.
If you have a pair of good-fitting and warm boots, you won't even give your feet or boots a second thought. However, if your boots don't fit properly or aren't warm enough to keep your feet toasty your hunt will be miserable.
In climates with little to no snow, a pair of waterproof lace-up boots are perfect for deer hunting. Waterproof is a must because there is often enough dew in the mornings to make the rest of your day miserable if your boots don't protect your feet from wet conditions. Waterproof boots also allow you to walk through areas with groundwater.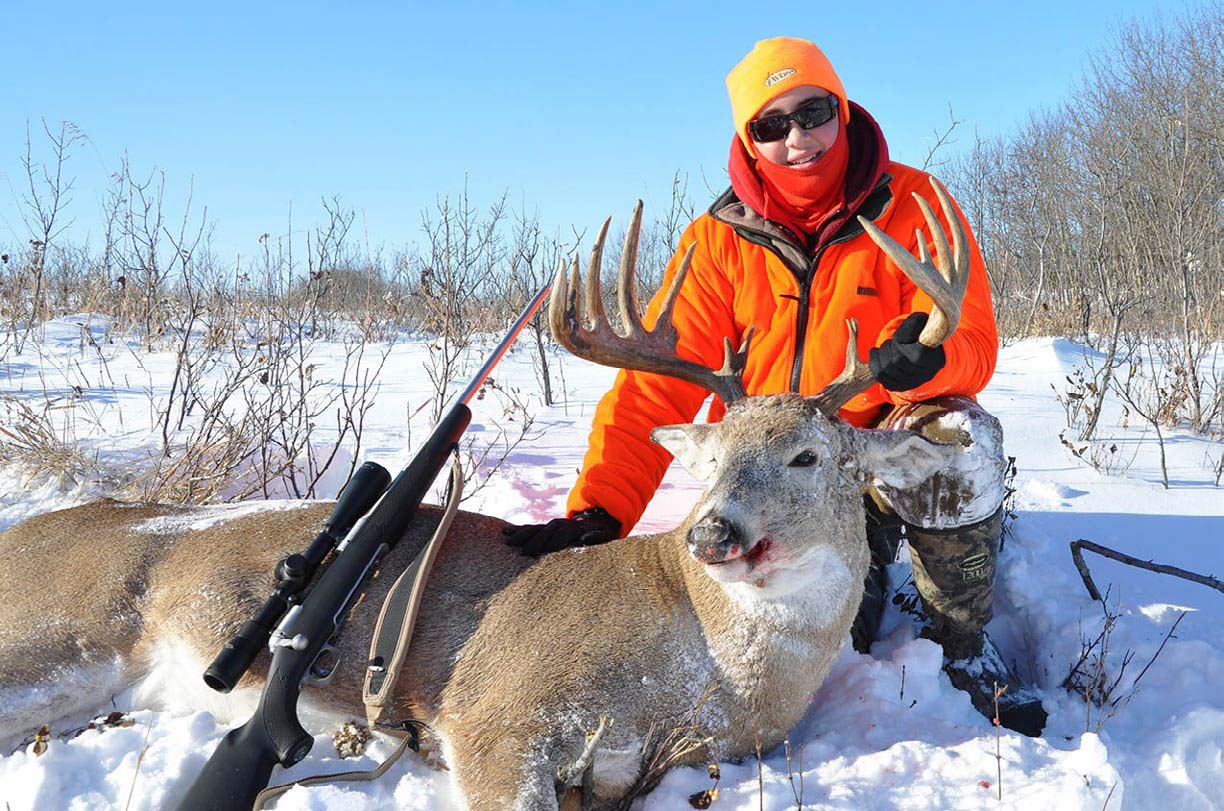 Personally, I prefer 10-to-12-inch high lace-up boots. They are high enough over my ankle to provide plenty of support as I walk. They come in a variety of options, from uninsulated to insulated ones having a variety of insulation levels. If you do lots of walking with limited periods of sitting or standing still, you can get boots that are uninsulated or some that have 200 to 400 grams of insulation. If you plan on sitting in cold weather and with minimal walking, I suggest a pair of boots with 800 to 1200 grams of insulation.
If you are hunting in deep snow, I suggest purchasing a pair of felt-pack boots or rubber-insulated rubber boots to help keep your feet warm and dry. I have been wearing 1600-gram Lacrosse Alphaburly rubber boots for several years now. I find them comfortable for walking and warm, and the high uppers keep snow off my legs. These boots also serve double duty for ice fishing and waterfowl hunting. For children and those who get cold feet, like my daughter, you can even go up 2400 grams of insulation.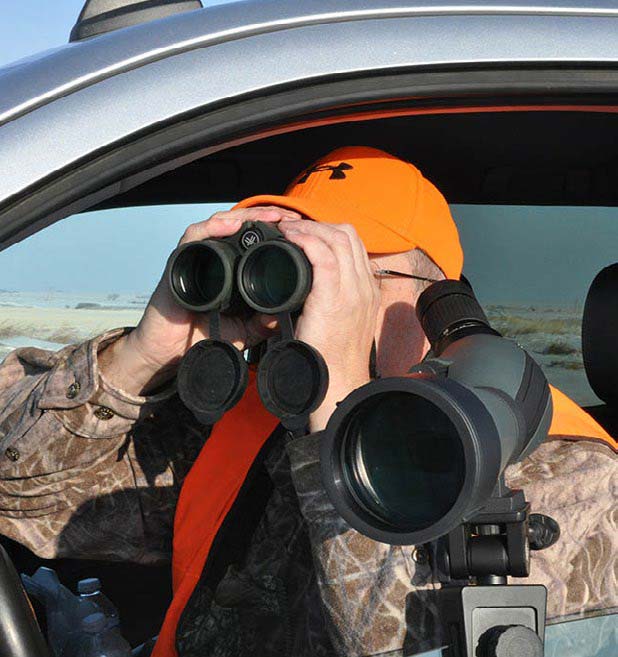 Optics
Optics is a broadly used term for rifle scopes, binoculars, range finders and spotting scopes. Optical devices magnify distant objects so you can see them better than you can with just your eyes. Rifle scopes help many hunters to be better shots and allow them to make ethical shots at longer ranges than if they were using open sights. Rangefinders allow you to know the distance between you and your target. They help you know if the deer is in your shooting range and where to hold the crosshairs on that deer. Binoculars and spotting scopes help you find deer, field- judge them from afar, and save you countless steps over the course of a hunting season.
The first number on an optical device is the power, or magnification. For binoculars and range finders, the power level is fixed. For rifle and spotting scopes, the power level can either be fixed or variable. The higher the number, the higher the magnification. The second number is the size of the objective lens, which is the lens of the optics that is furthest from your eye. The bigger the objective lenses, the more light the optics will gather, and the better you will be able to see in low light conditions.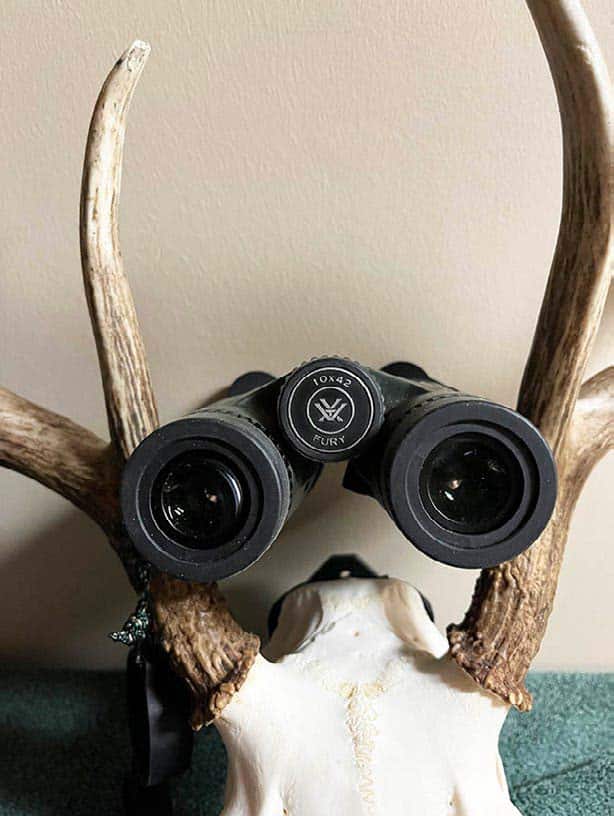 Based on this information many individuals think it's best to purchase optics with the highest magnification and biggest objective lenses they can buy. However, in some cases, buying bigger optics isn't always better. The higher the magnification, the better you will be able to see or zoom in on distant objects. Also, the higher the magnification, the smaller your field of view will become, making it harder to locate a deer in the optics. In addition, the higher the magnification, the more exaggerated your motions and movements will be. This can cause what you see to be distorted. If the sight picture isn't sharp and clear, you will quickly get eye strain and perhaps a headache. The key is to purchase your optics with the highest magnification that you can hold steady enough in your hands (or with steady support) to see clearly.
Sure, it's nice to have large objective lenses to let in more light and increase your ability to see first thing in the morning and late in the day. However, with each increase in the objective lenses comes an increase in the overall weight of the optics. The tradeoff is to carry extra weight and see in very low light conditions or give up a little weight but sacrifice some early-morning or late-day clarity. Often, your hunting style and how much walking or sitting you will do will influence this decision.
When I first started deer hunting, I purchased a variable power rifle scope and a set of binoculars. Over the years, as my budget allowed, I added a spotting scope and then a range finder unit. In recent years, I have added a pair of range-finding binoculars to cut back on the number of optics I carry afield.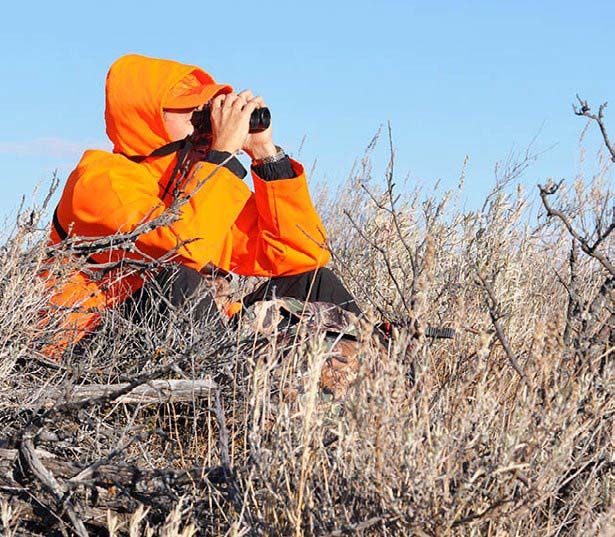 Shooting Sticks
While some people think that shooting sticks are for beginners or bad shooters, I believe that a set of shooting sticks can help make all shooters better shots because the sticks provide a solid shooting rest.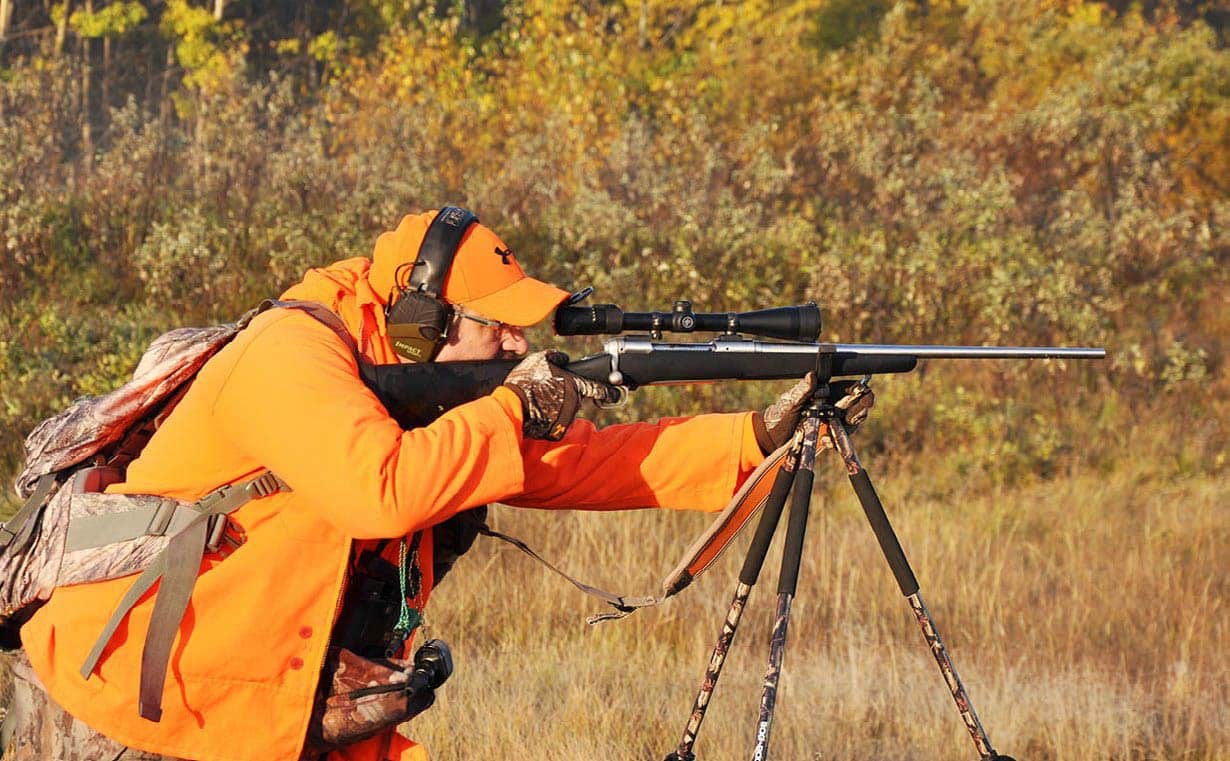 Over the years, I have used a variety of shooting sticks. At first, it was a single-leg shooting stick. Then, for added stability, I changed to shooting sticks with two legs. More recently, I have switched to three-legged tripods. My go-to shooting sticks these days is the Bog Gear Havoc Tripod. Of course, with each extra leg comes a little more weight and a little more time to set up the sticks. However, I believe the tradeoff of increased stability is well worth the extra weight and setup time.
I do a lot of spot-and-stalk hunting for both Whitetail and mule deer. The shooting sticks help me be a better shot at close range, especially so at long ranges. I first started using shooting sticks because there wasn't always a tree or fence post to use to steady my rifle. Since then, I've learned that shooting sticks don't have to be limited to spot-and-stalk hunts. They can also be used when hunting from a ground blind.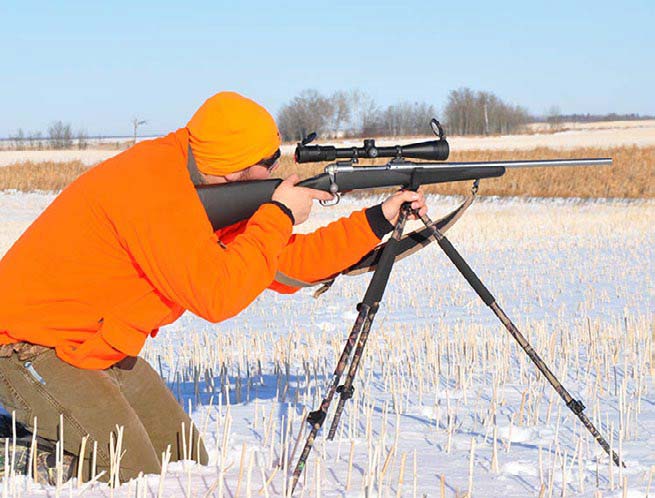 Packs
When you're hunting, it just isn't feasible to carry all your gear in your pockets. So, a pack is a great way to carry all your gear. There are two styles of packs: a backpack and a waist pack.
Backpacks are good for carrying lots of the gear mentioned above, along with a camera, your lunch, drinking water, game calls and various other extras. So, when looking to invest in a backpack, look for one that is well-made and has solid stitching that won't rip when stuffed full of gear. Look for a model that has multiple pockets to keep your gear organized and easy to find. Select a backpack with wide shoulder straps so its weight is distributed over more of your shoulder area; that makes it easier to wear all day long.
If you're not planning to carry a lot of gear, a smaller, waist-style pack may be a better choice.  While belt-style waist packs work, I prefer a pack that features shoulder straps to help distribute the pack's weight. Shoulder straps also ensure the waist pack stays in place and does not shift and spin around your waist.