Davey Stuckey made good on his opportunity when this old deer finally stepped out
Buck Score: 228 4/8 inches (Buckmasters)
Date of Harvest: October 30, 2022
Location of Harvest: Fayette County, Ohio
Weapon of Harvest: Ravin crossbow
Davey Stuckey deer hunts in Fayette County, Ohio, which is a hotbed for big, mature whitetails. He shot a monster buck in 2018 that score 232 2/8-inch buck. It was a wide deer with heavy mass and lots of points.
In 2018, after shooting his big deer, he learned of another. "I didn't know about the deer until 2018," Stuckey said. "I received some trail camera photos. Later that year, I found his sheds. Then, I started seeing photos of the deer. In 2022, there were trail camera photos of him all over the internet.
"We called him Fayette County Famous," Stuckey continued. "You couldn't go to a local restaurant without someone talking or recognizing that deer. The local farmer who let me hunt; his farmhand found the buck's sheds in 2019."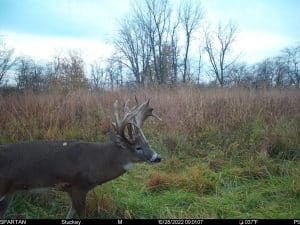 During the 2022 season, he harvested the deer, which grew into a 200-plus-inch buck he aged at 8-9 years old. That's an old whitetail no matter where you are. Of course, Stuckey had some history with the deer, including a set of sheds from four years prior. He had the buck on camera that same season.
He found the deer again in 2020 but couldn't hunt it because he couldn't access the property the deer spent the most time on. Then, in 2022, he gained access to a new property that the deer relocated to.
He started getting trail cameras photos on October 17. On October 18, he missed the buck. Stuckey hunted almost every day of October after that.
On October 30, 2022, all the hard work finally paid off. It was a crisp, cool morning. Stuckey walked in early because he thought the deer was living close to the road. Once there, about an hour before daylight, he settled into his treestand, which was in a long ditch line that ran to his right and left. CRP strips followed it along each side. Behind him was a 250-acre soybean field. A block of timber sprawled out in front of him.

At first light, several does walked into view. He even watched a small doe chase a buck around. After a while, the action slowed down, and all the deer disappeared.
Around 8:15 a.m., five does stepped out of the ditch. Stuckey heard a buck grunt loudly in the brush. Seconds later, he appeared. It was the big one. It started chasing the does.
Stuckey grabbed his Ravin crossbow and settled in for the shot. The deer stopped 53 yards away. The bolt connected, and the buck dashed down into the ditch and out of sight. Full of excitement, Stuckey called a couple of his buddies, as well as the game warden. Each of them arrived to tag along in the recovery of the deer. They found it down in the ditch.
"He's my second-biggest deer," Stuckey said. "I killed a 232-incher in 2018. But this is my best story. I put 140,000 miles on my truck from 2018-2022 searching for this deer. I was always driving around looking for this deer. I wanted to get permission on whatever farm he was living on. I became obsessed with him. With his mass, and how famous he was, I dedicated everything I had to him."
Whitetail Lab: Big Buck Tactics
This buck was a transient deer that spent a lot of time moving around. This made the deer difficult to hunt, and even required it necessary to attempt to get permission on various tracts of land. That's what Davey Stuckey did, which made him successful in his attempt to kill the deer.
"When he was younger, people were getting photos of the buck about 4-5 miles away from where I killed him," Stuckey said. "But he only moved 2-3 miles once he was older."
Once Stuckey dialed in on the right property, it was all about finding where the buck bedded, where it fed, and how to intercept it without alerting the deer to his presence. "I knew he was living in the waterway. It isn't very big. Instead of walking down through that waterway, I walked along the fringes of it. I placed some cameras down in there, and he would lay down in front of them for 6-8 hours at a time. I knew I would spook him walking down in those ditches."
Unfortunately, the deer wasn't much of a daylight walker. So, Stuckey used the rut and rising testosterone to his advantage. "Early on, he made very few daylight appearances," Stuckey said. "As the rut neared, I knew he would start moving more. I started getting more and more daytime photos in the early mornings and late evenings."