Imagine a cold, crisp October morning, around the 28th of the month. I had just settled into my favorite stand along a creek bank. I knew I would have another encounter with my target buck that day. How did I know that you might ask? Scrapes is how.
I have been creating mock scrapes since the end of summer in key locations that cameras have monitored. I knew the targeted buck's routine. He was on a four-day pattern, and I was in his core area. The evening before, I freshened up a mock scrape that he had been hitting every four days and I got out undetected.
However, as I sat in the dark, the anticipation began to build. As the sun came up, I had a doe come under my stand with two small bucks hot on her trail. I watched them chase her all over the field for the first 30 minutes of shooting light.
My target buck hadn't shown up until around 9 a.m. He would work the scrape on his way back to his bedding location. At around 8:20 that morning I had a doe come bursting out of an adjacent wood lot. She was constantly pausing to look behind her. I figured the same two young bucks were still harassing her and turned my attention back to the creek. This is where I was expecting the buck to enter, but he had other plans. As I turned to my right to check on the doe, there he stood. He was 35 yards broadside with back legs stretched out, thrashing his antlers against the hemp rope I was using in my mock scrape.
I slowly reached for my bow just as the buck gets a nose full of the doe, and then the chase is on. He chased her right under my stand and in every direction within 100 yards of me, yet he offered no shots. I watched him bump her out of my sight for the third time that season. As fate would have it that evening, a truck hit him while he was chasing a doe.
So, why this story and what does it have to do with mock scrapes? Let me explain.
WHAT IS A SCRAPE?
A mock scrape is a manmade attempt to recreate a Whitetail scrape. It uses natural or synthetic products in the hope that the local Whitetail will take it over.
Before we break down that definition piece by piece, we need to understand what a real scrape is. It is the primary way deer communicate with scents. There are two main kinds of scrapes: rut scrapes and community scrapes.
Here, we focus on rut scrapes when we make mock scrapes, but they may turn into a community scrape. Community scrapes get used year-round for Whitetail communication. A mature buck will use a rut scrape to let other bucks know he is in the area with breeding intentions. This is a way the bucks establish dominance. (They also do it with rubs and sparring). All the other bucks passing through the area will then make their mark on the scrape, letting each buck know who's who and where he stands in the pecking order. They do all this through the scent they leave on the scrape.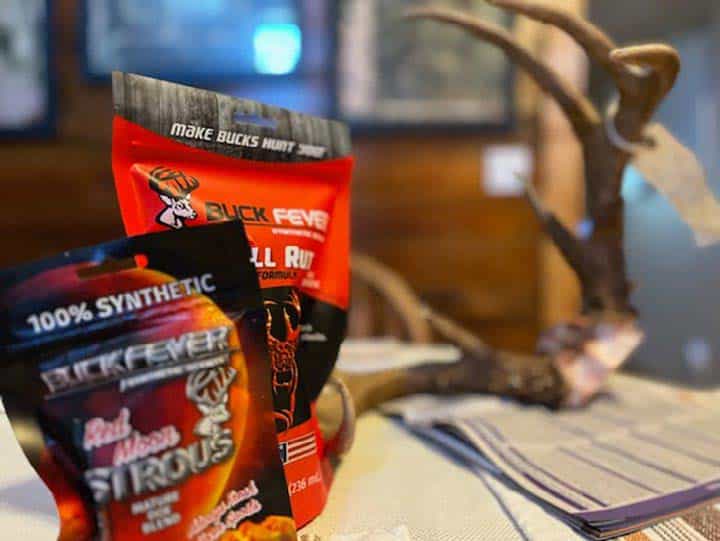 PARTS OF THE SCRAPE
Now, let's go over the parts of a scrape. First, there is the licking branch; this is the most important part of a scrape. This is a low-hanging branch that deer thrash with their antlers, leaving their preorbital scent all over the branch. This scent is specific to each buck. The licking branch also gets chewed on by bucks and does. It is another way they leave their scent to communicate. They also paw the dirt under the branch and urinate in it, again leaving more scent. The use of these scents is for different reasons. Some are intended to establish dominance among bucks and set the pecking order for breeding. Other scents are left for does to let bucks know they are getting close to coming into estrus.
Before I make any mock scrapes, I like to scout the area looking for natural scrapes. When scouting, I like to look for pawed dirt. I consider the pawed dirt the easiest part of a scrape to identify since it will be bare dirt cleared of all debris. I like to look for them walking along fence rows or the edges of woods first, then I will look in the woods itself. If you find what you believe is a scrape, look for a low-hanging branch above it, then look for chew marks on the end of the branch. If you have all three, you have found a natural scrape. You may only find one or several scrapes in an area. If you find several all close together, this is known as a scrape line. These are usually made by several different bucks trying to establish dominance.
COMMUNITY SCRAPES
The next type of scrape I want to cover is a community scrape. These will be a lot bigger than any other scrape. The pawed dirt will be about the size of a car hood. These scrapes get used year-round, unlike the others that are only used during the rut. If you find a community scrape, they are great locations to hang a trail camera to monitor deer activity in the area all year long.
WHY SCRAPES ARE EFFECTIVE
There are two main reasons to make a mock scrape. First, it is a way of introducing a new buck into an area. A new scrape makes all the other bucks curious, since they have not seen this new buck around, but he is making scrapes in their core areas. This may make more bucks in your area visible during shooting hours as they look challenge him.
This case is especially true as testosterone builds, and bucks start to cruise, looking for the first does to come into estrus. The second tactic is to use doe estrus in the scrape. This simulates the sense that there is a hot doe in the area.
Last year, after making a few mock scrapes in key areas, I had several target bucks work my mock scrapes. On one of my mock scrapes last year between October 10 and November 22, I had 13 different bucks work that scrape. That's 13 different bucks having key features I could pick out to identify them. There have been several rounds of sparring, and I have captured these in front of those scrapes on my cameras, as well. Last year I even found two tines that had broken off near a scrape. I assume they broke off during a fight!
Bucks will work rut scrapes from October to December. Some believe each buck makes his own scrape, which is why you get several in a row, especially if there is a hot doe close by.
HERE ARE A FEW FACTS TO KEEP IN MIND ABOUT SCRAPES.
While there are people out there who have shot bucks over scrapes, it's not a common thing. Research has shown lots of scrape activity happens overnight, but not all of it does. The best two times to hunt scrapes are the last few weeks of October or right after a hard rain during the rut. Another thing to keep in mind is that a buck will cruise downwind of known scrapes and scent-check them without visiting the scrape. Try to capitalize on a buck moving in a transition area while he is checking for hot does.
FINAL THOUGHTS
If you took any information away from this article, I hope it's that mock scrapes can be a great way to draw bucks in with low pressure. Scrapes are perfect for monitoring what stage of rut your local herd is in. They can also provide some awesome trail camera footage. And most of all, they can be just what you need to get the attention of that buck you have been after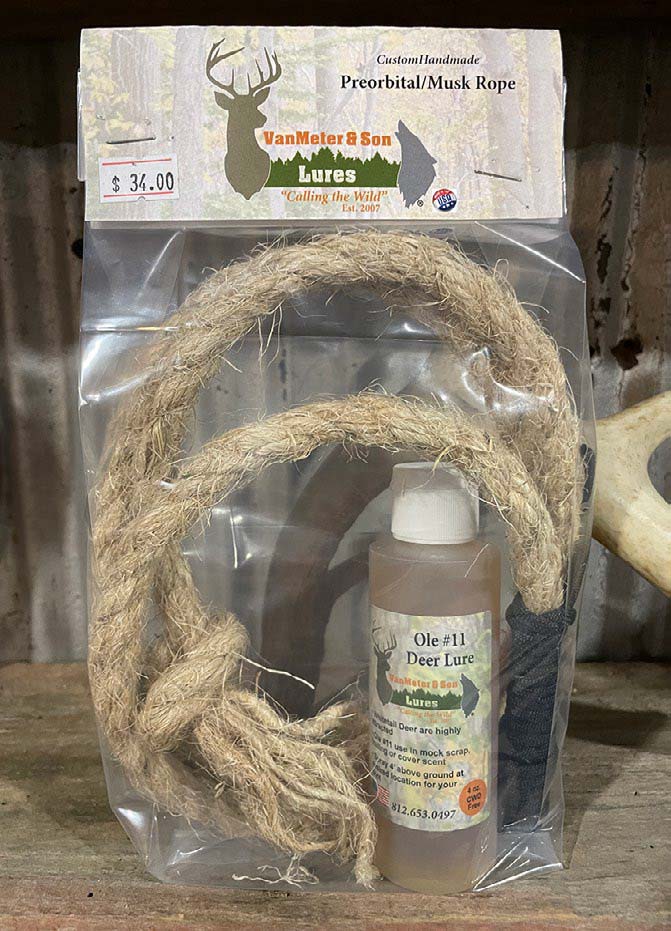 HOW TO MAKE A SCRAPE
You can make a mock scrape with some basic tools. I use a stone rake or my boot, my Moultrie Edge Pro trail camera, a pair of gloves (so as not leave my scent), and a few scents. I first find the perfect location for the scrape. Usually that is in a transition area, on the edge of a food plot or on a field edge.
After finding the right tree, I clear the area underneath in about a four-foot by four–foot area. I take it down to bare dirt. I then use deer urine by squirting it in the dirt. I then apply preorbital to the branch. If the right tree exists but there is no low-hanging branch, there are a few different options. One of the more popular ways is to hang a hemp rope soaked in a preorbital scent over the dirt. The idea behind this is that the hemp rope holds the scent longer. Another way is to cut down a branch and use something to secure it to the tree. When selecting a branch, some sort of pine is best.
When hanging my Moultrie Mobile cameras, I like to use video mode to monitor the scrape. This allows you to figure out which way bucks are traveling to visit the scrape. This helps you to develop a pattern to try to capitalize on. Another reason to run video mode on cameras is that it can give you a lot more information than just a still picture does. I also suggest that you make your mock scrapes in areas that are highly trafficked by does. As a buck is cruising these areas scent-checking for does, this gives you a better chance of a buck stopping to check the scrape in daylight hours. (This situation may be different for areas that don't see as much pressure as mine does). We have about 10 bow hunters per square mile in my area of Ohio, and just getting permission to hunt can be tough.can also provide some awesome trail camera footage. And most of all, they can be just what you need to get the attention of that buck you have been after.
PRODUCT SUGGESTIONS
When it comes to scents, there are several products available for scrapes. They range from different urines to scrape-drip kits. A quick google search will show you several. Just make sure they are legal to use in your area.
I have tried many of the products available on the market. I have had my greatest success with three different companies: Van Meter and Son Lures, Raw Frozen Scents, and Buck Fever Synthetics.
They all have their place and time to use. For instance, synthetic scents are legal in states that will not allow you to use real deer urine.
You can also make scrapes with no scent and have just as much success. I credit this to the fact that deer can smell fresh-worked dirt and they investigate it.
When making scrapes, try to keep them simple and of low impact. Then all you need to do is freshen them up when swapping SD cards. If you are using a cell camera, I suggest Moultrie Edge pro cameras. This is because they are designed with the die-hard deer hunter in mind. Some of my favorite features are live aim, which allows you to make sure you have the camera pointing right where you want. They need no SD card and send all photos to your cloud account. My favorite feature is the smart zone technology that allows you to turn off different trigger zones to avoid false triggers.