Photos by Wess Brown
When I hear the word, "sacrifice," the first thing that pops into my head is our veterans.
They sacrifice so much to protect our country's freedoms. Those include the freedom to enjoy the great outdoors. When I set out to find a company that gives back, I knew I would have to look no further than Trophyline.
Trophyline is doing great things not only in the saddle hunting community, given all their great products, but they are also sponsoring veteran-guided hunts. When I reached out to Wess Brown at Trophyline asking if he had a story for me, he said he had the perfect one.
The Veteran
In 2020 an opportunity arose with Trophyline to sponsor a veteran to go on a dream Whitetail hunt in Kentucky with Palisades Bowhunting. Trophyline reached out to Wess Brown, who was a guide and the general manager at Palisades Bowhunting. Trophyline asked Wess to organize and select a deserving veteran who embodies the principles of a responsible outdoorsman and someone who is truly trying to change their life by accessing the outdoors.
As a veteran himself, Wess knew just the guy. That was Mike Finochio, a veteran who was assigned to the 100th MWD detachment in Germany. That's where he met Wess. They worked together for a short time in 2014 before parting ways. They met again in 2016 in Virginia, where they worked together, but not for long. That was  the last time they saw each other for three years.
After being medically discharged for various injuries from combat deployment, Wess went to work for a non-profit organization, Front Line Outdoors. Here, Wess ran the non-profit, whose goal was to help veterans get back into the woods through education and mentorship.
The pair would reunite in 2019  when Wess mentored Mike in getting back into archery. Wess sponsored him with equipment as well as close mentorship. . In this period, their friendship blossomed into a much closer relationship not just for the two of them, but friendships among their families as well.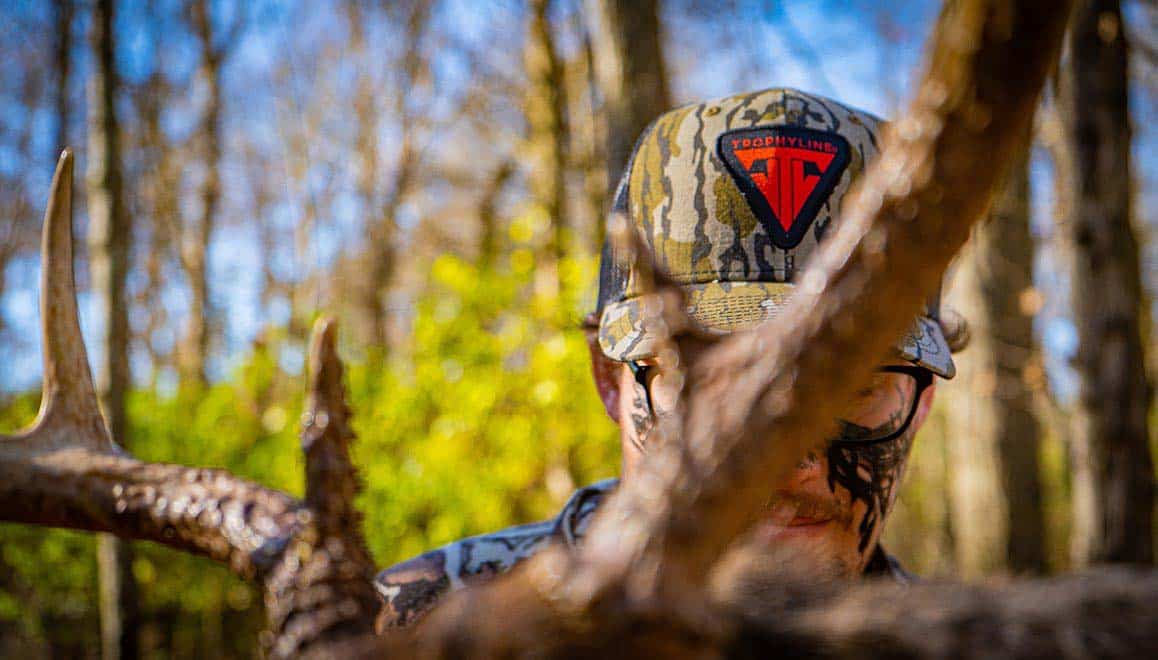 The Hunt
Mike was first on the list of deserving veterans when Trophyline asked Wess to find the right person for a sponsored hunt. When Mike got the call that he would have an all-expenses paid Whitetail hunt, he quickly agreed.  In November 2020 during peak rut time, Mike, Mike's wife, and Trophyline's operations manager, Nick Betts, got to camp. They were briefed on what to expect and learned about the local deer herd.
Wess was set to film Mike while the Trophyline team was hunting too. On the second evening, Nick connected on a great 140-inch buck. This seemed to give Mike the hope of connecting with a bow for his first antlered buck. Wess told me, "During the week everyone was able to become closer and closer, and sharing war stories and hunting stories as if they were synonymous with each other. This created an atmosphere that was like a group of long-lost friends that were reunited once again."
The last three days of hunting were disheartening for Mike thought, to say the least. They stuck to the same plan trying to make something happen, hoping one of the mature bucks that frequent the area would show himself. But this turned out to be the wrong choice. On the last morning, Wess asked Mike what he wanted to do. It's always the practice at Palisades Bowhunting to give hunters all the current and historical information so they can have a say as to where they feel is the best spot to sit. Mike was feeling the pressure of this massive decision. If he picked the wrong, he might go home without filling his buck tag. After some deliberation, the group decided to switch to a spot that historically has had some good rut activity. This is where they thought they'd try their luck.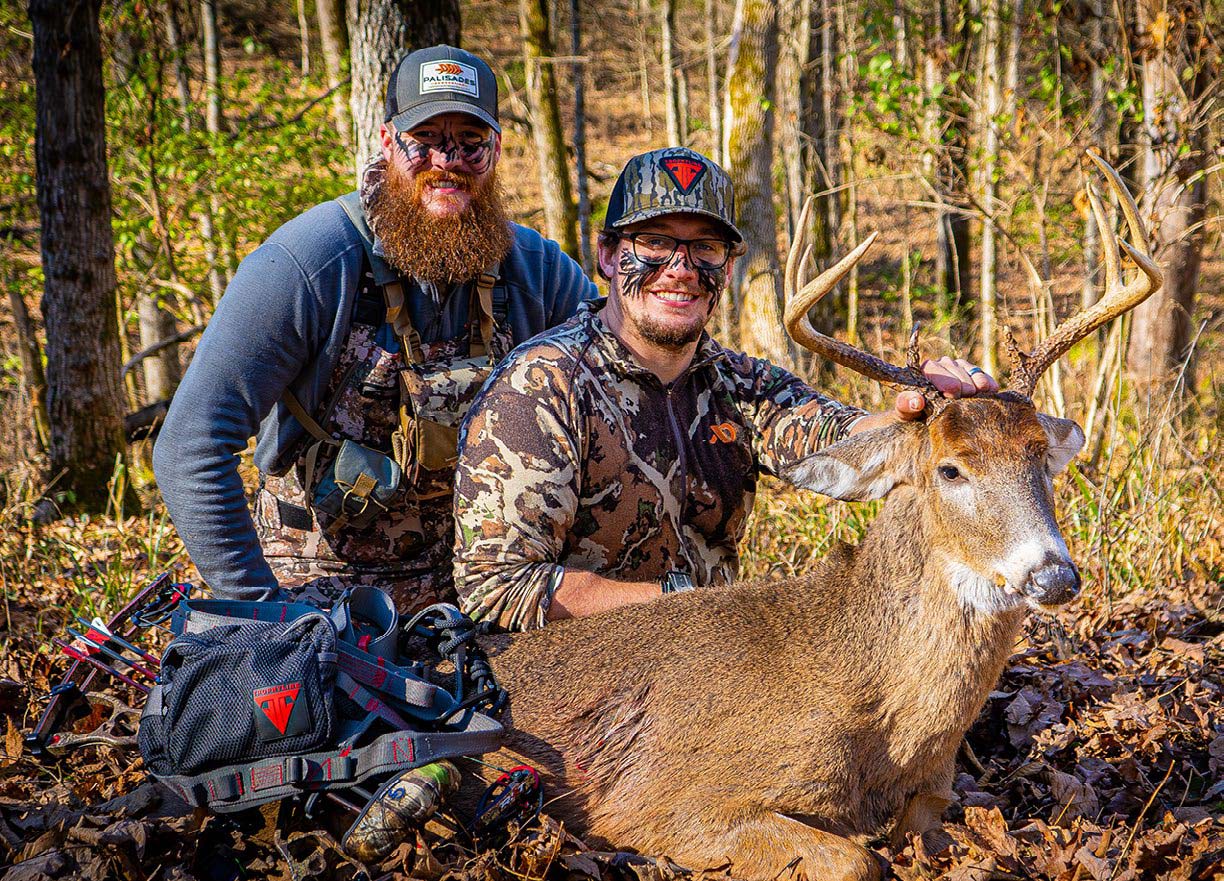 The Last Day
Wess told me, "That last morning was gorgeous. The sun rose and started coming through the trees on the tall hill to our left and we had a couple of does feeding in front of us. The wind was marginal but came from the same direction the does had.  The thermals seemed to be on our side, as we had hoped. Mike was in a saddle above me, and I'm in a  saddle on the other side of the tree, but at a lower level than he is."
Wess knew this wasn't ideal as the cameraman but tried to make the best of it. The pair continued to watch the does feed while trying to catch any visual cues they might give off about other deer coming their way. Around 8:30 a.m., all the does picked their heads up and looked hard to the south and directly behind them. Wess was ready with his camera and Mike prepared for whatever might come within range, hoping it would be a buck.
In no time, a small buck came right down the tree line where they were sitting, but unfortunately, it was a rag-horn four-point. The buck came right into the group of does and started feeding with them. But he was a bit more cautious.
The group's wind was still marginal, but they weren't sure how much longer the thermals would be working in their favor since the sun had begun to heat the area. Wess recognized this small, four-point buck from trail cam photos because the buck had a unique right side. Wess told Mike that this buck is usually seen with a nice eight-pointer. He told him to be ready for anything as the bigger eight-point might not be far away.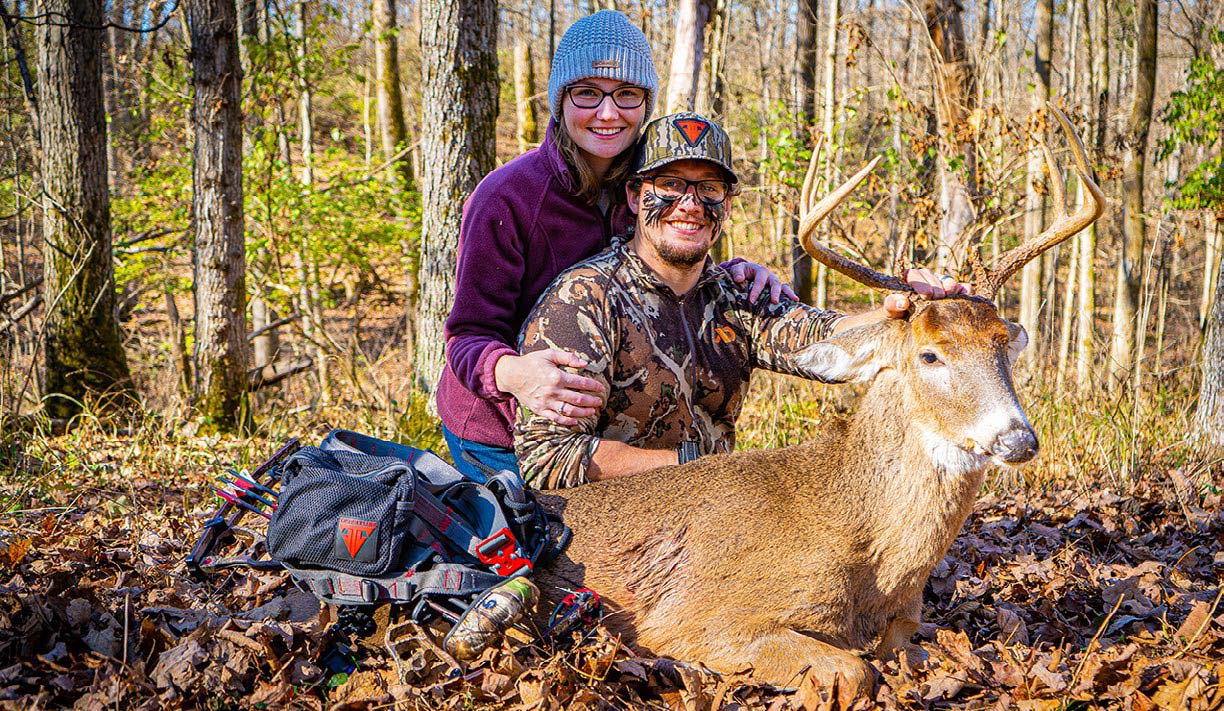 A Four Plus an Eight
It wasn't long before the group of deer looked up and directly behind them again. Wess could see a very nice eight-point through the trees. It was coming their way. As luck had it,  they felt the wind change slightly. As quick as you would imagine, those does and the small buck started to get on edge and appearing not as comfortable as they were earlier.
The does slowly walked out of sight. but the small buck stayed. It was staring hard at the nice eight-point buck coming in slowly but steadily. Wess had to reposition for a better camera angle and he was quite sure the small buck caught a glimpse of him moving when he did This put the buck further on edge. At this point, the small buck started to head up the hill back toward where the larger buck was coming from.
This move unfortunately put the smaller buck downwind of them. The larger buck met with the smaller one as Mike was beginning to start his shot sequence. The eight-pointer is now on edge as well, due to the body language of the smaller buck. That meant the group's shot window was closing.
Mike needed the buck to take a couple of steps forward for a clean shot. The buck did just that, and Wess ranged him at 30 yards. Mike adjusted his sight and drew back. As soon as Mike drew back, the buck turned on a dime,  started back up the hill, and stopped. Mike asked for the range and Wess told him 42 yards. Without changing his sight, Mike held over what he thought was the right amount of elevation and let his arrow fly.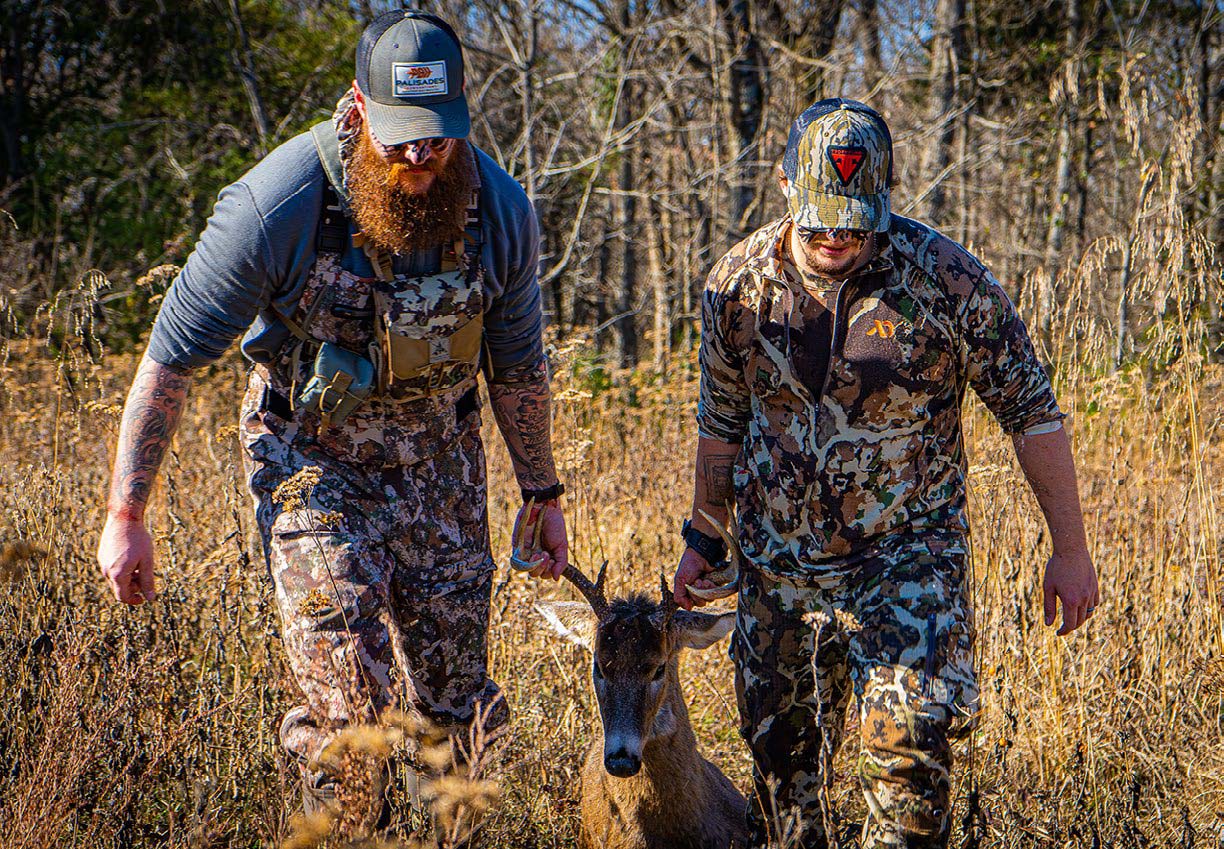 He Gets a Hit
The buck was quartering away quite hard, but it was not an impossible shot. Combine that aspect with the holdover guesswork, and Mike had two things going against him. However, the arrow hit right at the third-to-last rib and blood poured out immediately. The pair watched the buck go up the hill and disappear in the tall grass.
Mike and Wess were so filled with excitement that it was nearly impossible for them to contain it. Mike was worried about the shot at first, but after reviewing the video footage, felt confident that he made an incredible shot with perfect placement.
They snuck out of the area after retrieving his arrow. It had indicated a lung shot. They then went back to the lodge to give the deer some time. They picked up their wives so they could share in the recovery and went back out around 11 to retrieve the buck. After a short time following a great blood trail, Mike was able to put his hands on his first good buck with a bow. It was an accomplishment that he earned over and over.
Wess recalled that moment, "Seeing Mike's smile throughout this hunt and when he recovered his buck was, and is, one of the greatest things about bowhunting. The amount of effort and time put into this craft can be so taxing on one's life, but the reward gives that much and so much more back to the person who puts in the work. Our Veterans have often forgotten assets in the outdoors, not only as participants but as leaders in conservation. Veterans are trained to be disciplined, motivated, and mission-focused. This asset needs to be exercised in every aspect of the outdoors and it starts with proper mentorship, education, and opportunity."
I would first like to thank all our veterans for their service. Without them, we couldn't enjoy all the things that we do in life today.
Secondly, I would like to thank Trophyline for giving back. There are many big companies in the outdoor industry that may donate an item or two for a hunt, but Trophyline went above and beyond. Not only did they sponsor the hunt, but they also provided Mike with top-notch gear and lodging.
To me, that's going above and beyond. I hope the next time you're shopping for a pack or some new saddle hunting gear you remember this story and give to a company that likes to give back.