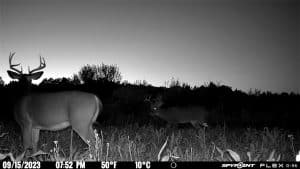 Early season whitetails can be patterned, and tend to move mostly in the evenings, leaving their bedding areas to arrive at their main food source by dusk. The main food source, typically a large agricultural field, is where most deer on a property will congregate and feed together through the night.
Many hunters that spend a good deal of time scouting will see a bunch of deer in a field evening after evening and think that's a great place to set a stand. I used to think that way, too, but have learned it's a big mistake.
If you aren't able to make a shot, you risk having to climb down from your stand or exit your blind and bumping the deer off their main food source. By doing so, you show them it's no longer safe in that area and risk pushing mature bucks into hiding.
A lot of our pre-season work to prevent this situation begins during spring when I plant what many refer to as "kill plots." Essentially, a kill plot is a smaller food plot strategically located between the bedding area and the main food source that you can easily enter and exit without being detected.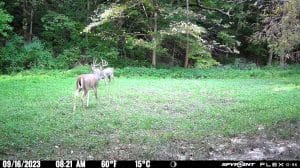 If you didn't plant a kill plot this spring, you still can hunt this pattern as long as you know where the bedding area and main food sources are and can set up on the travel route between the two. Sometimes, one of these locations might not even be on the property you hunt, but as long as one of them is, you're still in the game. Once you've determined Point A and Point B, set up to cut deer off in the middle.

Transition areas, small food plots, small clear cuts, oak flats or anywhere that offers a convenience store-type atmosphere for a deer to stop on the way to dinner is the key here. Not only will deer usually pass through during legal shooting hours, but they'll also typically vacate the area by dark. This is crucial because even if you don't get a shot, they will be gone by the time you get down from your stand. This tactic is a great way not only to minimize the risks of educating deer of your presence, but also to increase your chances at another shot opportunity at the same location on a different day.
There is a multitude of tactics that can be used when bow hunting in the early season…but it all revolves around summer patterns. September bow hunting gives the hunter a brief (1-3 week depending on the state,start date, and area) window to catch bucks still on their summer pattern.
Everything about a buck's summer range revolves around food…more so food, cover, and security,  but together comprising the buck's small core area during the summer months, and the first part of September is a recipe for a great opportunity to harvest a mature buck.
---
The 2023 Rut Report is proudly brought to you by these fine partners: Mossberg  |  Taurus Pistols & Revolvers  |  Pyramid Air | Habit Outdoors | Reveal Cellular Cameras |  Spypoint Cameras  |  StealthCam & Muddy Outdoors | Raw Frozen Scents