Aesthetically sublime and ergonomically superior, Swarovski Optik has yet again raised the bar with their NL Pure binocular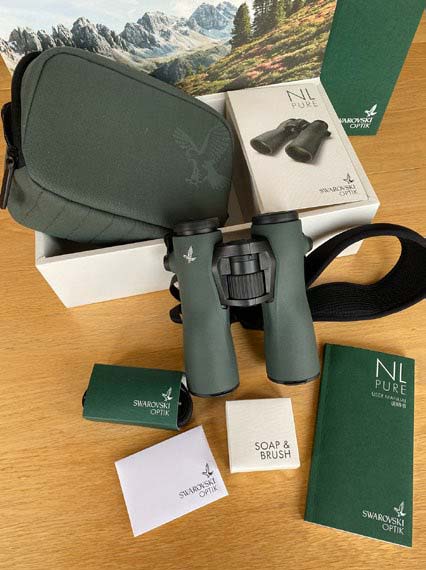 If you follow the optics world, you know that the list of binocular manufacturers just keeps on growing. Even still, European companies continue to lead the industry in optics excellence. Advancing their technology to ensure that discerning outdoor enthusiasts have the best possible tools at their disposal, Austria's Swarovski Optik has once again set the bar with their line of NL Pure binoculars.
Thinking back a decade ago, I remember contemplating how any company could possibly improve on, what appears to be a fairly straightforward technology. Aside from minor practical improvements, as glass finishes evolve, I can tell you that Swarovski Optik continues to earn its position at the top of the optics game. Introducing the NL Pure in 2020 was indeed a monumental evolution in their line of elite products.
I've said this before, and I will say it again. To be objective in any product review means one makes every effort to highlight opinions and that means both the positive and the negative. When you're dealing with a product made by a company that has earned their reputation going the extra mile to achieve near perfection, it can honestly become tough to point out anything that's bad… but I'll do my best to offer a critical assessment of the NL Pure.
First Impressions
I'm big on initial thoughts and I can say without reservation, that the NL Pure literally blew me away! For this review, I picked up the NL 12×42. Worthy of note, this is Swarovski's first-ever 12x binocular made with a 42 mm objective lens. True to their reputation, Swarovski Optik literally makes the consumer experience something truly unique. From the moment you open the packaging, to handling the binocular and accessories, it's may be best described as a one-of-a-kind experience. A distinct leader in the upper echelon of optics companies, by their very presentation, Swarovski lets you know they are eager to provide value for your investment.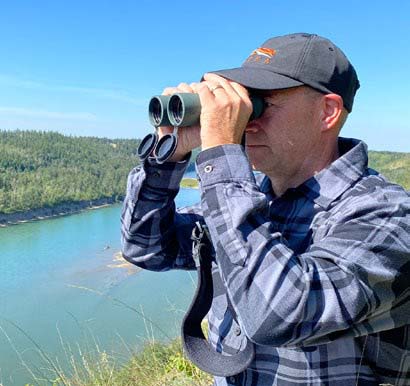 The first thing I noticed is Swarovski's attention to detail. From the moment I slid the box out of its cover, I was reminded yet again that I was dealing with a company that has built its reputation on excellence and precision. The closest comparison I can make is sliding into the driver's seat of a brand-new vehicle. The feel, the smell, and the excitement of learning how this new binocular works is nothing short of exhilarating! But enough of the esoteric, allow me to dive into the nitty gritty of my first impressions.
Glaringly obvious, the very first thing you notice about the NL Pure is its conspicuous ergonomic hourglass design. Sleek and formfitting in hand, you can't help but warm to the undeniably comfortable fit. The best word I can think of to describe it, is "exquisite". I might even go as far as say they're "sexy". I've been a hunter for over 40 years, and in the outdoor industry for 30 of those. I've used most major manufacturer's optics at one time or another, and I have never before seen another binocular that even comes close in feel and clarity. I often see folks trying out new optics under fluorescent lighting in big box stores. Over many decades I've learned that it's vital to try new glass under natural light conditions, including low light, dull light, and extreme midday bright sunlight. Look at colorful subjects, dull subjects, and views with subjects are variable distances. As I worked with the NL Pure, the edge-to-edge clarity was most obvious. I've used the expression "eye-burning" before because it's almost overwhelming how crisp the image is. If you know me, you understand that I'm a shameless fan of Swarovski's EL line, but as difficult as it would be to choose between them, I believe my favor might actually now lean to the NL Pure. I'm looking forward to really putting them through the ringer this fall, so I'll wait until December to make my final judgement.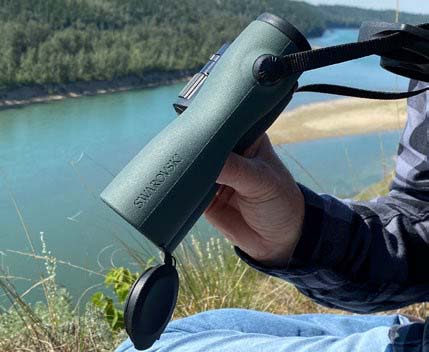 I have heard one or two people comment about the weight of the NL Pure, but I didn't feel they were abnormally heavy at all. In fact, with its magnesium housing and open bridge design, it's just about exactly what would expect the weight – particularly given the technology and stability in hand.
A nice upgrade in design includes and evolution from the slide-on rubber objective lens covers to a more subtle hidden, built-in rubber hinge for the low-profile slender caps. Similarly, Swarovski engineers have installed a cleverly designed new concealed attachment on the sides to mount the neck strap.
If I were to be critical of any design aspect, it would have to be the ultra-light duty rubber hinge for each of the objective lens caps. While it's nice that Swarovski did away with the form-fitting rubber ring-style caps, I fear that in the field these might be too dainty and break easily. If you're like me, you're hard on equipment. I like to use the best, but equipment is there to be used. Unless you're handling them gently and taking care to avoid tearing those rubber hinges, I have to wonder how long they'll last without breaking. Only time will tell. Again, this is a first impression.
Addressing the focus function, it is also immediately noticeable that product engineers have repositioned it on the bridge between the two barrels, to be more ergonomically aligned compared to other binocular brands and, even in comparison to Swarovski's EL Line.
Along with the standard owner's manual, a classy touch includes a few additional items as well. A robust protective case with pockets for cleaning kits, a durable shoulder strap for the case, a cleaning cloth, and a soap and brush are also included in the packaging.
Model Options
Considering the entire NL Pure product line, it is available in two 32 mm objective lens models including the 8×32 and 10×32; and three 42 mm objective lens models: the 8×42, 10×42, and the 12×42. Designed for specific usage, the 8x is best for closer range viewing, while the 10x is great for longer ranges, and the 12x is ideally suited for open country western-style hunting situations. All are available in Swarovski's trademark green color, and both the 8×32 and 10×32 are also available in their trademark burnt orange.
The ergonomic design for each model incorporates the same hourglass shape. According to Swarovski Optik product engineers, the company consulted hand specialists, and realized that holding a round tube wasn't the most relaxed position for your hands. Modifying each tube to fit more precisely to the flexibility of the users fingers essentially makes it more relaxing and comfortable, in turn enhancing the user's overall viewing experience.
Clarity & Image Sharpness
The quality of the glass is not only said to be improved, but is in my opinion, noticeably better. As a roof prism binocular, it delivers an impressive 91 percent light transmission. Optically, the NL Pure continues to integrate the trademark SWAROVISION technology, similar to the EL line. Integrating HD (High Definition) glass and field flattening lens technology to ensure zero image distortion, users will instantly notice complete edge-to-edge clarity, and better resolution and contrast across the entire field of view (FOV). The color fidelity due to Swarovski's innovative lens coating facilitates high light transmission, making the viewing experience truly sensational.
Statistically, the NL Pure line is said to offer 20 percent more FOV than even Swarovski's EL line of binoculars. This is a significant advantage for consumers questioning whether they want to go up in magnification considering FOV limitations and benefits.
The diopter adjustment on the NL Pure doesn't have a lock setting as with the EL line, however the lever seems stiff enough that it doesn't seem to move on its own. Each eyepiece has seven different settings to allow the user to precisely set eye relief. For reference, the diopter settings are clearly marked on the underside of the diopter adjustment lever.
For users who wear eyeglasses, the NL Pure also offers extended eye-relief. I wear glasses myself, and I can tell you this is an exceptional feature.
Technical Data For The NL Pure 12×42
Interestingly, the weight only varies marginally by 10 grams between the 8x and 12x NL Pure binocular. The overall size is consistent between the three models. This chart illustrates the technical specs for the 12×42. For full technical details on other NL Pure models, visit swarovskioptik.com
Price Point
In a highly competitive market, consumers are finding it attractive that Swarovski Optik was able to lower their price point on the NL Pure to effectively compete with other in-class European binocular manufacturers. Even still, if you're looking to pick up an NL Pure, be prepared to view your purchase as an investment in quality. Subject to currency exchange rate fluctuations, at the time of writing this review, price points are as follows. Price points typically fall in around $3,900.00 (CAD) for the 12×42 and $3,800.00 (CAD) for the 10×42. While only available at select retailers, the 8×42 model retails for around $3,700.00 (CAD). The 8×32 and 10×32 are proportionately less expensive, but in my experience, few Canadian vendors carry them.
Final Points
Distinctly different from any other binocular available today, and indeed unique among other Swarovski binos, the NL Pure is in a class of its own. I'm a firm believer in pointing out the negatives with any product I review, but try as I might, aside from the objective lens cap hinges, I really can't find anything else that's even remotely questionable.
Waterproof, fog proof, and capable of functionally withstanding temperatures of -25 Celcius, the NL Pure is both rugged and refined. All told, Swarovski hit it out of the park with this one. If you're looking for a new binocular, do yourself a favor and give the NL Pure some serious consideration. Trust me – you'll thank me later.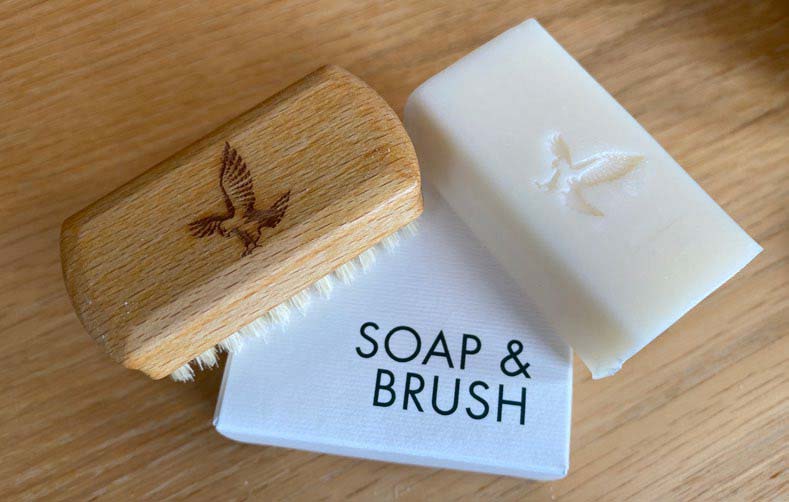 Sidenote…
Unique to the NL Pure, Swarovski Optik has come out with a simple accessory that adds another point of contact to better stabilize viewing. Their Forehead Rest (FRP) is easily mounted on the NL Pure bridge and can be adjusted to accommodate the user's optimal eye relief. The FRP is particularly useful for higher magnification models like the 12×42 and even 10×42.
By Kevin Wilson