Riley Post filled his deer tag on a magnificent, heavy-antlered midwestern whitetail
Hunter: Riley Post
Buck Score: 180 3/8 inches
Date of Harvest: November 6, 2022
Location of Harvest: Randolph County, Indiana
Weapon of Harvest: Crossbow
Riley Post is a serious Indiana deer hunter. And last season, he connected on a monster 4 ½-year-old buck out of Randolph County. But even before this big deer, he's always loved deer hunting.
"Deer hunting has always had a place in my heart," Post said. "I shot my first deer in 3rd grade and have been hooked ever sense. From getting to bring my younger brothers out to experience the outdoor world and seeing them be successful, it's the stories hunting brings to my family and friends."
In 2022, his brother, Landon, let him hunt on some of his land. His brother started getting the buck on camera in July, and they hoped to cross paths with the deer.
Eventually, once season opened, it led to two unsuccessful encounters with the deer. On November 4, the buck stood just 38 yards from Post's position, but he couldn't get a shot. On November 5, the buck was 42 yards away, but it was chasing does.
November 6 proved to be the day, though. It was a frosty morning, reaching about 45 degrees by noon. Post's stand location was in a big patch of woods amidst flat farm ground.
"On my way to the woods, I just had a feeling something was going to go down," Post said. "My brother was supposed to go with me, and he backed out."
Soon after settling into the stand, the woods came alive. Right at dawn, a doe and two fawns walked into view. They hung around for a while.
"Then, I heard brush start cracking, and I thought to myself, man, here he comes," Post said. "It was a huge let down. It was a stray golden doodle and a wiener dog. They came in, smelled all my Tink's, and then the three deer trotted off."
More time passed. After a while, seven does walked through, moving toward a nearby clover field. Soon after, the two dogs ran back through in the distance, barking as they went.

"I thought to myself, this is either going to hurt me or help me," Post said. "All of a sudden, I checked behind me and saw a deer."
He grabbed his binoculars and glassed the buck. He couldn't tell much about it because it was deep in the brush. Seconds later, he spotted the buck's rack and realized how big it was. "He was downwind of me," Post said. "I had all my Golden Estrus out, and I was praying that would lure him in."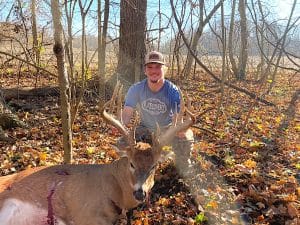 The buck walked to within 45 yards and let out a loud grunt. Eventually, he walked into 10 yards directly behind Post, then circled around. Post stopped him at 37 yards, settled the crossbow scope, and took the quartering-away shot opportunity. The buck dropped in its tracks.
Soon after the buck fell, his father arrived to help him drag out the buck. "I was in shock," Post said. "I couldn't believe it happened after the last two times I couldn't seal it. I just kept pushing myself and it paid off. I was very happy. It's a big accomplishment."
He thanks his grandfathers, father, uncle, brothers, and neighbor. "Without these guys, it all wouldn't be possible," Post said. "Teaching me the ropes. Bringing me out when I was younger. They're the best people. They all get just as happy as you, if not happier. They all help as much as they can from tracking to dragging and butchering. Our tight-nit family, when one of us calls late morning or late night, we all know that call means grab your boots, grab your flashlight, and get to the woods."
This time, it led to a Randolph County, Indiana, buck that scored 180 3/8 inches.
Whitetail Lab: Big Buck Tactics
Post contributes his success to several things. First, his brother gave him access to a great hunting property. You can't kill a big deer if it doesn't live there. Fortunately for him, one did.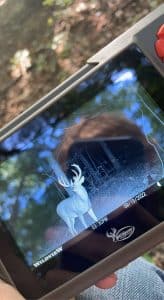 Next, his persistence helped him stay in the game, especially after a couple of close calls with the deer. Deer hunting can be a grind. Hunting day after day can wear on a hunter. Post was able to stay focused and close the gap.
Finally, on the successful day, Post believes his deer scents played a pivotal role. "In my opinion, Golden Estrus is definitely a big role in my game," Post said. "I have always put it on three sides of me to cover scent. It helps tremendously, lures the deer in, and kind of takes them off the mind of looking for hunters."