Getting kids out hunting and fishing is a lot of fun for both the kids and the adults who take them on those adventures. It's also a great way to pass our outdoor heritage on to those new participants. Over the years, I have introduced my son and daughter, along with many other kids, to the Great Outdoors. From those experiences, I recognize that when taking kids hunting and fishing, it's much easier to have a successful day if the kids are given functional, properly fitting gear to use. In fact, the benefits of such gear will be appreciated by both young and old.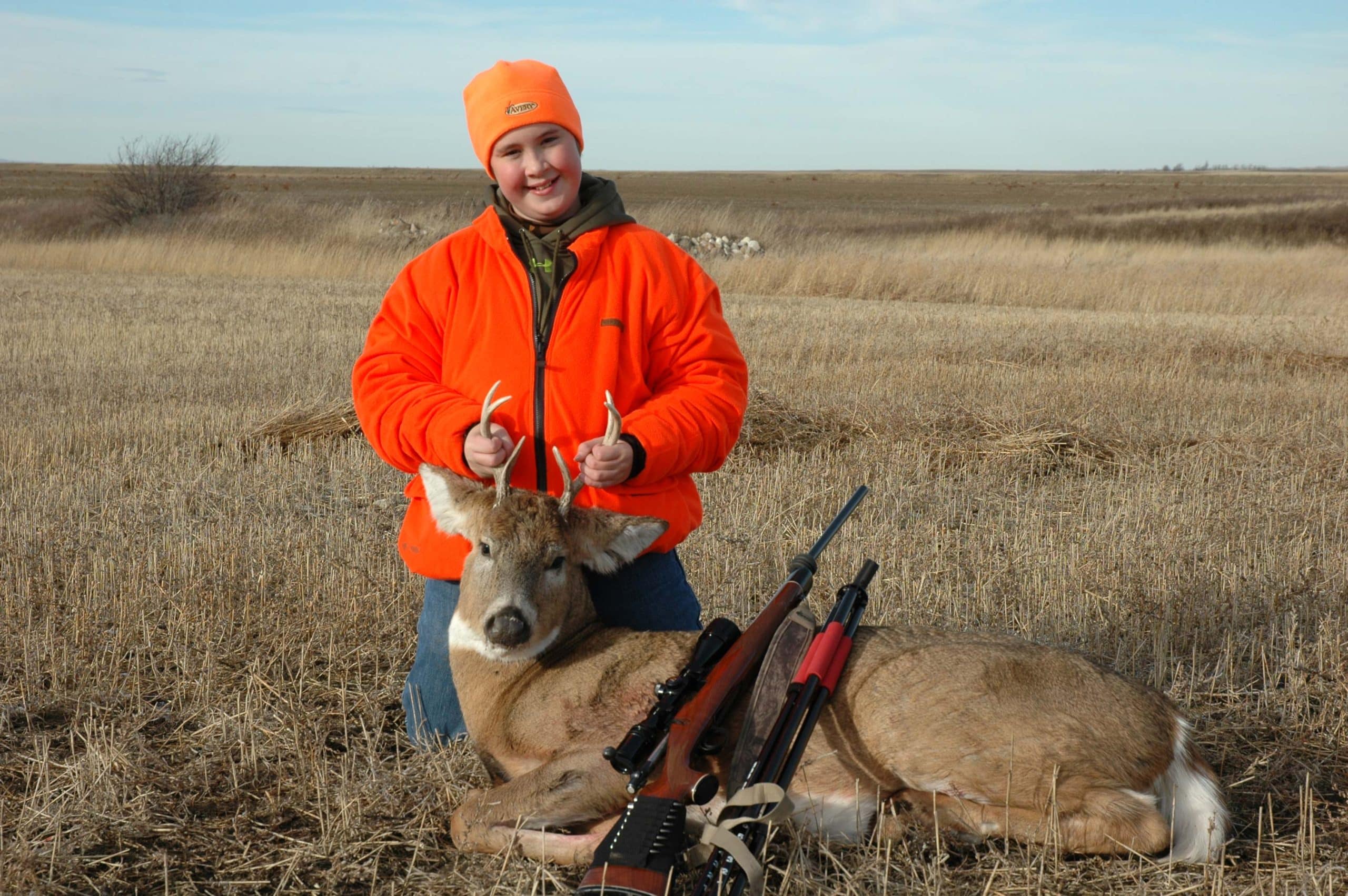 Guns and Bows
Most younger kids are much smaller than adults and generally don't have the same strength to lift, carry and operate full-size guns and bows. Thankfully, there are several companies that make youth-sized guns and bows. There are also some companies where you can change the youth stocks on a gun to an adult stock later on.
The beauty of archery equipment is that bows can be custom fit to both the size and the strength of the shooter. Most bows allow room for growth so a bow can last a young hunter multiple seasons, or even a lifetime. While archery equipment can be ordered online, I recommend going to your local archery shop to help custom-fit the bow, draw weight and arrow length for a young shooter. Often, you can purchase good-quality used youth bows at these shops and trade in an existing youth bow when it's time to upsize the bow for your young shooter.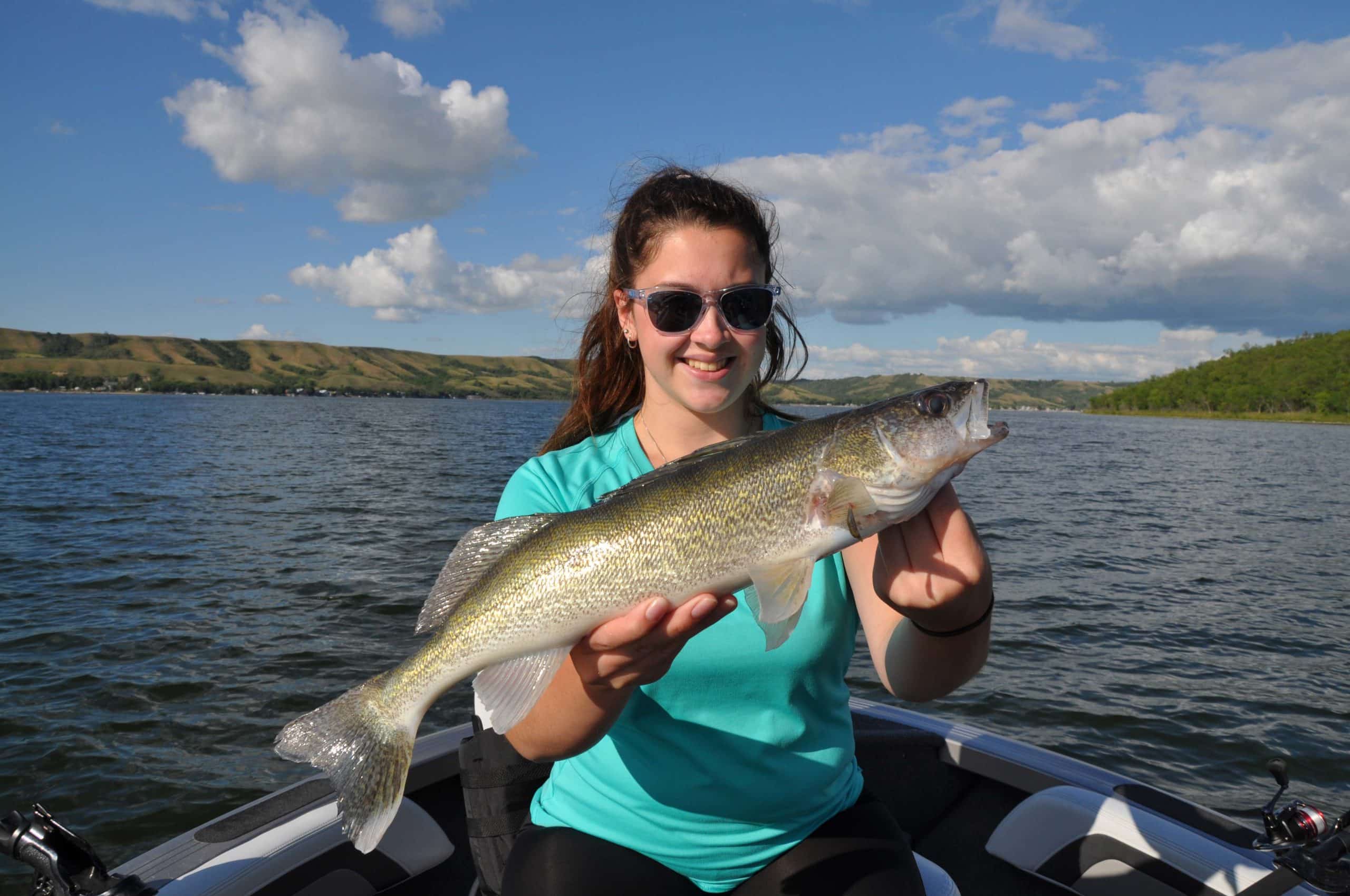 By the time my son was old enough to shoot a rifle, he was big enough to use all of my rifles. That worked out very well since he was a right-handed shooter like me. As for my daughter, she was quite small when she first started hunting and also was a left-handed shot. To make things easier for her, I changed the rear stock on my trusty Thompson Center Encore Pro Hunter to a much shorter youth-sized stock. Using a shorter rear rifle stock reduced the length of pull of the rifle. This allowed the gun to fit her properly, which enabled her to shoot it confidently and accurately. I also switched the hammer so she was able to operate it using her left hand as opposed to her right hand. That also made it much safer for her to use.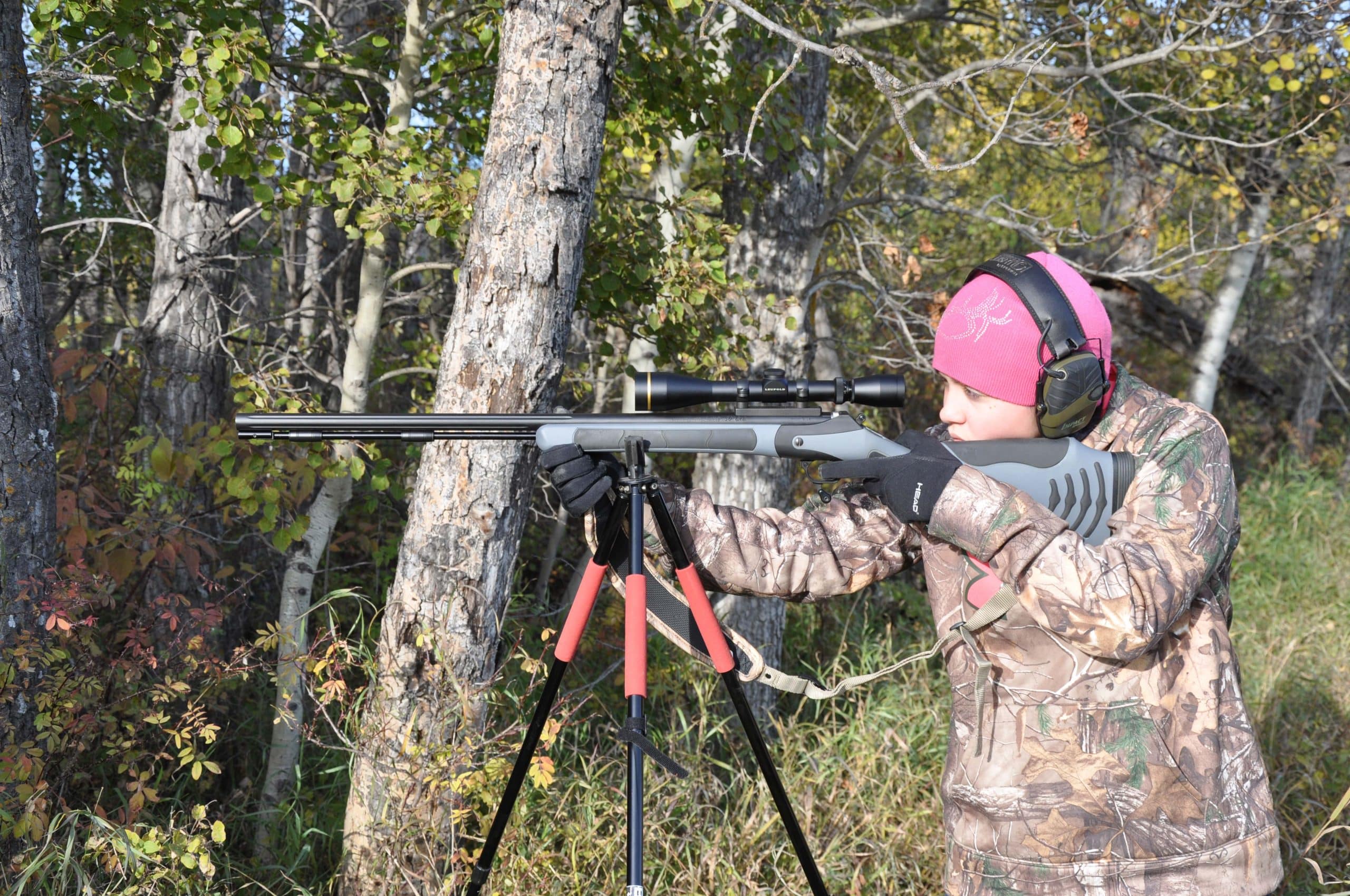 In terms of youth shotguns, I started my son shooting a Browning Silver Field Midas shotgun. This was done because this shotgun came with a short 133/4-inch length of pull and could be made longer down the road by changing the rear stock to extend the length of pull to 14⅜ inches. Given that my daughter is a left-handed shot, and realizing she was going to quickly grow out of a small shotgun, I started her with the smallest over-under shotgun I could find.
By using guns that fit them, my kids were able to learn to shoot properly and not develop any bad shooting habits, take any bumps to the head or drop a gun. They were also able to carry those guns all day long.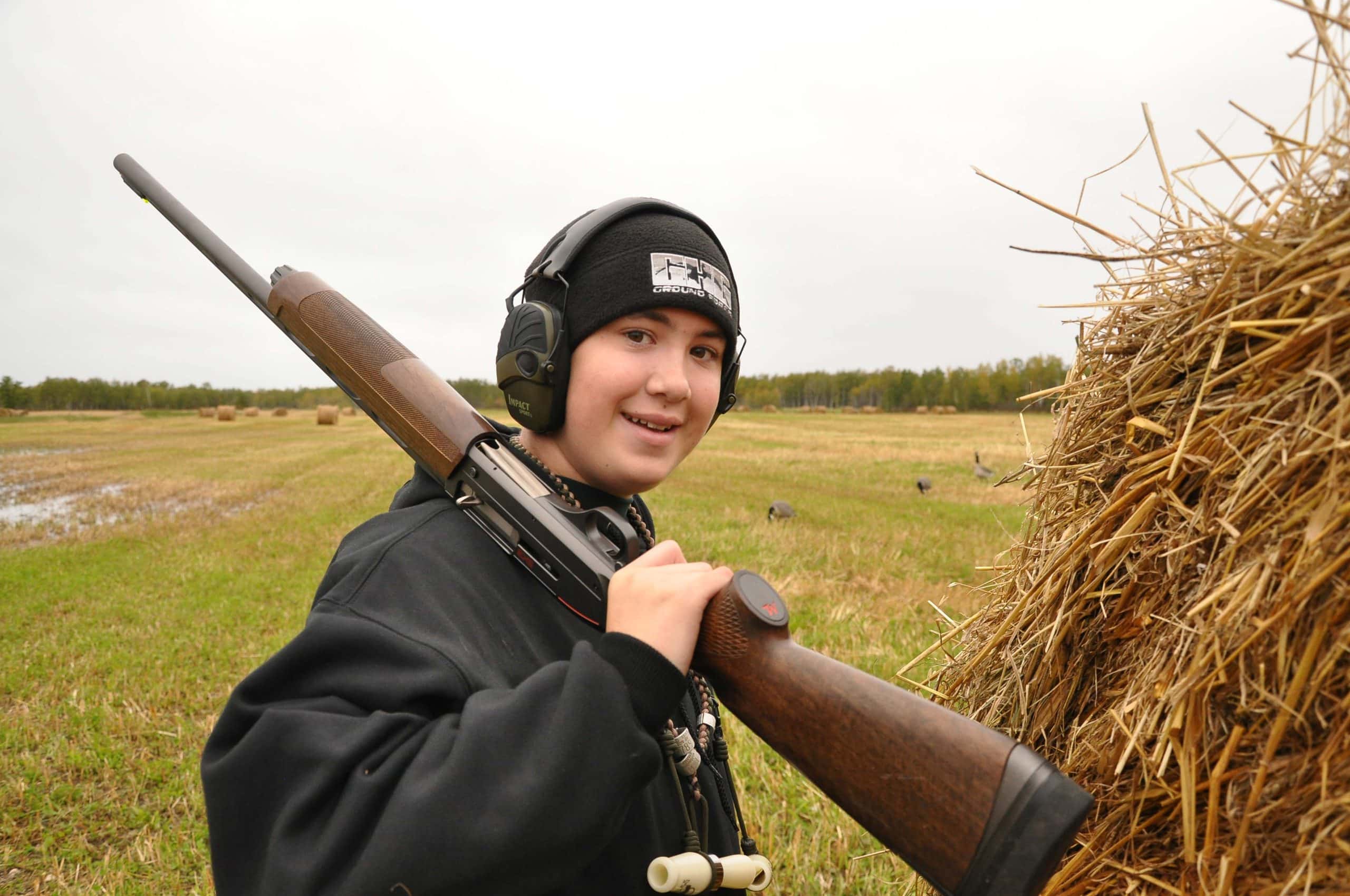 Calibers, Gauges and Powder Charges
To a new firearm shooter, recoil can be rather intimidating. If a shooter pulls the trigger and gets a big bruise on the shoulder or a scope ring to the forehead, chances are they are not going to want to fire a gun again for a long time. When taking my kids out with the muzzleloader, I resighted my muzzleloader from shooting 250-grain pellets and worked up an 88-grain powder charge of Hodgdon Triple Seven FFFG granular powder. This reduced charge was very accurate, but it had way less punch than the heavier powder charge I regularly shot, which allowed my kids to shoot comfortably.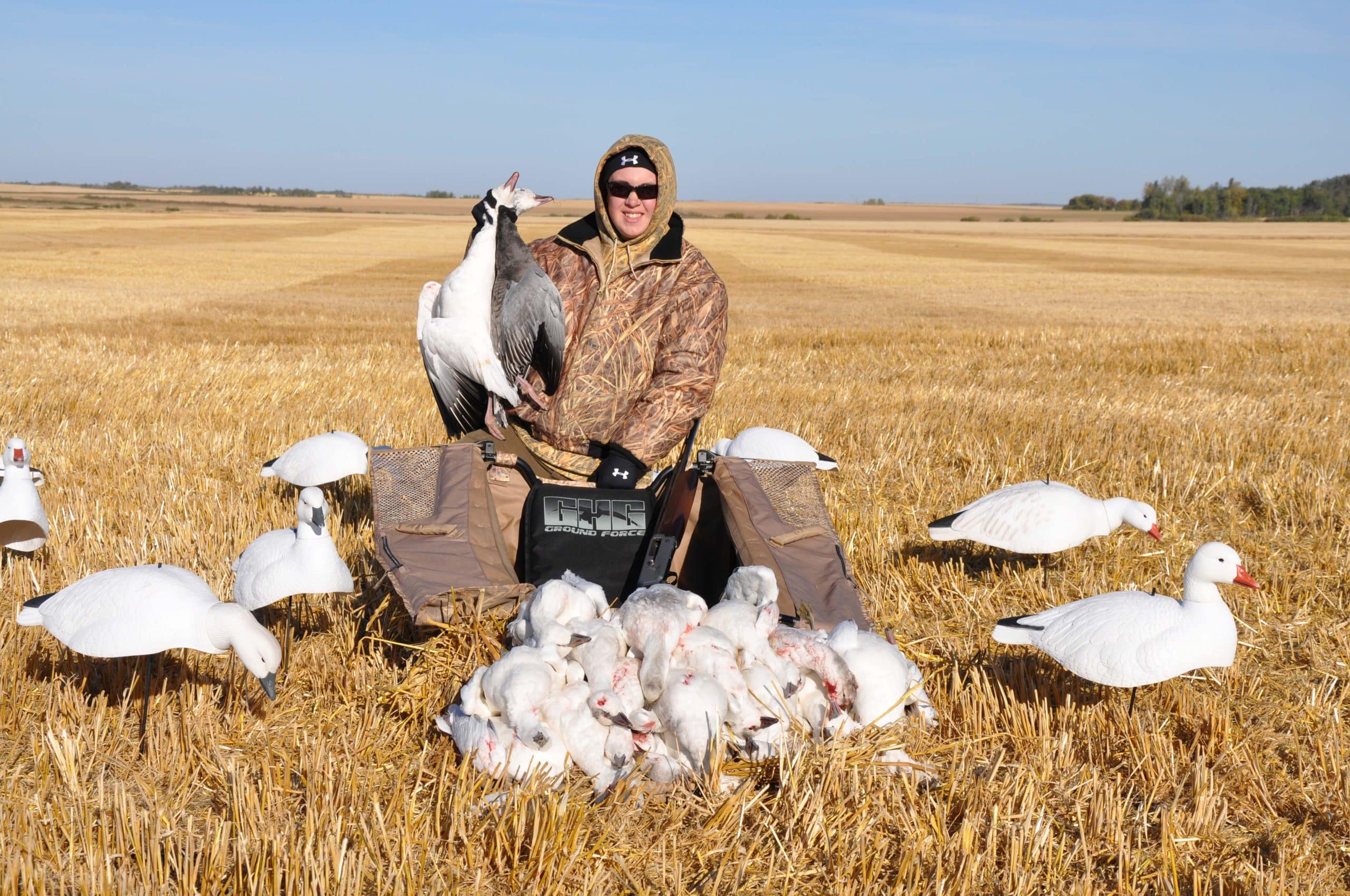 In their early years, both kids shot 20-gauge shotguns to reduce the recoil and eliminate shoulder bruising. While watching the kids shoot those 20-gauges, I came to realize just how potent those smaller gauge shotguns can be on birds, including even the biggest of Canada geese.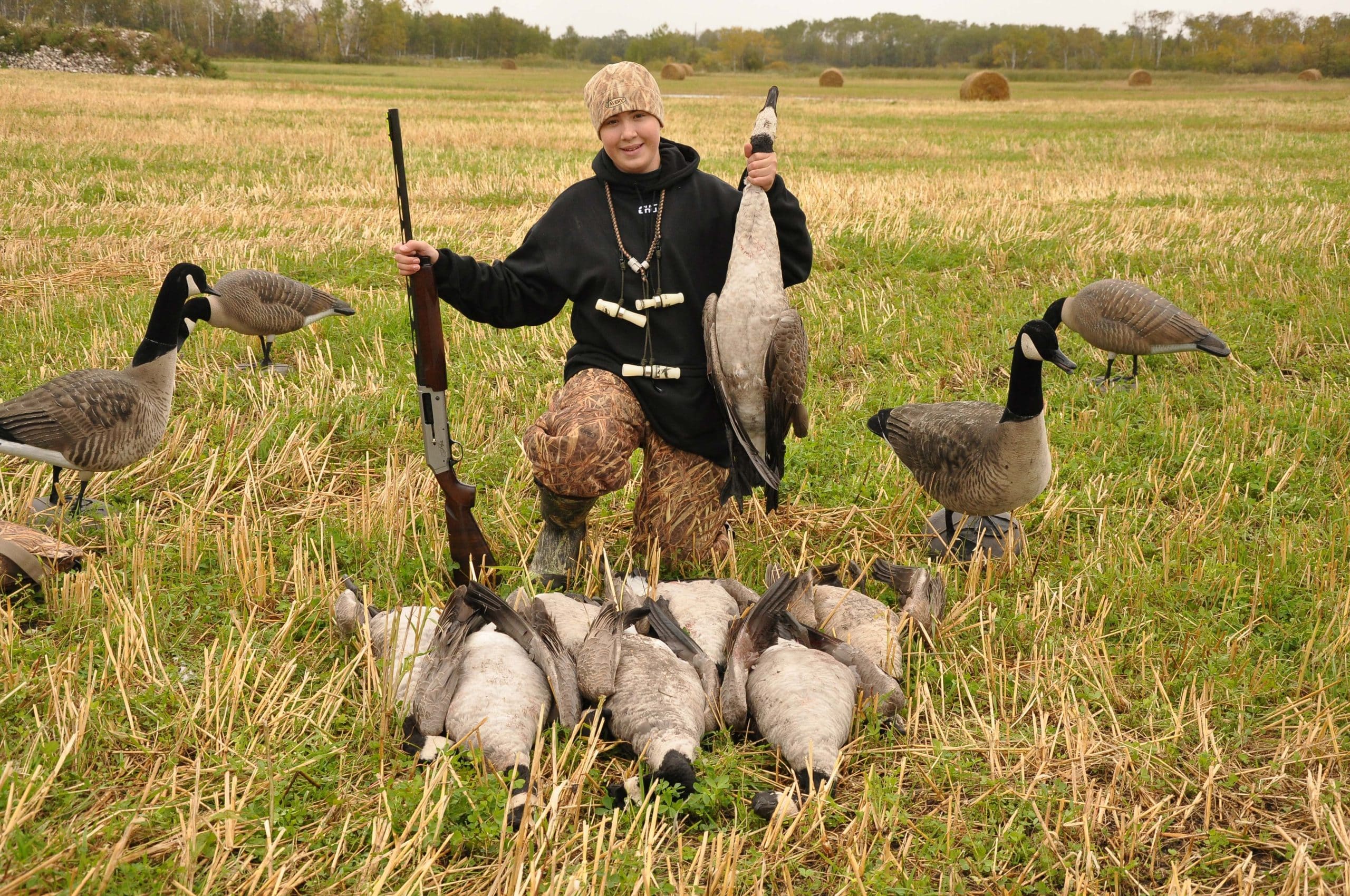 In terms of centerfire rifles, both my kids took their first rifle deer using a .243 Winchester. With the low recoil from this caliber, the kids were able to shoot very confidently and put bullets into the deer's vital zones. When starting a young shooter with a centerfire rifle, I would not recommend having their first shots be taken off a bench rest. Instead, I would set out a large target such as a cardboard box at 25 yards and have the shooter shoot that target from a standing position using a tripod as a rest. As they get to be better shots, keep moving the target farther and farther away. Once they have learned how to hit the target and absorb the recoil, you can then move on and teach them to shoot prone and from a bench rest. To further help the kids hone their shooting skills, let them practice regularly using a rimfire rifle.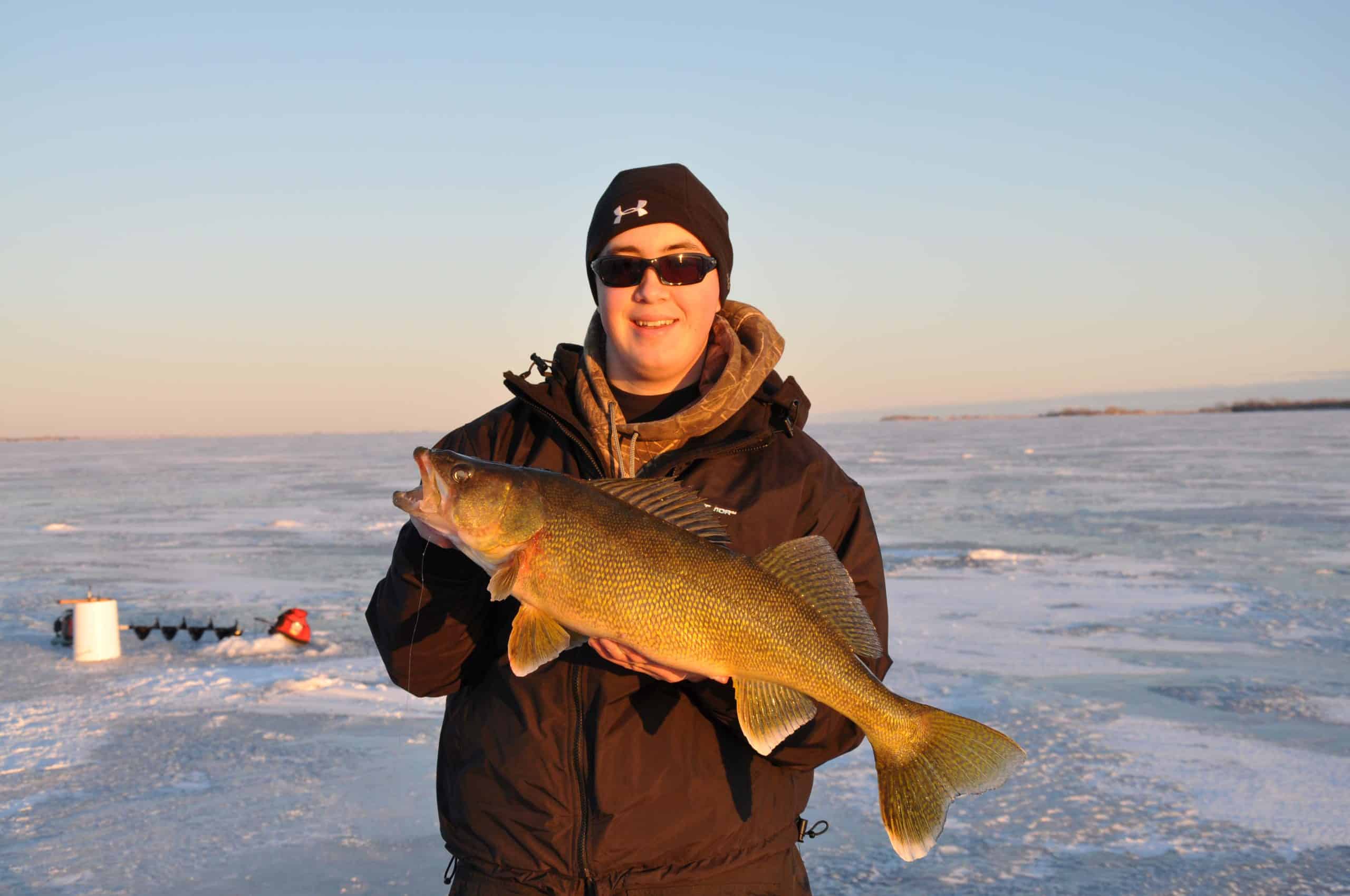 Hearing Protection
When shooting firearms, hearing protection is vital. The muzzle blast from even a single rifle, shotgun or muzzleloader shot can cause damage to a young shooter's ears. Therefore, it's best that they wear hearing protection on the range and while in the field. In addition, the loud blast from a gun can also cause those young shooters to develop an unnecessary flinch from the loud boom. Thankfully with shooting muffs, the kids won't flinch since the muffs dampen much of the noise.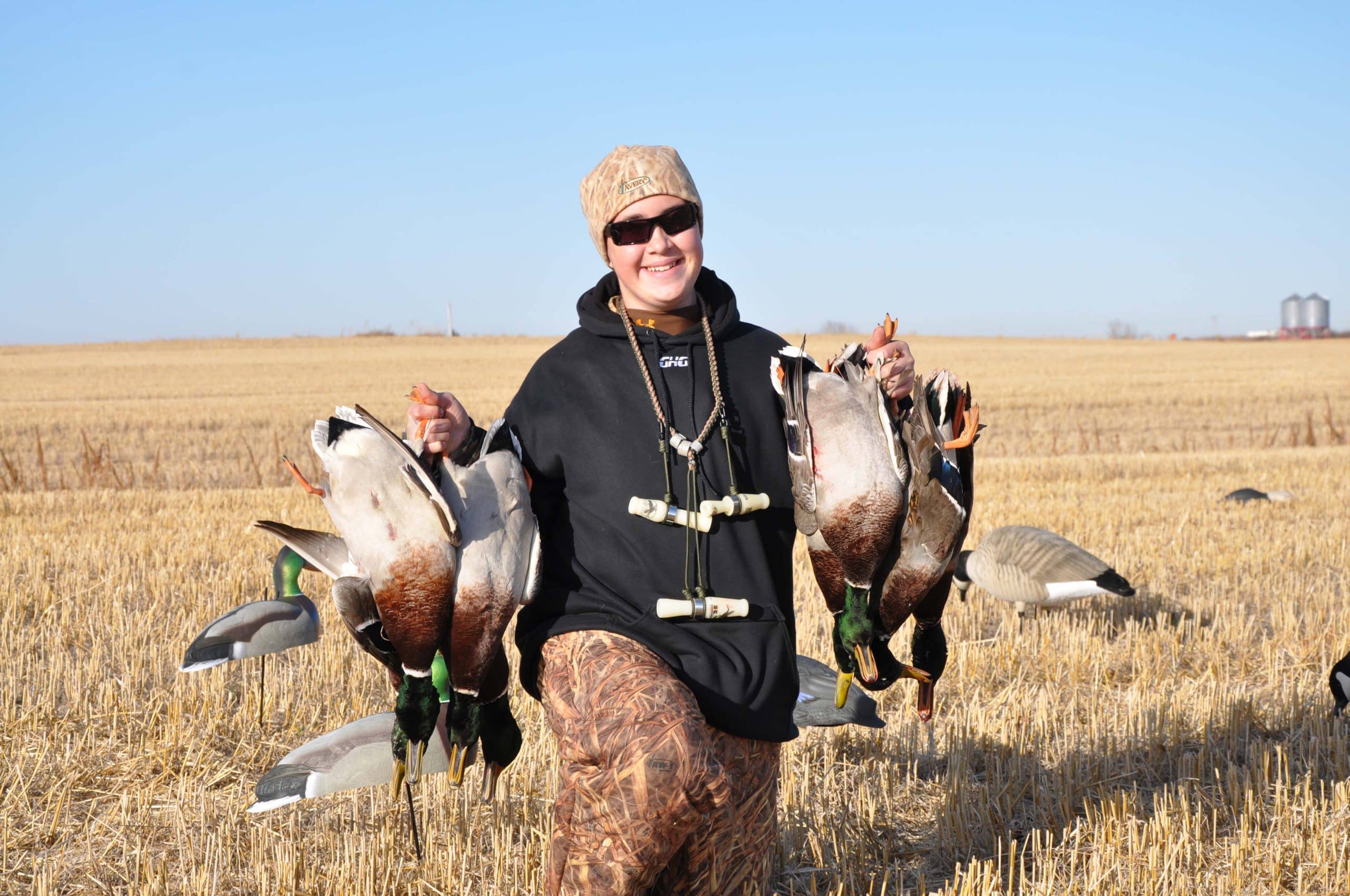 Regular shooting muffs work okay on the range. However, models with hearing amplifiers and noise reduction features are the best for hunting situations because they enhance sounds such as a twig snapping as a distant deer approach, yet they suppress muzzle blasts to a safe level. In addition, they allow uninhibited communication between the young hunter and the mentor. My favorite earmuffs for kids and adult shooters are the Impact Sport by Howard Leight.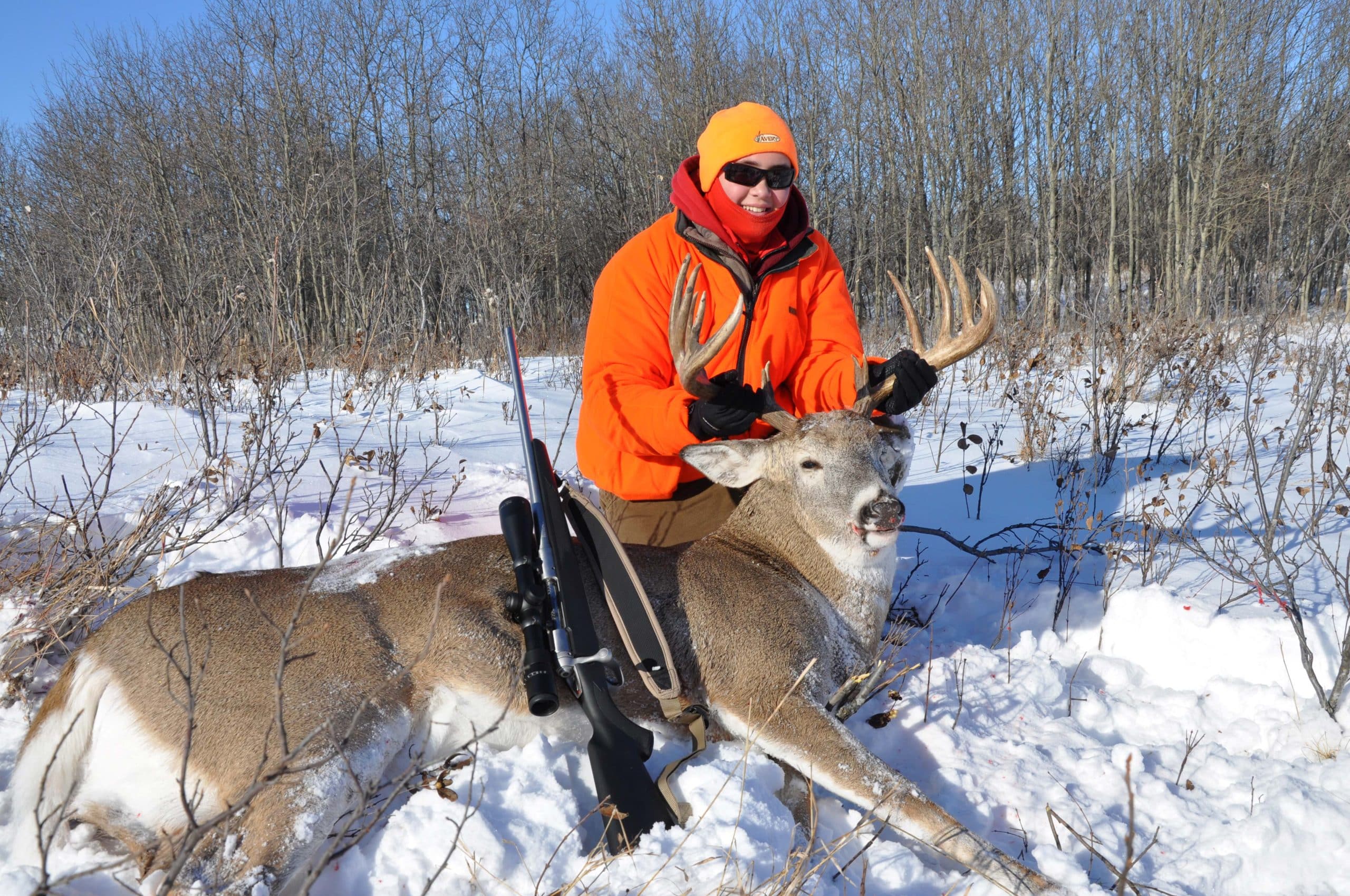 Youth Hunting Clothes
If a child is warm and dry on a hunting trip, you aren't going to hear a thing from them about how they are feeling. On the other hand, if a youngster is cold or wet, life is going to be miserable for both the young hunter and the adult mentor. To alleviate this problem, always try to ensure a child is dressed well for the weather and pack a spare set of clothes just in case something happens, and the youngster gets wet or needs an extra layer of clothing to keep warm.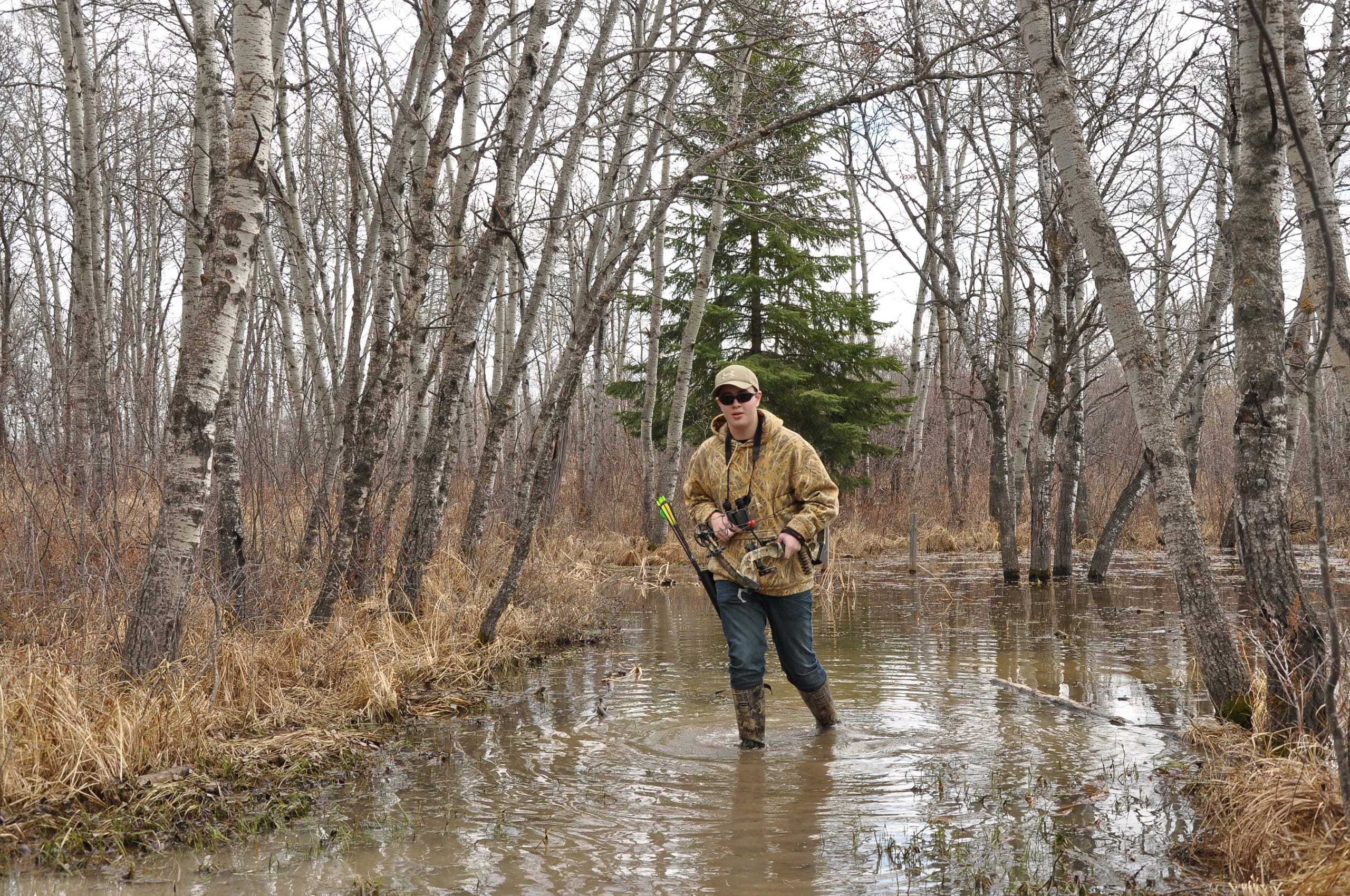 Just like for you, a moisture-wicking layer is essential to help keep a youngster warm. Many companies, including Under Armor, make moisture-wicking leggings, shirts and socks in kids' sizes that work double-duty for hunting/fishing and everyday life.
Based on the conditions when you'll be taking youth out hunting or fishing, add extra layers of clothing. Synthetic materials are favored over natural materials as man-made fabrics retain much of their insulating abilities even when wet, and they generally dry much faster than natural materials. The synthetic materials also seem to be better at wicking away moisture. When picking out clothing for kids, just make sure they fit properly. If they are too big or too small, it will impact comfort and range of motion, especially while walking. The good thing about the majority of clothing for layers is that the young hunter can also wear the same garments for going to school, playing outside, participating in sports and many other activities.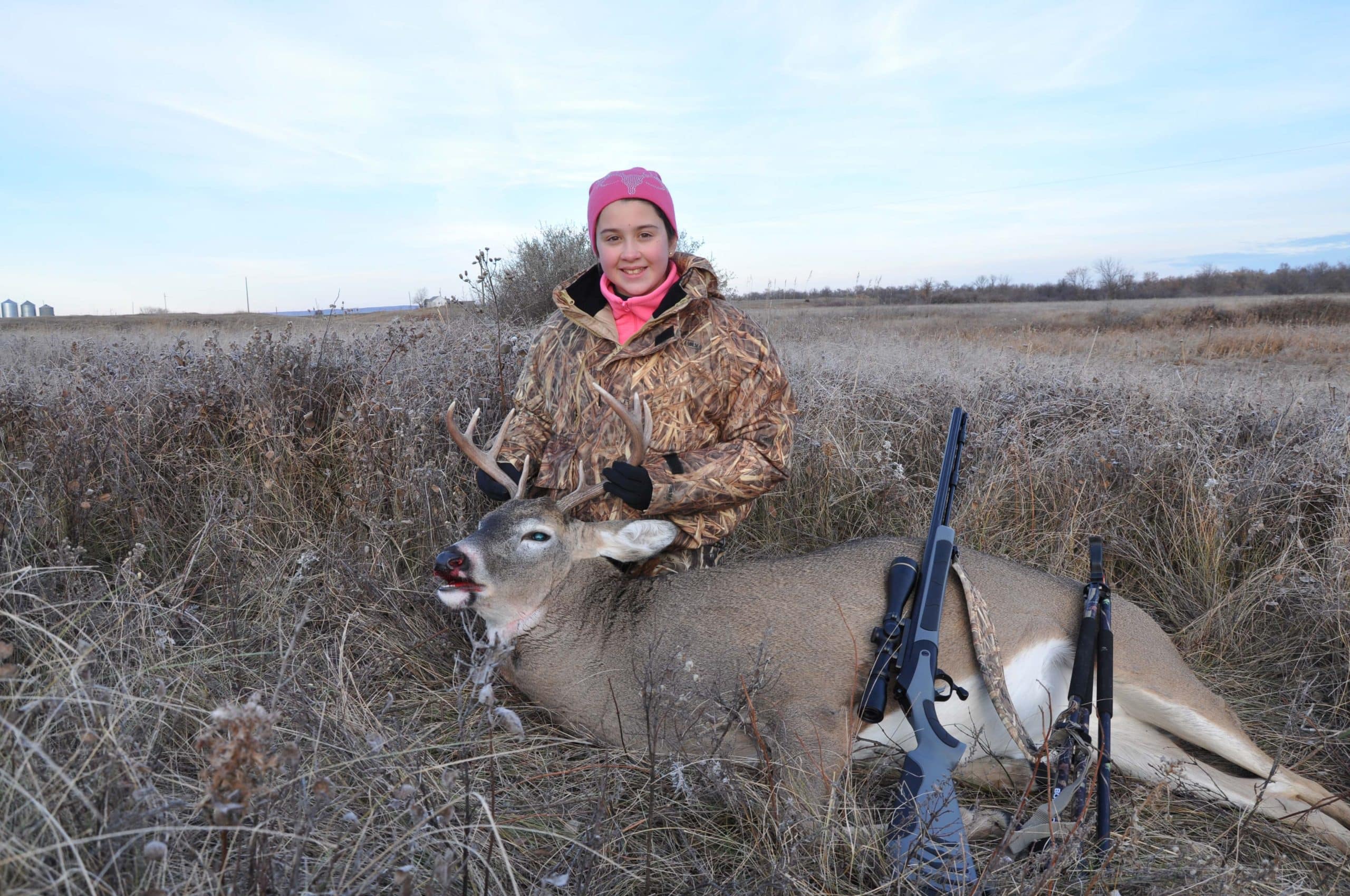 If you need your youngster to wear camouflage clothes or wear blaze orange for the hunt, you can simply add a final layer of jackets and/or pants. For some, their budget may allow fully insulated clothing for these colors. For others on a restricted budget, a thin non-insulated cover layer will get the job done, provided the young hunter has warm clothing layers underneath this covering layer.
A number of companies make youth camo hunting clothes these days and they can be purchased online, at retail box stores and at sporting goods stores. One of the first companies to specialize in youth-sized clothing was Banded/Avery Outdoors. The owners had young kids they took hunting, so they developed and marketed smaller sizes of their clothing products to fit kids. My kids, along with countless others, have benefited from the smaller-sized hunting clothing this company made and continues to make.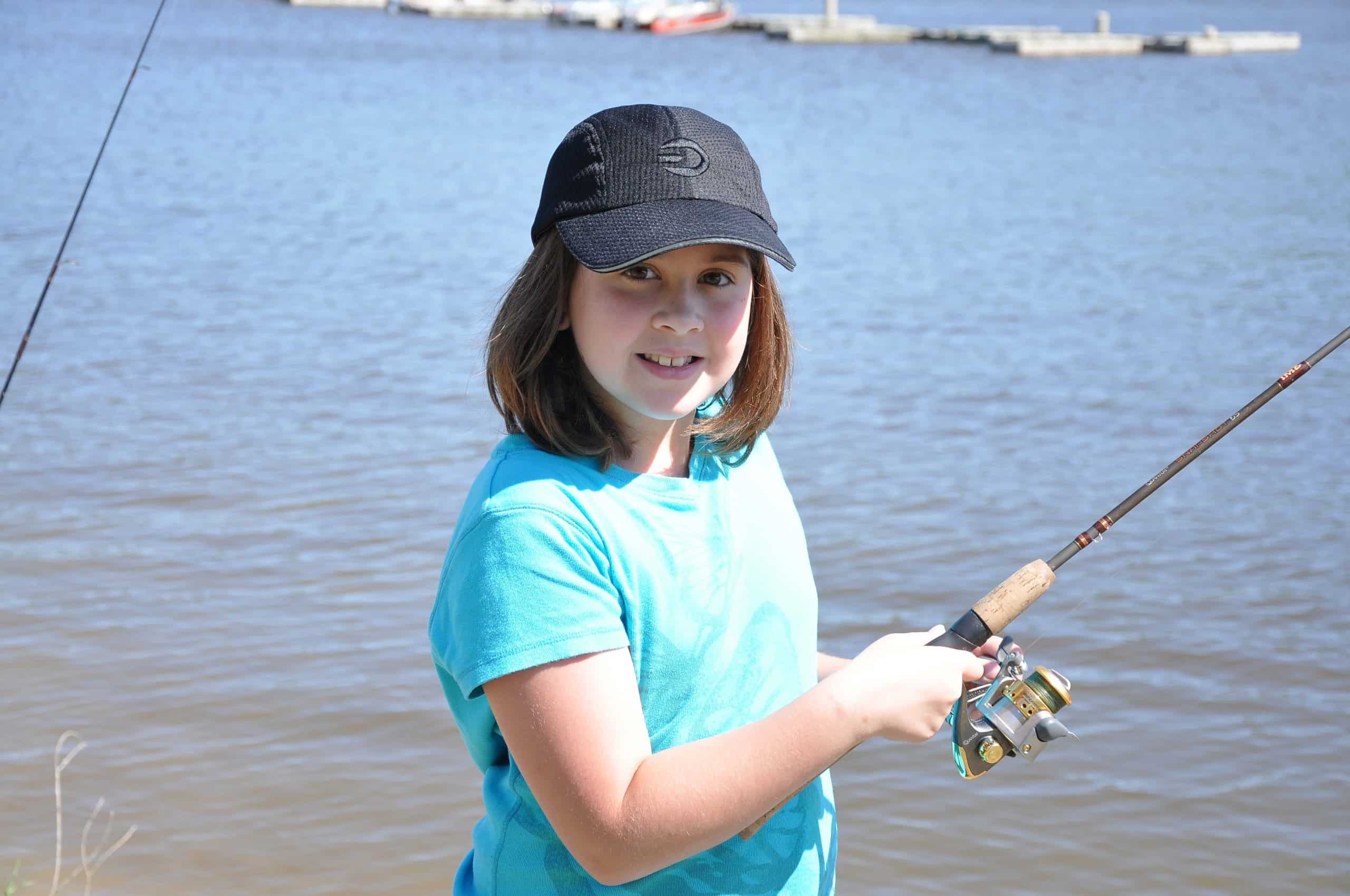 Hats, Gloves and Boots
Of all the clothing items for kids to wear afield, I feel hats, gloves and boots are likely the three most important items. Our body loses 90% of its heat through our head and neck area, so it is imperative to have kids wear a warm toque or hat while afield because that simple item will help keep them warm. Lots of kids today like to wear skull caps, and many of these caps are available in fleece and camo. Some have wind-proof liners so that makes it easy to set them up with a cap they like, and that will keep them warm.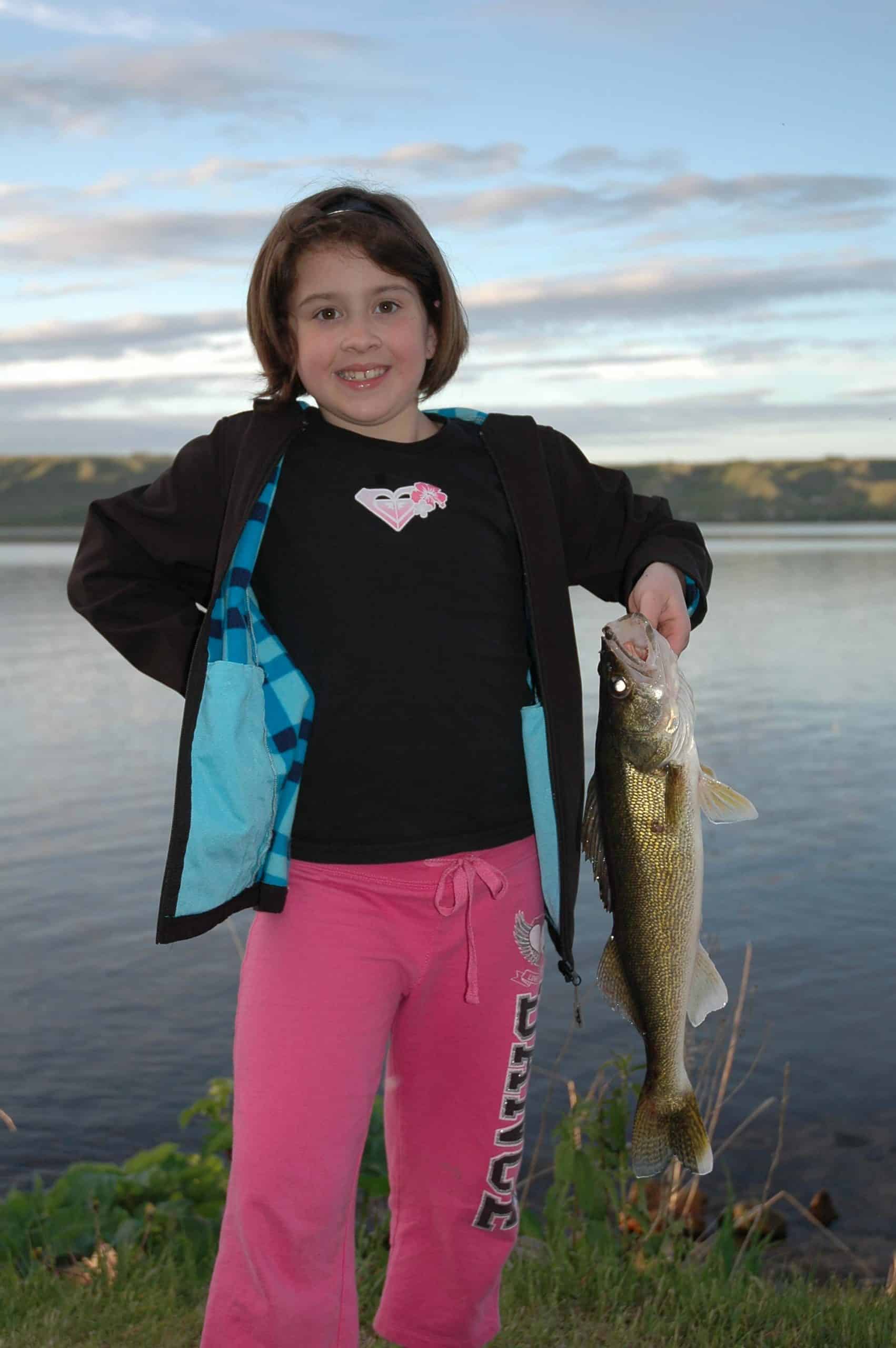 Gloves help keep little fingers warm, so a young hunter can stay afield and feel their fingers when it's time to shoot. The colder the weather, the higher the insulation level of gloves you should put on the young hunters. On really cold days, have the youngsters wear mitts because they really help to keep hands and fingers warm.
A good pair of boots can make or break a day of hunting. Not only should the boots be insulated and waterproof, but they should also fit well. If the boots don't fit well, the child will get sore feet and possibly blisters. For those living in northern climates most kids will already have a pair of everyday winter boots and those same boots may be perfect for hunting. For those in warmer climates, who normally don't wear warm boots, I recommend having the young hunter wear those boots a few times prior to going hunting to break them in and ensure there are no issues when afield.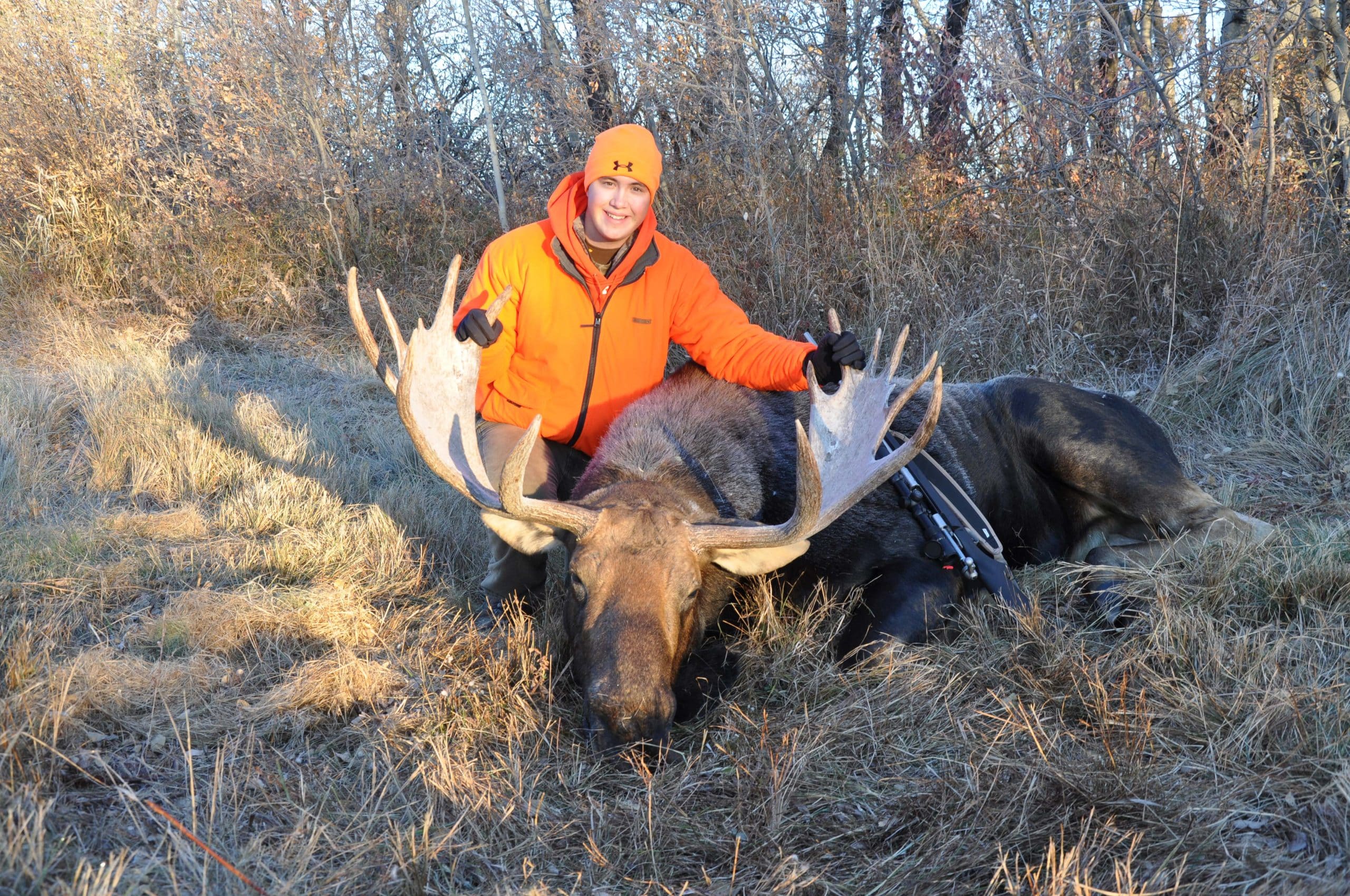 Fishing Gear
You wouldn't go fishing with old and rickety fishing rods and reels and neither should the young angler you take out fishing with you. Shorter open-water fishing rods in the 5-to-6-foot range are the ideal length of fishing rods for kids. Shorter rods are lighter and much easier for them to handle, hold and use. They will be better able to control these shorter rods and not whack you or other fishing partners with them or knock them into something and break them.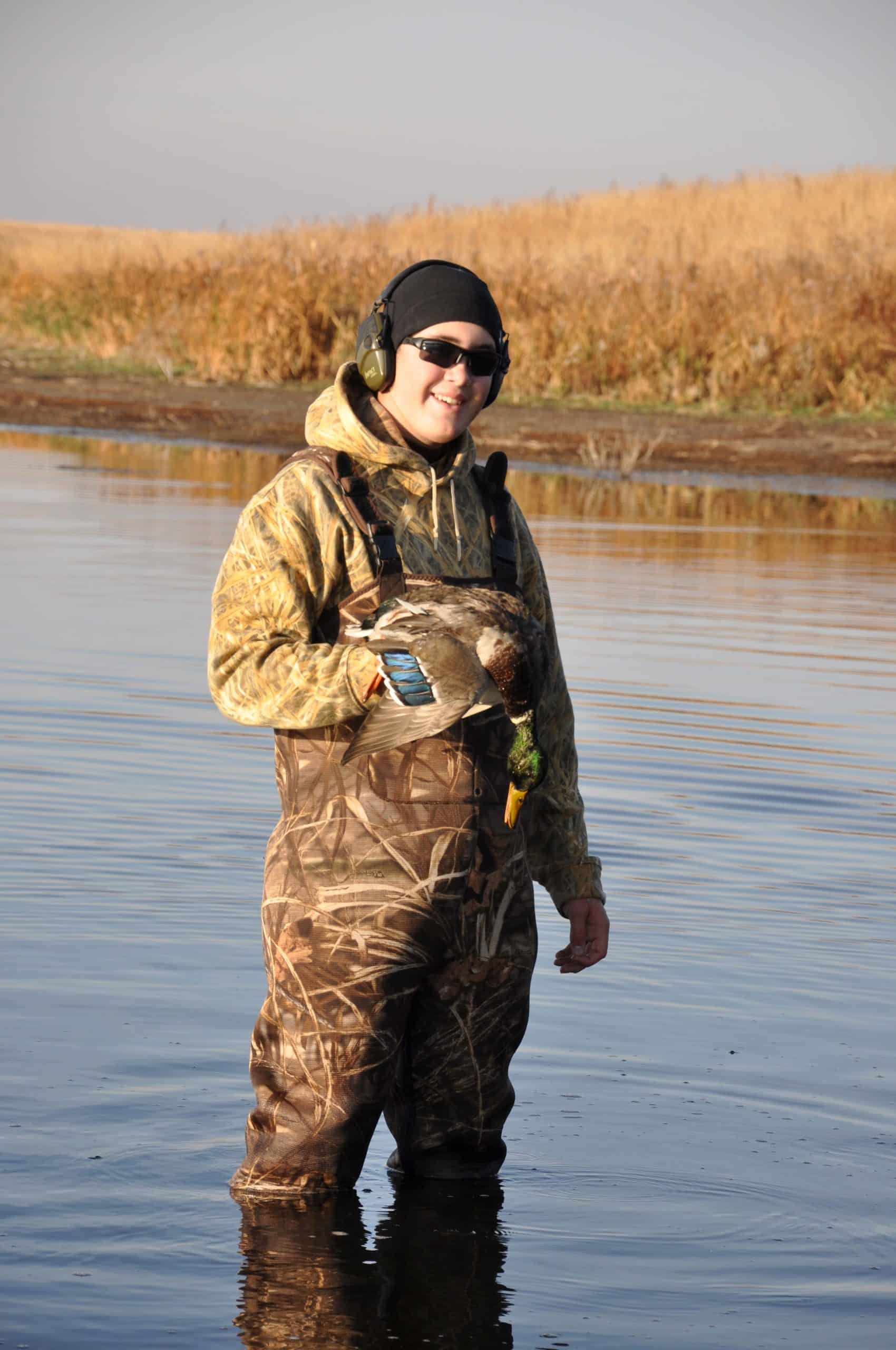 In terms of reels, always let a child use a fishing reel that operates smoothly to avoid issues such as tangles or short casts. With a few quick lessons, most kids are able to easily operate a spinning reel. For really young anglers, I would recommend a spin-casting reel for them as it's easier to cast with the push of a button as opposed to opening the bail and moving your finger at the right time.  However, I must warn you that if they do get one of these reels tangled up it is hard to untangle them as often the tangling will occur inside the "hidden areas" of the fishing reel spool. With a spinning reel, you can see what you are dealing with should it get all tangled up. Unless you are doing some type of vertical jigging or bottom-bouncing fishing, I would not suggest having a young child operate a baitcasting reel unless you have given them lots of training on how to operate one.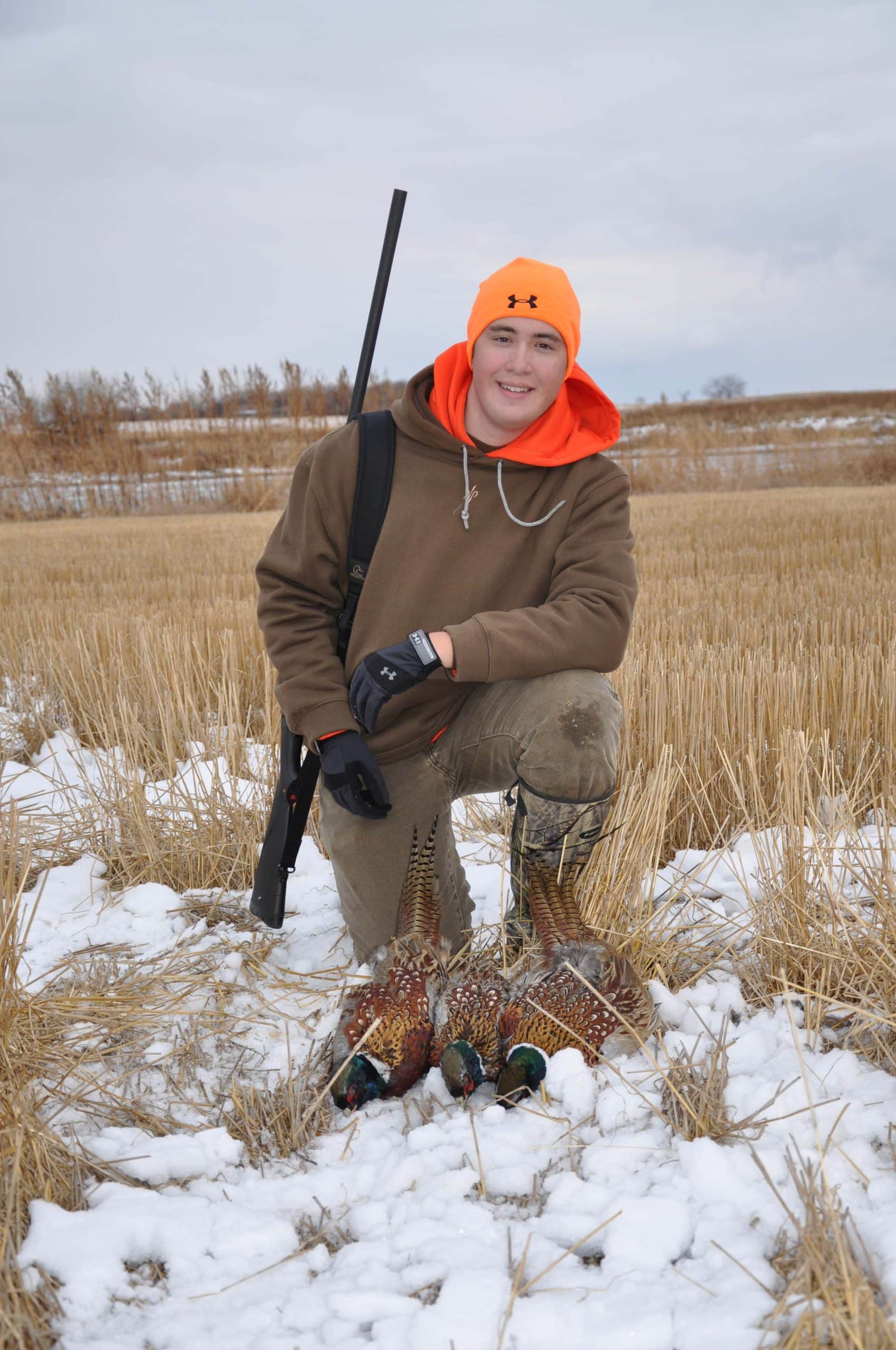 Ice fishing Gear
If you take a kid ice fishing, take along a smaller stool or chair for them to sit on so they can stay comfortable. If you have a spare flasher, let them use that one. Kids really get a kick out of using a flasher because they can see their lure down below and any fish that come in to chase the hooks. If you have an underwater camera, set that up and have the youngster watch the screen. Chances are they will be mesmerized by what they see below the ice.
When my kids were small, I quickly learned that their interest level in ice fishing went through short spurts. As a result, I also packed a sled, a shovel and some pails for them to play with while on the ice. On those early outings, the play time was often the highlight and helped instill the love of being on the ice in them.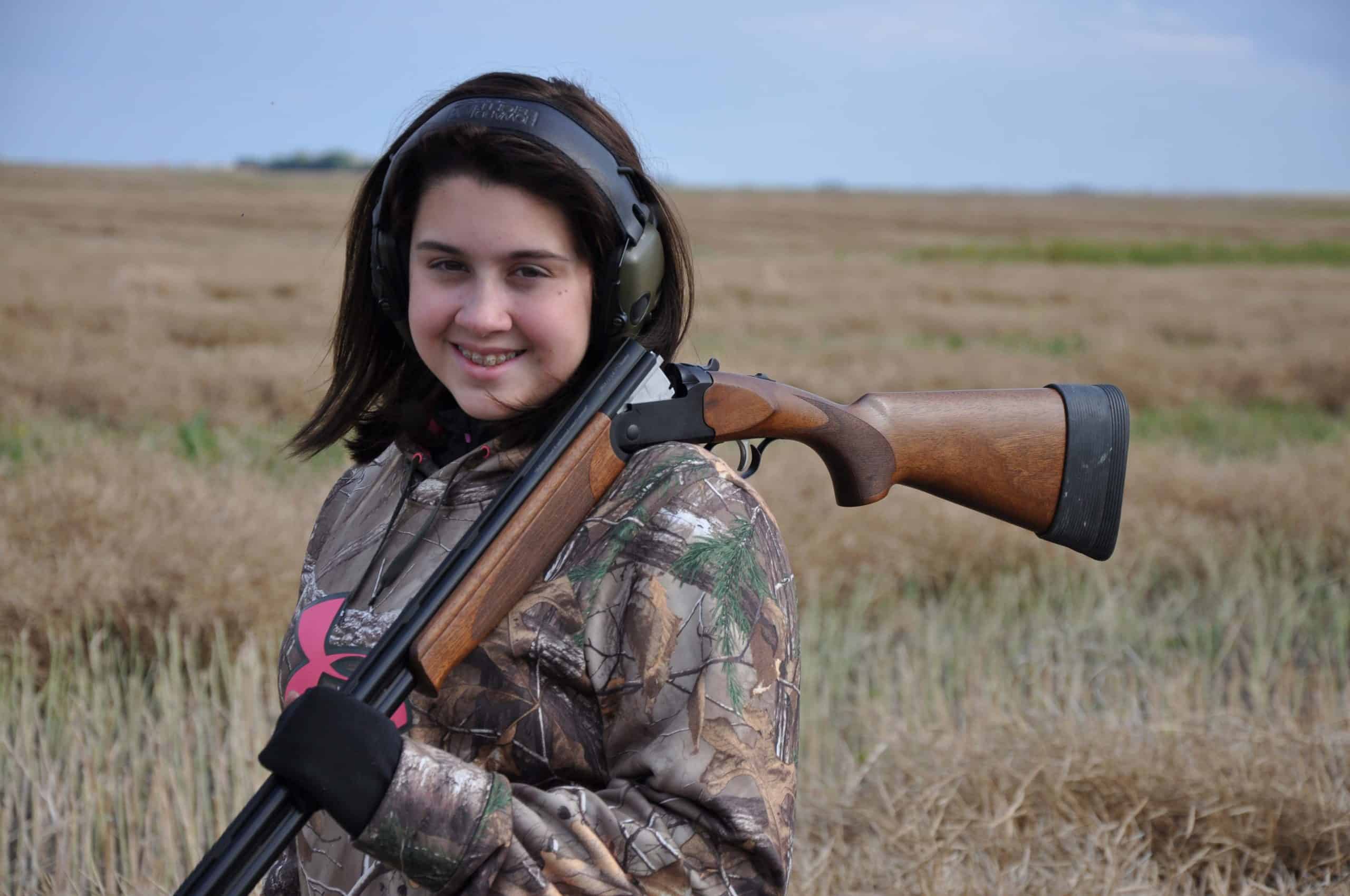 Food, Drinks and Snack
Food tastes better outdoors than it does inside. Being outside and hunting or fishing really seems to make appetites grow. A hungry kid can quickly turn into a grumpy kid, so make sure you pack plenty of food to keep your partner well-fed. Drinks are also very important as you want to keep a child well-hydrated while afield.  Important note: – staying hydrated also helps them to stay warmer.
What kid doesn't like to enjoy a snack? Even many grown adults enjoy them, too. Having a few special treats along can be just what you need to extend the day and keep everyone happy during a lull in the action.