Jess Nehl Kansas buck is a big, unique whitetail
Hunter: Jess Nehl
Buck: 188 1/8 inches
Date of Harvest: November 7, 2022
Location of Harvest: Kansas
Weapon of Harvest: Hoyt Ventum 33
Kansas deer hunter Jess Nehl first learned of this freaky non-typical whitetail in 2021. He had multiple encounters with the deer but ultimately passed in hopes of it growing another year.
"He blew up so much from the year before," Nehl said. "I guess he put on 50 inches. I never thought I would get a chance to hunt a deer like this. We see a lot of big typical bucks, but it's not very often you see a non-typical like this."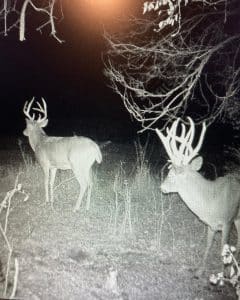 Skip ahead the October 28, 2022 when it returned. The 4 ½-year-old deer nicknamed "Cactus Jack" blossomed into a truly impressive buck. "He hit cameras multiple times after that," Nehl said. "On November 6, he hit one camera right at shooting light."
The next day, on November 7, he was confident the deer would show up again. With cooler weather coming, and the rut rolling, the odds were good. The day brought clear skies and a breezy, east-northeast wind. Temps hit the low 50s around midday, and dropped into the mid 30s by late afternoon.
His stand location was in a thick hedge draw. CRP stretched out to the east, and cut beans were to the west. Some cattle milled around in a nearby pasture. Nehl's stand location was about 30 yards inside the timber where multiple trails intersect.
The area tends to hold a lot of does, so Nehl was confident the deer would be nearby. With the easterly wind, he expected the deer to scent-check for does.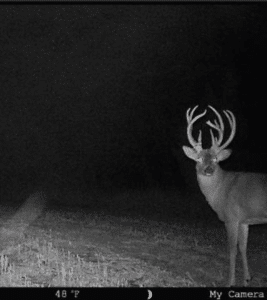 Down with a head cold and sinus infection, Nehl settled into his treestand, made sure his safety harness was secure, and enjoyed the relaxing sit. Squirrels scampered on the ground and crows cawed in the canopy. A small flock of Canada geese flew over, honking as they went. An early moon rise spotted it overhead.
Around sunset, deer movement picked up. A mature doe appeared in the bean field along the ridge. Then a doe and fawn appeared on the same ridge, but several hundred yards to the south. After that, a small buck walked down the draw, saw the does, and walked toward them. It started chasing the does around, and soon, a 2-year-old 8-pointer appeared and began doing the same.
Nothing was happening close to his stand location; and all the deer were well away from him. So, Nehl decided to climb down and make a move. Once he arrived at the edge of the field where the deer were, he noticed several more does feeding in the distance.
It started to get low light, and all the deer were still 100 yards or more away. Reflecting on trail camera photos from the night before, Cactus Jack appeared to be coming from a thick bedding areas to the west. Plus, the wind was bad for his stand location.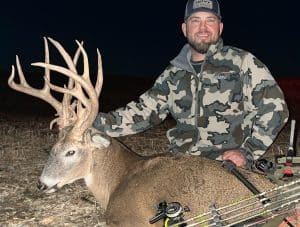 "I've always been an aggressive hunter and shot multiple deer off the ground," Nehl said. "So, if he came in, I figured my best shot would be on the field edge. So, I snuck to the field edge and got next to a cedar tree. As soon as I got there, one of the small bucks on the ridge sky-lined and looked south."
Nehl glassed that direction with his binos and spotted a bobcat on a terrace. That continued for a couple minutes, and then the young buck started looking at something else. Seconds later, Cactus Jack appeared on the horizon about 130 yards away.
"I immediately got down and started low-crawling toward him," Nehl said. "I had multiple terraces between us, so I could stay low enough where all I could see was his rack most of the time. I stopped just over the first terrace and ranged him again at 90 yds. He was still watching the bobcat, but just as I was about to start moving again, he turned and started walking right at me."
Nehl started to panic, as he didn't have an arrow nocked and ready. Shakily, he removed an arrow from the quiver, but struggled to get it on the string. By the time he clipped his release and looked back up, the buck was 68 yards away. Then 54. Then 48. He ranged the next terrace at 40 yards.
Nehl came to full draw as the buck walked up to the terrace. The deer stepped up, turned left, and offered a 40-yard, slightly quartering-to shot opportunity. The buck turned his head and spotted Nehl just as he touched off the shot. The arrow smashed through the vitals, and the buck spun and ran.
"He turned and wheeled so fast I couldn't see exactly where I hit him, but it sounded good," Nehl said. "I was in disbelief that it happened like that. I had a beautiful sunset in front of me, the moon rise behind me, and shot the biggest deer of my life."
The buck disappeared over a terrace, but never reappeared. Nehl was sure the buck was down. After giving the deer a few minutes, Nehl walked up to the terrace to look for blood. Instead, he spotted a white belly not far beyond it. Several buddies came to help him load the deer.
"Everyone was ecstatic," Nehl said. "I was able to harvest him during our annual deer camp week. We had multiple friends in from out of town. Plus, a bunch of us local hunters and friends get together for seven or eight days. After we loaded my deer up, we headed to where we have deer camp at my buddy Scott's house. We had a crowd around him for quite a while that night. Everyone was happy for me and thought the rack and deer were crazy."
The big Kansas non-typical buck scored 188 1/8 inches. "I've been chasing whitetails for 32 years, and always dreamt of shooting a big non-typical," Nehl said. "This deer means a lot to me. It is a buck of a lifetime, but we also eat or donate all the meat from the deer we shoot. So, providing for my family with inflation, and the state of the country, also means a lot."
Whitetail Lab: Big Buck Tactics
Hunting mature bucks isn't easy. It takes planning, and Nehl discussed with his friends how to hunt this buck. He had a marginal wind direction, but after discussing it with them, they decided it best to give it a try anyway. Oftentimes, bucks are more likely to move with a just-off wind, anyway.
"Before I went, I called my buddy Jake and Johnny to get their thoughts," Nehl said. "With him showing up the night before, and the fact that I had to leave for work in Arizona early in the morning, we agreed I should roll the dice. I've always had the best luck hunting marginal winds. It seems the bigger bucks feel more at ease walking into the wind."
Nehl also attributes his successful hunt to implementing the deer hunting lessons he's learned throughout the years. Sometimes, that means being aggressive.
"On the night I shot him, I was aggressive, and that's the only reason I was able to harvest him," Nehl said. "Besides that, trail cams played a key role in me being there. I hunted a different stand on that farm in the morning. When I left, I checked my cards and saw he was there at last light the night before. From the looks of the pics, he came from the west over the hill just like he did the night I shot him."