Excited about foraging? Me too! But before we dive into the subject of tasty local flora, let's go over a few best practices for general foraging.
First, the medicinal benefits of wild edibles are one of the main reasons for their popularity and use. Still, it's important to be health conscious and to ensure that wild edibles don't interfere with any existing health conditions, medications or concerns. For example, dandelions should not be consumed by those taking blood thinners. A quick Google search or a chat with your doctor is always recommended before consuming large amounts of any wild edible.
Once you get to gathering it's important to abide by the "rule of 10%." Harvesting only 10% of the area you find ensures that the healthy propagation of the plant isn't disturbed and it leaves plenty of plants for seasons to come. In areas where the harvest pressure is heavy or the plant is rare, the "rule of 1%" should be observed.
It's also recommended that you harvest more than 100 yards away from roadways, parking lots and parks to avoid any potential contamination from pesticides or herbicides. While many receptacles are available to harvest your pickings, I recommend a simple paper bag or netted sack (like the ones used for oranges). This allows your forage to breathe and not wilt, and it lets some seeds and pollen scatter as you move, helping the plant spread.
Be aware that plants go by many different slang terms and may also be referred to colloquially by other names. That's a good reason to do a bit of Google research to confirm your target.
Ready? Let's dive into the world of these five eager-to-please edible plants!
Dandelion (Taraxacum Officinale)
(aka, Lions Tooth, Monks Head, Yellow Gowan)
I know, I know. Dandelions? Who cares? But this seemingly boring and widespread plant, often regarded as a nuisance, is a nutritional powerhouse with many uses. It's plentiful, harmless and easy to find and identify, making it convenient and economical. So, the better question is, why NOT dandelion?
Despite its bad rap among lawn lovers, dandelion can be the perfect quarry for a family group or first-time foragers. Every part of the plant has a variety of uses, whether you quickly deep fry the flowers for a sumptuous side dish, use the lutein-packed greens in a salad, or slow-roast the roots for coffee, this plant offers something for all experience levels and aspirations. Nicknamed "Earth Nail" by the Chinese because of its persistent and deep roots, dandelion root coffee is a popular herbal drink that can help with digestion and detoxification. One of my favorite dandelion applications is to strip the petals and add them to baking. That adds a sweet floral touch to cookies, biscuits and cakes.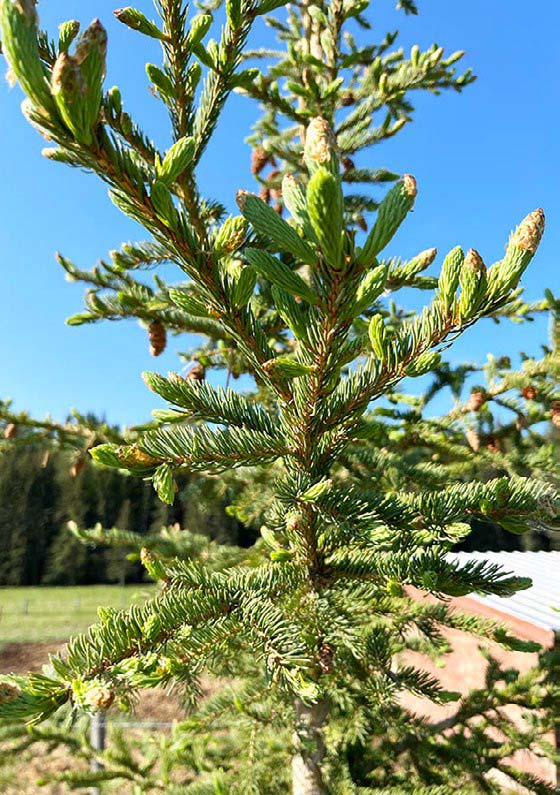 Spruce Tips (Multiple Species)
(aka Spruce Buds)
In early spring, the conifers bud and their tender new growth is a simple and delicious forage item. While having a delicious citrus flavor, spruce tips are also high in Vitamins A and C and can help lower inflammation. Because there are so many different species of pine and spruce, I always recommend the "taste as you go" method when harvesting tips, because the taste can vary greatly between species.
Find a tree that suits your pallet, then get picking! Many folks like to pickle spruce tips, because they closely resemble capers, and can make a great addition to fish dishes or charcuterie boards. A simple way to consume them is fresh on a salad to add a citrus kick. For the forager with higher aspirations, spruce tips can be made into a delightful simple syrup to add to cocktails or desserts. I enjoy drying them, then grinding them to use as a kind of lemony seasoning.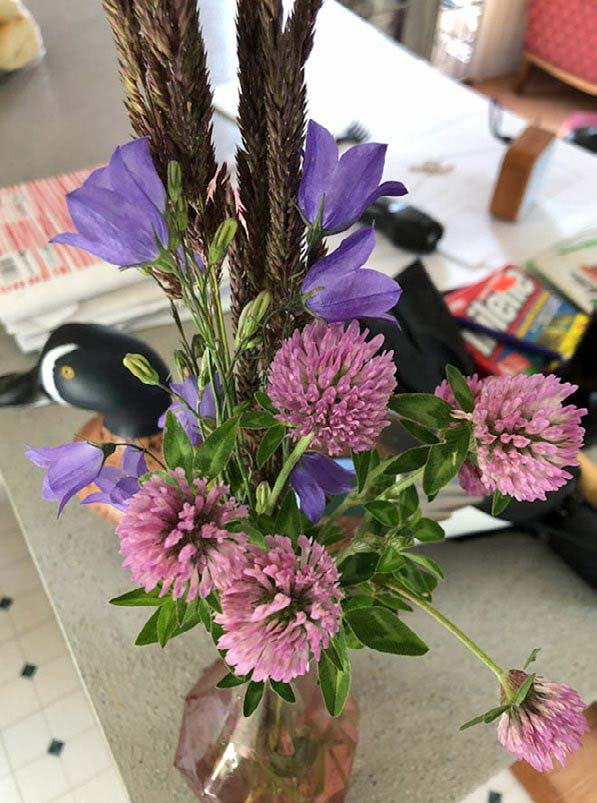 Purple/Red Clover (Trifolium Pratense)
(aka Trefoil)
This fragrant, sweet wild edible is another one that is commonly found in lawns and pastures. The fragrant aroma and distinct round pink and purple flowers make these easy to identify. You'll notice that just about every other creature around is attracted to these ambrosial plants, and they are frequented by bees, birds and grazers.
In fact, this pretty legume is a commonly planted cover crop for pastures, as well as growing wild. When I was growing up in rural Alberta, my cohorts and I would descend upon patches of purple clover, pluck the tubular petals and suck out the sugary nectar. As an adult, I prefer to dry the flowers to make a refreshing hot or iced tea. They make a great garnish for salads or cocktails.
On the medicinal side, purple clover produces isoflavones, which can produce estrogen-like effects and is used to treat hot flashes, hair loss and osteoporosis. For this reason, it is not recommended for pregnant or breastfeeding women.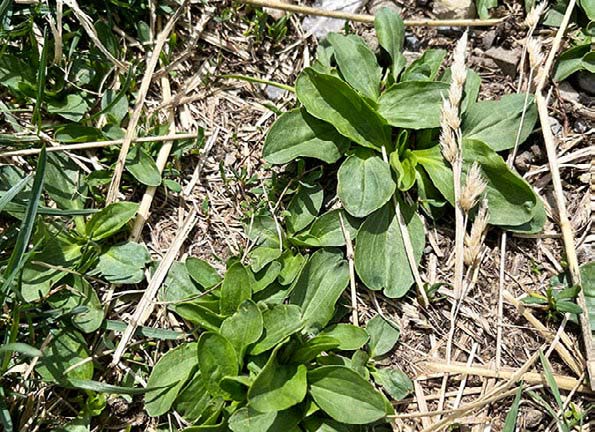 Broadleaf Plantain (Plantago Major)
(aka White Man's Footprint, Waybread)
No, this is not the cute, baby banana-type plantain. While this version is considerably less showy, it is equally as nutritious.
You may unknowingly have broadleaf plantain sprouting in your driveway at any moment. This hearty edible goes largely unnoticed because of its Plain Jane appearance and questionable locales. Plantain loves disturbed soil, such as paths, driveways and construction sites. That can make it a slight challenge to find uncontaminated specimens.
Its broad, round leaves with prominent veins can be used in salads when the plants are young and tender, or they can be cooked when the plants are older and stringy. Soups and stews that call for earthy greens such as kale or chard can benefit from the addition of mature plantain leaves. My Avo (grandmother) used to make a hearty Portuguese sausage soup with greens that I now recreate using plantain leaves. The seeds are also edible, though eating large amounts is not recommended because the seeds can affect blood pressure. Additionally, plantain makes a great poultice or salve for insect stings, small abrasions and dermatitis.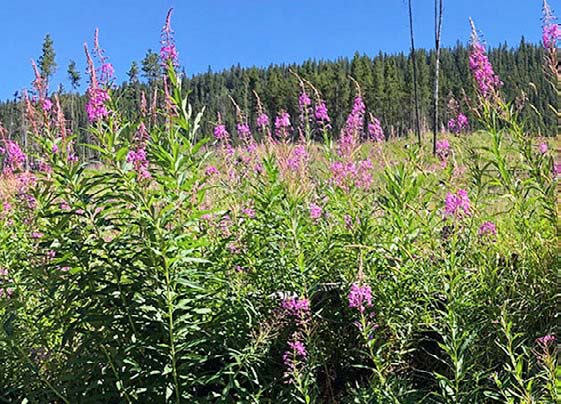 Fireweed (Epilobium Angustifolium)
(aka Willowherb)
This tall, showy member of the evening primrose family grows mainly in sub-Alpine regions. So, not only do you get the benefit of its gorgeous forage, but you also get to enjoy some first-class mountain views while gathering it.
Fireweed grows in tall stalks. In the heat of late summer, it has stunning purple and pink blossoms sprouting along its stalks. It grows along roads, mountainsides or forest edges, and it  especially loves sites where wildfires have occurred. In early spring, the shoots are popular for pickling and sautéing. They resemble asparagus, but they can be challenging to identify. Any shoot that is harvested won't produce flowers later. The parts of this plant that grow above ground can all be eaten, but it is not recommended to use the roots or underground runners. Disturbing these may affect a larger area than intended. Leaves can be eaten raw; they are similar to spinach. The flowers make an attractive garnish or can be made into a delicious floral purple jelly or simple syrup.
Fireweed tea has a mild sedative affect so it's a relaxing nightcap after a long day. It can be made into a dried green-leaf tea or a fermented black-leaf tea known as "Ivan Chai," which is popular in Russia. This tea is also known to help circulation, immunity and blood pressure.
So there you have it. Five simple, easy-to-find edibles that can have a major impact on your well-being. Not only do you derive the taste and nutritional benefits when you forage for these types of vegetation, you also gain outside experience, time in the sun, and more meaningful meals with your loved ones. Foraging is a truly worthwhile pursuit!