At the time of this writing, we are in the middle of a polar vortex here on the Canadian Prairies. With temperatures averaging around -35 Celsius (-31 Fahrenheit) it has been hard to find reasons to venture outside these last few weeks. I have been a little stir crazy so when the opportunity came up to test the new Black Mamba 31 by APA Archery I jumped at the chance.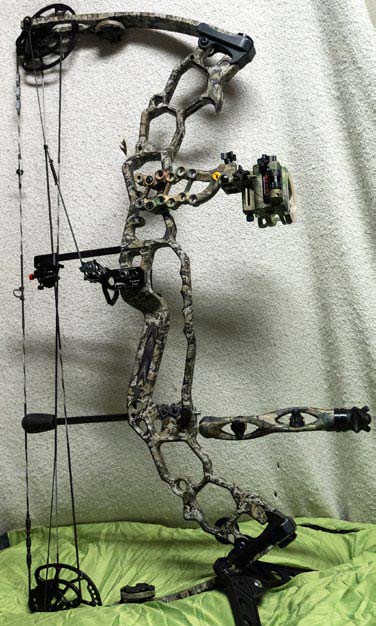 The Black Mamba 31 is being hailed by the company as one of the most accurate and forgiving bows they've ever created. So, the gauntlet has been thrown down with this bow. After shooting the Mamba 33T last spring and thoroughly enjoying it, I have been really curious about their newest offering. First the Specs for the Black Mamba 31:
IBO/ATA – up to 350 FPS
Axle to Axle – 31 1/4"
Brace Height – 6 3/4"
Physical Weight – 3.8 lbs.
Draw Weight – 50, 60, 70, 80.
Draw Lengths – 25" – 31"
Kinetic Energy – 95.23 @ 70 lbs.
Let Off – 80 %
After a quick discussion with the great people over at APA, my test bow came set at 70# draw weight, 29" Draw length and apparently shooting 340 fps with a 350-grain arrow. In other words, holy crap fast.
The Micro Tune system allows you time and tune your bow, no tools or press required. As always, I was greatly impressed with this little gadget and it makes perfecting your bow super simple. Having the ability to make these adjustments on the fly and without the need for a press had me messing around with the Micro Tune to attain archery shop tuning results while in the field.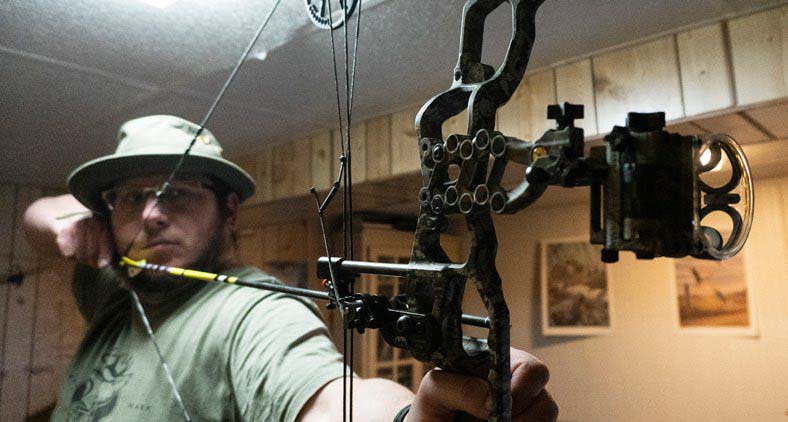 As with other APA bows, the Black Mamba 31 comes standard with their riser fang, which allows you to hang your bow directly on a branch or limb without the need for a bow hanger. The Mamba 31 also includes their carbide sharpener that works well for touching up your hunting knife if you forgot a sharpener, their cam lock pin which is a nice piece of kit to have if you find yourself needing to make a peep sight adjustment or other repair in the field, and a nock wrench. All of these little touches show how much thought APA puts into their hunting bows.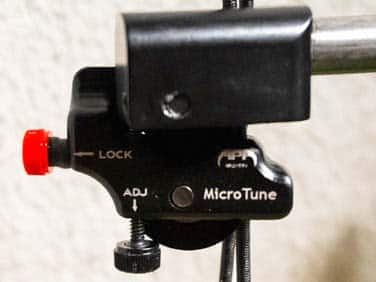 A quick note on the cam lock pin – in previous years, the pin was set so close to the stabilizer insert that if you forgot to lock down the pin, as long as you had a stabilizer installed, it would impede the pin from sliding out the end of the riser. For 2021 it appears that they have slightly adjusted where the pin lives, so it clears most stabilizers. This makes it easier to access the pin in the field, however god help you if you forget to tighten the pin down. It will fall out and be lost forever.
I put around 500 arrows through the Mamba at my home range to get a feel for the bow. The dual cam setup draws smooth and with an 80% let off that allows you to hold at full draw for days. The draw stop is solid and the allows for the shooter to use the wall to great advantage.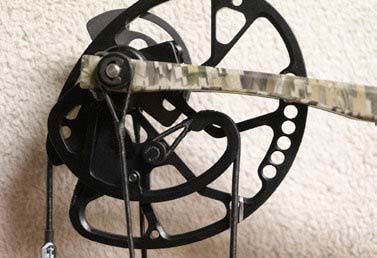 The grip is comfortable, and the bow is incredibly stable at throughout the shot process. I never found the bow wanting to cant and at 31 ¼" axle to axle the bow is incredibly forgiving, but short enough not to be a pain in a ground blind. With an IBO speed of up to 350 fps the Mamba flings arrows at breakneck speed, although of course IBO speeds differ from real world speeds, you are still getting into a fast and flat shooting bow. I finally note on shooting this bow – it is deadly quiet. If you're looking for a spot and stalk bow that won't get you busted by a nervous whitetail or big bruin, then look no further. I honestly couldn't get over how quiet this bow shoots.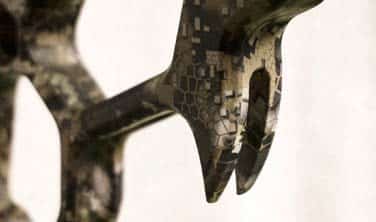 Fresh out of the box the Black Mamba 31 is a thing of beauty. The fit and finish is superb and the bow feels and looks both high tech and high quality. Everything functions as it should and the Soft Touch Armour which is what APA calls their bow coating is rubberized to increase the durability of the finish. It is also designed to minimize contact noise and vibration. Does it work though? In short, yes. Of course, you're still going to hear an arrow shaft bouncing off the riser, however it's definitely a duller less resonating sound. APA also claims that their Soft Touch Armour acts as a light insulator, making the bow warmer to the touch on colder days. When shooting this bow outside in -30-degree weather, I don't know if anything can keep your hands warm, however the Soft Touch coating does curb that "skin freezing to metal" sensation somewhat. I call it a win.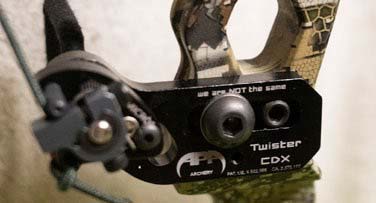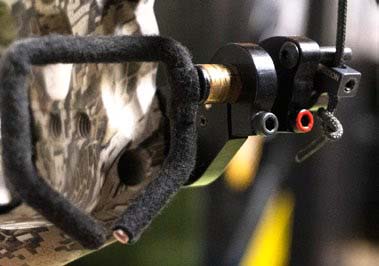 The rest that APA included with the test bow I received was the APA Twister Full Containment rest. Crafted from aircraft aluminum, brass and stainless steel, this rest is bomb proof, easy to tune and dead quiet. The mounting process is straight forward and once again the attention to detail is spot on with this little drop away. The rest itself is NOT universal, so if you plan on ordering one, make sure that you order the correct one. At $136 CAD the Twister falls into the middle of the pack for hunting rest pricing. More expensive than a whisker biscuit but more affordable than rests of this caliber from companies such as HHA, QAD or Hoyt I'd argue that you can't really do much better in terms of quality, performance and ease of tuning than the Twister.
So, what's the verdict on the 2021 APA Archery Black Mamba 31? After shooting the poop out of this bow both indoors and in some of the coldest weather I can imagine this bow facing, the Black Mamba 31 is a top shelf performer that will serve any bow hunter well for years to come. The price tag is a little eye watering at $1,449 CAD bare, with additional costs for pushing the draw weight up to 80# and for some of their optional finishes. That said, a bow of this caliber is well worth the investment and worthy of any bow hunters hard earned money. To learn more about APA Archery products, check out their website right here: www.apaarchery.com
By Noel Linsey