It's no secret that it doesn't take a modern kitchen to turn out high-quality meals. And to me, there's no place more deserving of creating a great meal than at a hunting camp. Whether it's because of time spent with close friends and family surrounded by nature, or when celebrating a successful hunt, hunting camps don't deserve to have second-tier meals. Unfortunately, many camp kitchens are some of the most unstocked places, and they often lack essential cooking items needed to prepare great food. Though it can take some time to get all the right spices and cookware in place, once you do, cooking incredible recipes will become the new norm at camp.
Admittedly, my very own camp kitchen wasn't exactly a perfect example from the start. When I first started hunting there, my kitchen was far from being well-stocked and it never had any dedicated cookware, cutlery or dry goods and spices. Each time I would take off to go hunting, I couldn't remember what I already had there, which caused a great deal of frustration when grocery shopping. After a few seasons, I finally got my own camp kitchen just the way I wanted it. Once it was all dialed in, I felt like there wasn't any dish that I couldn't prepare at camp.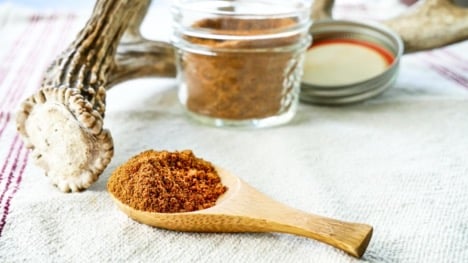 It's undeniable that fresh herbs and spices always make a difference in taste. While it's easy to use that little shaker bottle of dried thyme that you might have left over from last deer season, you should actually just toss it in the trash and start over. Dried herbs and blended spice rubs start losing their punch after about a year of sitting on a shelf. This is especially true when they're in a hot cabin over the summer; that situation really expedites the process. As a good rule of thumb, I suggest replenishing your dried spices prior to each season.
My camp kitchen spice cabinet has several essential herbs and spices that I keep on hand at all times. At a minimum, I have a box of Kosher salt, whole black peppercorns, New Mexico chili powder, cumin, dried rosemary, dried thyme, garlic powder, dark chili powder, mustard powder, dried juniper berries and oregano. These herbs and spices cover both wild game recipes and non-game recipes from a seasoning perspective.
Depending on where you get your spices, they will last a lot longer in an airtight container or sealed bag. Sometimes, I'll even empty my spices and herbs out of their original packaging to store them in individual glass jars to help maintain their freshness. They also stack much more easily in your cabinet if you use glass jars.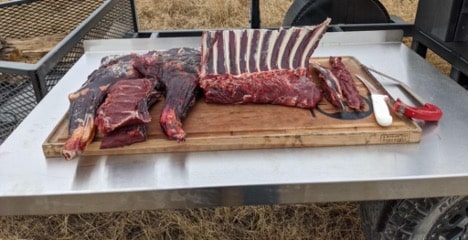 If there ever was a person guilty of owning too many cooking gadgets, it would be me. After all, whether it's hunting- or cooking-related, gear is cool, and I've always been a sucker for trying out some new-fangled thing. Having too many gadgets can be troublesome at hunting camp, mainly because space is usually limited. So, keeping only the tried-and-true essentials at camp is critical.
Knives
Having a dedicated set of knives at camp is always a good idea. With as much gear as we all are lugging to camp at any given time, it's nice to always have a solid set of sharp knives in the drawer. By no means do you need a full set of knives. A standard eight-inch' chef's knife, a boning or filet knife, a paring knife and a small bone saw will do the trick.  Having these will not only be helpful to have on hand in the kitchen, but also useful when breaking down harvested game. Without a doubt, one of the most useful pieces of cutlery that I own is a small bone saw from Wyoming Knife. It breaks down into a few small pieces and fits easily into a drawer. When it comes time to cut shanks or bone-in chops, this saw is all that I need at camp.
Dutch Oven
I used to think that Dutch ovens were only good for making a giant pot of chili during the blustery days of winter, but I was really, really wrong. These pots come in all kinds of shapes, sizes, colors and materials. Over the years, I've actually gone away from using standard cast iron and prefer having at least one cast enamel Dutch oven at camp. From a care point of view, you don't need to keep it oiled since it's already enamel coated. Aside from the obvious fact that you can bake with it, these pots also allow for direct contact with heat on a stovetop. That ability helps in making several incredible one-pot meals, like Osso Buco (full recipe below) or short ribs.
Mortar and Pestle
If these were good enough to be used by civilizations thousands of years ago when fancy cooking equipment didn't exist, then they're absolutely good enough for hunting camp. There's really no limit to the kinds of things that you can prepare with this basic tool. From smashing whole peppercorns to making a quick salsa verde, the mortar and pestle should have a spot on your camp kitchen counter.
Plancha
Whether I'm cooking over an open fire or inside using my stovetop, the plancha is one of the most utilized pieces of cookware in my camp kitchen. Perfect for sauteing vegetables, making bacon, eggs or searing steaks and backstraps, this is an absolutely invaluable tool to keep around.
Meat Grinder
One of the biggest misconceptions about meat grinders is that they're only good when making sausages, which couldn't be further from the truth. When I'm at camp, I often use this tool to grind steaks into burgers and roasts into ground meat for ragu. Having a grinder in your pantry can take a frozen venison roast and turn it into burgers for lunch. Without a doubt a very handy tool to have when the grocery store isn't around the corner.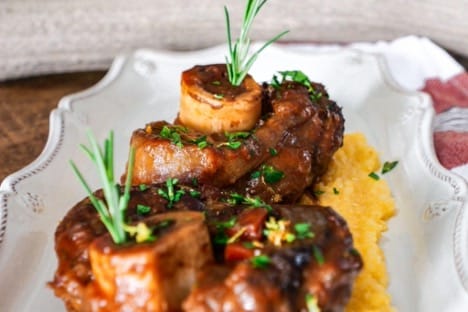 Osso Buco is a perfect meal for the wicked weather of late autumn and winter. In the traditional manner of cooking, this rustic Italian dish uses cross-cut veal shanks that are slowly braised for several hours until they pull right off the bone. However, the very same cut from an elk lends itself really nicely to this recipe and is another great reason to save your elk shanks from the grind pile. When braised for three hours in a Dutch oven with white wine, vegetables and fresh herbs, the meat will be fork-tender in an incredibly rich sauce.
Ingredients
5 pounds of elk Osso Buco
3 stalks of celery, diced
2 carrots, diced
½ large sweet onion, diced
4 ounces of tomato paste
2 cups of dry white wine
2 cups of chicken broth
1½ cups of flour
Salt and pepper
3 Tbsp. olive oil
3 twigs of fresh rosemary, 3 twigs of fresh thyme and one dried bay leaf (dried herbs will also work)
Small piece of butcher's twine
To start, dust each of the pieces of elk in flour that has been seasoned with Kosher salt and cracked pepper. A light dusting is key here.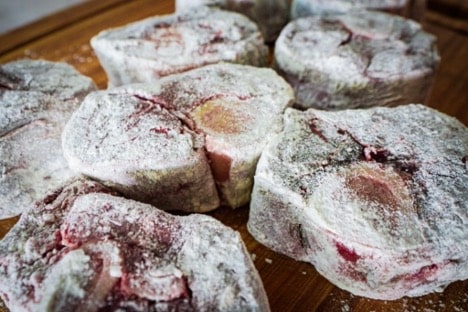 Next, heat the olive oil over medium-high heat in a large Dutch oven. Once the oil is hot, place the meat in it and brown it on all sides. Depending on the size of your Dutch oven, it might be easiest to brown the meat in a couple of separate batches (which also may require a touch more oil.)
Once everything is browned, set meat aside on a paper towel. Next, add the diced carrot, onion and celery to the pot. Sauté for 5 to 10 minutes, stirring occasionally. While the vegetables are cooking, take a piece of butcher's twine and tie together the fresh rosemary, thyme and dried bay leaf.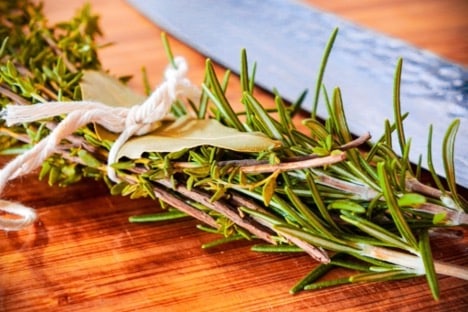 Once these vegetables have had the chance to soften and have gained a little color, add the tomato paste and cook for another 2 minutes over medium heat.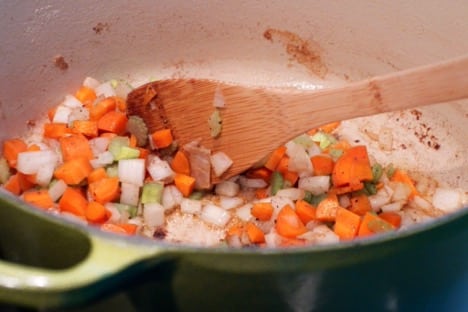 After the tomato paste has had the chance to cook out for a couple of minutes, deglaze the pan with two cups of white wine, being sure to scrape the stuck pieces from the bottom of the pan. Once deglazed, add the chicken broth, herbs and add the browned Osso Buco back to the pot.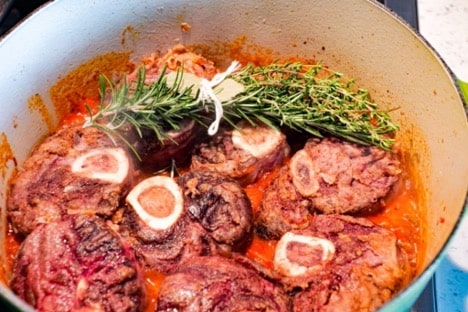 Cover and transfer to a 300˚F oven for three hours. When the meat can be pulled from the bone with a fork, remove the pan from the oven and let the food rest. Prior to serving, mix together chopped parsley, lemon zest and salt to make the gremolata. Serve over mashed potatoes or creamy polenta and top each portion with a sprinkle of gremolata for incredible freshness and color.