Hunter-and-Gatherer Challenge
Several years ago, there was a television show that challenged participants to live for a year sourcing all food and beverage within 100 miles of their home. The concept seemed easy enough, but watching the show revealed just how challenging it must have been for our forefathers to fill a plate throughout the year.
As a hunter, the challenge, fun and reward come from procuring enough wild game to feed my family for an entire year. Adding the diversity of game meat is a blessing many early settlers did not often encounter.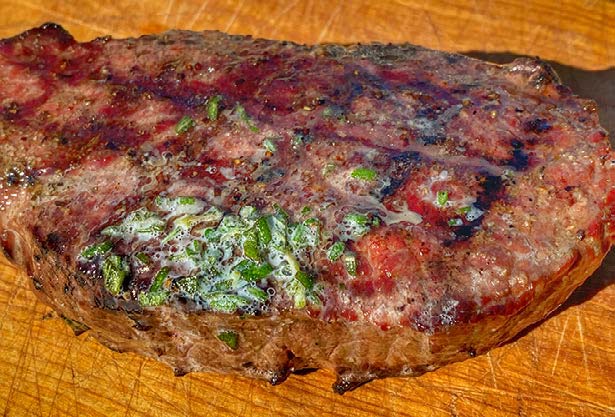 Although I have lived most of my life near a city, I have never considered myself a city dweller.
When the opportunity arose to move out of town a few years ago, there was no hesitation and no looking back. With a property line stretching half a mile through rolling hills covered in aspen, alder, white spruce, and berry-producing shrubs, my family and I settled quickly and comfortably into our little piece of heaven. We built garden boxes, planted berry bushes and set up trail cameras to take inventory of our new neighbors.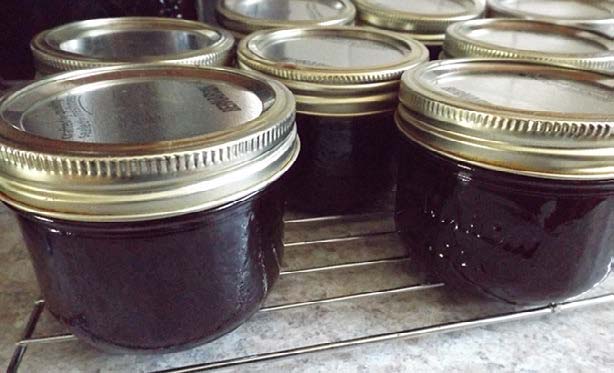 Nothing Taken for Granted
I never take the incredible opportunities on my doorstep for granted. We have explored the property to take inventory and find out the availability of our natural foods. Soon, I challenged my hunter-gatherer instincts to generate meals from food gathered or hunted within a mile of our front door. I discovered this to be a steeper challenge than the television show I had watched. Initially, a 10-mile radius was considered, but with the abundance and variety of food at home, I was confident I could make it a one-mile challenge.
With a stable population of moose, Whitetail deer, ruffed grouse, hares and a diversity of waterfowl, I was looking forward to harvesting some free-ranging, homegrown protein. It may sound easy enough, but there is work involved to create a lifestyle where you can enjoy the fruits of your labor. There were even a few elk, mule deer and a black bear to make things interesting.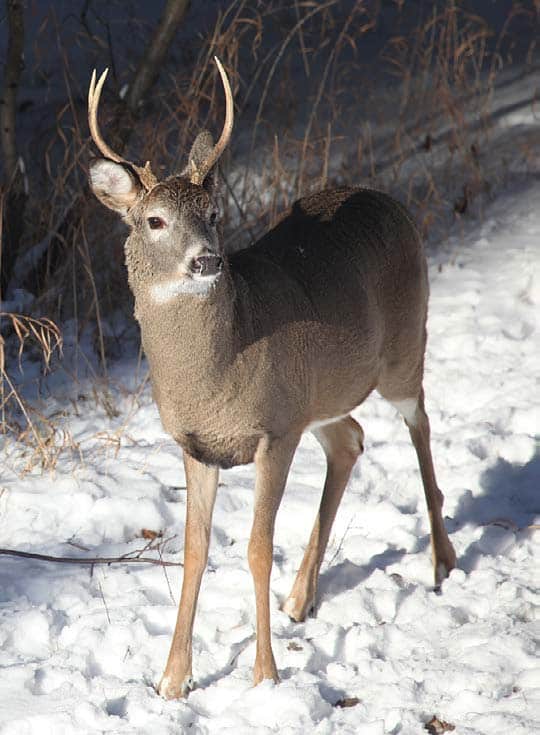 Backyard Hunting
Hunting in your backyard provides the unique opportunity to plan a meal with everything grown, sourced or harvested close to home. It is a challenge that many hunters could rise to and accomplish. It may mean planning a meal from the door of your tent, camper or cabin, but the challenge forces you to look at everything around you with a new perspective.
One of the reasons I wanted a more extensive rural property was to be able to hunt out my back door anytime I wanted. My wife, Stef, enjoys the same philosophies and has embraced the challenge to eat from what we can harvest. One of the first things we hunted was the highly coveted ruffed grouse. While bowhunting for deer and moose, I did manage to arrow a few of the local ruffed grouse and we considered them our first meal.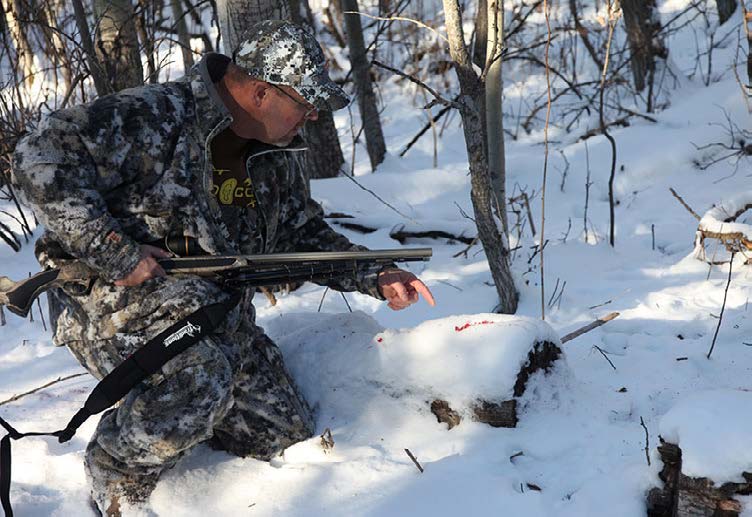 Farmer's Market at Home
When spring arrived, we prepared and planted the garden beds with herbs, vegetables and tomatoes. We planted everything from squash and cucumbers to beans, peas, potatoes, beets, carrots and everything else you'd find at a typical farmer's market.
A climbing trellis was made of aspen poles cut from our property for the green beans. The aspens were about 10 feet long, and if anyone had told me the beans would grow beyond the structure we built, I'd never have believed them. They did grow well beyond, and when over four yards tall, they started breaking the thick aspens and latched on to nearby sunflowers.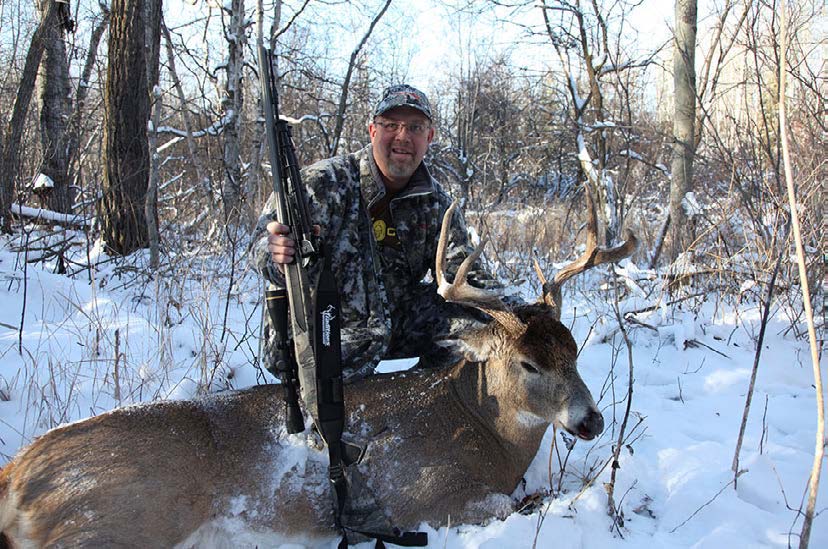 Our cucumber plantings created pails of produce each day. The snaking squash vines were like mutant plants trying to overtake and carpet the growing area.
We processed dill pickles, used our pressure canner to jar enough beans to last the year, and canned tomatoes and hot peppers. We canned, processed, ate and shared our bounty until a hard frost finally brought the insanity to an end.
Stef spent hours collecting wild hazelnuts and husking them to dry. We picked and froze rhubarb for making wine, pies and other desserts. We turned chokecherries into jelly and syrup and made apple juice and fruit leather from the fruit trees. A fruit steamer allowed us to make juice to jar and seal in one easy step. The Weston dehydrator made apple rings, dry herbs and even berries and rose hips for tea.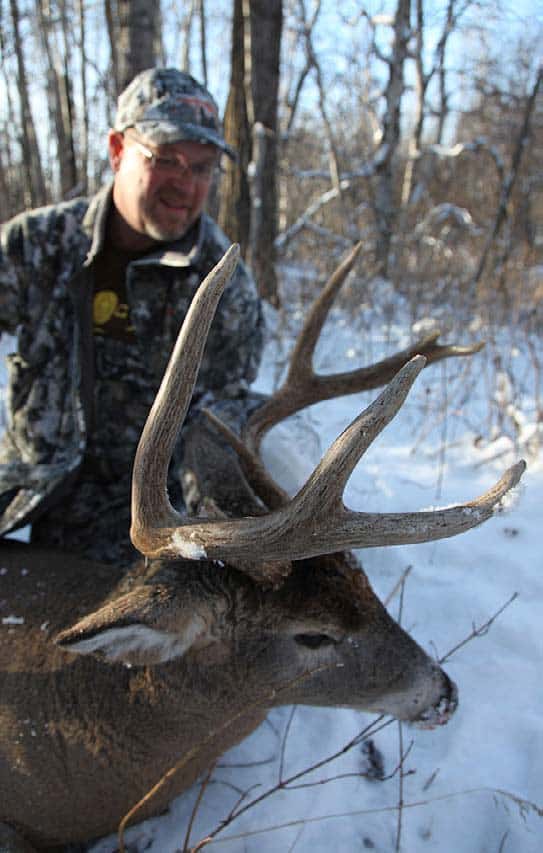 With our garden beds and fruit trees only a few steps from home, we could check on conditions on what might be ripe and what needed attention. The produce was terrific, but I still strongly desired to harvest a big-game animal to complete our homegrown meal plan.
The moose rut snuck up on me, and I never had the opportunity to sit in my stands one day during prime time. Travel in early November meant I missed the first part of the muzzleloader deer season. I had hoped to sit with the bow most evenings. However, I was too busy with work, family commitments and life. Before I knew it, the last week of November was staring me in the face and I still had not taken a deer.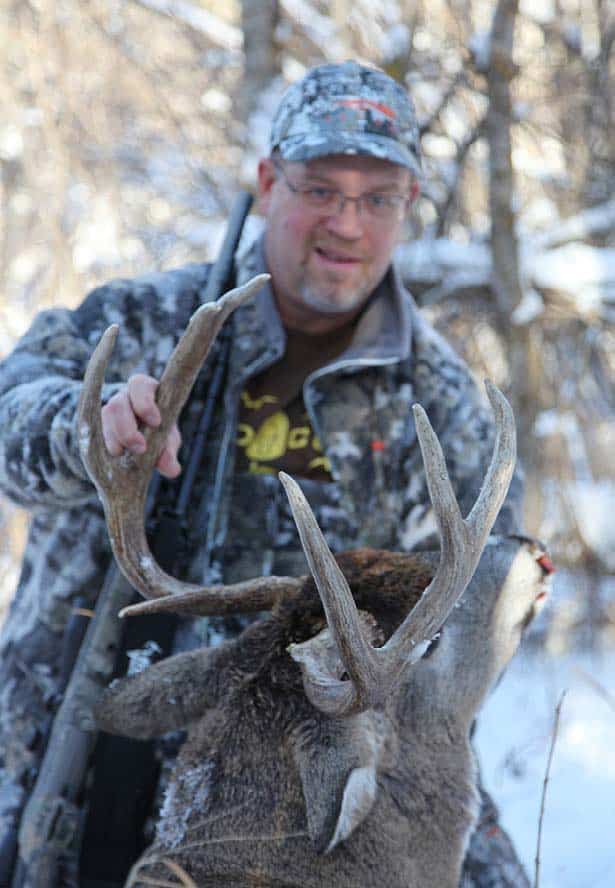 Lots of Sign
Scouting our backwoods, I found lots of animal signs. There were dozens of scrapes and lots of tracks from moose and deer. I checked the trail cameras and saw that a couple of good bucks made regular appearances on different parts of the property. I learned more each day and wanted to hunt smart with my limited time.
The HuntStand app allowed me to check weather forecasts, moon phase, animal activity times, and other conditions that affect deer movement. With a full moon, the app told me the most productive part of the day was just after lunch. I opted to hunt mid-day to increase my odds of encountering a nice buck.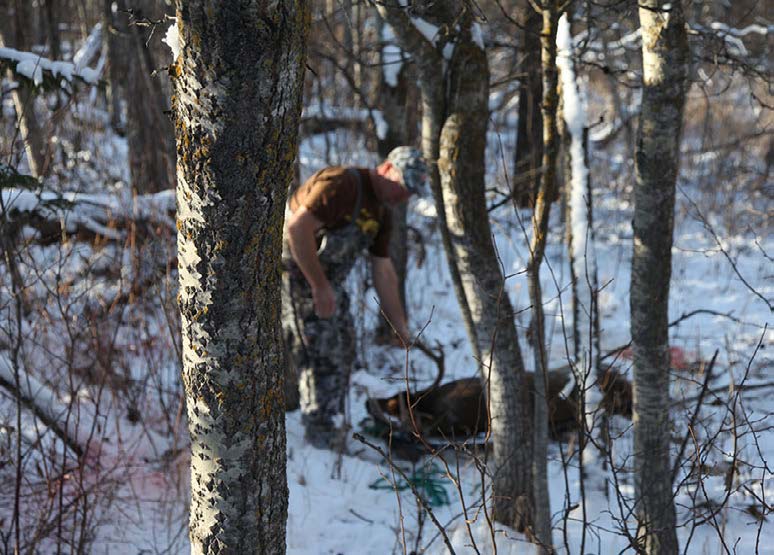 Daytime Hunting
I ate an early lunch and headed to an active trail with several scrapes. I sat downwind of the trail with my back to a tree. The sun was warm and comforting. There was fresh snow on the ground, a beautiful blue sky stretched overhead, and there was barely a breath of wind. The mild temperatures made it pleasant to be outdoors, and I had to question if it was late deer season in Alberta. The deer had been using the trail daily and I felt confident a buck would be moving.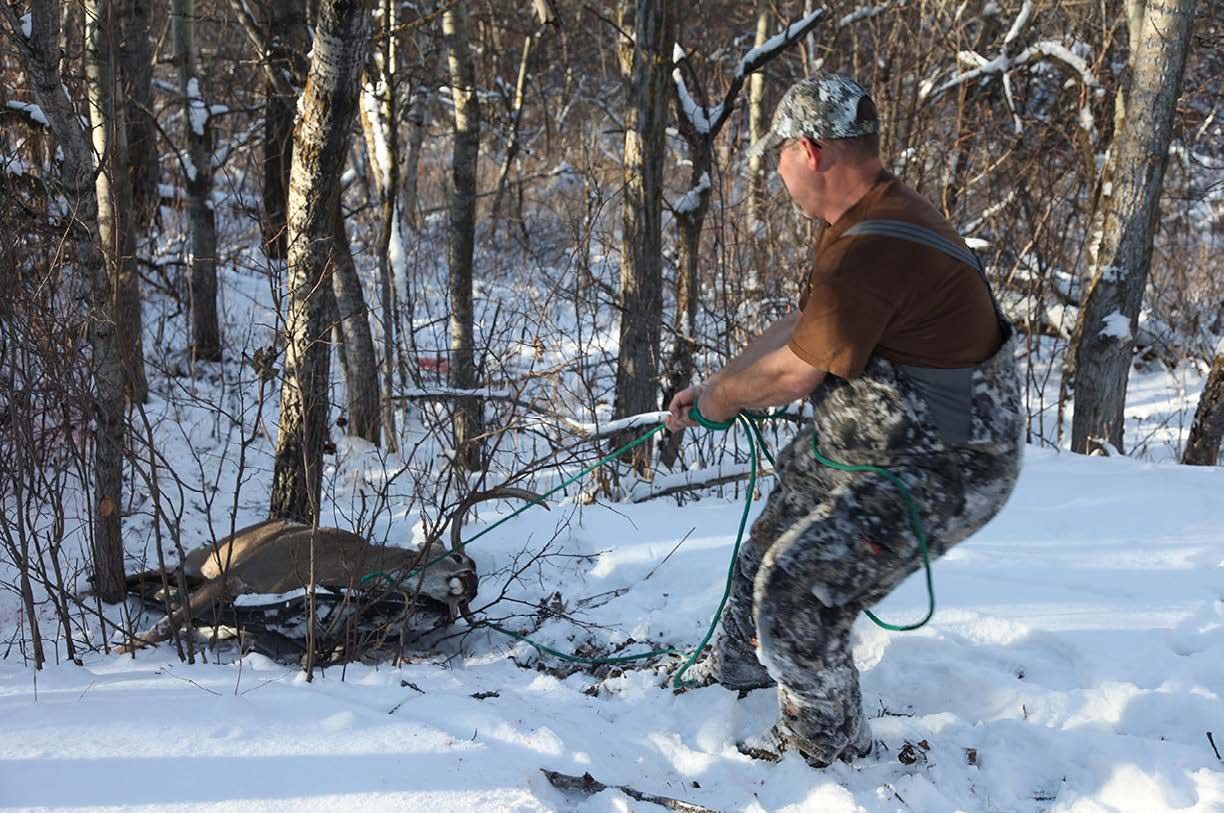 I barely sat down to watch the rolling hills and slough bottoms on our property when movement caught my eye. It was brown. It was a deer. It had antlers. I could feel my heartbeat quicken as the Whitetail ambled down the trail with his nose to the ground. It was easy to tell the buck was preoccupied with the rut and oblivious to everything around him.
As the buck neared, I saw it was a mature animal with a big body. I had this buck caught on my trail camera several times, and passed him up the previous year. My excitement grew quickly, as I knew I wanted to get the deer behind my crosshair if the old Whitetail would give me the opportunity.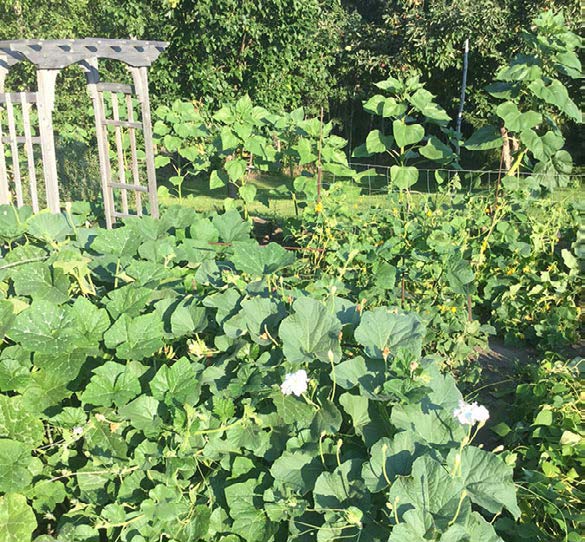 I steadied my Traditions Vorek StrikerFire LDR muzzleloader on my knee and tracked the sizeable brown frame as it approached through the trees. At 50 yards, the buck stopped and looked directly at me. The thick neck, swayed belly, and broken antler tines told me he was a dominant deer in the area. I already had my muzzleloader on my shoulder and looked at the deer through the scope. When I squeezed the trigger, the rolling cloud of flame and gray smoke momentarily obscured my vision, but I knew by the sound of my bullet that it had found its mark. The buck whirled and ran back into the slough bottom he had come from and piled up at the base of an alder.
I had successfully taken a big game animal on home turf, and it felt great. I hadn't even finished my retrieve, pulling the buck on a sleigh back to our garage, when I started to plan a special meal.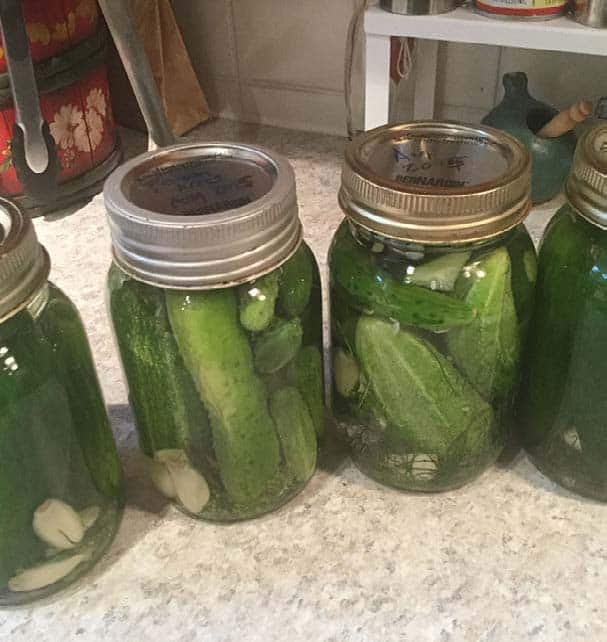 Very Local Sourcing
Everything on our plate came from within 400 yards of our front door. Baked squash, canned beans, dill and beet pickles, apple chokecherry wine and the special guest at our table would be the Whitetail buck who gave up the most to be part of such a special moment.
I compared the chicken and the pig we enjoy for breakfast. Which one is committed to the meal and which has an interest? The chicken has a vested interest in the donation of an egg. However, the pig is totally committed, giving its life to provide the bacon. I would ensure every part of the old deer would be fully utilized for the sacrifice he made for my family.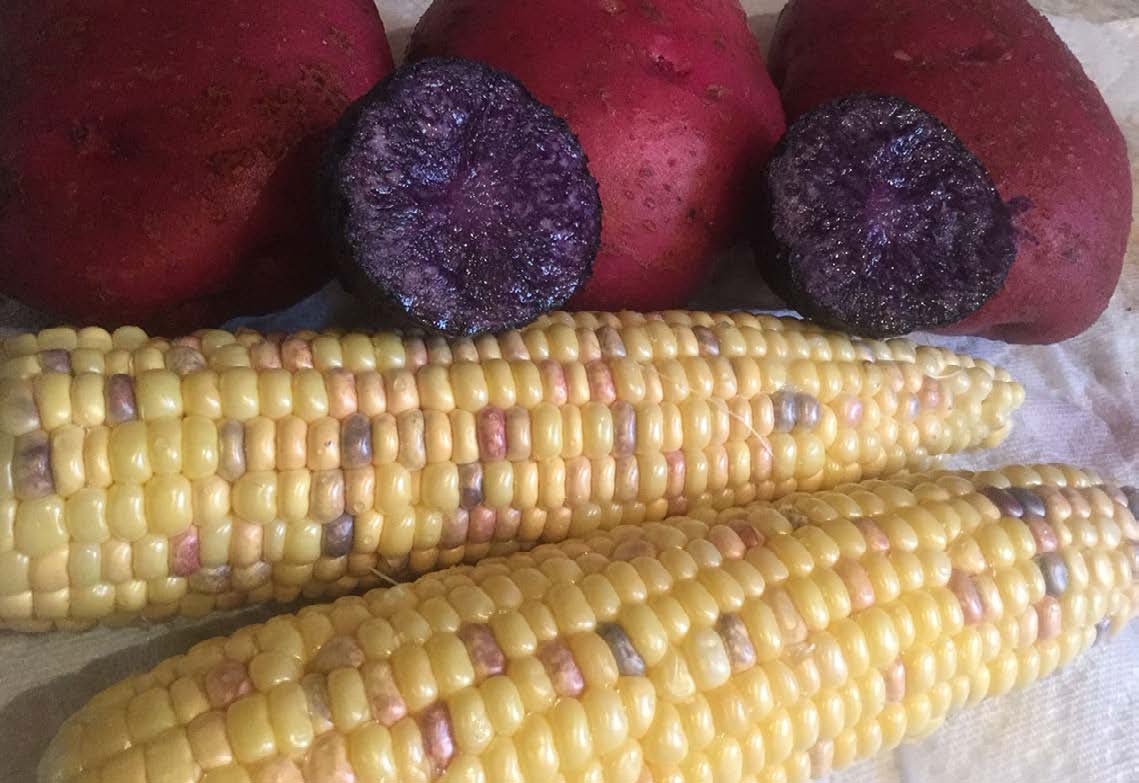 Work, Commitment
We often forget where our food comes from and living off the land in modern times takes work and commitment. Hunters still relate to and understand where food comes from, but the average person in society doesn't have a clue. It would be far easier to run to the grocery store to buy produce and a thick-cut steak, but that's just not the same. Homegrown and harvested food provides a sense of satisfaction that is hard to explain. Yes, it is lots of work, but it is a good reminder of how fortunate we are to live at a time when food is so abundant.
Being hunters and gatherers is in our nature. In our family, we take pride in developing our next meal. Once I did a little menu planning to add some deer breakfast sausage and salami, every meal of the day came directly from our property.
Take the "One-Mile Meal Challenge" yourself to see if you can provide a table full of food that you hunted, gathered or grew. It will generate a feeling of pride, connecting you to your roots and ensuring a healthy future.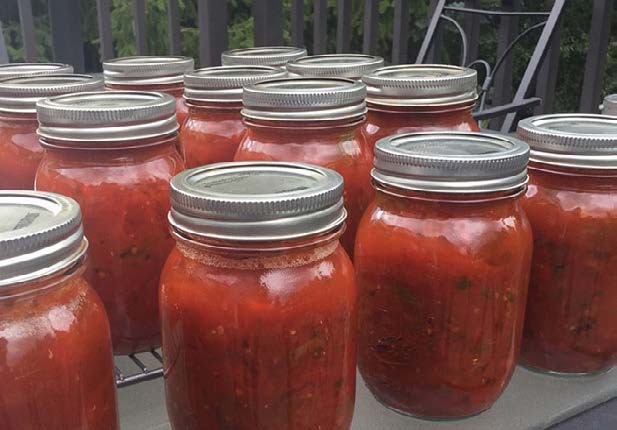 ESSENTIALS FOR SUCCESS
The Weston 10-Tray Digital Food Dehydrator offers everything the home gardener, hunter and gatherer is looking for to efficiently dry meat, herbs, fruit and other foods. It has an adjustable thermostat that ranges from 84ºF to 155ºF. The dehydrator holds 10 trays for 10 square feet of drying surface. A rear- mounted fan provides even airflow and drying to all trays at the same time.
Mehu-Liisa Steamer/Juicer uses gentle steam to extract pure natural juices from fruit without the need to peel, core or de-stem. You can make juices, jellies and syrups without squeezing, straining or making a mess, and the hot juice can be dispensed directly into a jar and sealed. The unit can blanch vegetables for freezing and it is excellent for steam cooking. Foods maintain flavors, vitamins and minerals often lost in boiling.
Traditions Vortek StrikerFire LDR (long distance rifle), a .50-caliber inline muzzleloader, offers accu- racy and more range for front stuffer enthusiasts. The hammerless cocking system minimizes lock time, while the 30-inch barrel design improves downrange performance.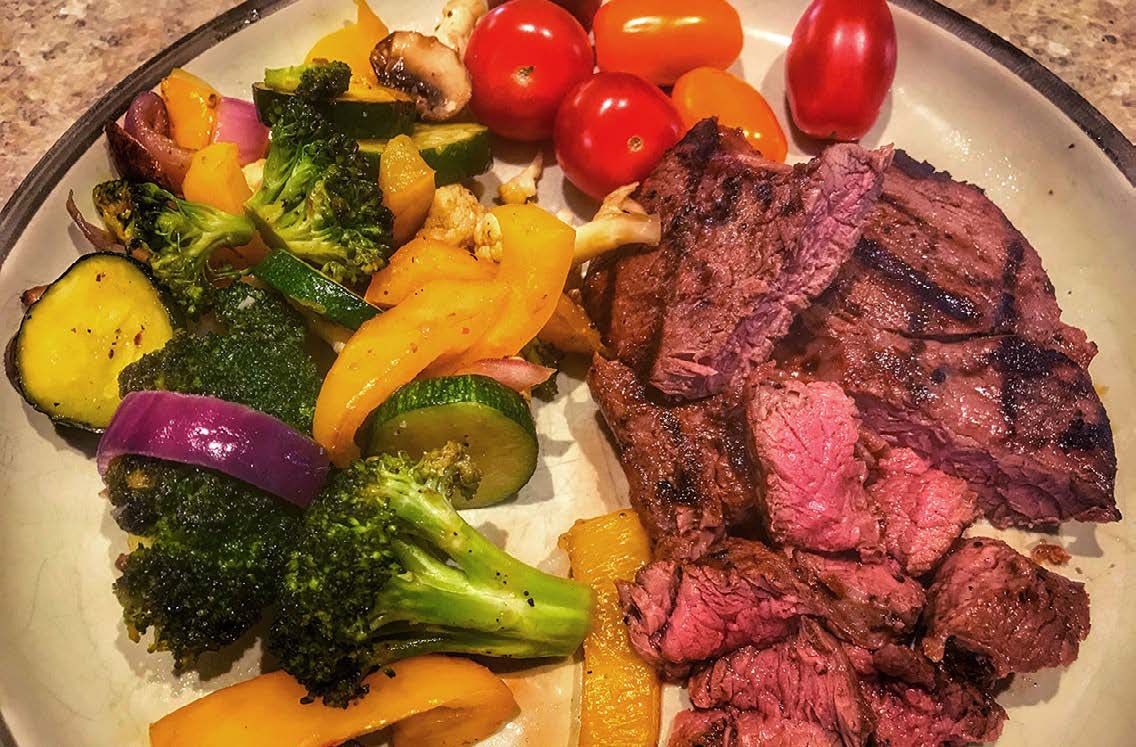 Product Specifications
Model: Vortek StrikerFire LDR
Caliber: .50 caliber
Length of Pull: 13 ½ inches
Overall Length: 46 inches
Weight: 8 pounds
Action: Hinged break-action
Twist rate: 1:28 inch
Ignition: 209 shotgun primer
Trigger: TAC2 trigger
Barrel Length: 30-inch tapered, fluted, magnum Chromoly barrel
Cocking Mechanism: StrikerFire slide button or mechanism
Stock: Ambidextrous, standard soft-grip stock
Finish: CereKote corrosion resistant (internal and external barrel and all critical components)
Sights: Drilled and tapped for scope and with Williams Fiber Optic Metal Sights on Northwest Magnum model
Other Features: solid aluminum ramrod, extendable jag, soft recoil pad, sling swivels, hollow butt stock for storage