As the sun went down, I jumped on my stand-up paddleboard (SUP), grabbed my fly-fishing rod, and went out to where we had earlier fished for bass with spinning gear from the pontoon boat.
The spot was about five to eight feet deep and had lots of cover and feed for bass. I had never fished from my SUP before, but I cast out my popper fly, let it sit for a bit, then stripped the line back, making a "schloop" sound along the top of the water. Nearly instantly, a bass came up and attacked the fly pattern, imitating a distressed fish. I hooked it and fought him right into my SUP and eventually into my hands. This went on and on for the remainder of the night until I could no longer see my fly after I cast it out. I managed to raise over two dozen fish in less than an hour and couldn't figure out why they were getting away.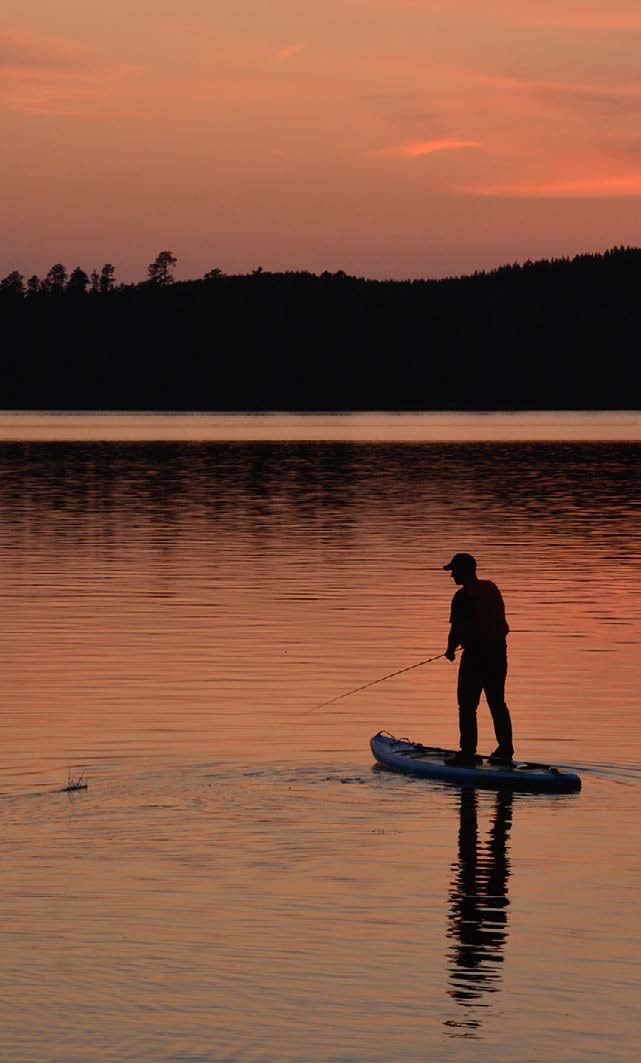 The next morning after the sun came up, I realized why: My hook had broken off. Nevertheless, the evening was still a blast. For me, the real rush is watching, hearing, and feeling the fish strike the fly; it really doesn't matter if you end up landing them or not.
The night was very peaceful and I'm positive the reason I did so much better with this setup than with my boat was because my paddleboard permitted me to move on top of those weeds in a stealth-like manner. It was also then a better time for feeding. I was raising bass a mere four yards from my SUP. It really was one of the greatest nights of fishing I've ever had! Standing on top of the glass-calm water, casting in all directions while the sun retreated over the horizon, and the sounds of hungry, splashing fish. What beats that?
Additional Fish
Since that initial experimental night, I've used my SUP to troll for pike, blind cast for walleye and bass in lakes, and sight fish for trout on slow-moving streams. I really enjoy the maneuverability and the simplicity of fishing from a SUP. When lake fishing, I only fish calm water 10 feet deep or less early in the morning or late at night. Another great thing about my SUP is that it's inflatable and therefore easily portable, so I can take it anywhere I'm able to walk. Often, I'll hike along rivers and streams packing my SUP on my back. When I arrive at remote low-angler pressure locations, I'll inflate my SUP and maneuver into prime fishing locations.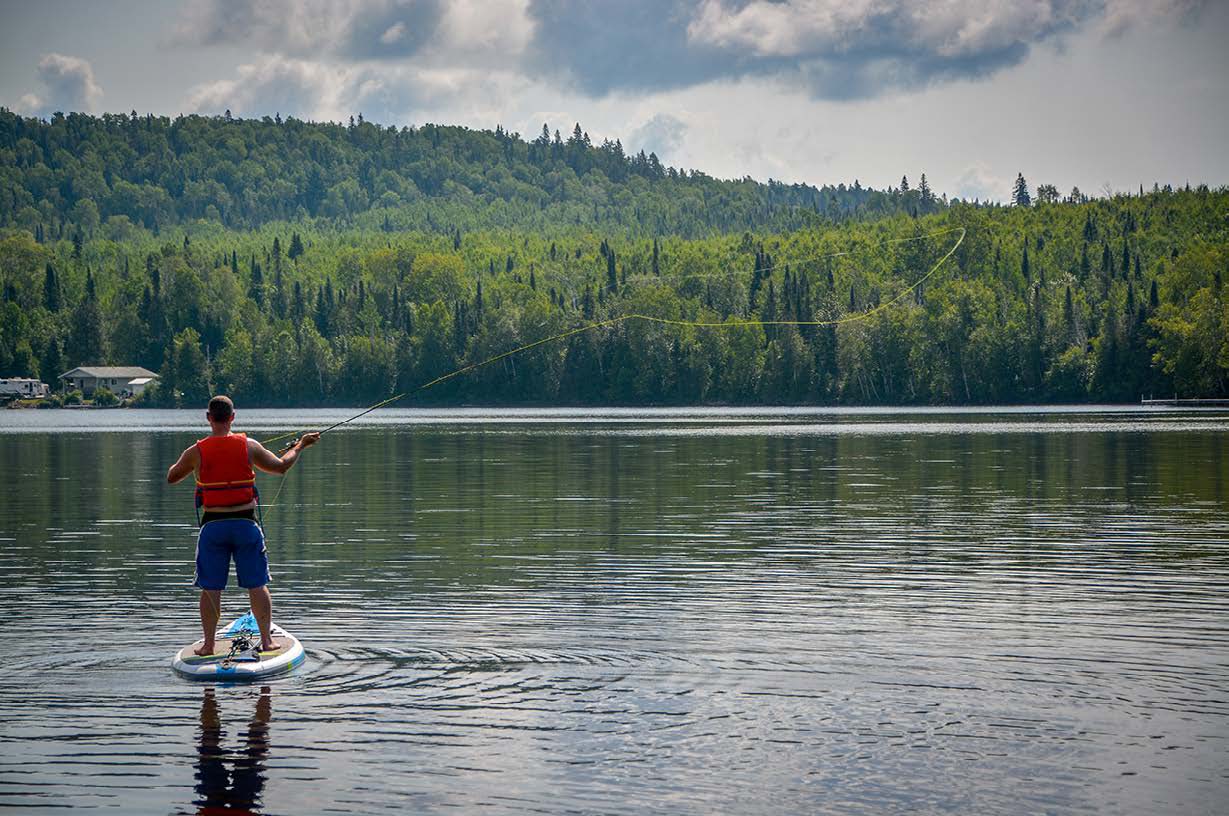 Trolling
The one disadvantage to using a paddleboard is that in order to move, you need to paddle, which means you really can't be casting at the same time. However, trolling is possible, and I've been known to do it. Whether I'm using spin gear or fly-fishing rods, I lay the rod down between my legs with the butt of the rod behind one ankle and the rod in front of the reel, placed in front of my ankle on the opposing leg. This positioning ensures that if a fish bites my hook, the rod won't go into the water and the rod tip bend when a fish bites. To set the hook, I simply paddle hard on the rod side twice, then put the paddle down and exchange it for my rod. I've hooked several pike with this method and brought them in to release them.
When trolling with flies (usually streamers or wooly buggers), I go very slow, alternating the common SUP paddling stroke. This gives the fly very good action and presentation and can entice a fish to strike. With spin gear, my favorite tackle is sinking jointed Rapalas. I tend to paddle a bit faster depending on the time of year and how deep I want the hook to dive. This plan also has produced excellent results.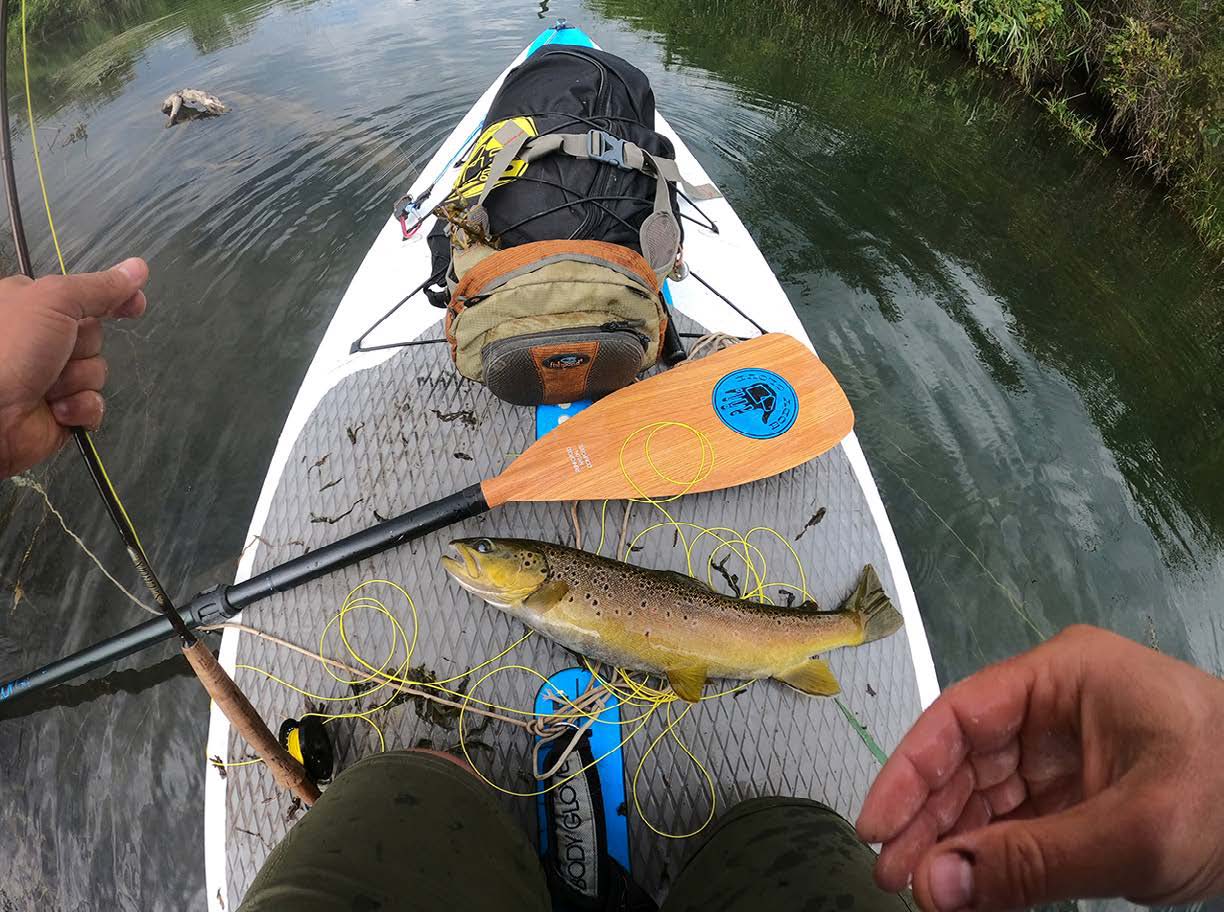 Sight Fishing
One of my favorite methods of fishing for brown trout in late summer is sight fishing. It's an exhilarating way to catch them. The anticipation of waiting for trout to eat your fly is nothing short of spectacular. I'm using dry terrestrial fly patterns, like grasshoppers and stimulators. Although using a SUP on a river to fish is definitely not a traditional technique, it has several advantages.
First, by standing atop the waterline, I gain a significant height advantage that can't be underestimated. The angle of the sun sometimes makes it hard to see the water and the fish, however, being positioned higher allows me to see into the water. I can see the structure and cast into ideal locations for resting and feeding, while also closely watching my fly and tending the line accordingly.
Secondly, I am able to avoid ground vibrations or water ripples by not waddling in the water, thus avoiding spooking the fish. I'm also never worried about the depth of the water in relation to my waders. When I'm on my SUP, I can move into position with great stealth and visibility of the fishing waters ahead.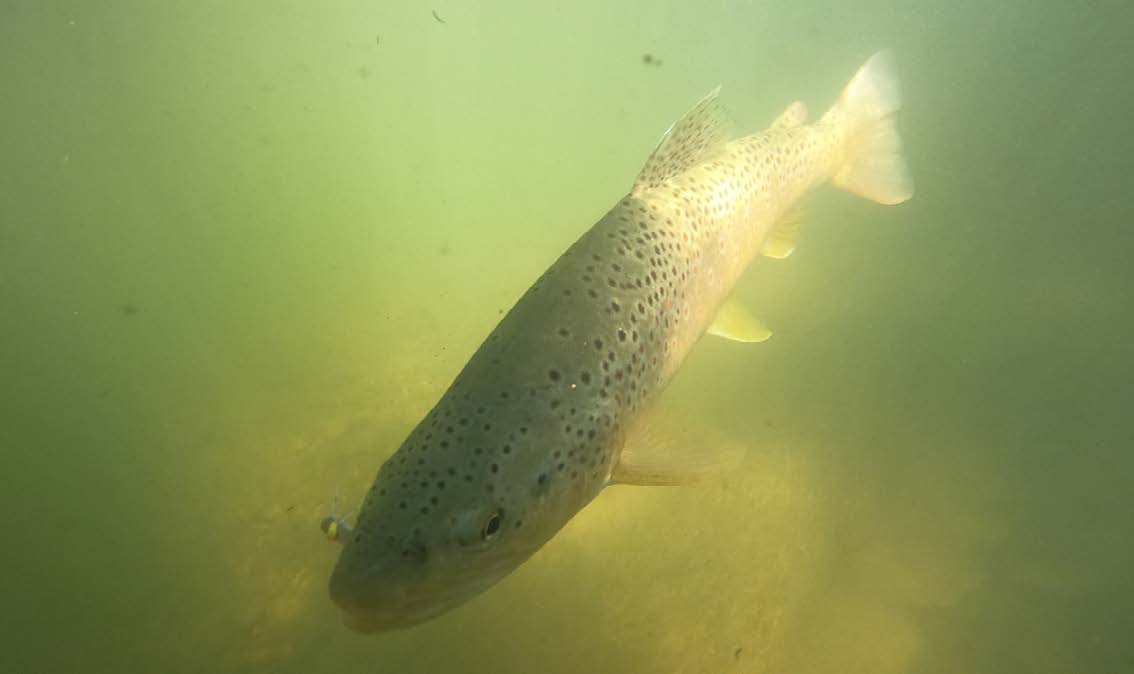 I usually equip my SUP with a grappling hook-type of anchor that I can use to slowly dip into the water and grab the bottom to anchor when I find a casting position.
This allows me to work an area efficiently before paddling upstream and looking for other opportunities, if necessary. Without that option, I'd constantly be battling the current and having to cast farther and farther out. With the anchor, I can relax and take my time to catch fish if they're not in a hurry to go anywhere.
I always fish going upstream in direction. Since my SUP is inflatable, I can hike downstream, inflate it, and then jump on top. I pack light when fishing from my SUP, just like when backpacking in the mountains. I take only the essentials, and ideally, I take gear that serves multi- ple purposes. Because I'm usually fishing later in the summer during warm weath- er, I don't wear waders, so I usually wear swim trunks. Crocs are the ideal footwear because they float, they're light, and they dry in no time.
Blind Casting
For bass and walleye, I like to fish lakes in calm conditions—ideally, flat calm water with only the sounds of nature and my paddle. Even the slightest wind gust can be annoying because when I'm standing, I act like a sail and can move quickly before I've had time to effectively cast in a chosen location.
Walleye and bass tend to feed in shallow water as the sun goes down, searching out safe areas with nearby deep water or cover, such as clusters of weeds. Water that's five to 10 feet deep is perfect for fishing surface lures and flies like poppers, also known as hula-poppers. I like to simply drift around a potential feeding area, casting in all directions, to find active fish. Once you're in the right area with the right conditions, the final ingredient in attracting fierce strikes is your popping technique. While fishing from an SUP, it's easy to cast in any direction because there is nothing in your way.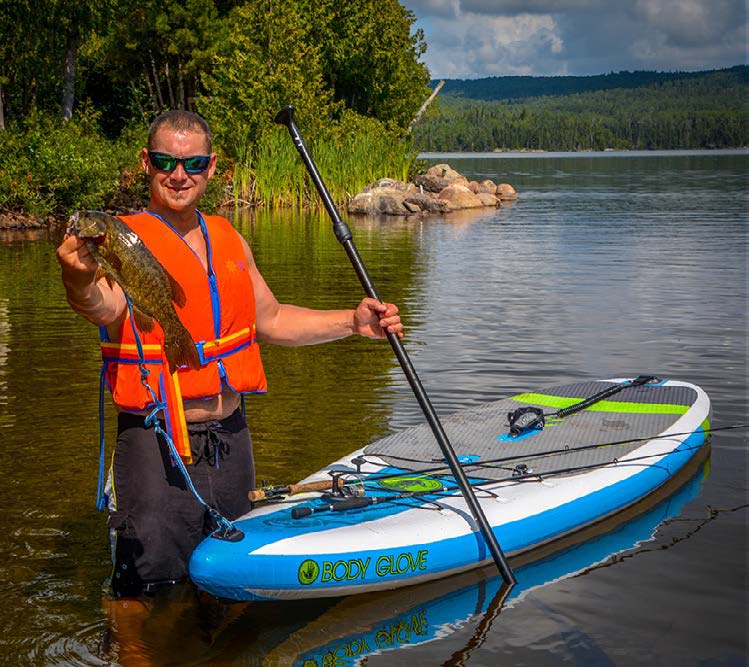 When fly fishing, I suggest casting a popper in any direction as far as you can and then let it sit for five to 10 seconds. Ensure your rod is pointed directly at the fly, and slowly bring in any slack line. Next, make three quick line strips so the popper makes its "schloop" sound (when done properly, it will sound like an object dropping into the water). Wait another five seconds, and if no strike occurs, make another three strips. Continue doing this until the line is all the way in, then cast again. Note that it's important to pause after creating the disturbance because that is what best mimics a badly injured baitfish on the surface struggling to survive. In that case, a fish will move in bursts rather than make a constant commotion. From the fish's point of view, it seems like an easy meal.
When spin fishing with a popper, the presentation begins exactly the same way.
Here's the technique I suggest. Cast out in any direction, bring in the slack, and wait five seconds. After the pause, hold your rod out to the side and jerk it two or three times to get your "schloop," then reel in the slack, wait, and repeat. If you see or hear a fish rise but it misses your bait, twitch the line twice fol- lowed by an extra-long pause of 10 seconds. If the fish doesn't take another swipe at your lure, cast again to either side of the initial rise.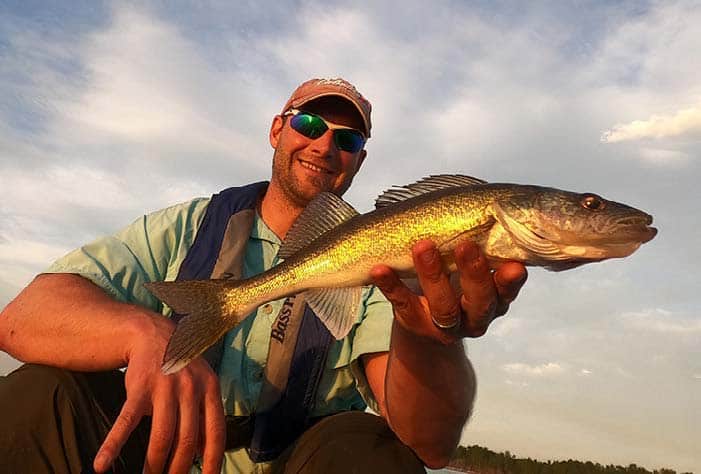 Although these have been my most successful retrieval techniques for catching fish, don't be afraid to mix it up. It's really all about finding the right disturbance- and-pause cadence that lets the fish find and attack what they perceive as an easy meal. Sometimes, it just comes down to trial and error. And when you get it right, throwing for walleye certainly adds a ton of extra excitement to catching dinner.
SUP fishing is simple fishing at its finest. It's peaceful, minimalistic, and exhilarating all in one. Just you, your SUP, and your fishing rod. Why not give it a try?