Huevos Rancheros
This dish is inspired by my time working in Phoenix Arizona along with my love of venison and all things delicious! It's never the SAME as when you eat and experience it THERE with dishes like this but recreating it at home with friends and family bring the memories back full bore!! You can abso- lutely make this dish your own by swapping out a few ingredients…like bear or gator or hog for venison!
1LB VENISON TRIM
4OZ APPLEWOOD SMOKED BACON
2T TACO TAKEDOWN
1T BEEF TALLOW OR BUTTER FOR FRYING
1LB RED POTATOES
6OZ WHITE ONION
FEATHER DUSTER
3OZ BEEF TALLOW OR BUTTER
1.5C WHIPPING CREAM
1C SHREDDED MEXICAN STYLE CHEDDAR
HALF OF ONE JALAPENO
1T TACO TAKEDOWN
6 CORN TORTILLAS
2T BEEF TALLOW OR BUTTER FOR FRYING
3 WHOLE JALAPENOS FOR ROAST-ING
1C SALSA
1C SOUR CREAM
1 AVOCADO
4 SPRIGS CILANTRO
4 WHOLE EGGS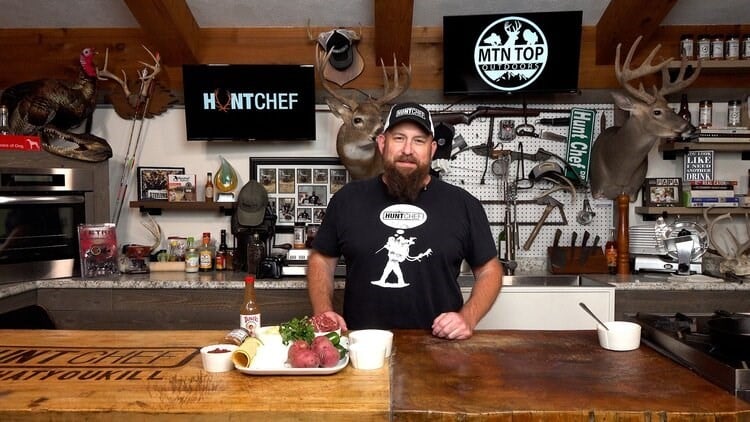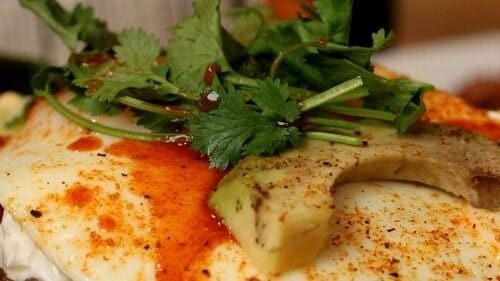 METHOD
Small dice potatoes and onions, fry in tallow over medium heat in heavy bottom pan. Once browning begins add 3T water and scrape to remove any browned bits from bottom of pan, reduce heat and cook til golden brown and tender! Set aside.
Mix venison, bacon and Taco Takedown well. Grind on fine die twice. Fry in the tallow over medium heat in heavy pan until browned and crispy. Set aside.
Heat cream in a small tall sided sauce pan with the half jalapeno in it over low medium heat. Simmer for 3 or 4 minutes then stir in the cheese and the Taco Takedown. Remove the jalapeno, set aside.
Heat tallow in the same pan used for the venison over medium heat. Carefully crisp both sides of all tortillas one at a time and remove them to paper towel to drain.
Roast 3 whole jalapenos over burners, on a grill or in the oven until blistered and beginning to get tender. Cook all 4 eggs sunny side up! Cut avocado into slices. Pick nice whole leaves of cilantro for garnishing your dish.